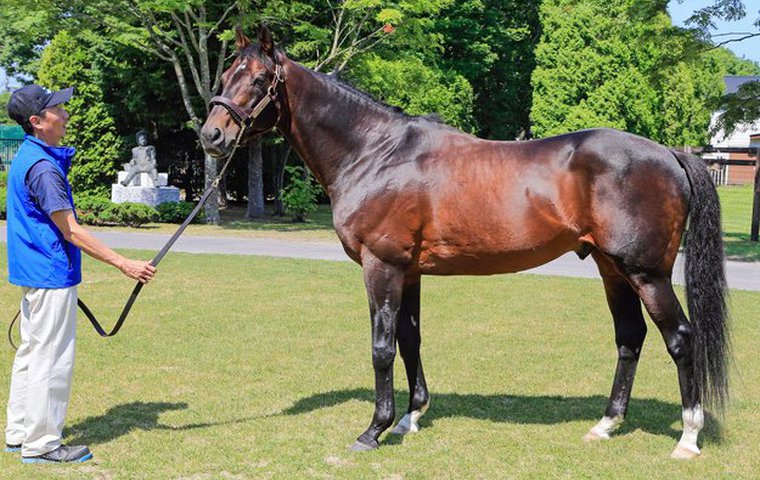 At first glance, he does not make much of an impression.

Sauntering quietly out of the Shadai Stallion Station barn, he is on the small side. Bay with three white socks, he bears a smudged half moon marking on his forehead.

But, if ever there was an embodiment of Aesop's cautionary fable about how looks can be deceiving, it is this horse: Deep Impact. Not only was he able to sweep Japan's Triple Crown while still undefeated during his exceptional racing career, he has ranked as the world's leading sire by progeny earnings for the past three seasons, beginning in 2012, when his oldest offspring were just four years old.
And he will close 2015 as the global leader once again, with earnings the equivalent of more than $60.5 million, about $13.5 million more than runner-up King Kamehameha.
Upon closer inspection, his balanced and refined frame belies his actual height, which is advertised as a bit over 16 hands. He has a big shoulder and he walks with a light step, hinting at fluid speed. His eyes are intelligent and reflect an unusual kindness, particularly considering that he has established himself as the primary heir to his fiery father, the prepotent Sunday Silence.
What can't be seen lies inside him — genetic gold.
From the days his first foals were born in 2008, Deep Impact has risen above his modest physical stature to become a towering industry unto himself. He has accounted for up to $500 million or more in sales of his offspring, progeny earnings and stud fees since he stood his first season at stud, so perhaps it is no wonder that he has had his own uniformed guard.
He's the main attraction for international buyers
More than any other horse or factor, Deep Impact has drawn foreign interest to Japan, where for the third consecutive year international buyers helped the Japan Racing Horse Association select sale achieve a record gross. At the same time, Deep Impact tallied a best-ever gross for his own offspring, with 37 of his yearlings and foals selling for a total of ¥3.078 billion (or $24,822,580 under the exchange rate cited by the JRHA).
"I give most of the credit to Deep Impact," JRHA Vice Chairman and Shadai Farm owner Teurya Yoshida said after the record 2013 sale was completed, a comment equally applicable to the 2014 and 2015 editions of Japan's premier auction. With less than 10 percent of the JRHA catalog entries annually, Deep Impact routinely has generated almost 25 percent of the gross.
"You cannot ignore it," declared Qatari Sheikh Fahad Al Thani's bloodstock advisor, David Redvers, of the prowess of Deep Impact and the legacy of Sunday Silence after leading all buyers at the JRHA venue in 2014.
"Deep Impact is a great sire. He is as good as any of the sires around the world," Sheikh Fahad said.
Coolmore, Darley and other big players on the international stage have tapped into Deep Impact, who seized the attention of major breeders when the Wildensteins' homebred Beauty Parlour, from his second crop, won the Poule d'Essai des Pouliches (French 1,000 Guineas). Beauty Parlour was produced by the Giant's Causeway mare Bastet, a half sister to Australian Horse of the Year Might and Power.
From that same crop, another Deep Impact filly, Gentildonna, emerged as a superior runner who defeated males in the 2012 and 2013 runnings of the international Japan Cup and in the 2014 Dubai Sheema Classic. Gentildonna was produced by the British juvenile G1 winner Donna Blini, by Bertolini. (Gentildonna is the worldwide all-time leading money-winner.)
Precocious juveniles or stayers - he can get them all
Deep Impact has enjoyed a career-best year in 2015 in terms of international racing achievement and total earnings banked by his offspring. His son Real Impact, out of the Meadowlake mare Tokio Reality and already a G1 winner in Japan, won the G1 George Ryder Stakes in Australia. Another son, multiple group winner Tosen Stardom, who topped the JRHA yearling session in 2012, finished second in the G1 Ranvet Stakes in Australia.
Deep Impact's 4-year-old daughter Shonan Pandora, out of the French Deputy mare Cutie Gold, led his 5-year-old son Last Impact, produced by the Timber Country mare Superior Pearl, home in a 1-2 finish for their sire in the 2015 Japan Cup.
About two weeks later, Deep Impact's son A Shin Hikari, out of the Storm Cat mare Catalina, prevailed in the Hong Kong Cup at Sha Tin while recording his first win at G1 level.
Quality, spanning juvenile events to classic contests to international marquee races, has become Deep Impact's hallmark with his sons and daughters. They can be precocious 2-year-olds, such as his Japanese juvenile champions Danon Platina, Joie de Vivre and Shonan Adela, and they can run all day.
Already, the 13-year-old stallion — who covers large books in Japan but does not shuttle to the Southern Hemisphere — has sired 21 G1 winners, more than the most high-profile stallions of comparable ages in the United States. Tapit, age 14, has sired 16 G1 winners; War Front, age 13, has 10, and Kitten's Joy, age 14, has seven.
Stats that show he's such a major force in the industry
Deep Impact also ranks above European-based 13-year-old Dubawi in Northern Hemisphere-bred G1 winners since Darley's sensational sire has 17, with an additional six bred in Australia and New Zealand during Southern Hemisphere shuttle duty. Coolmore's reverse shuttler Fastnet Rock, age 14, has 19 G1 winners bred in Australia, with an additional three from his visits to Ireland.
Other numbers add to the story of how much of a force Deep Impact has become on both the financial and sporting sides of the industry.
According to figures provided through mid-December by the U.S. Jockey Club under exchange of data with Japanese racing authorities, Deep Impact has sired 72 black-type winners, equal to eight percent of his foals of racing age (including the 154 registered offspring and three black-type winners to date in his 2015 crop of 2-year-olds, even though juvenile racing is not as active in Japan as it is in other regions, including the U.S.). Taking the 2-year-olds out of the figures, Deep Impact has sired 9.7 percent black-type winners from his foals of racing age three and older in 2015.
Deep Impact's sons and daughters also include 60 group/graded stakes winners, or 8.6 percent of his foals aged three or older, and another 43 that have placed in black-type stakes races.
Together as a group, Deep Impact's offspring have earned $287,353,145. In 2014, his progeny amassed what was at the time a single-season best haul for their sire, earning ¥6.797 billion (about $64.7 million) in their racing exploits, according to the Japan Bloodstock Information System. In 2015, Deep Impact's progeny exceeded that figure, setting another personal best record for their sire; they had collected ¥6.965 billion with only a few days left in the year.
At the JRHA sale alone, where the vast majority of Deep Impact's offspring sold at auction have been offered, he has generated $165,414,197 through sales of 232 horses since 2008 for an average price of $712,992. Other offspring have been sold privately.
A Who's Who of great racemares
Syndicated in 2006 for a reported ¥5.1 billion (about $43.7 million), Deep Impact has routinely covered books of over 200 mares annually, with an average of 229 mares in his first eight seasons; he has averaged 151 registered foals a year in his eight crops.
Scanning the list of those registered foals by their dams is like reading a Who's Who of great racemares and producers from around the world, particularly the U.S., most of them collected by the Yoshida family, which stands Deep Impact at its Shadai Stallion Station.
In his 2015 crop of 170 foals, the dams include G1 winners Apapane (Japanese Filly Triple Crown winner); Ave; Awesome Feather (2010 American juvenile filly champion); Azeri (2002 American Horse of the Year); Belle Watling (Chilean Quadruple Crown winner); Cambina; Champagne d'Oro; Contested; Diamondrella; Donna Blini; Dubai Majesty (2010 Breeders' Cup Filly & Mare Sprint winner); Elusive Wave (2009 Poule d'Essai des Pouliches [French 1000 Guineas] winner); Fleeting Spirit; Gabby's Golden Gal; Gaviola; Gozzip Girl;
Here to Win (Brazilian-bred multiple G1 winner in South Africa); Hilda's Passion; In Lingerie; Island Fashion; Lady Joanne; Lady Shatzi (2009 Peruvian Horse of the Year); Listen; Lune d'Or; Lush Lashes; Maybe; Mosheen; Mrs Lindsay; Night Magic; Ollagua (two-time winner of the Gran Premio Estrellas Distaff in Argentina); Paita; Persistently; Proud Spell (2008 American champion 3-year-old filly and Kentucky Oaks winner); Salomina; Samitar (2012 Irish 1,000 Guineas winner); Serious Attitude; Shamrocker (2011 Australian Derby and Guineas winner); Siyouma; Sky Diva; So Many Ways; Turfrose; Ultra Blend; Watch Her; Weemissfrankie; Willa B Awesome, and Zazu.
Yet, despite the quality of mares he has been bred to, Deep Impact has upgraded them as a group with the resulting foals. His Average Earnings Index (AEI) is 3.77, while the Comparable Index (CI) of foals produced by the same mares but by different stallions is 2.84, according to The Jockey Club report.
The Shadai Stallion Station has listed the 2016 fee for Deep Impact at ¥30 million (about $241,000 under current exchange rates), up from ¥25 million in 2015.
In reasonably estimating stud fee income by using a lower average fee equal to about $100,000 for 70 mares per year (to reflect seasons sold to non-shareholders) from 2007 through 2015, around $63 million or more could have been spent for Deep Impact's breeding services.
While Teruya Yoshida and his brothers, Katsumi and Haruya — who jointly operate the Shadai Stallion Station — have spent over $100 million acquiring elite mares over the past five years in large measure to breed to Deep Impact, the stallion is effective even without the best mates.
Thriving with Northern Dancer or Mr Prospector mares
"If you look at the good runners by Deep Impact, you can see he doesn't care so much about the quality of the mare. If the mare has only won two races, he still can sire a top foal from her," Teruya Yoshida said.
Generally, however, the Yoshidas try to provide Deep Impact with big, robust mares possessing outstanding race records. That formula has worked over and over again, and is epitomized by 2012 and 2014 Japanese Horse of the Year Gentildonna, who was produced by the stout British G1 juvenile winner Donna Blini, by Danzig's sprinting son Bertolini.
Gentildonna became legendary with Japanese racing fans as she emulated her sire in her division by capturing the Japanese Filly Triple Crown before going on to thrash males in two Japan Cup victories as well as in the Dubai Sheema Classic.
Four of Deep Impact's G1 winners are out of Storm Cat mares, including Tokyo Yushun (Japanese Derby) victor Kizuna and Oka Sho (Japanese 1,000 Guineas) winner Ayusan. He has sired two G1 winners out of Caerleon mares and the G1-winning full brothers Tosen Ra and Spielberg, produced by the Lycius mare Princess Olivia, also dam of American Grade 1 winner Flower Alley.
Clearly, Deep Impact thrives with mares from either the Northern Dancer or Mr Prospector lines. Of his group/graded stakes winners, 34 have been produced by mares from Northern Dancer-line sires and 14 from Mr Prospector-line sires.
Born in 2002, the same year Sunday Silence died and left a huge void in Japanese breeding, Deep Impact was not regarded by the commercial market as very special as a foal, most likely due to his modest size. Offered by his breeder, Katsumi Yoshida's Northern Farm, at the JRHA sale, he was bought by Makoto Kaneko for ¥70 million ($583,333), a price below that year's sale average of ¥92.5 million for Sunday Silence offspring.
A shrewd horseman who also has campaigned Japanese Derby winner and outstanding sire King Kamehameha and Japanese Filly Triple Crown winner Apapane, Kaneko could not have known that the small colt out of German G1 winner Wind in Her Hair, by Alzao, would blossom into his sire's best son and heir. However, his pedigree did speak to quality, as his third dam, Highclere, won the 1,000 Guineas and Prix de Diane (French Oaks) and produced champion Height of Fashion, the dam of Epsom Derby winner Nashwan, French champion Unfuwain and G1 winner Nayef.
With this kind of genetic power, it is perhaps not surprising that data compiled by Naohiro Goda's Tokyo-based Regent Co. Ltd reveal some striking parallels between Deep Impact and Sunday Silence at stud.
For example, through their first five crops, each had sired seven Japanese Classic winners, with Deep Impact adding French classic winner Beauty Parlour for a total of eight. In promoting him as a sire to international breeders, Shadai advertises that Deep Impact is "the best source to win any classic".
Although many runners from his first five crops are still racing and will further embellish his totals, Deep Impact had notched at least 270 Japanese stakes wins by his progeny from those crops. With fewer runners after covering smaller books that averaged 104 mares a year early in his career, Sunday Silence had 248 stakes wins accumulated by sons and daughters in his first five crops.
Bundles of yen spent annually on Deep Impact merchandise
Yet, despite these similarities in results, the Yoshidas refrain from comparing Deep Impact to Sunday Silence at this stage of his career.
"Deep Impact has a much better situation," Teruya Yoshida said, noting the superior quality of mares that he and his family have been sending to the stallion. "He is breeding these mares so he has a lot of chances.
"Sunday Silence is like a god, so we cannot compare (Deep Impact) with Sunday Silence. The offspring of Sunday Silence could do any kind of thing — they could run on turf or dirt, long distance or not — it did not matter," he observed.
If there is a shortcoming on Deep Impact's resume to date it is that he has not sired many notable dirt runners.
But that doesn't diminish any of the enthusiasm from racing fans, who still spend bundles of yen annually on Deep Impact merchandise, including key chains, towels, shirts, caps, books, stuffed horse toys and many other items. And they still flock to Shadai to see their hero, joining breeders from around the world who seek to discover what is so special about this sire phenomenon.
With guard Katzuo Aksaka standing at attention nearby in his blue starched uniform, Deep Impact greets visitors with a dignified gaze. While some of Shadai's other sons and grandsons of Sunday Silence are likely to rear or jump around, Deep Impact typically stands patiently with guests wanting their photos snapped with him.
When the formalities are concluded, Aksaka — who drives a car with license plate No. 3-25 to honor Deep Impact's birthday — marches with the stallion to his paddock and stands watch, ready to attend to his any need.
While this scene is unusual at a stud farm, somehow it seems just right for the little horse who has matured into a large national treasure.