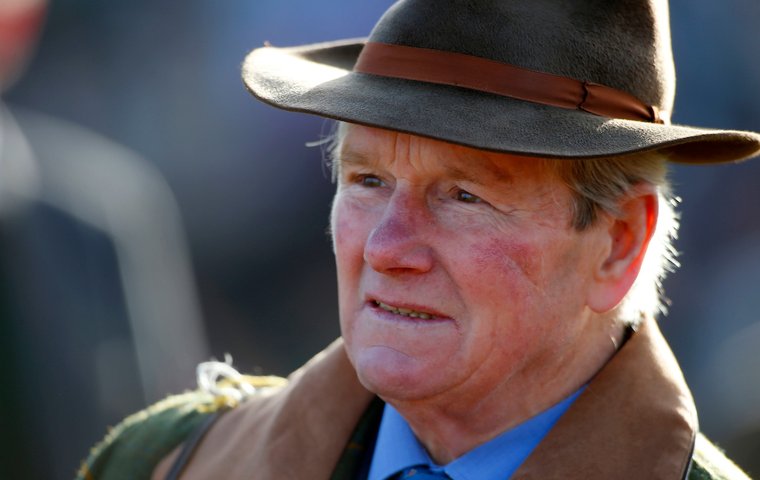 Former royal trainer Ian Balding has been a well-known and influential figure in British racing for 50 years. A Cambridge Rugby Union Blue, he started training in 1964 aged 26, with the Queen among his owners.

Balding's name will forever be associated with the equine legend Mill Reef, one of the greatest horses of the 20th Century, who won the Derby, Eclipse, King George and Arc under jockey Geoff Lewis during a memorable 3e-year-old campaign in 1971 for his owner, the New York-based philanthropist Paul Mellon. Balding was British champion trainer that year.

The leading figure in a notable racing dynasty, Balding trained a plethora of G1 winners from his Kingsclere base in Hampshire, among them such high-profile performers as star sprinter Lochsong, Selkirk, Glint Of Gold and Mrs Penny. He even trained a winner at the Cheltenham Festival (Crystal Spirit in 1991), reflective of an enduring love of jump racing that underpinned a successful career as an amateur rider.

In 2002, he retired and handed over the reins at Park House Stables to his Classic-winning son, Andrew.

Who do you believe is the most important figure in the history of racing around the world?
Her Majesty The Queen has encouraged by example a huge cross section of people to be involved in the sport she loves, from spectators to owners, breeders and sponsors. I don't remember being daunted by the owners when I started, perhaps because I was so young. I met the Queen very early on and she was lovely, very understanding and extremely knowledgeable.
Which is your favourite venue and race anywhere in the world?
Considering how many wonderful racecourses there are in the UK and around the world, my answer might be considered a bit of a surprise as it is one of less high-profile venues, namely Salisbury. I was a director there for many years, and the racecourse has the perfect balance of attracting good horses and customers who enjoy seeing them. My Derby winner Mill Reef made his debut there in 1970.
The Grand National is my favourite race. My brother Toby trained two winners of the race [Highland Wedding in 1969 and Little Polveir in 1989], while my wife Emma's grandfather, Aubrey Hastings, rode one winner and trained another two at Aintree, as well as a wartime winner at Gatwick. I love to walk the course at Aintree for the Grand National meeting: in my view, the race provides the greatest test for man and horse together. Riding around Aintree in the Foxhunters was the thrill of a lifetime. [In 1983, at the age of 54, Balding partnered Ross Poldark to finish fourth.]
What is your fondest memory in racing?
No surprise here: winning the Derby in 1971 with Mill Reef for Paul Mellon, one of the greatest owners of all (see video above). The combination of the history of the race and the challenge of the course are among the main ingredients that make it such a special event, and such a special memory for me. The Derby is totally unique; the winner of the race has to be able to adapt to Epsom's pressures and contours at a mentally immature stage of their careers. It is quite a test.
What do you see as the biggest challenge racing faces today?
Convincing the group of people who think that racing is cruel and the horses are treated badly that they are wrong and getting them to consider the sport from a different viewpoint. Anyone who has ever ridden a Thoroughbred understands their natural competitive spirit and willingness. My worry is the current trend seems to be to appease these opposing voices – at the expense of a wonderful sport and industry.
If you could change one thing in racing, what would it be?
I feel there is simply too much racing in the UK. So I would like to see less of it, which would hopefully free up more prize money to help balance the costs. The current fixture list puts enormous pressure on everyone, particularly through the summer months, and I think contributes to our obvious staffing problems in Britain.