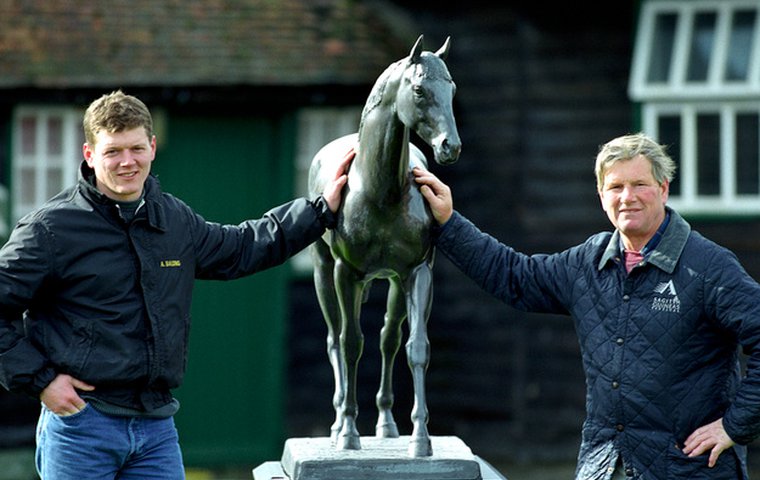 The rich American influences that have helped pave the way for Elm Park's Epsom Derby bid

When Andrew Balding saddles leading contender Elm Park for the Investec Derby at Epsom on Saturday, he might pause to reflect on a series of important American influences that have punctuated his life.
Balding's father, Ian, was born in New Jersey in 1938 to his American mother Ellie. He spent the first eight years of his life in the U.S, where his father, Gerald, played polo for Jock Whitney's fabled Greentree outfit in Long Island until he returned to Britain to sign up to the war effort.
When the war ran its course, Gerald returned to Britain to train racehorses. He did so from stables that Whitney, by then the U.S. Ambassador to Britain, bought for him at Weyhill, in Hampshire.
And, when Gerald died of cancer in 1957, he was succeeded at Weyhill by his elder son – also Gerald but known universally as Toby. Toby became a successful trainer in his own right under both the flat and jumping codes.
By a quirk of fate in 1990, Toby saddled Morley Street to win the first of two successive renewals of the now-defunct Breeders' Cup Chase at Far Hills, a racecourse located on the very estate when he and Ian lived during the war years.
Toby and Ian had two younger siblings, both of whom returned to America with their mother soon after Gerald died. "Because of that, I didn't really know my American grandmother [Ellie]," Andrew Balding reflected.
"When my grandfather [Gerald] died, Toby and my dad were of an age where Toby wanted to train and dad wanted to complete his education, whereas Ellie wanted to go back to America with my uncle and aunt. So we have family there. We go over to see them every year at Thanksgiving."
But the American connection does not end there. When Ian turned to training on his father-in-law Peter Hastings-Bass's death in 1964, he inherited a raft of wealthy American owners with horses at Kingsclere, near Newbury in Berkshire. Among them was the philanthropist Paul Mellon, for whom Ian saddled Mill Reef to win the Derby in 1971.
At that time, Andrew had yet to be born, while his sister, the acclaimed television presenter Clare, was four months old. But they would soon come to recognise the pivotal roles played by those patrons across the pond.
"Jock Whitney was a huge influence on my grandfather [Gerald], just as Paul Mellon was on my father [Ian]," Andrew Balding reflected. "Paul Mellon was not just dad's biggest owner, he was absolutely instrumental in Clare's and my life.
"He set up a trust to pay for our education, which dad might not have managed to do at the time, because things weren't that great for 15 years or so after Mill Reef. So he was a massive influence over the whole family."
Had they been around to see the fruits of their financial munificence, Whitney and Mellon would nod with approval at this latest generation of a racing dynasty. Andrew now trains one of the largest strings in Britain: he has 170 horses on the books at Park House Stables, which is located within the family's 1,500-acre Kingsclere estate, in Hampshire.
As for Clare, she needs little introduction. A much-decorated television presenter, she won high praise for her role within the BBC's coverage of the 2012 Olympic Games in London. She was also the BBC's face of British racing for 15 years.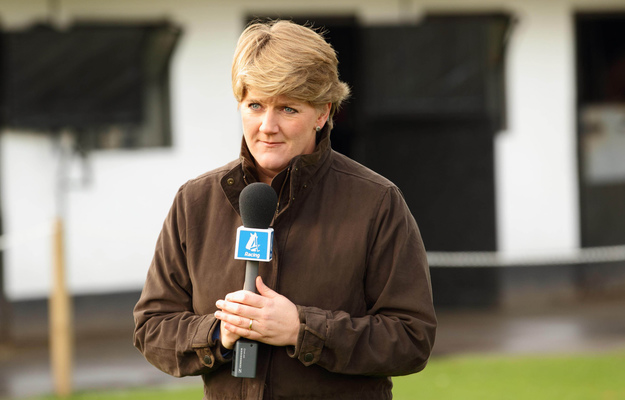 It was almost preordained that Andrew and Clare would make their reputations on the horse racing stage. While their father's antecedents lend an American thread, their mother's heritage is decidedly British.
Indeed, Emma Balding descends from the aristocratic roots of the 12th Earl of Derby, for whom the great race was named. Her mother, Priscilla Hastings, was a granddaughter of the 17th Earl, a legendary figure on the British turf, who won three Derbys among his haul of 20 British classics.
Priscilla was born from the second marriage of her mother, Lady Victoria Stanley, who was killed in the hunting field after her first husband, Neil Primrose, perished in action in Palestine in 1917. Primrose's father was the 5th Earl of Roseberry, who, as an adolescent, pronounced he had three ambitions in life: to become prime minister, to marry an heiress, and to win the Derby. He duly completed the trifecta.
Emma was the second of Priscilla's four children; the first was William – full name William Edward Robin Hood Hastings-Bass, who is now the 17th Earl of Huntingdon. He is best known for his 16-year training stint at the Queen's West Ilsley Stables in Berkshire, where Her Majesty was among his patrons.
In 1952, the addition of the name "Bass" to Peter and Priscilla Hastings's surname enabled Peter to buy Kingsclere. He was left a sizeable inheritance by his uncle and godfather, Sir William Bass, who had no children and who bequeathed the inheritance on the understanding his nephew added the Bass surname to his own.
A scion of the famous British brewing family, Sir William was a firm advocate of the turf, having owned a pair of luminaries of their time in Cyllene and the incomparable Sceptre, whom he bought after the filly landed four of the five British classics – she might have also won the Derby but for being left at the start – in 1902.
Armed with his inheritance, Peter Hastings-Bass was able to revive Kingsclere as a training centre. His father, Aubrey, had trained three Grand National winners – among them Ascetic Silver, which he rode to victory him himself in 1906. Aubrey also trained Brown Jack to the first of that horse's seven consecutive victories at Royal Ascot before he died in 1929.
However, Peter trained at Kingsclere for just 11 years before he succumbed to cancer. In succeeding him, Ian Balding would train more than 2,000 winners from the property before he passed the reins to Andrew in 2003 – the year Andrew saddled Casual Look, owned by Will Farish III, to win the Oaks.
As for Kingsclere itself, the estate has a pedigree steeped in racing history. A much smaller version of Park House Stables was built by Kingsclere's then proprietor, Sir Joseph Hawley, who installed John Porter as his resident trainer in 1867.
The following year Porter saddled the first of his seven Derby winners, Blue Gown, en route to becoming the dominant trainer of his time. Porter trained three winners of the hallowed Triple Crown at Kingsclere. Common (1891) and Flying Fox (1899) were preceded by Ormonde (1886), one of the most evocative of all Thoroughbreds.
Porter saddled Ormonde to win all 16 of his starts, after which he was anointed as the "Horse of the Century." The horse who won the St Leger over 14½ furlongs closed his career the following year by winning the Imperial Gold Cup at Newmarket – over six furlongs.
Porter paved the way for his golden rule when he laid down the famous grass gallops at Kingsclere soon after he bought the estate in 1875. One of them, the "Derby Gallop," still survives today, and has been used by Andrew Balding to prepare Elm Park for this year's Derby.
Bred at the Balding family's Kingsclere Stud, the colt, a G1 winner as a 2-year-old and as short as 6-1 third favourite with some British bookmakers for Saturday's race, is owned by Qatar Racing now, although he started in racing career running for Kingsclere Racing Club in the Paul Mellon silks.
He is certainly following in some illustrious hoofprints.
Update (September 6, 2016) Andrew Balding trained his 1,000th winner on Thursday, September 1, when Poet's Vanity won at Salisbury. And on Sunday his Blonde Me won Turkey's biggest race, the £200,000 G2 Topkapi Trophy at Veliefendi. Clare Balding begins a marathon stint tomorrow as anchor presenter for the Paralympic Games, televised in Britain exclusively on Channel 4.