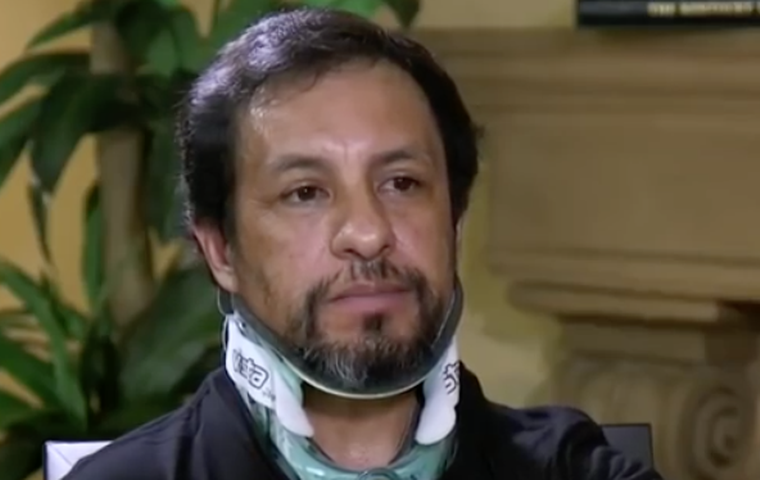 Two weekends ago at Santa Anita, it looked like jockey Victor Espinoza's road to recovery was nearing its end.

"It feels great," Espinoza told the Blood-Horse that day, having just sat on horseback for the first time since Bobby Abu Dhabi, the horse he was exercising at Del Mar last summer when it suffered a catastrophic injury, flinging him to the dirt.
The rider of American Pharoah and California Chrome left the track with a fractured 'cervical' vertebrae in his neck that pressed perilously close to his spinal cord. By any stretch of the imagination, he was lucky not to be left in a wheelchair a quadriplegic.
That's why his appearance at Santa Anita had a touch of the miraculous about it, heralding, as it did, his imminent return to race-riding less than six months after his livelihood had been all but snatched from him.
But since that reconnaissance mission in the saddle less than two weeks ago, the 46-year-old Mexican announced that a return to competition will be dependent upon the opinion of a third medical expert, two other doctors having offered such "drastically different" opinions.
This setback for Espinoza, however, is the latest obstacle along a journey towards fitness that has faced all sorts of challenges. Many of them physical. Some mental. And some caused by his dealings with a workers' compensation system that will sound familiar to many in the industry who have been injured.
"Sometimes, I don't know why this system works this way," Espinoza said. "It's just seems crazy to me."
'Every day counts'
The first 60 days or so of Espinoza's convalescence went relatively seamlessly, he said. "It was good for that time, no trouble." But, when that 60-day grace period was up, that's when he started experiencing interruptions to the treatments he needed to recover quickly and fully, he said.
Espinoza's physiotherapy was abruptly stopped three-times, without Post Time Self Insurance Group — the workers' compensation organization covering racetrack workers in California — giving him prior notice, he said. "For some reason, they just cut me off overnight. There was no explanation for stopping. They gave no reason."
The longest his therapy was cancelled was for between ten days and two weeks. "When you're seriously injured, to go without therapy for one week, that's a lot. Every day counts," Espinoza said. "But two weeks? That set me back."
Because of the severity of Espinoza's injuries, he was unable to do many routine daily chores himself. He needed help walking up and down the stairs, dressing and undressing, even taking walks around the neighborhood, in case he stumbled and fell. That's why a home-aid had been organized.
This help, however, was also abruptly cancelled with no notice, leaving him scrambling to find substitute help, he said. "I live by myself - I couldn't cope one day by myself."
How this has impacted him
In terms of the physiotherapy, Espinoza said that the abrupt cancellations had a twofold effect. For one, when it came to kick-starting his therapy once again after a delay, "that wasn't very easy," he said.
"The best therapy places, they're all booked days, weeks in advance. And so, if workers' comp' decides to suddenly stop your [therapy] sessions, by the time they approve it again, you've got to reschedule. But it's not easy to get an appointment again. No, you've got to wait," Espinoza said. "That's why it's best continue your therapy on a schedule.
The second effect pertains to the speed of his recovery. With a steady, regular physiotherapy program, "you get on a roll, and you're doing pretty good — for me, there were big improvements." And so, when that routine was disrupted, Espinoza lost "a lot of time", he said.
"It's not the same when you're doing it on your own," he added. "Even if they tell you what exercises to do, it's not the same as when you have someone there. That's why you go to a professional."
The interruption to his home help, Espinoza added, could have been particularly disruptive, had he not had the safety net of family and friends to fall back on for support.
"Luckily, my brother was coming that day. But imagine if nobody was here? One day meant a lot to me. At night-time, it was okay - I was asleep. But I was thinking, 'who's going to help me get up?' I couldn't get up by myself at that time. I could hardly do anything."
'But a million dollars, to be honest with you, is not enough'
Michael Lyon, program administrator of the Post Time Self Insurance Group, said that, due to Health Insurance Portability and Accountability Act (HIPPA) regulations, the organization was unable to officially comment on any injuries that workers suffer or the care they receive.
"However, I do believe that Mr. Espinoza was fortunate to sustain his injury in a state that provides workers' compensation coverage to jockeys," Lyon wrote in an email.
Indeed, there are only four states — New York, New Jersey, Maryland and California — that mandate workers' compensation coverage for jockeys. Of the states that don't, about 90 percent have an on-track accident policy of $1 million, said Terry Meyocks, National Manager of the Jockey's Guild.
"But a million dollars, to be honest with you, is not enough," Meyocks said, pointing to the long-term costs of covering severe head or spinal cord injuries. "This is a major issue."
Which helps to explain why Meyocks calls California "the model" in terms of workers' compensation for jockeys. "But is there work left to be done [in California]?" Meyocks added. "Sure. It's in survival mode. That's why we all need to be working together as an industry."
'Ends up costing extra money in the long-run'
According to Espinoza, his decision to speak about his problems with workers' compensation is driven in part by the need to focus attention on an issue that impacts the industry as a whole.
"I've heard from lots of people who have had similar problems to me, and I realize I'm very lucky," he said, alluding to his high-profile status, which he believes helped streamline his treatment, despite the problems. "Many other people don't get the attention they need," he added.
"Imagine if you don't have family — or you can't afford other help. What do you do? It's a tough situation."
Brian Beach, Espinoza's agent, agrees. "It's a very frustrating process," he said.
Beach's wife, an exercise rider, is also currently involved in a workers' compensation claim with Post Time. In his dealings with both his wife and Espinoza's cases, Beach has noticed "some sort of protocol" where the company delays requests for necessary therapy and treatments "rather than quickly approve them", he said.
All of which is "counter-productive" in that it "ends up costing extra money in the long-run", he said.
"I know several other people at the track who have had situations where they didn't get the proper attention in the beginning, and it turned into something much bigger down the line," he added. "My wife, most of these people, they just want to get back to work."
As for Espinoza, he's philosophical about his chances of returning to the saddle. Yes, he's seeking another opinion about his neck. But he believes the decision will ultimately be his.
"Honestly, we take a risk everyday with everything we do, even driving a car," Espinoza said. "It's just one of those tough decisions I have to make about my life."