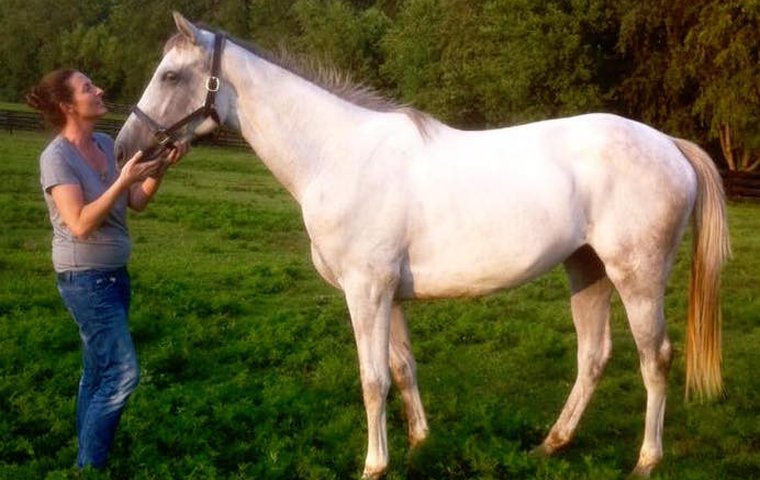 The Thoroughbred is one of the most keenly monitored, fussed over, micro-managed animals in the world. The best of feed, the right exercise, the most up-to-date veterinary care, and of course a whole lot of love and attention, is bestowed upon the racehorse.

There are a myriad of things that can go wrong with the 500-kilo-plus athletes they are, as punters and owners all know well. But most setbacks can be recognised pretty quickly, most medical conditions easily diagnosed by modern medicine.
Which is why it was such a mystery when, in 2016, horses from Newmarket to Chantilly and beyond suddenly succumbed to some sort of unrecognisable respiratory complaint.
Such as the multiple G1 winner Postponed, who missed having a second crack at the King George VI & Queen Elizabeth Stakes, which he had won so impressively the year before.
Bin Suroor's lament
Trainer Saeed Bin Suroor had no runners at all for the entire month of July, telling the media that he had no choice but to give his horses "an easy time".
"Most have been coughing. You can see it all over Newmarket. I have been here for 22 years and this is the worst thing like that to happen here," he said in an interview with The Telegraph's Patrick Sawer.
In the same article, Shadwell's Angus Gold noted that people had not realised, "what a difficult year this has been for horse health issues and just what a tough time trainers have had. It has been the worst year in by 30 years as racing manager."
Not only were horses coughing, they were listless with dull, ratty coats, and weight loss was evident.
Fascinated by the problem, former hospital nurse Katie Potter began to take a close look. "What is going on?" she asked.
The importance of zinc
With so many horses at different stables affected, it could not have been something as simple as comprised feed or water. It had to be, as some vets and trainers had suggested, an immune system issue.
With her background in human medicine and diagnoses, Potter, from Melbourne, Australia, was one of those keen to get to the bottom of the problem, devoting considerable time to the collection and study of samples from affected horses.
"It took a while to figure it out," she said. But eventually an answer was found.
It was all to do with zinc. Or, rather, a lack of it.
As is the case with humans, zinc is not stored in the body, yet we all need it with one of its many functions being the maintenance of a healthy, functioning immune system.
It had been theorized that a milder than usual winter was one of the causes of the outbreak of the illness, that horses had not suffered from their usual bouts of colds and such mild maladies, the result of which was that they had not strengthened their immune systems the natural way.
This was one explanation, but not one Potter subscribes to. She had noted that, even when horses were being fed the right amounts of zinc, they were failing to improve. She was sure that it had more to do with feeding issues.
"We were seeing a clinical crippling deficiency of zinc in over 95 percent of horses tested," she said. It was likely that it was not so much one virus that was to blame, but the inability of the equine population to properly fight any bug that came their way.
Perfect storm
"Low zinc cannot cause a virus," she said, "but it can make you highly susceptible to them by depleting your immunity."
And zinc has many other vital roles, such as binding insulin to allow the uptake of glucose to produce energy, as well as fixing calcium into the bone matrix. It is also the catalyst for testosterone production and other hormones responsible for muscle mass and is also instrumental for both cardiac and lung function and repair.
Little wonder these horses did not feel quite right.
Enlisting the help of agricultural experts at the Animal and Plant Agency in Shrewsbury, Potter discovered that zinc was not being properly absorbed and there was a possible answer.
"That winter had been a perfect storm of different factors coming together," she said, noting that some thought the abnormal weather conditions had led to grains not growing in quite the right way, though Potter herself thinks it had more to do with mycotoxins in the grains.
And, of course, horses rely on grains. It is from them they get, among many other things, zinc.
While horses did recover with no long-lasting effects, Potter was advising trainers to supplement their horses' diets with zinc in powder form, finding that, once balance was restored, horses showed good improvement.
"I am not saying it was the only answer, but it is something scientists and trainers have been able to look at," she said.
And something to keep in mind should ever such a problem arise again!
Potter warns that inappropriately high zinc supplementation can lead to imbalances in other minerals, so it is not suggested. The zinc levels of all the horses she worked with were titrated precisely and appropriately with accompanying elements.
Click here to read how Katie Potter has given horses a voice when they don't feel well and can't tell you what's wrong