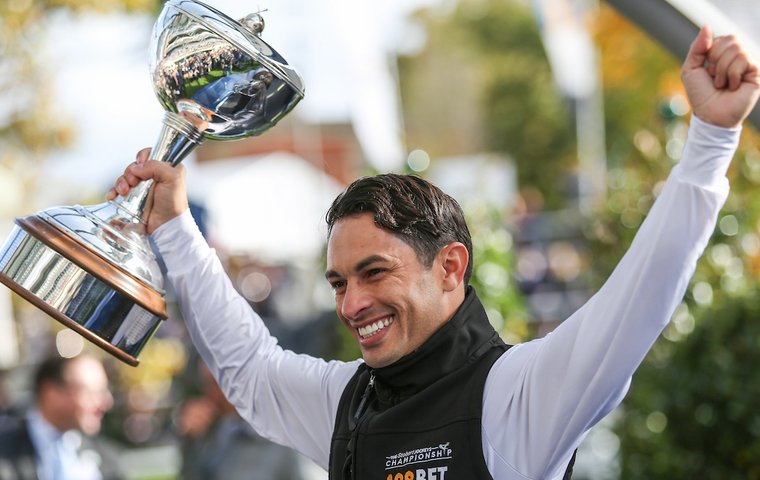 Silvestre De Sousa was crowned Britain's champion flat jockey for the second time on Champions Day at Ascot on Saturday. He now sits alongside riding greats like Scobie Breasley and Lester Piggott, Pat Eddery and Steve Cauthen, Kieren Fallon, Frankie Dettori and Ryan Moore as a multiple winner of what has been one of the most cherished accolades in world racing.

And it is entirely appropriate this the Brazilian's name should be mentioned in the same breath as those giants of the saddle. Silvestre De Sousa is an outstanding practitioner of his craft, strong, determined, adaptable and blessed with the rare gift of understanding how to coax the best out of a racehorse.
In a bid to enhance the theatre of it all, the jockeys' title is decided on the number of winners between the Guineas meeting at Newmarket at the beginning of May and Champions Day (even though the flat turf season begins in March and ends in November, and all-weather flat racing takes place all year long). It means the trophy can be presented as part of the televised extravaganza of Champions Day.
Indeed, the presentation last Saturday was slotted in neatly just after the second race on a card that comprised four of the most prestigious Group 1s in Europe, a richly-endowed Group 2 and a £250,000 handicap. That gave 36-year-old De Sousa the rest of the afternoon to savour his achievement - because, after Race 1, he had finished work for the day.
Not required
Silvestre De Sousa, one of the finest jockeys anywhere in the world, had just one ride on Champions Day, on unplaced Desert Skyline in the first, the G2 British Champions Long Distance Cup. There were 67 mounts on the rest of the card, but the champion, despite being available for work, was not required for any of them.
As James Willoughby said when perfectly illustrating the extent of De Sousa's prowess in this article here in June: "The fact that De Sousa doesn't have a top job in Britain should be an embarrassment to British owners and trainers. It is like leaving Cristiano Ronaldo on the bench because a lesser forward talks a better game."
Unfortunately this situation is not new for De Sousa. Despite riding 151 winners in Britain during the qualifying 24 weeks of the jockeys' championship (see table at the foot of this article) and more than 200 since the start of 2017, he has an ongoing dearth of rides in top-quality races.
Try finding his name in the world jockeys' rankings. The standings are set to a default of 50 jockeys per page. You won't find De Sousa on page 1. You won't find him on page 2. You have to go a third of the way down page 3 before his name appears - ranked #116.
Yet just over three years ago, he was world #7. He had just won the Dubai World Cup on African Story for his then employers, Godolphin, and his recent CV included Farhh's victory in the 2013 British Champion Stakes.
De Sousa was a fine jockey then. He is even better now.
Yet just look at how poor his record is in Group and Grades races, as opposed to the everyday fare that has become his bread and butter since his oddly short tenure with Godolphin. The table below shows how De Sousa fares against the five highest-ranked British-based riders in Group races in Britain over the same 24-week period as the jockeys' championship.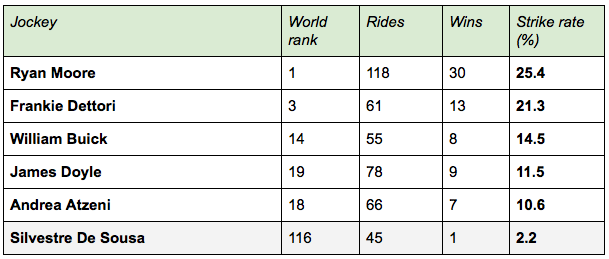 This says nothing about De Sousa's riding. It is merely a reflection of the lack of good-quality mounts he has been assigned on the relatively few occasions he has been considered for races at this level.
In this period, he has ridden just one Group winner in Britain - Desert Skyline again, for trainer David Elsworth in the G2 Doncaster Cup in September. He also won a G3 in France for Andre Fabre in June, and a G3 at Ascot for Hughie Morrison three days before the championship window opened in May. But, unlike the other five jockeys in the table, most of his mounts have been aboard outsiders with little chance.
One such outsider was his most recent G1 winner, and that was way back in August 2015. Even now it is remembered as one of the most shocking, most inexplicable upsets of the past decade - 50/1 shot Arabian Queen's victory over the Epsom Derby and subsequent Arc winner Golden Horn in the Juddmonte International at York.
It was a performance that owed as much to De Sousa's guile and drive as it did to the filly's thrilling determination. How many other jockeys could have conjured such an inspiring career-best from a horse whose other efforts speak strongly of a filly just below absolute top class, one that should not have been entitled to be anywhere near an animal like Golden Horn at the tail end of a race?
Yet De Sousa has hardly benefited from that tour de force.
Arabian Queen's trainer was David Elsworth again, and he is one of the few who have continued to find work for De Sousa in Group races.
The jockey's most consistent employers in these contests over the championship period in the UK have been:
Charles Hills (9 rides over the 24 weeks)
Mark Johnston (5)
David Elsworth, Mick Channon and Roger Varian (4)
William Haggas (3)
He has also had two rides in Britain for Brian Meehan and one each for Saeed Bin Suroor, John Gosden, Richard Fahey and Aidan O'Brien, among others.
De Sousa appears to feel no bitterness over this strange lack of opportunity and is now settling down for a break with his family. In the new year, he is likely to ride abroad (possibly in Hong Kong and the UAE) before returning to defend his title in Britain. The hope is that some of the more enlightened operations realise they are hurting themselves by not taking advantage of what James Willoughby describes in the article linked to above as "an extremely valuable commodity".
British jockeys' championship: final top ten
Standings from the British Horse Racing Authority website