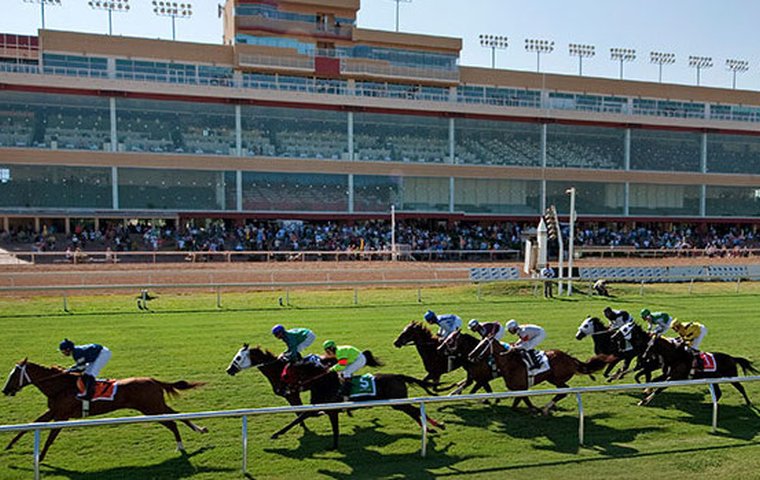 In the second part of his report on the working environment for backstretch workers in North America, Daniel Ross looks at the scattergun approach to medical programs for the nation's army of grooms and hotwalkers.

It was a little over one year ago when Walter Morales was adding a fourth horse to a mechanical horse-walking machine at Santa Anita when a truck drove by, startling the three other horses already attached.
One of them lashed out with its hind legs, catching Morales a glancing blow that he said deflected off his left shoulder, breaking his jaw and knocking out seven teeth, four from the back, and three from the front.
Morales — a small, wiry 36-year-old, who counts Colonel John as the best horse he's groomed — has already undergone four surgeries to fix the break, with another this month, over a year after the incident.
The first three surgeries necessitated his jaw being wired shut for weeks at a time. "I could only drink through a straw," Morales said, in Spanish. But the kinds of injuries suffered by backstretch workers aren't always the short, sharp excruciating kind.
Rather, the repetitive grind of racetrack work and the toll of moonlit starts of a morning week-in, week-out, over the months and years wear on the body and mind.
When it comes to the everyday healthcare needs of backstretch workers in California, they can turn to the California Thoroughbred Horsemen's Foundation (CTHF), which provides subsidized medical and dental care through clinics around a number of racetracks in the state, including Santa Anita, Pleasanton, Golden Gate and Los Alamitos.
Substance abuse and gambling addiction program for backstretch staff
The foundation also operates a medical and dental referral program, and gets involved with "a little bit of optometry and burial services," said Cliff Goodrich, the organization's executive director.
"There are about 5,000 licensed backstretch workers in the state of California," he said. "We service those people and their families."
Then there's the Winner's Foundation - a statewide substance abuse and gambling addiction program for backstretch workers and their families. And, while California's network of medical, dental and mental health services for backstretch workers leave gaps at certain tracks on certain days, they comprise, as a whole, a more comprehensive system than many other jurisdictions around the country.
This has been arguably less of an issue over the past few years, what with the Affordable Care Act (ACA) providing healthcare coverage for more documented backstretch workers throughout the nation than before its enactment. But, if the ACA is repealed, either in part or in its entirety, as has been suggested by the incoming administration, how might that affect backstretch workers at other jurisdictions?
At Remington Park, for example, the Thoroughbred Racing Association of Oklahoma (TRAO) offers a benevolence program for owners, trainers and backstretch workers to help with medical, dental and eye-care expenses, said TRAO executive assistant Tammy Wright.
The TRAO also organizes an onsite clinic at Remington Park every Monday, between 11am and 3pm, while a chiropractor visits the track every Wednesday morning from 9am to 11am.
Ohio has a health fund that full-time employees can dip into to subsidize health, dental and eye-care visits which aren't fully covered by their primary insurance. While each of the Thoroughbred racetracks in Ohio organize health fairs once each racing season where backstretch workers can go for things like blood and cholesterol tests.
"Additionally, at Belterra Park, we have a health trailer, which is open one night per week from which Dr. Joe Kiesler and his team from the University of Cincinnati can provide free health care for backstretch employees," wrote executive director of the Ohio HPBA, Dave Basler.
"Some of them would even self-medicate using horse medications provided by the vets"
But sometimes, the health services available to backstretch workers is "absolutely inadequate", said Heide Castaneda, associate professor of anthropology at the University of South Florida, who in 2010 conducted a health study of backstretch workers at a racetrack in Florida (she's unable to divulge the identity of the facility as a condition of the study).
"There was a very clear distinction between the value of the horses and the value of the workers," she said.
Among the damning findings of her report, Castaneda identified common recurring health complaints among the backstretch workers that frequently went untreated, like hypertension, diabetes, as well as gastrointestinal and general musculoskeletal problems. High instances of substance abuse were fueled and exacerbated by issues of isolation, low wages, and poor housing and work conditions.
"Lot of the workers will suffer from chronic pain, and drugs and alcohol become a way to deal with it, an anesthetic," she said. "Some of them would even self-medicate using horse medications provided by the vets."
The Racetrack Chaplaincy of America (RCA), with representatives at nearly all U.S. racetracks, is the program with perhaps the closest links to the everyday lives of backstretch workers from coast to coast.
The "spiritual health" of backstretch workers is the primary focus of the organization, said Dan Waits, executive director of the RCA. And, when it comes to addiction problems, chaplains can provide one-on-one counseling sessions, and point workers towards AA meetings, either at the track itself or outside.
"There's a whole gamut of services that they're providing to make a difference in a lot of people's lives," said Waits. "These guys are devoted."
Only, while racetrack chaplains are "literally on the front line of trying to help these workers," said Castaneda, many are not trained to effectively deal with and help people with very intense addiction issues, she admitted.
"Their hands are bound in a lot of ways," she said. "And they just don't have the resources to try to deal with some of these major issues."
"Horseman are really good at training horses but they're not always so good at keeping the right paperwork"
The investigation in 2000 (mentioned in part one of this series) that precipitated new labor laws for backstretch workers in California is hardly an isolated case. In 2008, a New York state investigation of Saratoga, Belmont Park and Aqueduct resulted in the collection of at least $234,000 in unpaid wages. Some 77 percent of trainers interviewed at Saratoga didn't keep legally required records related to time and payroll.
Much has been made subsequently of improved labor practices in New York – a view mirrored by Paul Ruchames, of the Backstretch Employee Service Team. "The number of stories we would hear of complaints of labor law violations has certainly decreased," he said.
As to the industry nationwide, however, the Department of Labor's Wage and Hour division comes down hard on trainers for a "wide range" of sanctions, like non-payment of overtime wages and for issues related to immigration, said Will Velie, an immigration attorney based in Oklahoma whose work frequently overlaps with the horse racing industry.
"It happens all the time – we're dealing with a trainer right now who just got hit with a $30,000 fine," he said. "Horseman are really good at training horses but they're not always so good at keeping the right paperwork."
Trainers can arm themselves against potentially hefty fines by doing two things, said Velie: one, by keeping a comprehensive record of 1-9 employment eligibility forms, correctly filled out and signed; and two, by keeping track of the hours worked by their employees.
As for backstretch workers with labor law concerns or complaints, they should approach the Department of Labor's Wage and Hour division. The same applies to undocumented workers, as the department "will not ask the status of the person filing a complaint," said Velie.
Workers who have no desire to walk away from the sport they love
Undocumented workers intimidated by an agency like the Department of Labor can always turn to advocacy groups like the Saratoga Economic Opportunity Council, said Ruchames, or to their racetrack chaplain, many of whom have forged working relationships with immigration attorneys in their area.
But, at the end of the day, there's no easy fix to the problems listed in this series. Nor is it simply a case of pouring more money into the system.
Have some tracks that have tried to improve amenities for backstretch workers found themselves ensnared by bureaucratic red tape, and by building code and environmental regulations? Absolutely.
Despite the good work put in at addiction programs at so many of the nation's racetracks, this close-knit, hard-drinking world is hardly the best environment for those trying to dry out. And most backstretch workers are in no position, nor have any desire, to walk away from the sport they love.
But, according to Reid McLellan, with the Groom Elite training program, what is necessary for a brighter future of the sport is to invest time and instruction into the nation's backstretch workforce, especially with so many entering the industry with less and less basic experience with horses.
"In the old days, the older grooms used to mentor the younger grooms," he said. Only, nowadays, that's not happening. "It's an omission."
For it's said that a moment's insight is sometimes worth a life's experience, and McLellan has witnessed first hand the overall change in attitude and demeanor of grooms that have gone through his Groom Elite courses.
"Something like what we do should be a licensing requirement for grooms at the track. It's transformative," he said. "And I've found that, where I do these classes, they do look after the grooms better."
The potential impact from tightened immigration regulations on the industry's undocumented workforce: part three is next Wednesday