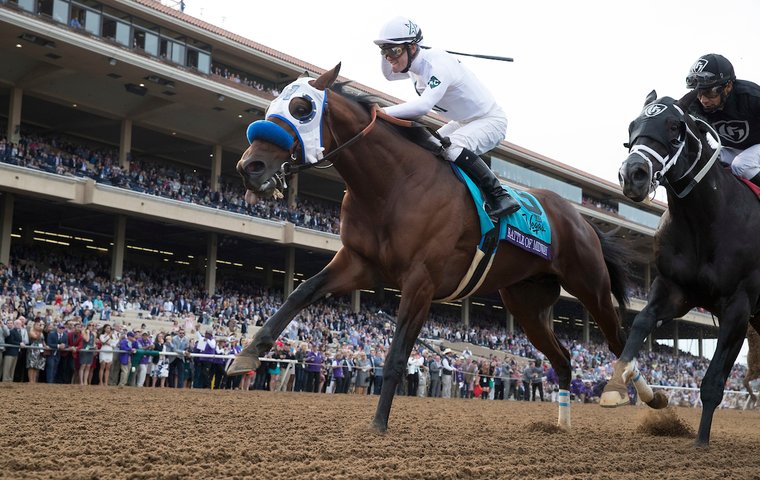 In this article last Wednesday, I pointed out that the 2018-19 racing season was not Santa Anita's worst in terms of fatal track accidents. The number of horses who died racing and training at Santa Anita in 2018-19 was comparable to the year before, and down 25 percent from the year before that. On that basis, it's hard to understand why Santa Anita is having a scandal this year, and didn't have a scandal two years ago.

One possible explanation is that 2019 got off to such a horrendous start.
Between the first day of January and the last day of February, ten horses died in races and eight in training at Santa Anita. The worst period was February 22-23, when three horses died in an 18-hour period — one in a race and two in training, including the 2017 Breeders' Cup Mile winner Battle Of Midway. Surely nothing like that had ever happened before.
Actually, it had.
In 2016, on the very first day of the year, three horses suffered fatal racing accidents in the space of half an hour. In the day's second race, at 1:02 pm, a horse named Rastanora "broke down at the second turn", according to trip notes, and a horse named Send Me A Sign, ridden by Mike Smith, "pulled up in distress entering the stretch". Both horses were vanned off the track and later euthanized.
This did not delay the third race from starting at 1:32 pm. In that, the favorite — One Of The Greats, ridden by Victor Espinoza — "took a bad step and broke down on the backstretch and was pulled up into the turn". He too was vanned off the track and euthanized. The stewards conducted an inquiry into an unrelated bump between two other horses in the stretch, but the next race got off at 2:06 pm, luckily without incident.
By the end of February, though, nine horses had died in races — just one fewer than the ten who died in the first two months of 2019.
The horses who died on January 1, 2016, did not have clumsy jockeys. Mike Smith would win the Bill Shoemaker Award later in the year, and Victor Espinoza had just won the Triple Crown on American Pharoah. Nor did rainy weather play a role, as it did in early 2019. On January 1, 2016, the weather was "clear" and the track was "fast".
Ten is not the record number of deaths for a two-month period at Santa Anita. 2014 had an even worse two months, though it occurred later in the year. Between March 15 and May 11, 2014, 11 horses died racing at Santa Anita.
Here are the cumulative number of racing deaths, by date, over Santa Anita's past five years. 2019 had by far the worst January, but does not stand out otherwise.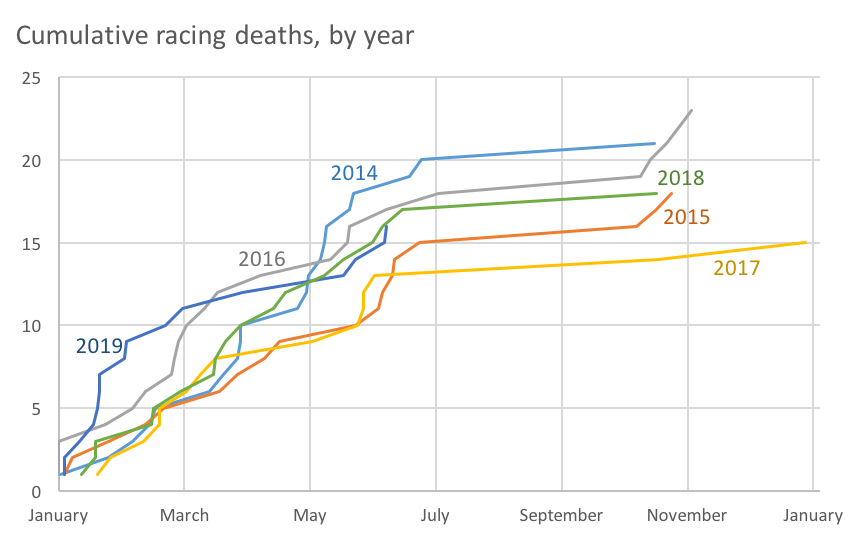 It's time to get over the idea that what happened at Santa Anita this year was unprecedented. It was unusual, thank heaven, but such streaks of fatalities have happened before — not just at Santa Anita in 2014, 2016 and 2019, but at Aqueduct in 2011, and Arlington in 2005.
As we've seen, these streaks do not always attract attention, so it's likely that similar streaks have occurred at other tracks without much notice.
Between 2009 and 2015, the North American racing industry lowered its rate of fatal racing accidents by 20 percent. But nearly all the drop occurred in the single year between 2014 and 2015, and it is not clear why. There has been no progress over the past five years. The question is not what happened at Santa Anita in January and February, but what the racing industry can do nationally to achieve sustained and substantial reductions in racetrack fatalities.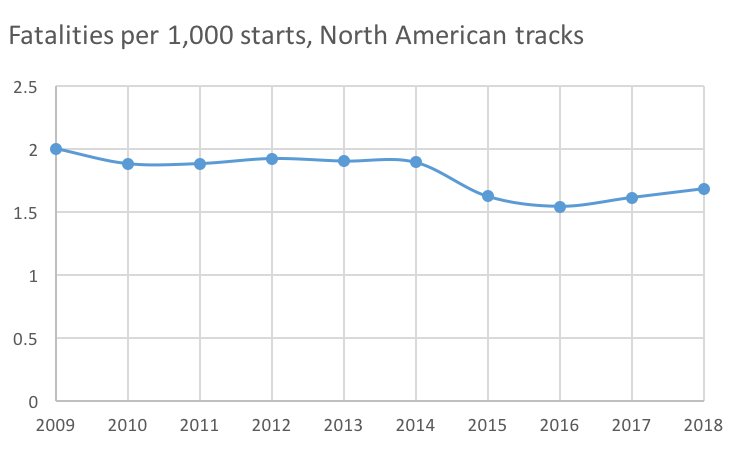 ------------------------------
Paul von Hippel is an Associate Professor at the LBJ School of Public Affairs, University of Texas, Austin. He tweets about horse racing at @equinometrics.
A note on sources: National statistics on the fatality rate per 1,000 starts come from the Equine Injury Database (EID). The name and date of every equine fatality since 2014 at Santa Anita and elsewhere is published on the website HorseRacingWrongs.com. Because Horse Racing Wrongs campaigns for the abolition of horse racing, I was initially concerned about the impartiality of its data, but it obtains its statistics through public information requests to state racing boards, and its annual counts of racing fatalities are usually within one or two of the counts in the EID. (The only exception is in 2017, when the EID reported 20 racing deaths and Horse Racing Wrongs reported only 15.) I would have liked the dates of training deaths, but could not find a source that reported them systematically before 2018.