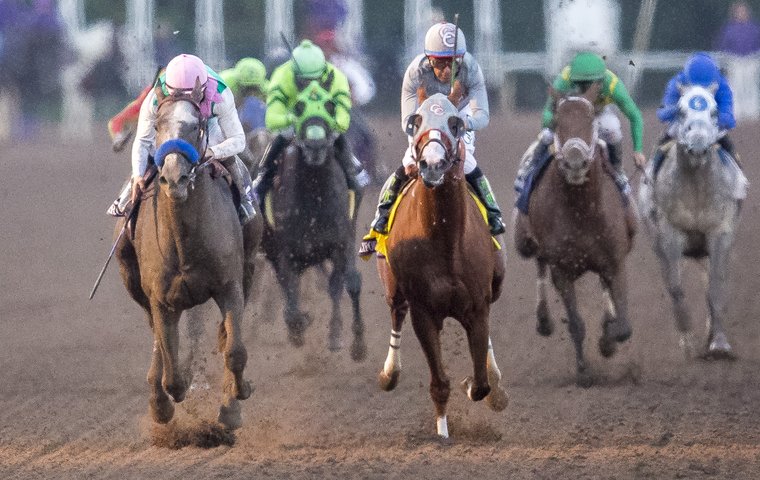 The wild scramble to find horses to fill the 12 starting berths in the inaugural $12 million Pegasus World Cup has been described in numerous ways by participants and organizers.

Dean Reeves, one of the dozen stakeholders who each paid $1 million for a spot in the race, calls it "a great experience."
Ron Paolucci, owner of War Story, who will start in the spot belonging to Dan Schafer, says: "It's a learning process."
Mick Ruis, a stakeholder, talked about "a game of cat and mouse."
Jeff Weiss of Rosedown Racing, another stakeholder, said it was "interesting and different. It's something unique."
Tim Ritvo, President and General Manager of Gulfstream Park, which will serve as the host site for The Stronach Group's innovative spectacle on Jan. 28, mentioned it as "an open market."
Valuable commodity
It's also a frenzied process that might prompt one horseman to become an author. "It's been fascinating. I could write a book on our role in it," said Jerry Crawford, President of Donegal Racing.
Crawford and Donegal joined the Pegasus fray on Dec. 28, when they finalized a deal to have Keen Ice start in the spot belonging to Jerry and Ronald Frankel. As the third-place finisher in the Breeders' Cup Classic behind Arrogate and California Chrome – the two heavy favorites in the Pegasus field – and conqueror of American Pharoah in the 2015 Travers, Donegal's Keen Ice was one of the top prizes in racing's version of "Let's Make a Deal".
"Conservatively I had 50 conversations with stall owners and others involved in the Pegasus," Crawford said. "Once California Chrome and Arrogate were set, Keen Ice became a valuable commodity because people saw him as the third-best horse. We were able to put together an agreement that was favorable to Donegal Racing and fair to the Frankels."
As of Jan. 2, Keen Ice was one of eight prospective starters in the Pegasus, leaving four stakeholders who have yet to line up a starter in the mile-and-an-eighth Grade 1 showdown.
Nyquist and a Pegasus pitfall
Weiss, Reeves, Ruis and a partnership group consisting of Moustapha Fostock, Earle Mack and Chester Broman are still trying to dot all the Is and cross the Ts on a deal for a horse to run in the Pegasus. It is expected they will finalize those deals in about a week and a clear picture will then emerge of what has been happening since mid-May.
It was during Preakness week at Pimlico that The Stronach Group announced 12 stakeholders had agreed to put up $1 million each to run a horse in hopes of capturing the $7.1 million winner's share of the purse while dividing the revenue from television rights, wagering and sponsorships, and with that the wheeling and dealing began.
Only a handful of stakeholders had a horse good enough to be a Pegasus candidate, led by California Chrome LLC, which ponied up $1 million for a spot for the stable's namesake and will be represented by a horse who stands as North America's all-time earnings leader and will vie for favoritism at the betting windows with Arrogate.
Reflective of the race's pitfalls, Paul Reddam purchased a spot in hopes of running Kentucky Derby winner Nyquist, but after agreeing to put $1 million in the Pegasus spot, his classic winner never won another race and was retired in late October. In Nyquist's place, it was reported in Thoroughbred Daily News on Dec. 29 that Reddam will start Semper Fortis, who was sixth in the G1 Malibu at Santa Anita on Dec. 26.
The crown jewel
Stronach Group Founder and Honorary Chairman Frank Stronach bought a spot in the race he created and will start Adena Springs' G1 winner Shaman Ghost, who won the Woodward at Saratoga last year.
Starlight Pegasus Partners, headed by Jack Wolf, the CEO of the Pegasus World Cup, plan to run one of their horses, Neolithic, who was second in the G3 Discovery at Aqueduct and most recently won an allowance race at Gulfstream Park.
Jim McIngvale, who bought a spot that was intended for 2015 Eclipse Award champion sprinter Runhappy, recently bought Eragon, a G1 winner in Argentina, to run in the place of his retired champion.
Beyond them, the other seven stakeholders have been courting other owners' horses in search of starters, taking advantage of the Pegasus structure, which allows them to sell, rent or lease their spot for the race.
After the Breeders' Cup Classic, when Arrogate beat California Chrome by a half-length – and Keen Ice was a distant third, more than 10 lengths behind them, the Juddmonte Farms colt became the crown jewel for stakeholders. That bidding war was won, to no-one's surprise, by industry giant Coolmore Stud on Dec. 22. Though Juddmonte representatives would not comment on the specifics of the deal, sources close to Pegasus negotiations say Juddmonte used a combination of cash and breeding rights to Arrogate to secure the spot in exchange for full access to purse money.
Angst among stakeholders
Once Arrogate was off the table, negotiations took on a different look. With the top three finishers getting $7.1 million, $1.75 million and $1 million in descending order and the fourth through 12th finishers receiving just $250,000 each (plus a share of royalties), the prospect of having to face two dominant stars in Arrogate and California Chrome created angst among some of the stakeholders.
"This year everyone was playing cat and mouse with Arrogate, then Coolmore came in and no-one had a deal. We all waited too long to decide what to do," said Ruis, who intends to purchase a Pegasus starter. "I think everyone went after Arrogate and they were in the catbird seat. I imagine everyone who doesn't have a horse now had talked to them. Then Coolmore came in and most of us are little guys compared to them."
So far, no one has spoken about the exact details of their Pegasus deals for reasons understandable to Paolucci, who races under the banner of Loooch Racing Stables.
"We can't discuss the terms," Paolucci said. "It's a secret. If it were up to me, I'd talk about it. The reason no one is saying anything is because of the impact it could have on the negotiations with the remaining stakeholders."
Purse share negotiations
Yet several sources close to the situation say most deals involve getting the use of a horse, with the horse's owner and the stakeholder each taking a share of the purse for a top-three finish. As one put it: "The negotiations seem to start with a stakeholder wanting a 60 percent share of the purse and giving the horse's owner 40 percent and the owners seeking a 60-40 break in their favor and going from there."
Most of those deals will probably not include the $250,000 out of respect to the financial loss a stakeholder will suffer for a fourth- through 12th-place finish.
"The stakeholders have to get something back," Crawford said. "There has to be fairness. My guess is that most people will leave the $250,000 with the people who put up the $1 million. I'm just glad I represent one of the best horses in the country and I'm not a stall owner because the negotiations are tougher for stallholders."
Paolucci said his deal was 'top heavy' and geared to reward him only for a top finish by War Story, who won the Queens County Stakes by 7 ¾ lengths in his last start.
First refusal for next year
"I believe in my horse," Paolucci said. "If I don't light up the board, I don't want any money. We were talking to a few stakeholders we sought out, but prior to the Queens County not too many people were looking at him because they didn't know the background on the horse. There were more people interested after the Queens County, but I had talked to Dan and, once War Story ran like he did, with our personalities and our approaches being similar, it was pretty much a done deal with Dan at that time."
As negotiations wind to a close, what stands out is that the people holding the final four open spots at this late date seem quite intent on returning next year.
"We have right of first refusal for the spot next year," said Reeves, who owned 2013 Breeders' Cup Classic winner Mucho Macho Man. "I'm hopeful that I'll be in a position to buy that spot again next year and my plan is that, if I am, I will go forward with it. I think it's going to be a neat situation. I believe it's thinking outside the box.
"We owe a lot of credit to Mr. Stronach for all the money he is putting into this race and the marketing (Stronach Chairman and President) Belinda Stronach is doing for it to make it a top event. For horse racing, it's great. It will keep horses around longer and next year we will have a whole new set of characters and that should be fun."
Growing pains
Ruis believes he has some newly turned 3-year-olds who could emerge as Pegasus contenders in a year's time and is eager to sign on again.
"It wasn't quite what I expected because who figured both of the top horses would be in the race and everyone would be running for third money. So that made it hard to find a horse," Ruis said. "But I definitely will come back in, hopefully with a horse of my own."
Weiss also spoke in positive terms about the 2018 Pegasus.
"I think it will be a great race this year," he said, "but it will be off the chart next year. I figured there would be some growing pains, but I'm in for the long game. Absolutely I'm in for next year. Frank Stronach told us the original partners are the future of this race."
Broman, who has a 25 percent share of the stake with Mack and Fostock, said he, too, was open to returning next year.
Appeal of the undercard
Aside from the Pegasus, the Jan. 28 card at Gulfstream will also include the Poseidon, a $400,000 race for older horses at a mile-and-an-eighth, restricted to horses entered by Pegasus stakeholders.
In some cases, Pegasus negotiations involved horses for both races, but stakeholders said it was difficult to find owners with horses good enough to run in both races. One who fit that bill was Paul Pompa Jr., who owns Connect, winner of the G1 Cigar Mile and G2 Pennsylvania Derby, and Send It In. Connect was a coveted chip for stakeholders, but Pompa and trainer Chad Brown decided to skip the Pegasus and point toward a spring campaign. Send It In won the $100,000 Alex Robb for New York State-breds by nearly four lengths at Aqueduct on Dec. 31.
"We didn't want to rush Connect into the Pegasus, but everyone involved in the race was a gentleman," Pompa said. "They sold the shares to good people. Jack Wolf was a gentleman. Dean Reeves was a gentleman. The Frankels. Everyone was professional. Giving stakeholders the right of first refusal was a good move. There's always uncertainty in year one, but this could end up being a cultural event and become huge. There could be a day when putting up the $1 million is a good investment once it gets its legs under it."
Going forward, as with anything new, there promises to be changes in year two after The Stronach Group reviews how the inaugural race turned out.
Flashback to the old days
"Year One is always a struggle, but the big thing is to be successful in year one because it puts a good taste in everyone's mouth, and then years two and three will easier," Ritvo said.
"As we move forward, we want to see everyone be successful. It's a new concept. It's a flashback to the days when people put up money and said my horse is better than your horse. The shareholders have become an owner of the track that day. A lot of thought went into it and, like anything that will be great over time, it takes a lot of tweaking, and we appreciative that the shareholders have been open to tell us what we're doing right and what we're not so we can make changes for next year.
"When you look back at the early days of the Breeders' Cup, it's a totally different beast than it was 32 years ago."
A major change could involve the site of the 2018 race. Ritvo said there was "a chance" the Pegasus could be moved to Santa Anita, a Stronach racetrack in California with a much larger seating capacity than the company's Gulfstream Park facility.
Ultimate goal
"The ability to put 40,000 or 50,000 people in (Gulfstream) has hampered us, while California has proven they can do it easily. The weather is great out there. If we can move it back and forth occasionally there may be an opportunity for sponsorship dollars," Ritvo said.
Sponsorships are part of the revenue that will be divided among stakeholders, and Ritvo said that could produce a payday this year of between $100,000 to $300,000 per entrant, with the final total likely checking in somewhere near the middle.
"The idea is that we'll have enough revenue in future years to make everyone happy," Ritvo said. "We're not in this for one and out. We're in for the long run. The Stronach Group, from Mr. Stronach to Belinda, has an ultimate goal of growing the sport. They are the largest racetrack owners in America and the idea is to create new fans and grow the sport and a concept like this can do that.
"We're putting our money where our mouth is and the shareholders are benefitting in Year One because it's The Stronach Group that's footing the bill for (television coverage on NBC) and everything else. But we think it's important. We think it's important to showcase a product that we believe will become a premium product over time."
Mission to Japan
An important part of the Pegasus' future involves international involvement. Reeves and Stronach Group representatives made a trip to Japan in hopes of landing a Pegasus starter - and giving the race access to the Japanese wagering public – but they came back empty handed.
"The flight to Japan was more about trying to get a horse from there to expand the handle, which would have been helpful to all the stakeholders," Reeves said. "It was a sort of a fact-finding mission. It was great and we really enjoyed it."
Weiss said the race's unique structure worked against it in landing foreign participants.
"I'd like to see more international involvement with more international wagering and horse from places such as Hong Kong, Japan and Ireland," he said. "I don't think the right press got out about the race. I was told by a (Stronach executive) that people in Japan believed the race was sold out once the stakeholders bought in. They only found out recently that they could run in it and at that point they didn't have horses ready for it.
Blockbuster for fans
"I think they'll get some foreign horses next year because now their connections understand how it works. It's such a unique structure."
While one important phase of the Pegasus is approaching an end, the lasting image of the race in most eyes will depend on what happens on the racetrack on Jan. 28. Ironically, what promises to make the race a blockbuster for fans has worked against the stakeholders the last few months yet it should benefit them in years to come.
"Having California Chrome and Arrogate in the race has hurt us as stakeholders in trying to find horses to run against them," Reeves said, "but it has given the fans a great race, which is important for building interest in the race and making it popular. Yet what's great is that, while the fans got what they want, anything can happen. It will not be easy but we might beat those two. It's still horse racing."
Indeed it is, except that the Pegasus is giving an old sport a fresh twist while giving birth to some new and interesting ways of describing it.