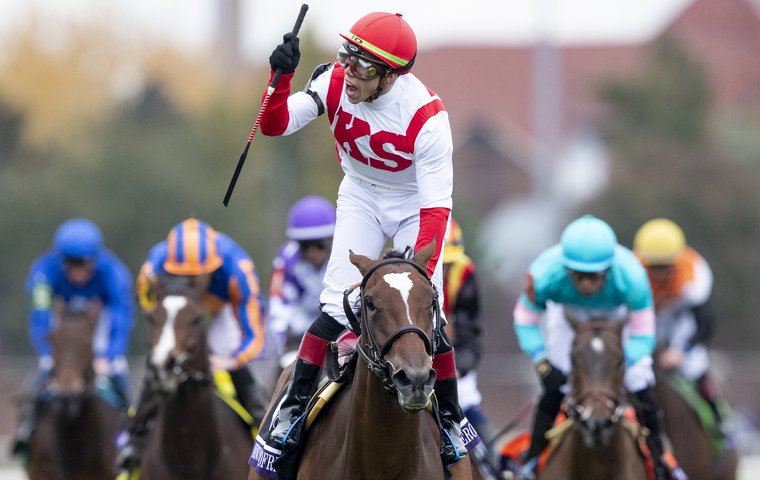 On February 13, the New York Racing Association announced two exciting new turf series that will be run at Belmont Park and Saratoga this summer: the 'Turf Trinity' for males and the 'Turf Tiara' for fillies.

Two of the races, the Belmont Derby and the Belmont Oaks, were launched on July 5, 2014, in a then new and innovative program, the Stars and Stripes Festival, which was developed by Martin Panza, NYRA's senior vice-president of racing. These successful Grade 1s will now be the first legs of the Turf Trinity and the Turf Tiara and will be run on July 6 at Belmont Park.
The Turf Trinity will launch with the Belmont Derby at a mile and a quarter, with a purse of $1 million, and will be followed by the $1 million Saratoga Derby (9½ furlongs) on August 4. The final leg will be the $1 million mile-and-a-half Jockey Club Derby at Belmont on September 7.
For fillies, the Triple Tiara starts with the $750,000 Belmont Oaks (a mile and a quarter), followed by the $750,000 Saratoga Oaks (9½ furlongs) on August 2.. Final leg is the $750,000 Jockey Club Oaks at 9½ furlongs at Belmont on September 7.
I encourage you to read Bob Ehalt's excellent report on the series in The Blood-Horse, which included positive reactions from trainers, owners and a breeder.
Factors that have led to the new series
There are a number of developments in different aspects of the industry that have changed significantly over the last decade and have culminated in this new NYRA series.
1. Turf races have been growing in quality
As pointed out by Sid Fernando in his October 19 Taking Stock article in the TDN, the number of turf races as a percentage of total flat races has changed dramatically in the last nearly three decades. In 1991, there were 71,454 flat races in the U.S. with only five percent of them on turf. In 2017, there were 37,483 flat races in the country, with 17 percent on turf.
Granted there are some numbers that could skew the percentages as more smaller tracks without turf courses close than tracks with them. However, as Fernando points out, 39 percent of all Graded races in the U.S. in 2017 were on turf.
Put another way, there were nearly five times as many races on the dirt as there were on the turf, but only two and a half times as many Graded races. Clearly turf racing exists at a much higher level than dirt racing in America. It is indisputable that turf racing has grown immensely in the U.S. over the last few decades. Ask any racing participant: bettor, trainer, jockey, owner, breeder, sales company, racetrack, etc. about their opinion on turf vs. dirt racing.
2. The international bloodstock market
The Thoroughbred breeding and sales market is a truly international business today and continues to expand around the world, with major sales companies like those listed here (according to their home country) competing for customers for yearlings, 2-year-olds, horses of racing age, breeding stock and at major dispersals:
United States - Keeneland, Fasig Tipton
Ireland - Goffs
UK - Tattersalls
France - Arqana
Australia - Inglis, Magic Millions
An excellent example of an owner and trainer moving beyond their home U.S. market is the case of Chad Brown and Klaravich Stable. With his talent and ability with turf horses, it was logical for Brown to expand his acquisition activities to European sales companies. One of the most impressive 2018 Breeders' Cup winners was Newspaperofrecord in the Juvenile Fillies Turf. She was purchased by Brown for Klaravich Stable at the Tattersalls October 2017 yearling sale in Newmarket for around $278,000. Brown has also been active in the Goffs yearling sales.
Less than a decade ago, U.S. owners, their agents and trainers were not significant participants in Europe and Australia, but that has been changing rapidly.
3. Turf stallions from Europe
U.S. and European breeders have also watched with interest the growth of demand for well-bred European turf performers retiring to stud. Here are a few recent examples of U.S.-based breeders pursuing potential European turf sires:
Mendelssohn has a race record and a pedigree that would indicate strong potential performance by his offspring on turf and dirt. He was a Coolmore sale-topping purchase ($3 million) at the September Keeneland sale. He won the BC Juvenile turf and went on to win the Dubai UAE Derby by a huge margin. He is a half-brother to multiple G1 winner and two-time Breeders' Cup winner Beholder and to G1 winner Into Mischief. The rest of his 3yo season was perhaps slightly disappointing, but, as a son of the deceased Scat Daddy (who sits near the top of the stallion rankings), he is already proving popular in the breeding shed at a fee of $35,000.
Juddmonte have one of the best broodmare bands in the industry and yet two of their most celebrated recent winners are now standing in the U.S. Flintshire was the 2016 U.S. turf champion, with multiple G1 wins in the U.S. and Europe. John Sikura, of Hill 'n' Dale Farm, has secured the breeding rights for Flintshire and he will be in high demand as a stallion.
Juddmonte also bred and raced Noble Mission, a full-brother to Frankel, who is generally regarded as one of the greatest racehorses we've ever seen. Lane's End Farm purchased the breeding rights for Noble Mission after he retired at the end of his 5yo season. At his current stud fee of $15,000, he represents tremendous value as a U.S. turf sire.
4. Expansion of U.S. turf programs
Astute racing executives are also trying to enhance their programs to support quality turf racing. Martin Panza at NYRA has been a strong advocate for carding more longer-distance turf races. The Turf Trinity and Turf Tiara series are significant examples of this strategy. They will most certainly attract important 3yo runners, not only from the U.S. but also from Europe.
Indeed, U.S-based trainers who may have been tempted to run in Europe now have a strong incentive to keep their horses at home. For example, Brown, not noted for sending horses to Royal Ascot, indicated after Newspaperofrecord's strong Breeders' Cup win that she might head there in June. After NYRA's announcement, Brown suggested that the filly might stay in New York.
5. A turf course brings a competitive edge
Major tracks such as Oaklawn Park, and smaller ones such as Finger Lakes, which have not developed turf racing because of the lack of a turf course, may find that a dirt-only program will put them at a competitive disadvantage as dirt races become increasingly more difficult to fill.
Tampa Bay Downs works very hard in maintaining one of the best turf courses in the U.S. and is a brilliant example of a track leveraging its turf course as a competitive advantage. For example, last Wednesday (February 20), Tampa carded a maiden special weight race for 3yo fillies that attracted an impressive field.
The horses entered that day included Egyptian Storm, who is a half-sister to Horse of the Year Justify trained by Christophe Clemente. At that time, Clemente had won nine races from 36 starts. All his starters at Tampa are trained at Payson Park, which is a 200-mile drive away.
That field also included a Bill Mott-trained Juddmonte homebred, Exchange West, Chancetheracer, a Gainesway $200,000 Quality Road purchase trained by Graham Motion, and two Todd Pletcher entries - a $320,00 Keeneland Malibu Moon purchase, Lavish, and the winner, Pep, a $125,000 Keenland purchase by City Zip.
Five of the eight starters made the 200+ mile trek from Payson Park or Palm Beach to Tampa. The purse for the Tampa maiden race was $22,000. All these horses were eligible to run in multiple maiden special turf races that week at Gulfstream for a purse of $50,000. Gulfstream is much closer to Palm Beach Downs and Payson Park than Tampa. The quality of the turf course is clearly important to these top-of-the-line trainers.
The evidence of the TRC Global Rankings
Accurate and detailed sire rankings on the turf provide an advantage in this competitive turf market. The new and emerging TRC Global Sire Rankings provide true performance rankings for both turf and dirt. Below are the current TRC Rankings for turf and dirt sires in the U.S. For comparative purposes, I have listed the top 50 U.S. dirt sires and the top 25 U.S. turf sires.
Top 50 U.S. stallions on dirt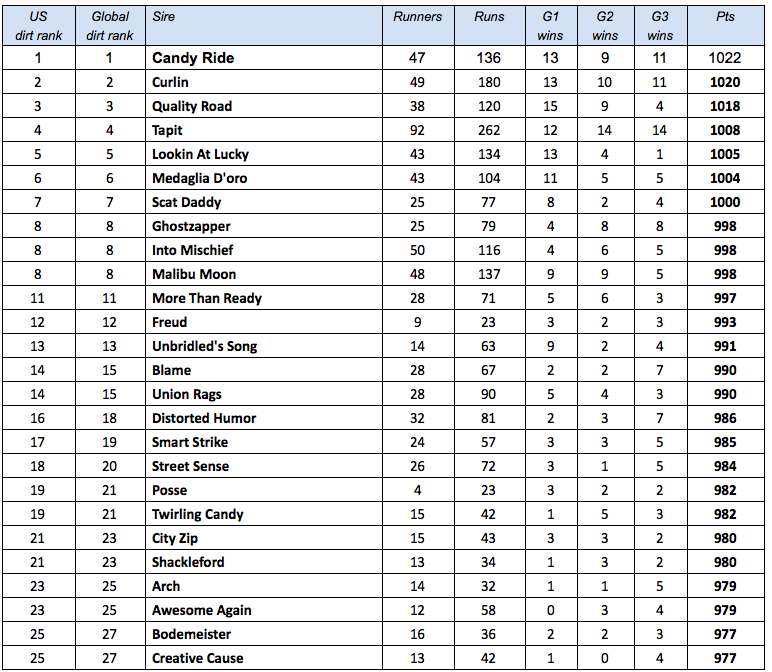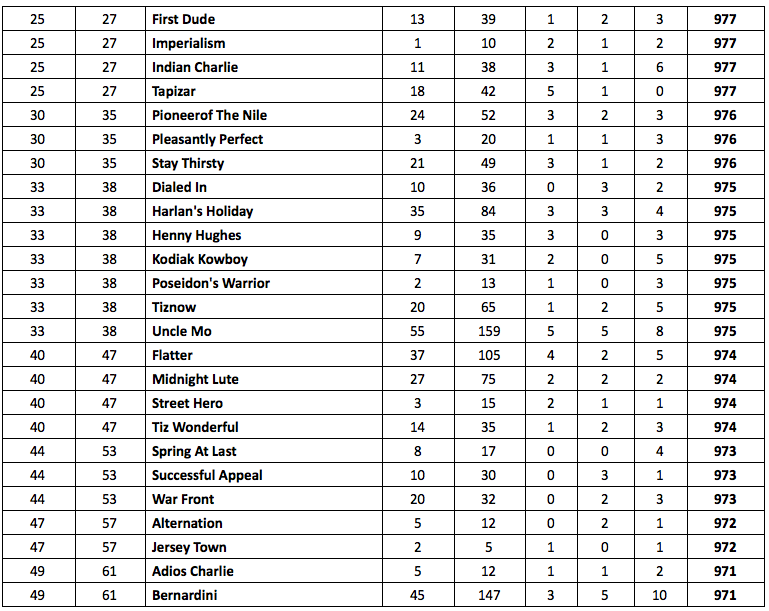 Top 25 U.S. stallions on turf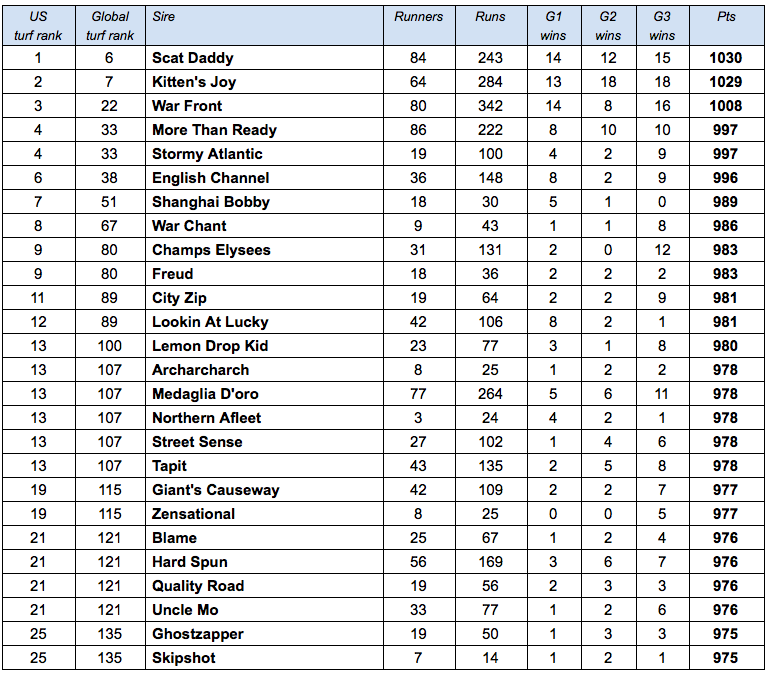 If you are not familiar with how the rankings are calculated, it would be time well spent to read this one-page summary.
Most other ranking systems are purse-driven, which is not really so instructive in this day of slot contributions, restricted race earnings and events like the Pegasus races, where big winners receive ridiculously high purse returns.
Our database for statistical calculations has the results of the best 1,450 Group and Graded races from around the world.
To be clear, the TRC Global Rankings are completely performance-based. We apply performance numbers from Racing Post turf and dirt rankings for each horse in every designated race. This calculation takes into account field size as well, and the performances are statistically adjusted to award incrementally higher marks for the more recent races. For example, a 120 RPR has a higher value for a race run in 2018 than those races run in the prior two years.
It is important to note that, since the TRC Global Rankings are based on a three-year racing performance record, new sires have to perform extraordinarily well to achieve a high TRC ranking before the end of their third crop in races.
If you have a serious interest in understanding more regarding the statistical derivation of the rankings, here is a much more detailed mathematical articulation.
Regarding the U.S. sire rankings listed above, I am a decent handicapper but I do not have the experience or knowledge to comment in detail about the prospects of a particular stallion. However, there are a number of TRC rankings where a particular stallion is performing in both turf and dirt categories and also where the current stud fees based on his ranking would seem to indicate the possibility of financial value. Here are some of my observations:
It is truly a tragedy that Scat Daddy died at a very early age. According to the rankings, Scat Daddy to this day (because of the three-year rankings window) is the leading U.S.- based sire and the #1 ranked sire on turf. He is the #7 dirt stallion.
Lookin At Lucky, son of Smart Strike, is also highly ranked - at #5 in the U.S. on dirt and #12 on turf. Lookin At Lucky would seem to represent potential value in light of his 2019 $20,000 stud fee.
More Than Ready is also a strong dirt/turf ranked sire, with a #4 ranking on turf and #11 on dirt.
Street Sense looks to have considerable appeal based on his #13 turf ranking, his #18 dirt ranking and a $50,000 stud fee.
As one looks for significant variance between turf and dirt rankings, War Front ranks extremely well on grass - as the #3 U.S. turf stallion - but is ranked just #44 on dirt.
Turf racing in the U.S. is going to continue to increase in value for owners, trainers, breeders and jockeys, as well as for wagering customers. If there are particular questions or issues you would like to raise, please post them in the Comments section below, or email me at chayward@thoroughbredracing.com.