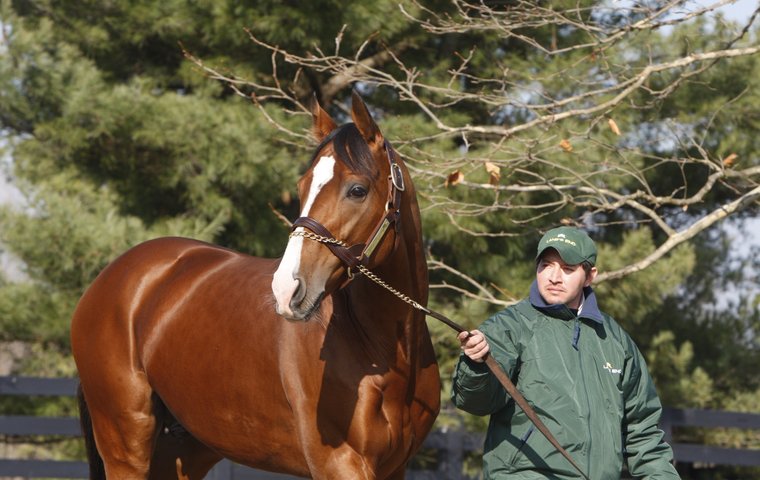 It's not often a champion son of Galileo has to worry about being in the shadow of anyone, but in Noble Mission's case, he will forever be linked to his older brother, the incomparable Frankel.

The fact they are full brothers is one of the reasons Noble Mission's stallion career is taking place in Kentucky instead of England, and it remains a decision those at Mr and Mrs William S. Farish's Lane's End Farm have a great deal of confidence in.
On the track
Born one year after Frankel, Noble Mission improved with age. When his heralded older brother retired in 2012, Noble Mission was 'just' a G3 winner. Then, in 2014, he truly came into his own as he became the victor of three G1s: the Tattersalls Gold Cup, the Grand Prix de Saint-Cloud, and the Qipco Champion Stakes. Overall, he won five of seven starts that season and was named champion older horse at the Cartier Awards.
Just like his brother, Noble Mission's victory in the Champion Stakes proved to be his swansong, but, although only two years had passed, so much had changed. The colts raced as homebreds for Juddmonte, and Noble Mission lived up to his name in a bittersweet way.
Both brothers were trained by Sir Henry Cecil, who died in 2013. His wife, Lady Jane Cecil, took over the training of Noble Mission, and his victory on British Champions Day was an immensely poignant and popular one.
"I knew that, if he won, it would be a fairytale and it absolutely was," she said after the race. "We knew the horse was in the form of his life, but we hardly dared to dream it could happen. This is so special because of what happened two years ago. I keep thinking I'm in a dream and will wake up. It has come true hasn't it?"
New start
For all Noble Mission's success, however, he was still Frankel's baby brother, and Frankel was already holding court as a stallion at Banstead Manor Stud. Less than a month after the Champion Stakes, it was announced a majority interest in Noble Mission had been purchased by Lane's End, and he was on his way to Kentucky.
"When Noble Mission rattled off all of his Group 1 wins, he was a natural for us to go after, and we were thrilled to get him," said Bill Farish. "I think Dad has always really wanted a top son of Galileo, and we saw the opportunity with Juddmonte. We have dealt a lot with them in the past. We didn't think they would want to stand two full brothers side-by-side, and Frankel obviously was the one they were going to keep."
Although turf racing is not the focal point of the American horseracing industry, there has certainly been a resurgence of interest in it, and Lane's End felt the timing was right to bring in a top-quality turf sire.
"It's kind of coming back around," said Farish. "I think people are looking at turf sires more than they have in the recent past. Importing European stallions certainly worked very well in the early Gainesway days.
"There are so many good turf races. The average purse for turf racing is higher than in dirt racing, and racetracks love the turf races because they fill easier. The horses tend to stay sounder."
After Noble Mission arrived in America, he instantly settled into to his new role, and his kind personality also has endeared him to those at the farm.
"He transitioned really well when he arrived here," said Bill Sellers, Lane's End's assistant manager, stallions. "He arrived here in excellent shape, and we didn't have any problems. We didn't have any trouble getting him acclimated, and he's a very good breeder. He's such a willing horse. He's easy to work with, and he's smart.
"He's a likeable type of horse, and he never causes trouble. Those are the types of horses you enjoy working around. He has a personality, and he's a fun, neat horse to have. He's the type of horse, if he were a dog, he would be the best dog ever because he's so willing to please."
Successful family
Frankel's fast start at stud has only helped to flatter Noble Mission. Plus, while no one anticipated Noble Mission's runners to be overly precocious, when his first crop started running last year, he showed he was like Frankel in new ways. Frankel's first runner was his first winner, and the same proved true for Noble Mission.
"I think he just benefits from Frankel's success," said Farish. "He's a great looking brother of his, and the unique thing about him is that, if it weren't for Frankel, he would still be a very popular stallion prospect. He was still a multiple Group 1 winner that is by Galileo out of an incredible mare. We don't mind that he was a bit in the shadow given that the shadow was Frankel.
"His early success with 2-year-olds is not something we expected and is something we are thrilled by. Ironically, Frankel in his first year had 16 winners, and Noble Mission got up to 16 winners in January. He had to use a little bit of January to catch up, but it's great to see that kind of precocity because certainly that isn't something we expected. However, with all the speedier American pedigrees that were bred to him, I think it's not a total shock."
As it happens, the biggest runner to date to come from Noble Mission's first crop is G1-placed Code Of Honor, who races as a homebred for Lane's End. He was offered at the 2017 Keeneland September yearling sale but failed to meet his reserve when bidding stopped at $70,000. He has earned $151,700 thus far while in training with Shug McGaughey. He broke his maiden at first asking, and perhaps most intriguingly, has never run on turf.
Code Of Honor was the morning-line third choice for the Breeders' Cup Juvenile until he spiked a fever the day of the race and was forced to scratch. He then also missed the G2 Remsen Stakes in December. In his first start since running second in last year's G1 Champagne Stakes, Code Of Honor finished fourth in the Mucho Macho Man Stakes in January, but hopes are still high around him.
"Shug is pointing him toward the Fountain of Youth, and hopefully he will redeem himself," said Farish. "It was hard for him because he got all ready to run in the Breeders' Cup and missed that. Then got all ready to run again in the Remsen and missed that. It's hard on a horse when you are getting them right to the edge, ready to run, and then you have to rethink things. Both were minor issues, but it's hard to come back three months after that and run a big race."
Beyond his first crop being more precocious and versatile than some may have expected, another thing working in Noble Mission's favor is the type of horse he seems to be siring.
"We like breeding a little speed to him, a mare with some scope," said Farish. "He's more of a Danehill-type horse, so a little more length seems to suit him. He's getting some speed being over here, which is good and certainly can't hurt.
"His foals tend to be really good walkers and good sales horses, so that could bode well for him in the future. One of the big things you love to see in a sales horse is having that walk."
Making a comeback
As a second-crop sire this year, Noble Mission faces yet another test beyond just the shadow of his brother. In 2016, he suffered a bout of colic that required surgery during the breeding season. That limited his book, which means this year, he is fighting an uphill battle when it comes to the numbers game.
"He had 65 mares that year, but most of them were later because he missed so much of the season," said Farish. "It was tough because, when you have a book of mares, you have to start letting people out of their contracts for obvious reasons, and you aren't sure what is going to be left by the time he was ready to breed.
"We were actually pretty happy to end up with 65. Last year he bounced back pretty well and had right around 100 mares, and we looking for a hopefully similar number this year."
The Thoroughbred market can be a fickle one, so even though Noble Mission's book in 2016 was not as robust as planned for reasons that couldn't be helped, it could still prove to be an issue.
"Even though they know why, it's still tough," said Farish. "If you were breeding to him in that third year, you were thinking, 'Well it's going to have be all that first crop that carries him.' There were several people that had 2-year-olds by him that were looking for another one at the yearling sales this past year, and there weren't enough out there. It's tough."
Happily for Noble Mission, he has had no lingering ill effects from his colic scare and has bounced back completely from the experience.
"For him to get back and finish that breeding season says something about his constitution," said Sellers. "Of all the setbacks during breeding season, colic is the worst thing that can probably happen to you because of the recovery time. But when we started breeding him back, he was fine. He never looked back.
"It never affected his fertility, and thankfully we had enough breeders who had faith in the horse. They waited for him to come back into service instead of moving on to another horse, which is pretty tough to do, waiting. For us to end up with 65 mares was a testament to people's faith in the horse."