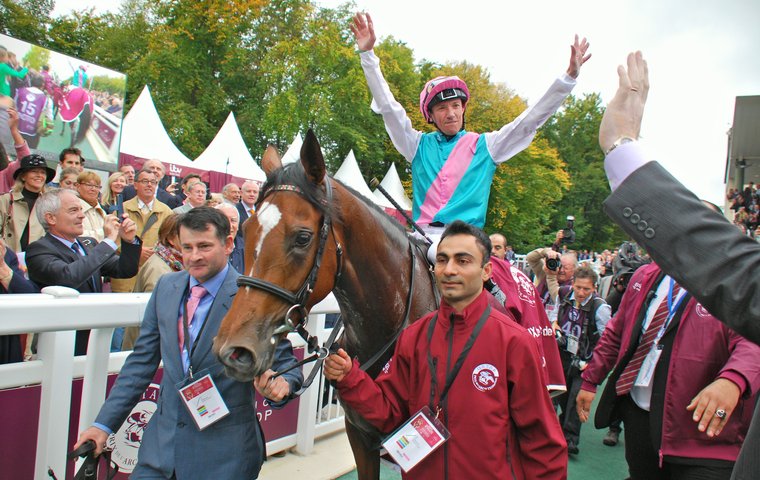 International racing is growing all the time, but where is it really booming, where is it dwindling, and which countries are likely to offer most fresh opportunities in the near future? James Crispe, the International Racing Bureau's associate director of editorial, sifted through a wealth of statistics going back more than 30 years, to find out the trends as far as British-trained runners are concerned.

To add the factual meat to the bones of the internationalisation of our sport, 30 years ago there were 555 British runners in overseas European races. By 2017 that figure had risen to a new record of 902.
And, to provide a slightly broader perspective, in the year 1997, British, European and United Arab Emirates trainers made 67 sorties outside Europe. Come 2017, and this number had risen to 385.
But the most detailed statistics I possess concern Britain alone, so I will concentrate on these while attempting to figure out in which direction international racing is going.
From a British point of view, the main growth area over recent seasons concerns our nearest neighbour, France. Thanks to the excellent levels of prize money and owners' premiums on offer, the number of runners there has more than doubled since 2010 with new annual record totals for cross-Channel raiders set in five of the last seven years.
Britain had 75 wins from 519 runners there in 2017. Back in 2004, it was 20 wins from 205 runners.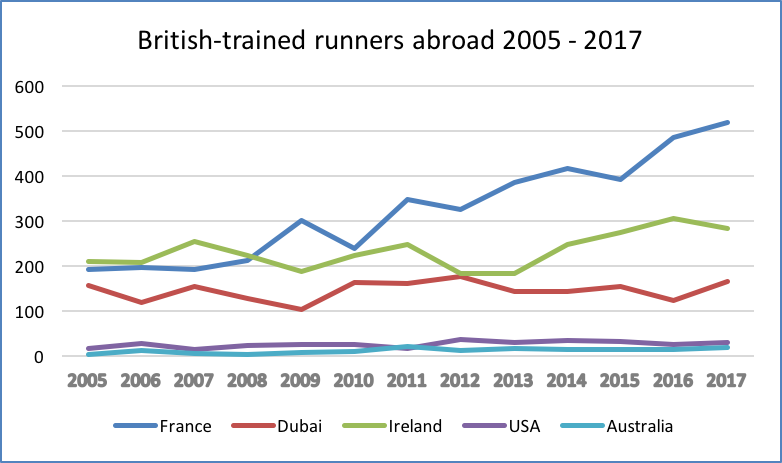 Despite its geographical remoteness, Australia has also flourished as a target for foreign visitors during the same period, mainly because overseas trainers are beginning to realise that, with Aussie dollars galore on offer, the Melbourne Spring Carnival need not just be about the Melbourne Cup. Britain had four wins from 20 runners in 2017. In 2004, it was no winners from four runners.
In terms of strike rate, of late by far the best port of call for adventurous British trainers has been Veliefendi in Istanbul, Turkey. The last four renewals of its early September International Racing Festival have witnessed the hoisting of the Union Jack on no less than 17 different occasions (from 50 starters), meaning more than one in three of the British shippers returned home triumphant.
Less positive pictures are portrayed by the statistics provided by Italy, Japan, Hong Kong and America.
Italy is the one major racing nation to have suffered a genuine financial meltdown over the past decade, and its plight has been mirrored by a downturn in overseas competition. Britain had 97 Italian runners in 2002, yet just a combined total of 39 runners there over the past five years.
In comparison, other countries' problems are insignificant. Indeed, in the case of Japan, the major reason why not a single yen has been pocketed by a British-trained horse over the last four years is the strength of the local opposition. Tokyo is a long way to go unless you can be sure your horse will be highly competitive.
Hong Kong has, to a lesser extent, suffered from a similar issue, hence no British victories there since 2012 and no prize money in two of the last three years.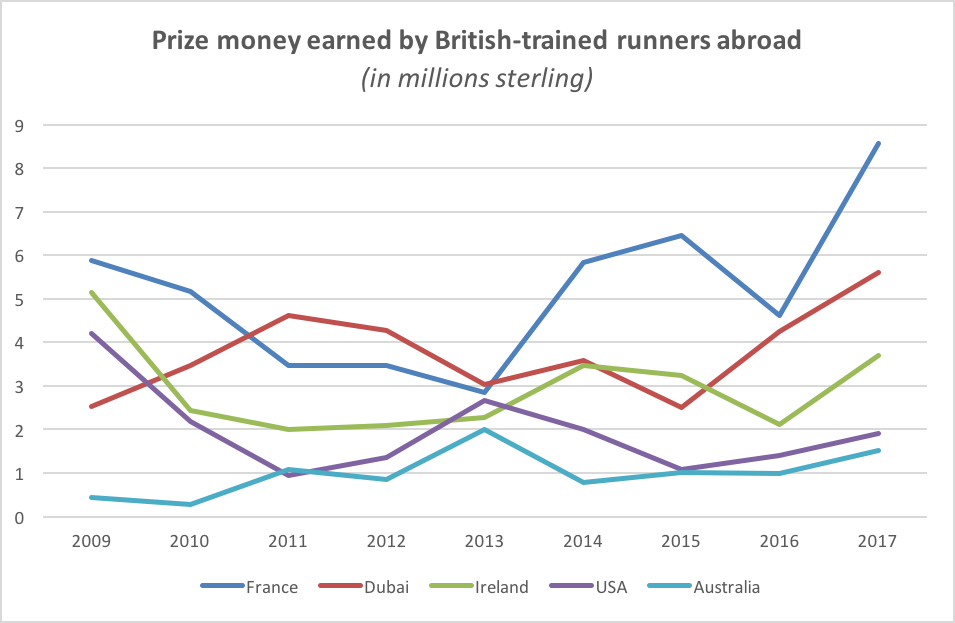 America, the pioneer of intercontinental racing through its inauguration of the Washington DC International in 1952, was the largest single contributor to Britain's overseas coffers way back in 1985, when transatlantic shippers earned £1.64 million.
Remarkably, 30 years on, two of Britain's most recent U.S. prize money tallies have failed to surpass that figure and the other, from 2017, topped it by little more than £250,000, while the number of runners crossing the pond has been relatively static throughout this century.
There has been the odd bonanza year – 2009 springs to mind, when a quartet of victories were achieved at a Breeders' Cup made Euro-friendly by a synthetic dirt surface at Santa Anita – but America is no longer necessarily the premier destination for globetrotting Thoroughbreds.
That title looks to have shifted to Dubai, especially since the three-month long International Carnival there was instigated back in 2004. Interestingly, however, there are signs that even Meydan's brightly floodlit star may be beginning to wane.
After last month's World Cup Night, there have been just 104 British runners at the Carnival this year – compared with 168 at the same time in 2016. Indeed, the overall number of British raiders in Dubai is the lowest since 2004.
This can partly be explained as a delayed reaction to Meydan's shift back to dirt in 2015 after the first five seasons at the world's most shiny new racecourse had seen the non-turf racing contested on Tapeta, a more familiar surface for British visitors.
British and European runners worldwide 1995 - 2017

While Dubai may be starting to experience a decline, its neighbour Qatar is very much the coming force of international racing thanks to two new racing festivals – the Qatar Derby Festival in December and the Emir's Sword Festival in February.
Are there any other countries that may soon become stamps on the passports of the best racehorses in the world?
Going back two decades and more, Brazil, Russia, Tatarstan (a Russian republic) and Macau have been among the exotic locations ventured to by European Thoroughbreds, though each has enjoyed short-lived status as part of the global racing calendar.
It is great to see Singapore returning to the fold in 2018, thanks to the internationalisation of May 26's US$1.14 million Kranji Mile, after two years in the wilderness.
And Casablanca in Morocco at present stages an international meeting in November, which regularly attracts runners from France and Spain but possibly won't appeal to visitors from the rest of Europe until it begins to stage some turf racing – it currently plays out entirely on sand.
Of course the holy grail for the global racing industry would be the legalisation of gambling, and therefore justification of racing, in the home of the world's most prosperous economy - China. But, despite numerous experiments with trial meetings and newly-built courses hosting expatriate trainers, that scenario looks no more likely now than it did a quarter of a century ago.