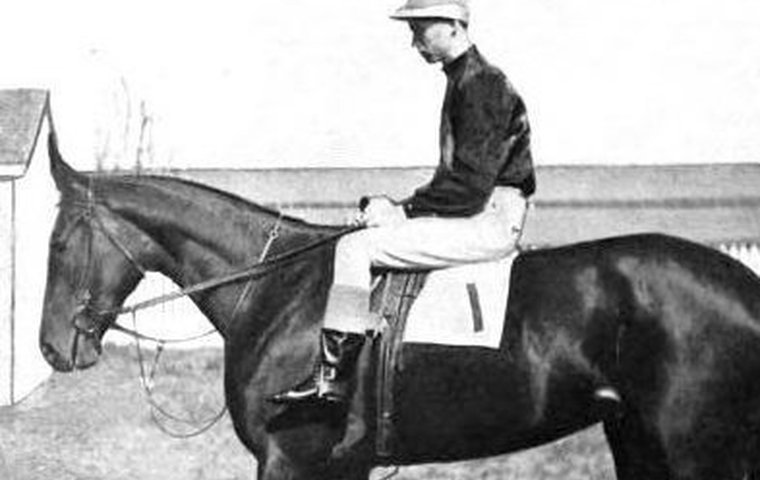 Endurance By Right is an unusual name for a racehorse, but then the filly who bore that lengthy moniker at the turn of the last century was no ordinary equine.

She only raced one season, in 1901, but Walter S Vosburgh, in his Racing in America, 1866 – 1921 deemed her "the greatest 2-year-old filly that has appeared within the past 50 years". High praise indeed for a champion whose name has now been largely forgotten.
Her sire was Inspector B. A foal of 1883, he won the Belmont Stakes, then run at Jerome Park, and the Travers at Saratoga. He was second in the Green Grass Stakes at the old Sheepshead Bay track in New York in 1886, said to be the first turf race ever run in the U.S. Her dam, Early Morn, foaled in 1886, was bred in England and won three times at two and twice at three. She was sent to Tennessee in 1893, where she foaled Endurance By Right in 1889.
In early December 1900, the yearling filly was purchased for $250 by Colonel William S Barnes, owner of Melbourne Stud, at the annual Woodward and Shanklin sale held in Lexington. She had been put in the sale by Colonel Milton Young, of McGrathiana Stud (later renamed Coldstream Stud), who had purchased her and her dam from General WH Jackson. Barnes in turn sold her 'racing abilities' (the profits she made from racing) to John Schorr for $1,200, as Barnes wanted to retain her breeding rights.
The bay filly was said to be of "equable temperament" and "easy to train".
Her trainer was George Walker. Though never a big name, his career took him outside the U.S. to train in Canada and, for a time, in Germany, France, Belgium and England.
Jockey John Woods rode her in most of her races. He also was not among the highest echelon of the era's reinsmen, but he did ride one winner in England in 1899 while still a teenager.
Endurance By Right began her racing career in the state where she was foaled, at Montgomery Park in Memphis. Tennessee was an important racing center back in those days, but all racing ceased when betting was outlawed in 1906.
Her debut came on April 19, 1901, in a four-furlong contest. She won by two lengths as the 6/5 favorite. She next ran on the opening day of the meeting at Louisville in another four-furlong event. She was again sent to post the favorite over ten other fillies. Running on the outside the entire way, she won by a length in a time of 49 seconds.
Beaten in the mud
She was handed her first defeat in her next start, on a muddy track at the same venue against males on May 8. Runnels, a 40/1 shot, won going wire to wire by three lengths, with the favored filly third. The Daily Racing Form reported that she "did not like the going and seemed unable to extend herself in it".
Her first run in a stakes race came at Latonia on May 16, against eight other juvenile fillies in the five-furlong Clipsetta. She got up to win by a half-length after again travelling on the extreme outside for the entire trip.
On June 1, she won the Lassie at Hawthorne by a length and a half, having looked beaten at the eighth pole, covering the five furlongs in 1.01⅕.
Staying in Chicago, she took the 4½-furlong Petite Stakes at the old Harlem track on June 12. She won "easing up", defeating ten other fillies by three lengths as the favorite and 120-pound top weight. She was back against the boys on June 22, this time at Washington Park in a 4½-furlong allowance, beating them by two lengths in a full field of 14.
'She finished like a whirlwind'
She set a new track record of one minute flat for five furlongs in the June 25 Lakeside Stakes at Washington Park. The previous record was short-lived, lasting 26 minutes, having been set in the race before by the colt Allan-a-Dale, who would go on to win the next year's Kentucky Derby. He had carried 111 pounds to the filly's 122.
She followed up with a score against both sexes in an overnight handicap at Washington Park on July 17, again carrying 122 lbs and completing the five furlongs in 1.00⅗. The Form heaped effusive praise on the filly, saying she "finished like a whirlwind", getting up by a half-length after being "hopelessly cut off" at the eighth pole and having to squeeze through a tight gap, after which she "fairly devoured" her field. Back then, journalistic hyperbole was the order of the day, but she was more than living up to it.
She then headed east, to Saratoga where she won what was deemed a "paid workout" over 6½ furlongs by 1½ lengths. It was to be her only start at the Spa.
Shortly afterwards, Schorr purchased her outright from Barnes "for a price that has never been authentically stated".
On September 4, she was handed her second and final defeat in the Flatbush Stakes against males over seven furlongs downstate from Saratoga at Sheepshead Bay. Nasturtium, carrying 115, led all the way to win by a half-length over Goldsmith, also 115, with Endurance By Right, 112, the same distance back. The rest were outpaced. The Form lauded her in defeat, citing her "bulldog gameness", which, "though beaten, confirmed her magnificent showing at Saratoga".
Schorr said after the race that the filly was "not at her best that day and besides she was pinned in between the two colts at the end and so at a decided disadvantage". She never lost after that and "became the idol of all New York patrons of racing".
September 6 saw her win "in a canter" at Sheepshead Bay, defeating an "indifferent" field, which included colts over five furlongs as the 1/3 favorite toting 126 pounds. Just four days later, September 10, at the same venue she led all the way to win a six-furlong allowance by a length and a half under 124 pounds "with supreme ease".
Her winning margins don't look that impressive on paper because she was never fully extended in her races. Neither do her times look impressive from a modern viewpoint, partly for the same reason.
On September 14, she won the most valuable race of her career, the $7,500, six-furlong Great Eastern Handicap at Sheepshead Bay. Again carrying 126, she led all the way, besting a dozen others by two lengths. Considering her record and her reputation, it was intriguing that so many chose to run against her.
Death of a president
U.S. President William McKinley had been shot on September 6 while visiting the Pan-American Exposition in Buffalo, New York. He died on September 14. The day after his passing the New York Tribune reported:
"Though the program scheduled for getaway day at the Sheepshead Bay track was run off according to arrangement, the shadow of the President's death hung heavily over the course and the large assembly of racegoers that gathered there.
"Had it been possible, the Coney Island Jockey Club would have suspended racing for the day out of respect to the memory of the dead President, but there is a section of the racing regulations which says that the stewards shall have the full power to make, and if necessary vary, all such arrangements for the conduct of the meeting as they think best, and, under special circumstances, to put off any race from day to day until a Sunday intervenes. The final clause of this provision was regarded as preventing any postponement of yesterday's programme.
"But, for all that, there were few at the track who were not frequently reminded that the nation's Chief Magistrate lay dead at Buffalo. The services of the band were dispensed with for the day and several of the most influential owners of horses withdrew their candidates from the big stakes in which they had been entered to run."
Arduous campaign
Endurance By Right was certainly living up to her name. She had run four times in ten days, three times in a week. It would be an arduous campaign for any horse, let alone a juvenile filly. And she wasn't done yet.
On September 20 she won the 5½-furlong Willow Stakes at Gravesend with a comparatively light 119 lbs against five rivals of her own gender by 2½ lengths. Incredibly, she raced again the very next day, against males, shouldering an unbelievable impost.
It was the Holly Handicap, over the same trip and track, where she was asked to carry an astounding 130 lbs, giving from 13 to 36 lbs to her dozen opponents. She duelled with Whiskey King, carrying 20 lbs less than the filly, throughout the 5½ furlongs, beating him easily by a length and leaving the others "as if they were anchored". The Form enthused: "Never before in the country was ever a 2-year-old filly set such a task and triumphed so decisively over a choice collection of colts."
The Third Special at Gravesend on September 28 at just under six furlongs became a match between Endurance By Right and the colt Heno with the early scratching of the only other entrant. The filly took the lead soon after the start and kept it, and in spite of Heno clinging to her "with commendable gameness" according to the New York Sun, won handily by a length in 1.08⅖, breaking the course record by nearly two seconds. The filly carried 112 lbs to the colt's 115.
Final start
Schorr was "elated" with the victory and stated after the race that he would "willingly match Endurance By Right against any 2-year-old in training". Instead, he sold to William C Whitney for a reported $35,000. She would make one final start for her new owner.
This came in the Champagne Stakes over seven furlongs at Morris Park on October 19. Only four ran. Endurance By Right beat her new stablemate, the Futurity winner Yankee, by two lengths. Yankee was described as powerfully built, like a 4-year-old, compared to the "dainty, lightly-built" filly. Yankee's stride was described as "resolute", while the filly "skims the ground like a swallow with action that is almost frictionless".
Before the race, her jockey, Hall of Famer Winfield 'Winnie' O'Connor, was nearly pulled off his mount when he got caught in the starting barrier.
She was assigned an incredible 132 pounds for the White Plains Handicap, to be run at Morris Park on October 26, the highest ever for a 2-year-old filly. She didn't run in the race, and never ran again.
In all, she won 16 of her 18 starts, with two thirds, and earnings of $27,495.
Best offspring
Among her offspring was the filly Stamina, foaled in 1905, by Whitney's stallion Nasturtium, conqueror of her dam in the Flatbush. At two, Stamina won the Matron and finished second to the undefeated Colin in the Champagne. She won the Gazelle and Ladies at three. Stamina was the granddam of multiple stakes winner Valorous.
Endurance By Right's other foals included the unraced The Lame Duck, a 1904 colt by leading sire Hamburg.
She appears in the pedigree of stakes winner and sire Racing Room, and was the third dam of multiple stakes winner Porter's Cap, winner of the Santa Anita Derby in 1941.
William Whitney died in 1904 and his stock was sold in October that year. Endurance By Right stayed in the family, being bought by Whitney's son, Harry Payne Whitney.
She died on May 5, 1908, at Harry Payne Whitney's Brookdale Farm while foaling a colt by Hamburg. The foal was put with a rather special foster mare, the 1905 Belmont Stakes winner Tanya.
Sources
Catalogue, Dispersal of the Entire Stud of the Hon. Wm. C. Whitney at Madison Square Garden, New York, 1904
Daily Racing Form online archives, various dates, 1901 & September 25, 1897, June 30, 1899, May 16, 1908 & November 2, 1922
Endurance By Right, Kathleen Jones, teamvalor.com
'Endurance By Right Wins', New York Sun, September 29, 1901
New York Tribune, Sunday, September 15, 1901
Racing in America, 1866 – 1921, Walter S. Vosburgh, The Jockey Club, 1922