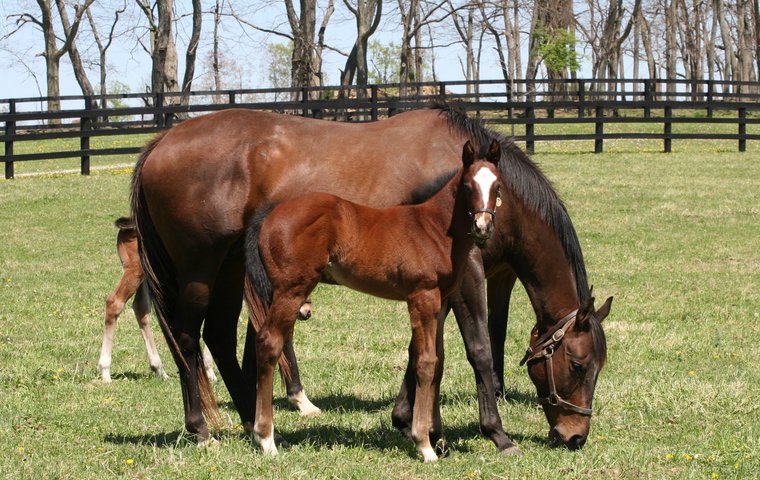 It started with a video. Just a short clip, to be exact, of a young Paradise Woods, barely a few months old. Against the bottle-green backdrop of Kentucky's grassy knolls, Paradise Woods parades with her dam, Wild Forest, before the camera, wearing her quality like a Hollywood starlet draped in Cartier.

"She was just one of those foals who had it all," said Sergio de Souza, managing partner of Hidden Brook Farm, Kentucky, where the recent runaway G1 Santa Anita Oaks winner and leading G1 Kentucky Oaks contender, was born and raised.
"It was her presence – she'd look at you and she'd say, 'you work for me,'" he added. "She was just so special looking."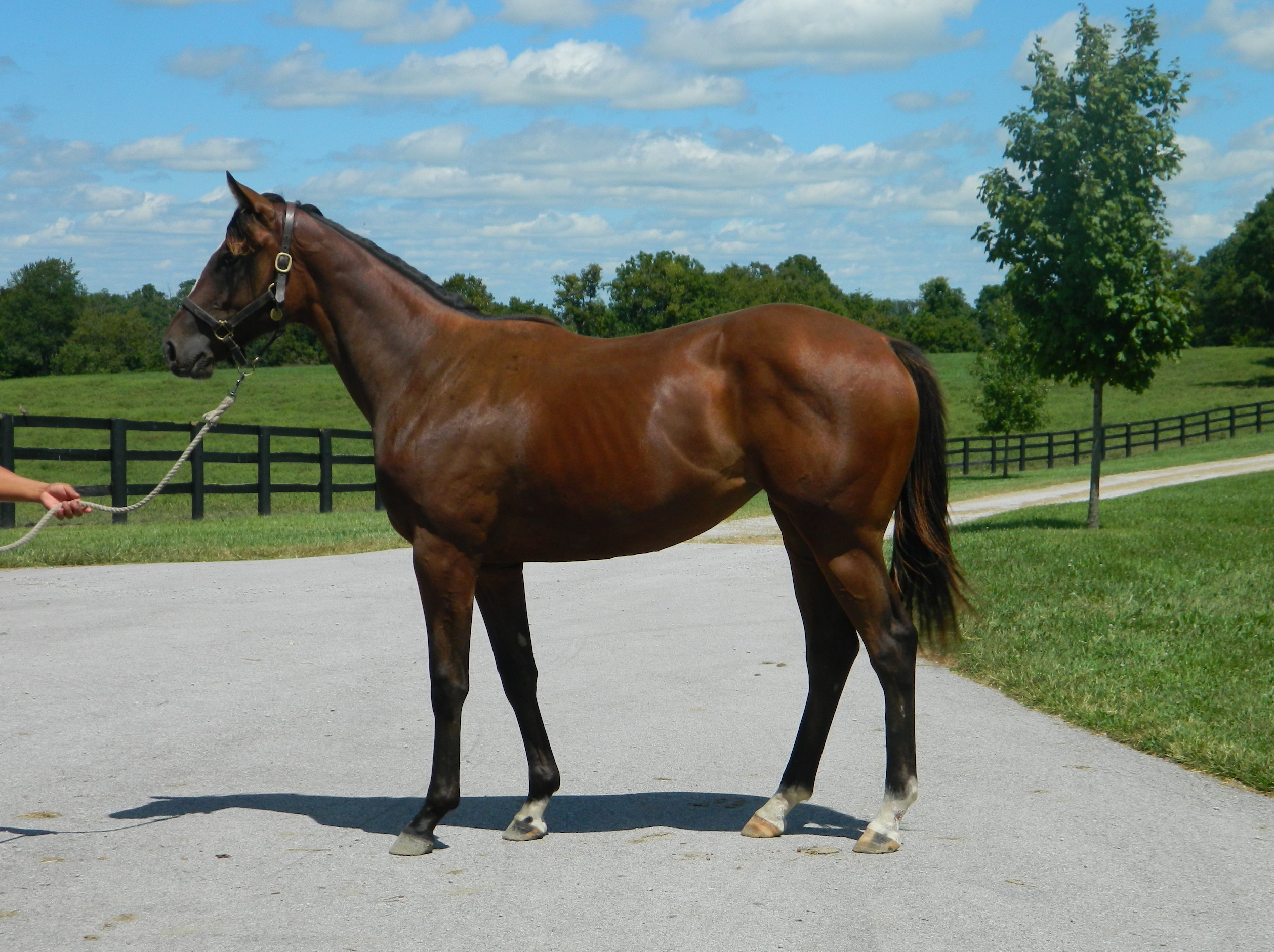 Having seen the video, owner-breeder Herman Sarkowsky heeded the advice of de Souza and chose against sending her to the sales, as he often would with his home-breds, and instead kept the daughter of Union Rags to race under the home banner.
But, beyond the videos, pictures and news that filtered his way, Sarkowsky never saw his strapping young filly in the flesh nor on the racecourse, for he passed away after a long illness that November, aged 89.
"Right before he passed away, he gave me half this filly, and wanted to make sure we raced her in his colors," said Marty Wygod, who now owns Paradise Woods in partnership with his wife, Pam, and Sarkowsky's son, Steven.
"He inferred strongly that she was going to be something special," Wygod said. "It was a wonderful gift."
"He's probably looking down on us right now and laughing"
Wygod and Sarkowsky were close friends and racing partners for nearly 40 years. During that time, "we never had a contract together, and we never had a disagreement," said Wygod.
And these same years included some unforgettable ones as an owner-breeder for Sarkowsky, former co-owner of the Seattle Seahawks, as well as a "generous philanthropist", said Wygod.
His Phone Chatter picked up two G1s in the fall of 1993, including a last-gasp victory in the Breeders' Cup Juvenile Fillies at Santa Anita. Dixie Chatter won the G1 Norfolk Stakes in 2007 at Santa Anita (now the FrontRunner Stakes).
But talk among the filly's current connections suggests that Sarkowsky's defining moment in the breeding shed might have arrived too late for him to enjoy fully – or, given the mysteries of time and space, perhaps not.
"He's probably looking down on us right now and laughing," said Wygod, "thinking about what she turned into."
And boy, her metamorphosis from maiden to main stage has proved something of a whirlwind of revelations for those watching her progress from without.
"She'd worked good enough that she could just about beat anything any day"
It was only this January that Paradise Woods made her racecourse debut, when she finished a rather disappointing second at Santa Anita.
"Poorly trained!" said Hall of Fame trainer Richard Mandella, in high spirits one morning recently, about the filly's defeat, before he laughingly dismissed the comment and explained more soberly that her preparations had been interrupted by the winter rains that regularly chucked it down on Santa Anita's main track – rains that delivered storm clouds over the heads of frustrated trainers, too.
"You couldn't train everyday as normal. The thing is, she'd worked good enough that she could just about beat anything any day, and we were shocked she got beat to be honest," he said, before breaking out another wisecrack:
"I'd say the benefit of my training didn't have the possibility of following through – but you don't want to use that!"
She vindicated his faith only six weeks later, trouncing a field of maidens by four-and-a-half lengths, hands and heels.
That race was over five-and-a-half furlongs. The Santa Anita Oaks, her next (on April 8), covers a mile and a sixteenth. The step up in trip wasn't of particular concern, said Mandella. Nor was the rare Mandella move of a seven league-stride from maiden to G1 a deal-breaker.
But the decision to run only came when Unique Bella —lady in waiting for Songbird's crown and scepter at the Jerry Hollendorfer academy of queen bees — was withdrawn from the race, through injury.
"She's really special," Mandella said, about Unique Bella. "I didn't really want to throw mine into her out of a maiden race, but once she declined, I was confident I had a really good filly. I wasn't overly concerned about the rest of them."
Santa Anita Oaks
That confidence — far from Mandella's most overt of personality traits — proved well founded. In the Oaks, jockey Flavien Prat let Paradise Woods break on the lead before he settled her into a comfortable rhythm.
At the top of the stretch, however, Prat shook the reins, and she catapulted down the Santa Anita stretch like a sling-shot fusillade to record a record-breaking 11 and 3/4 length victory (see the YouTube video below).
"I opened up and she just – she just bolted clear," said Prat. "As soon as she took the lead, she dropped the bit, and I was just cruising all the way. The way she was travelling, I was expecting a response like that."
Prat, who has ridden Paradise Woods in all her three starts, admits she may be short on racecourse experience, but her education thus far has been dispensed upon a receptive pupil.
Her two sprint starts have acclimatized her to the sting of kickback, for example. And it helps that she's not short on the ol' grey matter. "She's super smart," he said.
"It's another step up, but the way she won, you can't be afraid of the field," Prat added, about Friday's Kentucky Oaks. "It's going to be a really good group of fillies, and there's two or three that have won pretty easily. She's not the only one, but we're confident."
The Kentucky Oaks
That's not to say there aren't reservations from within the Paradise Woods camp, where groom Salvador Camargo — who makes a killer ceviche by all accounts, and has been with Mandella for years — works diligently behind the scenes with a filly who can be quick to ignite.
Paradise Woods threw a wobbler when being saddled for the Santa Anita Oaks, for example, but Mandella dismissed it as just a bad moment. "I've had a few myself," he joked. He's more concerned about this being her first race not only away from Santa Anita but outside of California, amid the pressure cooker environs of Churchill Downs.
"Derby and Oaks days are, we'll just use the word exciting, for a horse, a little more than you'd like," he said. "Experience sometimes pays off. So, we're going to hope that we're up to the task."
She's quick, too, which can be both a blessing and a bane. The trainer would rather utilize that natural asset rather than blunt it.
"I wouldn't be surprised to see her in the lead for the Kentucky Oaks," he said. She won't be driven from the gates. "But if she steps out of there like she did the other day, we're not going to argue with her. We're going to let her be happy and enjoy herself."
Then comes another warning wrapped up in a Cheshire cat grin: "Don't give any of this information to the enemy!"
"I wasn't dreaming that I had another Beholder"
A win in the Oaks would also apply the grouting to a glaring hole in Mandella's impressive edifice of notable victories: a win in either of Churchill's two May Classics. "That weekend at Churchill Downs has evaded me all my life. I'm just trying to catch up," he said.
He got close only four years ago. Mandella sent a handsome daughter of Henny Hughes on the trip back east, only to see her blow a gasket in the preliminaries, dump her jockey on the way to the start, and miss out on a win by only half a length at the wire.
"I wasn't dreaming that I had another Beholder," Mandella said, about that badly behaved 3-year-old and future four-time Eclipse Award winner, who retired after a glittering coronation in last November's Breeders' Cup Distaff. "I was excited to think I had another nice filly, but I wasn't really thinking it was possible that I had a replacement for that one."
When armed with a bag of candies, Mandella last saw Beholder before the Eclipse Awards in Florida earlier this year. "Oh, I miss her. There's someone in her stall right now, but they're just borrowing it."
Marty Wygod also knows a thing or two about Breeders' Cup-winning fillies. Sweet Catomine, for example, carried his colors to victory in the 2004 Breeders' Cup Juvenile Fillies (as well the Santa Anita Oaks, coincidentally). Life Is Sweet won the Ladies Classic for him in 2009.
But the unmistakable impression is that there's something a little extraordinary about his latest superstar. Maybe it's her frame, still a little raw and unfurnished. Like watching the scaffolding around a new building slowly disappear, you can't help but imagine what the finished product will be.
Maybe it's the dashing style of her Santa Anita Oaks victory, with a turn of foot that betrayed an impressive engine of gears.
Or maybe, it's the bittersweet story that underscores her swift journey towards what could be the very top.
"No question about it," said Wygod, about how his connection to Paradise Woods is inextricably linked to his old friend, Herman Sarkowsky. "She makes me think about him all the time."