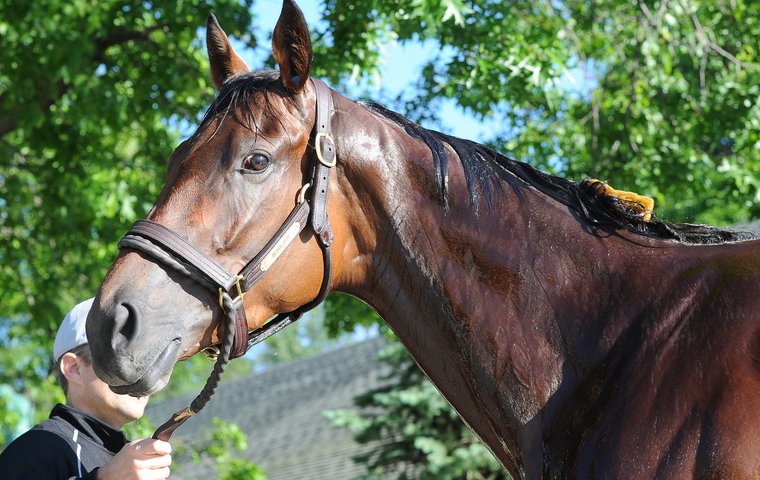 The great mare looks as good as ever this season - perhaps even better, even though she's now six and has been a champion since she was two. So how does trainer Richard Mandella do it? How has he kept her so fresh year after year? Armed with a notebook and a video camera, Daniel Ross went to his barn to find out. Watch the video, and read his report here.

All too infrequently do the stars so perfectly align among the greats of this sport.
Grundy vs. Bustino in the King George of 1975. Affirmed vs. Alydar in the Belmont Stakes of 1978. The Giant's Causeway - Kalanisi bare-knuckle fight in the Juddmonte International of 2000, when both were still bearing the scars from a bloody scrap in the Eclipse Stakes the month prior. Easy Goer and Sunday Silence's tactical chess game in the Preakness Stakes that set a high bench-mark in their adrenaline-fueled rivalry during the spring, summer and fall of 1989.
For an all-too-brief moment or two last fall, the Breeder's Cup Classic at Keeneland looked to possess all the ingredients needed to make another one of those legend-making confrontations.
In the red corner was American Pharoah, a Triple Crown hero who had taken a defibrillator to racing's chest and shot 250,000 volts of pure unalloyed joy through the nerves of an ailing industry. Laissez-faire and laid-back outside of the ring, American Pharoah came alive under the glare of the championship spotlight. Ali in the guise of a surfer-dude.
In the blue corner was Beholder, a mare whose championship winning spree at two and three, and seven prior Grade 1 wins were made to look like mere milk runs in comparison to the demolition job she handed the boys in last year's G1 Pacific Classic at Del Mar. Stately, regal, the Queen of the West possessed a temper her courtiers knew could turn as quick as the slice of a guillotine.
In the end, the "Quarrel in Kentucky" was nixed even before both camps had had a chance to square up to each other and toss a few pre-bout jabs. Beholder threw one of her now infamous wobblers during the trip east - she came off the plane "like a bull", said her Hall of Fame trainer, Richard Mandella, recently. Having got all hot and bothered, Beholder spiked a fever. And, though she responded to treatment, when it came to a pre-race five-furlong breeze, a subsequent bloody scope proved that the match-up against her younger foe would come all too soon to be safe.
"She walks around the toe ring quite a lot looking over to Bob's [Baffert's] barn, as though to say, 'where is he? We were supposed to have a match-up.' But that will never happen," said Janeen Painter, Beholder's exercise rider, and the person charged with ensuring that the lid remains on the pot during morning exercise. "We'll never know [who's best of the two], which is a shame."
Mandella: I couldn't be more excited
A shame indeed, for American Pharoah took the open goal presented to him by galloping away with the Breeder's Cup Classic straight into the breeding shed. Not so for Beholder, whose owner B. Wayne Hughes, of Spendthrift Farm, decided that baby-making duties could be put on hold for one more year at least on the back of her Champion Older Mare winning season last year.
"So far, she looks as good as last year," said Mandella of the 6-year-old mare, whose two races this year couldn't have been achieved with any less oxygen spent. In the G3 Adoration Stakes at Santa Anita in May, she dispatched a field comprising not one single graded stake winner in the manner expected of a champion who has won 12 of them.
Earlier this month, her win in the G1 Vanity Mile Stakes at Santa Anita was more impressive by virtue of the caliber of competition she beat. Back in second that day was the Champion 3-Year-Old Filly of last year, Stellar Wind, having her first start of the season. While two of the other three runners each had a G2 victory on their resumes. In the end, Beholder won the Vanity with contemptuous ease.
"She beat a champion filly, did it handy again, so I couldn't be more excited," said Mandella of the Vanity success.
Steering clear of scorching temperatures
But he's not the only one whose pulse has been quickened by Beholder this year. Gary Stevens, who has ridden Beholder in 12 of her last 13 starts, said the Vanity was "very easy". But there's also an element of relief that went with the smoothness of the success.
"It was very hot that day – we were worried about that," he said, referencing fears that the bubbling mercury might have caused her to bleed again. The anticipated scorching temperatures on Saturday (June 25) are why connections are side-stepping a possible tilt at the G1 Gold Cup at Santa Anita, formerly the Hollywood Gold Cup, and a race with a glittering roll call of past winners, from Seabiscuit to Native Diver to Cigar.
"I think, were it not for the heat, they would have seriously considered running in the Gold Cup," Stevens said.
Instead of the Gold Cup, it's onto Del Mar for Beholder and co., and a hoped-for repeat dose of last season. Twelve months ago, Beholder started her summer sojourn at the coastal track by doling out a seven-length drubbing to her rivals in the G1 Clement L. Hirsh Stakes. Three weeks later, she walked into the gates for the G1 Pacific Classic a little over two minutes away from a performance that will live long in the memory of anyone who bore witness.
On the same wavelength
"One of the races of my lifetime was the Pacific Classic last year," said Mandella, recalling the eight-and-a-quarter lengths of pure condescending brilliance she put between herself and her nearest hapless pursuer (behind her that day were nine horses who, as of writing, have won 20 stake races and earned $13,126,362 in prize money between them).
"I'd played it pretty conservative up to that point," said Mandella. "When she won the Clement Hirsh three weeks before, I said in the winner's circle, 'we're going to try the big one, see how good she is.' Then, to have done it the way she did, for her to do that, it choked me up."
"And I'm not that sensitive," he added, laughing.
Not for the first time, jockey and trainer are on the same wavelength.
"She destroyed a group of very good horses – decimated them," Stevens said. "We had no idea she was going to do that, and I'm still in shock when I think about what she did."
Stevens: my most memorable racing experience
Stevens was at Churchill Downs when we spoke (the following day, he rode Effinex, the favorite in the G1 Stephen Foster Handicap), and he explained how, the day before, he had been given a questionnaire to fill out, the answers to which would eventually go into the program.
One of the questions concerned where he was born (answer: Caldwell, Idaho). A second question concerned his two favorite memories from Churchill Downs (answer: his three Kentucky Derby wins). And a third concerned his most memorable experience in horse racing.
"Right away I wrote the 2015 Pacific Classic on Beholder," he said. "I've never had a horse do what she did that day, and I doubt I ever will again. I don't know if she'll do that again, or even if she could do that again. It's not how far she won by, but the way she did it."
Between the Clement Hirsh and the Pacific Classic last year, Mandella tightened the screws on Beholder like never before. "We put more pressure on her going into that race, and she responded like the champion she is, gave a bigger race with it," Mandella said last year. And while the plan is to stick to that winning formula, in the back of his mind are nagging doubts brought about by a propensity for the wheels to occasionally slide off the tracks – either self induced or as a victim of circumstance.
Generally a healthy horse
Beholder's two runs outside California have both met with defeat. In 2013, as a 3-year-old, she threw a temper tantrum and fell over in the paddock before finishing second in the G1 Kentucky Oaks at Churchill Downs. In the 2014 G1 Ogden Phipps Stakes at Belmont Park, a horse struck into and sliced open her hind pastern – an injury that required her to train with a protective sock for many, many months after. A fever ruled her out of the Breeder's Cup on the eve of the meet that same year.
Then, of course, there's the dark memory of Keeneland last year.
"What happened in the Breeders' Cup is in the back of my mind," Mandella admitted, "and she got sick the year before, so we'll be as careful as we can be with her. But she's generally a healthy horse. She's had two episodes, though, and it makes you a little nervous about some things. I was worried that she ran in 100-degree weather the other day, and I don't want to ask her to do it again. But I don't really see what to guard against, other than just to be careful with her and to give her the respect she deserves."
The abortive trip to Kentucky was followed by a period of downtime for Beholder, of rest and recuperation - for 10 days at John Stack and Julie Adair-Stack's private three-and-a-half acre ranch amid the concrete jungle of Rowland Heights, 25-miles inland from Santa Anita, then at Peacefield Farm, where she spent a couple of months out in a paddock among the rolling hills of Temecula, and the emerald and gold patchwork quilt of a Southern California winter.
Crucial periods of downtime
When the two months were up, Beholder returned to Rowland Heights for her customary tune-up before returning to Mandella.
Beholder has been going to Rowland Heights for about four years. There, it's all about keeping things low key. She gets the run of a roomy 20-by-20 fully covered outdoor pen, and large round pens for rolling. She used to have free range of a large outdoor arena, too. Only, "as she became more and more valuable, we became more and more careful," Adair-Stack said.
"All of the pressure regarding her value, that goes without saying," she added.
To limber Beholder up for the rigors of training, Adair-Stack does a little light dressage on her in a large Western stock saddle. And everyone involved with Beholder believes that these periods of downtime that sandwich Beholder's training routine — hardly a customary practice for U.S. Thoroughbreds — has been instrumental in keeping her mentally and physically agile all these years.
In light of her unladylike antics before the Kentucky Oaks, for example, Beholder was sent back to Rowland Heights for re-breaking, and re-learning the fundamentals – like Bill Gates returning to community college for computer-programming 101.
"Richard [Mandella] being willing to stop and do that kind of thing, gosh, in my opinion, it did wonders for the horse she is now," said Adair-Stack.
'Horses are like strawberries'
"All of those lessons where Richard would go back to the beginning and sort of start her over, I just think, knowing Beholder, that has been so key to her," she added. "I just have so much respect for the horseman that he is, and how he's managed her."
As for the year ahead, connections aren't looking too far beyond the Pacific Classic, and for understandable reasons. As Stevens puts it: "Horses are like strawberries – they're sweet, but they spoil overnight." This same caution applies to thoughts of another stab at the Breeders' Cup, and a third possible win at the meeting (putting her on a par with that Gallic goddess, Goldikova).
"I have races in my mind, but with any horse you take a race or two at a time," said Mandella. "The long-term goal would be the Breeders' Cup. Which race, I don't know. It depends on how she is at the time, meaning it could be the Classic or the Distaff. But everything is possible at this point."
That the Breeders' Cup will be held on home soils at Santa Anita this year — foregoing another trip east — must surely be a relief, I say.
"Very grateful that it's here," Mandella replies, very succinctly. And I can't help but ask: is there a chance she's even better this year than last?
"We would like to think that, but I'm not sure what better means," he says. "She was pretty good last year. So, maybe better's just day dreaming."