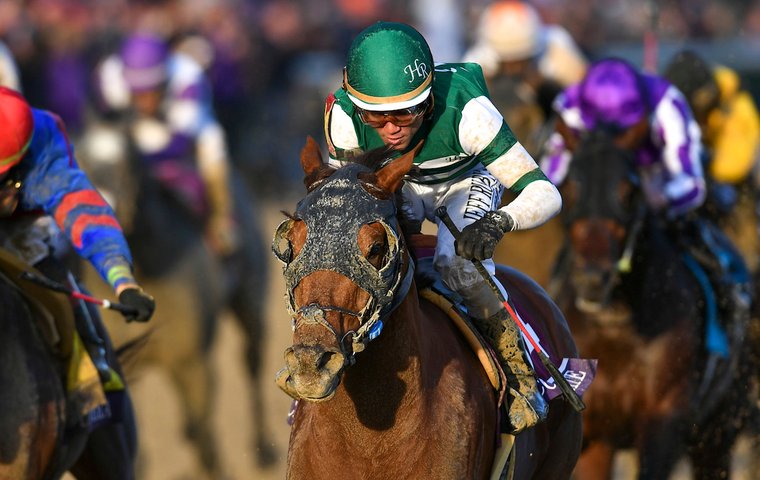 American racing's Oscars, the Eclipse Awards, take place in Miami next Thursday. However, the prestigious Horse of the Year award is dividing option. Ahead of next week's ceremony, TRC asks readers to say which of the three finalists deserves the title for 2018: Justify, Accelerate or Monomoy Girl?

A Triple Crown winner is a shoo-in for the Horse of the Year, right?
Apparently not so this time around. Triple Crown winners are practically as rare as hen's teeth, yet some believe Breeders' Cup winners Accelerate and Monomoy Girl, in 2018, are the equal of the exceptional Justify, which seemed inconceivable after his Belmont Stakes victory in June.
Charles Hayward raised the question here in August after the abrupt retirement of the undefeated Justify, who famously broke the 'curse of the Apollo' and became the first of the 13 Triple Crown winners not to have raced as a 2-year-old; and TRC senior writer Bob Ehalt asked more directly after the Breeders' Cup: What price Accelerate being Horse of the Year now?
Justify is still favorite to be named Horse of the Year next week, and he has a legion of supporters. These are headed by Hall Of Fame jockey Steve Cauthen who said, "It [Horse of the Year] is game over when you have a Triple Crown winner," and Justify's rider, Mike Smith, who said he was the "greatest of all time" and "a gift from God".
This is far from a two-horse race, however. The outstanding Monomoy Girl capped her year with a win in the Breeders' Cup Distaff and has surely earned a place on the shortlist.
How the big three match up
JUSTIFY'S 2018 RECORD

MONOMOY GIRL'S 2018 RECORD

ACCELERATE'S 2018 RECORD