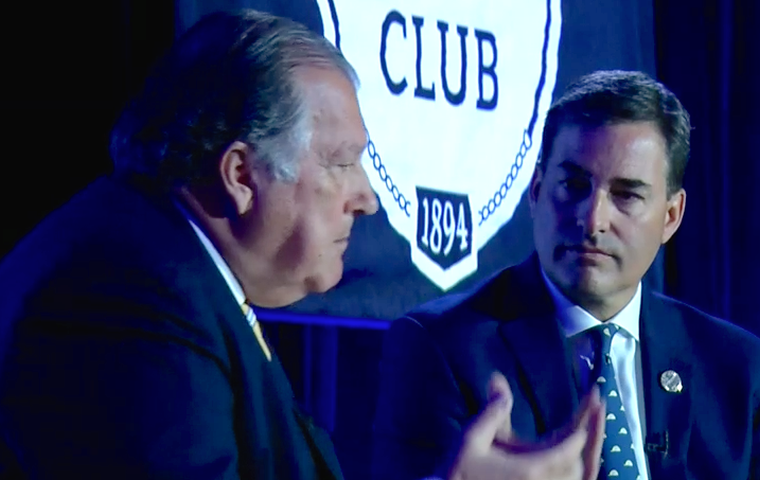 The U.S. racing and breeding industry could receive enormous economic benefits if a policy of drug-free racing were adopted across the country, according to one of the world's leading breeders. John Messara, chairman and owner of Arrowfield Stud in New South Wales, was talking at the American Jockey Club's 67th annual Round Table Conference on Matters Pertaining to Racing at the Gideon Putnam Hotel in Saratoga yesterday (Sunday).

Speakers from all facets of the industry – some from as far as Hong Kong and Australia – reviewed issues such as animal welfare, fixed-odds betting, television exposure, the application of the interference rule, and international stewarding.

"What do you want our sport to be? What are you prepared to do to get there?" - Jockey Club chairman Stuart Janney addressing the room in his closing remarks
To say that the American horse racing industry has had a difficult 2019 would be something of an understatement. With the wounds of Santa Anita still fresh, it was fair to say that this year's conference was contemplative in tone and openly searching for answers, all the while preaching for a holistic approach and admitting the need for global best practices.
At the forefront of each presentation was equine welfare and how to combat an increasingly negative public perception of horse racing that has rocked the sport Stateside. A well received, candid presentation by David Fuscus, of Xenophon Strategies, offered lessons in crisis management and how the industry can improve the latter issue.
"I am the most anti-alarmist person in the room; with that being said, this story is not going away," said Fuscus. "You can't wait it out, you can't part the waters. This is the most critical time American horse racing has ever experienced."
The Dean of the University of Kentucky, Dr Nancy Cox, talked of innovations at the agricultural college that will hopefully raise the bar in safe racing on dirt tracks across the board.
Messara: Integrity Act would 'unleash an economic monster'
Joined on stage by his inquisitor, the Jockey Club's chief executive, Jim Gagliano, John Messara detailed his rise from Sydney-based stockbroker to arguably the most influential figure in New South Wales racing and breeding.
The Arrowfield Stud chief was nevertheless quick to acknowledge the role that his team – especially his wife – had played in establishing Arrowfield as Australia's pre-eminent breeding operation. Moreover, he raised a metaphorical glass to the great Danehill, who Messara believes "turned Australian breeding around".
A glittering professional biography aside, it was the Australian's global outlook and successful lobbying of his national government in the past that proved to be germane to proceedings, especially when he offered his objective opinions to the big issues and proposed harmonisations of regulations.
"I think that having a national drug policy – a no-drug policy actually – akin to the other jurisdictions in the world would unleash an economic monster here," said Messara. "Everyone has talked about why people don't want it; well I think that one of the benefits is going to be that the likes of myself will start to look at America again as somewhere to shop for horses.
"As it stands today, it is difficult to judge whether we should be buying a mare [in the U.S.]. Was she treated with Lasix? Was she on Bute at some stage? What went on?
"Rather than get bitten by it, we stay clear."
The Australian added that due to the uncertainty of stallion performance, the foreign perception is that America's credibility as a provider of bloodlines is "low compared to what it could be". He did nonetheless praise the industry infrastructure and called Kentucky the world's most "magnificent breeding ground".
Messara encouraged American horsemen to come together and sign the Horseracing Integrity Act, which he believes will be a "great base for the future" and create a level playing field.
"If you are good enough you will win [a fair, clean race], but importantly you will become a far more international industry from an economic point-of-view. That will become really valuable for all of those involved."
Kelly calls for consistent international stewarding
Kim Kelly, chief stipendiary steward at the Hong Kong Jockey Club (HKJC), espoused the virtues of applying a global interference rule and recognised international stewarding standards. "It wouldn't be acceptable to have different-sized nets in the U.S. Open [tennis] as opposed to Wimbledon."
The Australian stressed the point of autonomous interference rule, which infamously changed the result of this year's Kentucky Derby, by presenting delegates with a graphic showing that the vast majority of racing jurisdictions operate under category 1 rules. The hold-outs are the United States, Canada and Turkey, who compete under Category 2 rules, which Kelly believes "yields inconsistent and undesirable outcomes".
Janney: 'We must embrace change'
Among other things, the straight-talking Janney announced that the Racing Officials Accreditation Program is launching a scheme to send existing U.S. stewards overseas to gain experience in the professional operation of adjudicating races abroad.
He also revealed a 2020 projection of North America-registered Thoroughbred foal crop of 20,500, as well as revising the 2019 foal crop from 21,500 to 20,800.
"The Jockey Club should do several important things – and so should you," Janney told the assorted guests before listing the points that will shape the vision of the Jockey Club in the coming year. "First, we should get our sport in shape to compete for the interest and support of the public," he said. "With the advent of sports betting across the country, that competition is stiffer, more direct and consequential. For us, that means passing the Horseracing Integrity Act."
Efforts to promote Thoroughbred racing in a positive light "will continue" as will the need for good partners to help the industry along the way.
Janney said that it is was important to realise that "our problems as an industry are not strictly limited to the west coast", going on to compare Marcus Vitali's constant rule-breaking since 2011 with the alacrity of golf's European Tour reacting to Thorbjørn Olesen alleged misdemeanours on a recent flight to the UK.
He concluded with a call to arms: "Horse racing is a sport rich in tradition, but we can and must embrace change. Consensus is not always easily achieved but, when proposed solutions make common sense, it should be.
"The programmes and initiatives that you have heard about today – especially the Horseracing Integrity Act – make all the sense in the world, and if indeed we want to become that highly regarded national sport we should embrace positive change; sooner rather than later."
To watch the Jockey Club Round Table click here