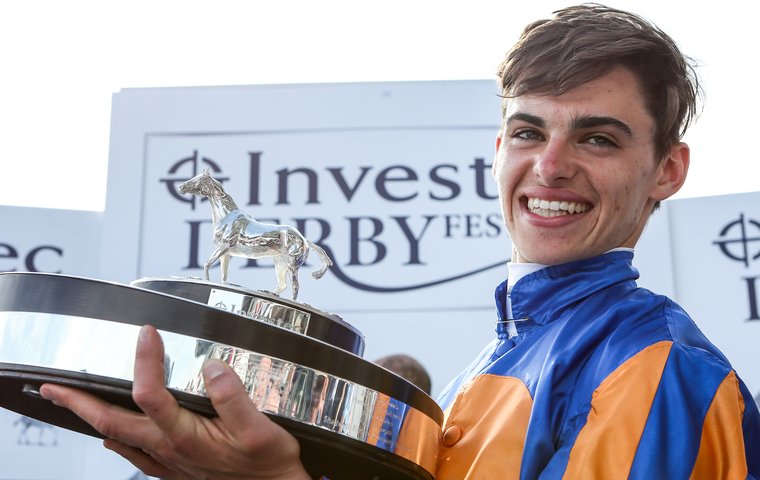 It was a brief-but-brilliant career. It started on July 23, 2014, and ended quietly some 1,929 days later on November 3 after 400 winners.

Given his family legacy, the chances are that Donnacha O'Brien will be remembered more for his future training career, but he was an elite jockey with the data to prove it until he decided a battle with the scales had gone on long enough.
Since his first ride on Our Manekineko in an apprentice handicap at Naas finished 12th, Donnacha had made the very most of the opportunities he proved he deserved entirely on merit. This week, he is world #25 with a Performance Index of 1007, in excess of the 1000pt barrier we nominally consider to be the start of the world's elite riders.
Donnacha took 296 rides in global Group/Graded races, 221 of which were for his father, Aidan, and 70 for his brother, Joseph. He won 35 of them (15.8 percent), while in the same period Ryan Moore's record was 221-1056 (20.9 percent). It's likely that the difference in their strike rates was just the difference in the chances their horses had independent of who was on board, for in all types of races domestically they have achieved similarly when the betting odds of their mounts is discounted.
In Group 1s, Donnacha most often had the second preference after Moore. He went 10-127 (7.9 percent) in this grade, with his winners listed in the table underneath:

The relatively brief length of his career did not afford Donnacha maximum opportunity to reach the highest rankings of which he was capable. Contrast this with the much longer career of brother Joseph, who reached world #1 in our rider chart and stayed there for 40 weeks in 2014 and 2015.
However, as the chart below shows, the trajectory of his rise up the rankings suggests strongly that, had he ridden for five more years, and in particular had he acceded to the job of Aidan's first rider, Donnacha would surely have made the top ten or even top five.
Note the seasonality in Donnacha's rise up the rankings. This has always been typical of European riders, for obvious reasons, but now, increasingly, the greater opportunities afforded globally to riders – exemplified by British champion jockey and world #18 Oisin Murphy's recent success in Japan – is smoothing out the graphs their rankings describe: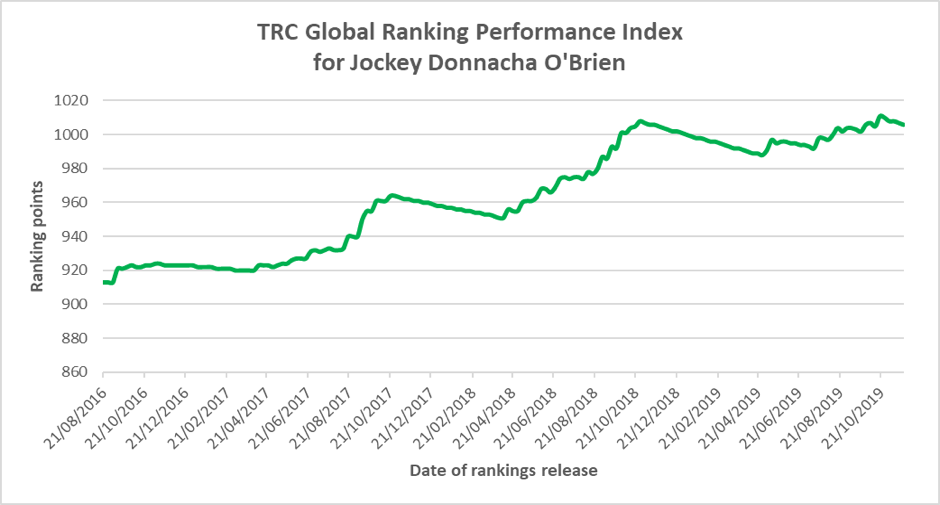 Chris Smith's article on the world's top riders under the age of 25 helps us to allow for the age and experience of a rider better than the overall rankings can do; Donnacha rated second to Murphy shows that O'Brien was actually the world's leading rider aged 21 or younger.
Now, Donnacha is to follow Aidan and Joseph into training, with a stated ambition of "quality over quantity". There will surely be plenty of the former for him to work with, given the power base the family has established, and it is arguable as to whether the influence of the O'Briens can possibly spread further.
Donnacha retires as an elite rider, twice the champion of Ireland, who had the talent to achieve anything in the saddle, but sadly for us not the frame, standing over six-feet tall. We will mark his retirement, as usual, with the ** next to his name in the rankings. He reached world #19 for three weeks in 2018, 2019.