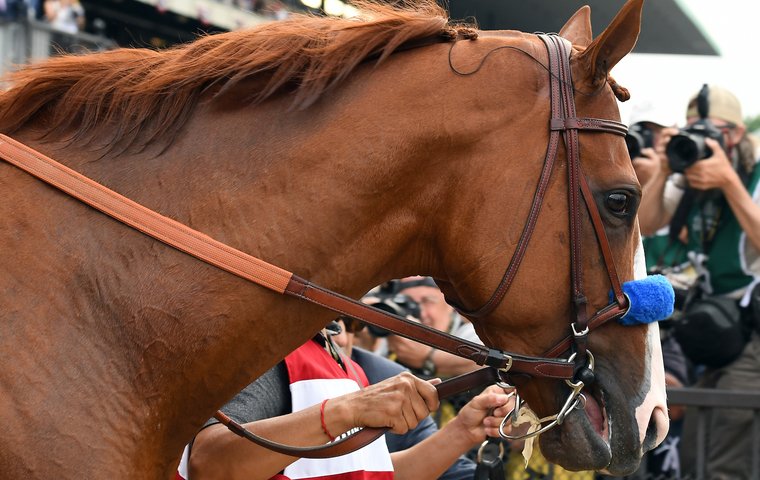 Not much doubt about the standout performance in world racing last week - but surely the ratings fail hopelessly to reflect Justify's true status after the Herculean efforts he has produced on his way to becoming only the 13th horse to win the U.S. Triple Crown.

The official handicappers have awarded the son of Scat Daddy a mark of 124 in the newly updated Longines World Racehorse Rankings, which is the same figure as the one given by Racing Post Ratings (RPR), which rated his heroic Belmont Stakes victory at 123. The 124 is for his run in the Kentucky Derby.
This is yet another example - following on quickly from Cracksman's undervalued display in the Coronation Cup at Epsom two weeks ago - of the methods used to evaluate performances not always being fit for purpose.
And don't look to Beyer speed figures either if you want to see Justify heralded a world-beater. He earned a relatively unheroic Beyer of 101 for the Belmont. His best number is 107 (Santa Anita Derby), which is just the 13th best figure of the year in the U.S.
There are perfectly sound mathematical principles at work across the board here, but surely we need something better when we're looking to pinpoint a horse's place in racing posterity. Nobody really thinks Justify is only the 13th best horse competing in America just now, or that his true level is in the same bracket as the likes of Cloth Of Stars, Collected and Mor Spirit (125, 124 and 123 respectively in the 2017 end-of-year Longines figures).
The second best performance last week on RPRs came from Justify's year-older stablemate Abel Tasman, awarded a career best 122 for her 7½-length G1 Ogden Phipps Stakes romp on the Belmont Stakes undercard on Saturday. And that winning distance is part of the key here. The way handicappers, like those on the IFHA (International Federation of Horseracing Authorities) panel, work things out surely places too much emphasis on style - as in margin of victory - and not enough on substance.
Maybe the mechanism by which they arrive at their ratings needs a degree of recalibration.
Let's not take anything away from the admirable Abel Tasman, who earned a personal best Beyer of 100 for that effort, but those weekend RPR numbers theoretically make her two pounds better than Justify once you add in three-pound mares allowance.
Does anyone seriously think that's a true reflection of the two horses' comparative abilities?
When American Pharoah won his Belmont, he had the good sense to do so by 5½ lengths, which meant he could be given an official mark of 128, which hardly exaggerated his merit but was at least a little bit more like it for a Triple Crown winner. He ended his track career as officially the World's Best Racehorse, with a rating of 134. Luckily the handicappers had been bailed out by his 6½-length victory in the Breeders' Cup Classic, which enabled them to reach a figure commensurate with his standing as the first Triple Crown winner for 37 years. He wasn't six pounds better than he had been on Belmont day, it was just that they saw the need to put his name on the right page in the history book.
Just at the moment, clearly no such need is seen in the case of Justify. Let's hope America's new hero manages to put a fair bit of daylight between himself and his pursuers later in the season, otherwise his name could forever be consigned to the wrong page.
Starring roles for Baffert and Brown
Meanwhile, the Belmont meant lots of gains all round for Justify's connections in the TRC Global Rankings.
Jockey Mike Smith gains four points, which keeps him at world #4, moving him to within two points of the #3, the Australian Hugh Bowman.
Smith rode both Justify and Abel Tasman for trainer Bob Baffert and part-owner China Horse Club Et Al (+7pts, #5 from #7).
Baffert (+4pts, stays world #2) sent out three winners on the Belmont card - Justify and Abel Tasman in Grade 1s, plus a Grade 2.
Not to be outdone, U.S. #2 Chad Brown (+3pts, stays #3) answered with a triple of his own, winning a Grade 2 and a Grade 3 the day before, plus the G1 Just A Game with A Raving Beauty.
Click here for a list of all last week's biggest TRC Global Rankings points gainers.
Click here for a list of all the week's Group and Graded winners.