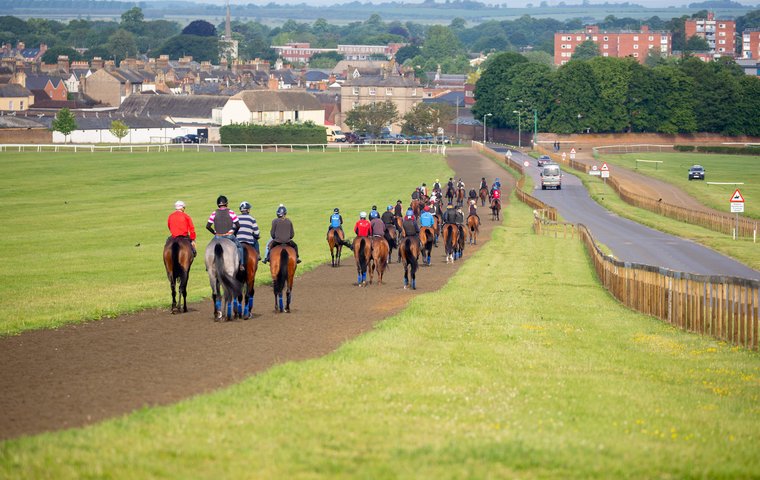 Patrick Gilligan (pictured below), a former Newmarket racehorse trainer who moved to Kentucky to work in the industry five years ago, received a huge (mostly positive) reaction when he wrote here last month about his thoughts on the state of racing in America.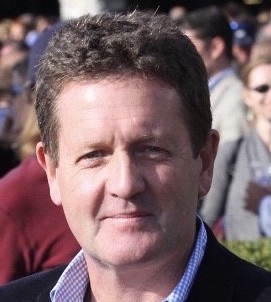 His article, How so many things in U.S. racing seem designed to harm the horse, has become one of the best-read on TRC of 2019.
Gilligan, an award-nominated author, who has an honors degree in equine studies, wrote of unfavorable injury-rate comparisons between the U.S. and Europe, and many readers have asked that he should elaborate on the differences in training conditions between the two. He does that here ...
It is two weeks now since I came out as a Synthetic. I have had a lot of support. That's been touching. But, to be honest, it hasn't been easy for me. There have been some hate messages, some cries of 'go back to your own country'. It has been tough on my family too. Especially for my son, his dad suddenly coming out. When he gets to the track, the smirks and innuendo … well we are from Europe after all.
It's the first time really, I've felt like a minority. I'm white, male, heterosexual. I'm used to being in the majority. For the first time, I feel I know what it must be like – a very little bit – to be gay or black or a Jehovah's Witness. A label thrown on you, marking you out to some people.
So what should I do? Be the silent minority, or try to convert others, try to convince more people that they might be Synthetics too?
Maybe they are in denial, maybe they are suppressing themselves and just need encouragement to find the courage to come out too? Maybe they just need to know more about the synthetic lifestyle? I'm going to do my best now to explain, for the closet Synthetics, for the ones in denial, for the majority who maybe don't really know or understand what a Synthetic really is.
I don't have anything against dirt people. I have good friends who are dirt people. I just don't like that more horses and riders get hurt on it.
We Synthetics don't like that. We just like to see horses racing, especially the really good ones, the elite. We want to enjoy that, to have a good day out, to bring our partners and children and relish the racing. We don't like bloodbaths, tragedies, death at the races. We want a good day, so we can look forward to the next one, not have to apologize about today's, and say we can't bring our children again.
I have been asked what is the big difference between racing and training in the UK and here in the U.S. I will tell you.
Training in the UK
Back in Newmarket, although we had 2,500 acres of grass gallops – each strip used only one day per year - we mostly just looked at the grass. Yes, we used it - some important breezes on the Limekilns or Racecourse side, some galloping on a perfect day. But most of the time we used synthetics. Many horses only saw grass when they got to the racecourse.
There are two straight uphill synthetic tracks on Warren Hill in Newmarket. Just over four furlongs long, but they rise 130 feet in the last couple of furlongs.
They are by far the two busiest gallops in all Newmarket. Everyone wants to use them.
Sometimes you gallop them once up it, sometimes twice. That's enough. And here's the thing - in over 15 years training there, I can barely remember a day it wasn't used. If there was snow and frost and ice, it would be harrowed all night if necessary. Whatever it took. Torrential rain would have to be biblical to leave standing water on it. It can be raining all morning and you will happily gallop all morning. And yes, if we had a heatwave that endured, it would get a bit slower, but it was still safe.
Then there are the Al Bahathri or the Cambridge Road tracks, both around nine furlongs, both climbing a bit, but not like Warren Hill. These are where you breeze, Al Bahathri straight more or less throughout, the Cambridge Road straight and level the last five furlongs.
We didn't worry if it was pouring with rain. Bring it on, breeze away. We didn't worry if 100 horses had already breezed on it. Breeze away, no difference.
Not like dirt - 'oh we had a shower, cancel the breeze, we might hurt the horse. Get out after the break, we need to be first on! We are breezing, we need a fresh track!'
Everyone can't be first on, can they?
That's it you see. Dirt tracks CAN be safe, according to Dr Mick Peterson, who, as Executive Director of Racing Surfaces Testing Laboratory and Director of the University of Kentucky Ag Equine Programs, has maybe spent more time studying dirt surfaces than almost anyone else. If you are first on after the breeze. If the weather is perfect. If the track superintendent is experienced, skilled and diligent. If everything if just right.
Inconsistency problem
But synthetic just basically is safe. Bring on the rain, bring on the horses, bring in a new superintendent. It's still safe. Or as safe as you get doing a dangerous thing.
This is the problem with dirt. Inconsistency – that's a killer, you can't have horses taking two and a half strides a second, going nearly 40 miles an hour, exerting 2,000 pounds load on each front leg as it strikes the ground, hitting false ground, whether because the horses in front have already kicked the surface off and left a hole, or whether less than optimal management or weather has left the surface patchy and inconsistent.
That will break them down. And then you have shear, also related to the same conditions. Shear is how much the horse's hoof slides upon hitting the ground. It ideally needs a bit, but not too much. Turf and synthetics are good at that, being consistent. Dirt sometimes is not.
And then you have the spring, the bounce - natural on turf, mimicked on synthetic, devoid on dirt. Anyone who has run on a beach knows the difference between that and the local park.
It is hard to make dirt safe. It seems hard to make synthetics dangerous. I am a synthetic, because I believe Tapeta is the best bet. Because it has been developed by a highly experienced horseman, it is literally a gift horse. And everyone keeps looking it in the mouth. I wonder why?
Reducing injury rates
Dr Peterson, who is doing all the work, all the research on dirt - so surely he must know all the statistics already, says synthetics wins hands down. If dirt could be made consistently safe, why hasn't it been made safe by now?
It is like an airline keeping on trying to perfect biplanes, when someone has already invented the jet.
So, it is the synthetics, the lack of constant turning and more thorough warm-ups, that I feel may be the biggest factor that reduces injury rates in the UK.
When I came to the States five years ago, my first visit to a training track was the Thoroughbred Centre in Lexington. I was there three minutes before I realized it was going to hurt horses, training in circles on dirt.
How much data needs to be collected before we come to the inevitable conclusion? Dirt cannot ever be as safe as synthetics in the long run. And Tapeta is the safest of all synthetics, according to latest data.
It really is becoming a question of where safety stands as a priority. When I wrote my book, I said, in my opinion, safety was the thing holding North American racing back. That was three years ago. Voices are getting pretty loud now, not just in California. That is why I decided to come out.
One last comment - on Bute
No trainer, ever, has had a horse that he thinks may be sore or off and has called the veterinarian to check it out and thinks, 'I'll just give this horse a shot of Bute before the doctor gets here'. Why not? Because the doctor would look at the trainer like he was some kind of an idiot, and say, 'well how am I supposed to diagnose properly whether this horse is sore or lame now?'
Yet, that is exactly how we hinder our veterinarians here in America when they are trying to conduct pre-race inspections for the safety of our competitors, equine and human.