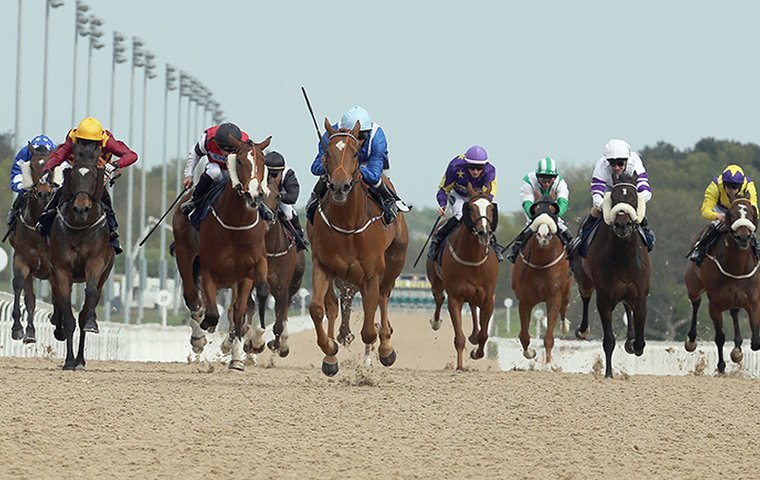 Patrick Gilligan, a former Newmarket racehorse trainer who moved to Kentucky five years ago, reflects on the state of American racing as he sees it.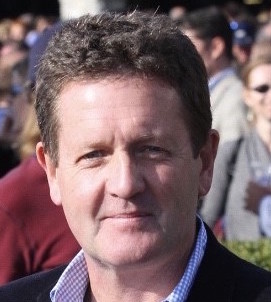 Gilligan (left), who was a 'small-time' trainer in the UK for 15 years, moved to the U.S. so his son could pursue his goal of becoming a jockey. He wrote a book - Around Kentucky with the Bug - about their first year in the U.S. It was a 2019 finalist for the Dr Tony Ryan Award for the Castleton Lyons racing book of the year.
Gilligan, 54, who has an honors degree in equine studies, has just spent two years working as an assistant to Kentucky trainer Kenny McPeek. Meanwhile, son Jack, 23, who served his apprentice year with Sir Mark Prescott in Newmarket, is beginning to make a mark on the U.S. Midwest circuit, with 35 winners this year and prize money over $1.6 million. He is currently in New Orleans preparing for the coming meet at Fair Grounds.
In some ways, 2019 has been an 'annus horribilis' for North American racing. The New Year brought a spate of racing and training fatalities at Santa Anita, and unfortunately the Breeders' Cup there ended with another. The Kentucky Derby winner was disqualified, and the Triple Crown never got going. But sometimes, when things have not gone well, it gives us pause to reflect, to reconsider, perhaps even to question ourselves.
I didn't understand when we first moved to the U.S. from Britain why people would ask me how I felt about my son doing such a dangerous job.
We don't think of being a flat jockey in Europe as a dangerous occupation. Jump jockey yes. Flat rider no. We know they can get hurt, we know it can be bad, but it is so rare that the risk seems remote.
Within a few months of being here, a 16-year-old boy was killed at a meet Jack was riding at.
I have been in North America for five years now, and I have known of jockeys being killed or paralyzed, of exercise riders being killed. In those five years, getting on for 3,000 horses will have died too - on the racetrack. And well over a 1,000 would die during training in the mornings.
Now I know what people are talking about when they ask me how I feel about my son doing this job.
Why is the injury rate in North America anywhere up to five times higher than where I came from in the UK? Having spent the past couple of years working as assistant to a Kentucky-based trainer, I have some thoughts on the matter.
Horses 'likely to be harmed'
I don't really know how to put this, so I will be blunt. There is hardly anything done, either in the training or racing of the young Thoroughbred here, that is not seemingly designed to harm the horse in some way.
I have to start with the track - the strict diet of left-hand galloping, day after day, after day.
You don't need to be an expert in equine biomechanics to understand that horses – who are designed to run more or less in straight lines - are likely to be harmed by the repetitive, unrelenting galloping left-handed on a daily basis. And then they start breezing left-handed, flat out around a turn, placing more torsional stress on the pastern and cannon bone.
Studies done suggest up to 90 percent of catastrophic fractures showed evidence of pre-existing repetitive stress injury.
And they do all this left-hand galloping on dirt. Dirt is an early 19th-century innovation, and the horses who first raced on dirt tracks would undoubtedly have been coarser, more common, sturdier, slower and more mature animals than the evolved sleek modern 2-year-old Thoroughbreds being asked to race and train on it today.
'The horse has evolved to run on grass'
The dirt surface is at odds with the design of the Thoroughbred's lower limb. The horse has evolved to run on grass. To escape its predators through swift flight over grassy plains.
Turf has a degree of elasticity, of recoil. As the horse's foot hits the turf at a full gallop, the turf gives, the hoof spreads fractionally, and the horse's fetlock lowers, almost touching the ground. The flexor tendons are extended and taut. And then the turf springs back, the hoof contracting, and the fetlock spring back aided by the tendons, the stored mechanical energy in the extended tendons suddenly released.
There is no bounce from a dirt surface, the horse's leg just hits it, time after time, two and a half times a second when breezing or racing, and the dirt does nothing to help the horse spring forward into its next stride at all.
I never had a single 2-year old tear a tendon in 15 years training in the UK. Serious tendon injuries in 2-year olds in Europe are virtually unheard of.
I have seen plenty of really nice unraced or hardly raced 2-year-olds finished due to tendon injuries in America. Finished before they ever even got going. I have seen more fractures also, and more serious fractures. More fatal fractures.
I am sure there will be considerable variability in injury rates across different trainers. Some seem better than others at spotting the early-warning signs of a horse possibly brewing up for a catastrophic injury.
But I also have little doubt that it is the dirt surface they train and race on that causes most of the harm.
The production of dirt horses
I wonder what professional sports trainers in other disciplines would make of the mucky, waterlogged sludge the horses gallop through on a wet morning, what they would think when they saw what these million-dollar athletes train on.
There is an argument that the North American Thoroughbred breeding industry is predicated on the production of dirt horses.
Well, aside from the fact the U.S. turf program is growing rapidly anyway, the last two Triple Crown winners, American Pharoah and Justify, have been covering mares in Australia, where there are no dirt races. Kentucky Derby winner Northern Dancer is the most influential turf sire of modern times. American Pharoah is the sire of one of the UK's top turf 2-year olds this year. In short, dirt sires are perfectly capable of producing quality turf runners.
So many dangers
Let's move on. Toe grabs. They are unnecessary and dangerous if horses clip heels – quite probably the cause of that 16-year-old rider's death. And studies and common sense say they probably predispose to injury.
Claiming races - there is moral hazard there. There is temptation for an unscrupulous trainer to run a horse with some injury as a means to try to sell it. Nowhere else does this temptation really exist. There is little incentive in any other racing arena I can think of to run an injured horse.
Race-day medication, specifically Bute and Lasix. Horses are trained left-handed day after day on an unforgiving surface, and there is sometimes incentive to run them even if they are so injured the trainer knows they cannot win. Strong painkillers complete this toxic fatal cocktail. And these are strong painkillers.
I have been surprised, shocked even, at what effect pre-race administration of anti-inflammatories has on many horses. How good it makes them feel. How they now really want to run. That is not good. It is not good at all to add a nitrous oxide injection to a $5,000 car with a wonky chassis. It may briefly hit 130mph on the highway. But, by the time it gets back to the garage, it will be a smoking wreck with its wheels hanging off.
More than one trainer has told me bute "steps them up". You don't want them to step up. There is no competitive advantage, because every horse in the race is treated the same.
'Bleeding in horses is not a problem that requires fixing'
In fact it is worse than that. It actually only really provides an advantage to the trainer who brings the horse to the race in a poor condition. That horse's performance will benefit more from pre-race painkillers than one brought sound and feeling well. How is that good? But still, they all run a bit harder, further increasing their chances of a sudden injury. And they come back often sorer than they would have been if they hadn't been treated, if they hadn't pushed themselves quite so hard.
Lasix is a diuretic used to lessen the severity of bleeding. It eliminates water in the horse, lowers its weight and, whether through that mechanism or another unknown one, studies suggest it can increase a horse's racing time by one second (around seven lengths). See previous paragraph as to why that is a problem.
I have said before that bleeding in horses is not a problem that requires fixing. I trained a horse that first bled as a 3-year old. It won a Graded stakes as an 8-year-old. He ran 69 races for me. He is 26 now. I never medicated him for bleeding, for racing or training.
He is grazing in a paddock in Kentucky now. He has cost us an arm and a leg and remains in rude health.
Minor bleeds are not a serious health or welfare issue. If the horse bleeds to an extent it negatively impacts performance, tough. That animal is not fit for purpose. Retire it, find it another life. Do not breed from it. The old adage is breed the best to the best and hope for the best - not breed the unsound bleeder to the unsound bleeder and find some stronger meds.
The combination of Bute and Lasix treatment has another consequence, - ironically one they were introduced to combat.
They were brought in to keep horses racing more regularly and so help maintain field sizes. Lasix dehydrates the horse, and both drugs tend to enable the horse to run harder and faster than it would without those drugs. Add in the often very hot conditions horses run in the USA and it is perhaps not surprising that starts per year per horse have declined ever since pre-race medication was introduced.
It takes horses longer to recover from their races, because they have run harder on a tough surface and are dehydrated.
And the public looks on with mistrust and distaste, and now I have to say, to the Stronach Group, to Churchill Downs Inc, to CHRB (California Horse Racing Board), to KHRC (Kentucky Horse Racing Commission), to NYRA (New York Racing Association), what don't you get?
Race-day medications should have gone long ago. For the perception of the sport. For the short-term welfare of horse and rider. For the long-term integrity of the Thoroughbred breed.
Racing's duty of care
Tapeta is becoming recognized as perhaps the safest of all racing and training surfaces. When technology comes along that can make something dangerous a lot safer, it should be adopted. Tapeta was developed by a lifelong horseman; Michael Dickinson was a champion jump jockey and trainer in Europe who went on to become a Breeders' Cup-winning trainer in North America.
He is a compulsive man who has made it his mission to develop the safest and best racing surface possible, a man who exports his surface to racetracks and training centres around the world. He is here, in our backyard, and is virtually ignored.
It was just over a year ago when exercise rider Odanis Acuna was killed along with the horse he was riding at Churchill Downs. This will be his children's second Christmas without their father, his wife's second Christmas without her husband. All their Christmases to come will be without him. In my opinion, he would probably be alive now if Churchill Downs had a synthetic surface then.
I don't know how badly that weighs on the mind of Churchill execs. I hope it does. It should, if for no other reason than there is nothing to say that something like that can't happen in the Kentucky Derby. And that, as they say, would be pretty much that.
Racehorses are big, strong animals with very small brains. We have a duty to watch out for the welfare of these creatures we ask to do so much for us. We have a duty to watch out for the riders too.
Let the new coalition not be merely a PR exercise
I hope, for all these reasons that the recently formed Thoroughbred Safety Coalition is more than the public relations exercise some are concerned it is. I genuinely hope it is going to be a determined force for good. But I worry.
All the statistics show synthetic is vastly safer than dirt, and studies and common sense tell us to eliminate pre-race medication. Anyone with a basic knowledge of the horse's anatomy should be able to work out that running around in circles on dirt will harm them.
Yet there are rumblings already from top horsemen in Californian racing that this is what they want to keep doing, in spite of being in the heart of the storm, watching horses, trainers and jockeys leaving California, watching field sizes and purse money and attendances dwindle.
I understand concerns regarding previous issues with synthetics in the California heat, but they are safe, and they are better now. And I know in one sense I am committing heresy even suggesting dirt racing could be abolished in North America. Suggesting slavery should end started a war. You would be surprised at the changes that people will rail against. It doesn't mean they shouldn't happen.
The reintroduction of racing on the newer improved synthetic surfaces and the elimination of race-day medication could cut catastrophic injury rates by two thirds, studies and statistics suggest (and possibly more than that - the latest Tapeta tracks installed in the UK are recording catastrophic injury rates that are virtually zero).
Fewer injured horses and fewer exhausted horses means more horses in trainers' barns, more training fees, fuller fields, more gambling, more money to purses. And fewer dead horses.
It also means jockeys and exercise riders are kept safer.
With all the purse money that can be won by good horses in the U.S., I don't see why any owner would want to risk their elite athletes on an inferior surface when a superior, safer alternative exists.
Yes, all this would change North American racing. It would be slightly different, but it would be modernized, more progressive, more sanitized, and more virtuous than it is now.