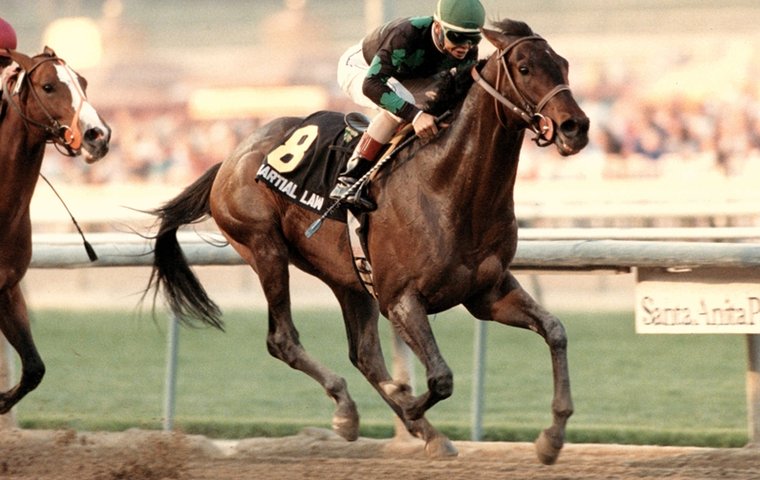 Seabiscuit, Round Table, Affirmed, Spectacular Bid, John Henry ... the 'Big Cap', the 2017 edition of which will be run at Santa Anita on Saturday, has been won by some of America's greatest. One who isn't quite as renowned is the 1989 winner, Martial Law, but he produced one of the biggest upsets in the race's history - and another example of the talent-spotting prowess of Team Valor International boss Barry Irwin. Here, from Irwin's book 'Derby Innovator: The Making of Animal Kingdom'*, is a short extract about a victory that stunned America ...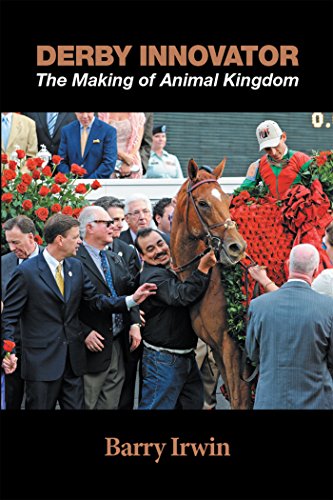 I walked into Santa Anita Park before noon that late winter day in 1989, taking the tree-lined path from the iconic, round receiving barn that would be used later in the afternoon by the horses before they headed to be saddled for the Santa Anita Handicap.
I had history on my mind. For 20 years, I had read and written about the history of the Turf, its players and its horses. That day I would be part of history, as our outfit - Clover Racing Stables - had a runner in the race, which was variously referred to through the years as the 'Big Cap', the 'Santa Anita' or the 'Hundred Grander'.
Initially it was called the 'Hundred Grander' because it was the first race in the world with prize money of $100,000. The present-day equivalent at the end of 2015 was about $1,750,000.
Run at a mile and a quarter, starting from a chute to the left of the grandstand and finishing after a full trip round the oval, the Santa Anita Handicap was the centerpiece of racing in the West since its inception in 1935. It was a handicap, with weights assigned prior to the traditional annual opening the day after Christmas.
Fabled race
The fabled race that riveted the attention of a nation half a century earlier, when radio and newsreels chronicled Seabiscuit's quest to win the Big Cap in his third attempt, had a $1 million purse in 1989 and was still one of the most sought-after prizes in North American racing.
As I walked towards the large fountain that was ringed by individual plaques on which were inscribed the names of past Santa Anita Derby winners, I ran into Jude Feld, a racetracker I had known since he broke into the game as a chart-taker in the press box for Daily Racing Form.
A jolly soul whose rosy red cheeks, round face and ho-h0-ho laugh reminded one of Santa Claus, Jude was in full bloom and throat when he said, "Hey, Baresky, what are you guys thinking? I know this isn't Julio's idea."
Feld had worked as a groom for Julio Canani, trainer of Martial Law, our long-shot entrant in the Santa Anita Handicap. Jolly as Jude may have feigned to be, his message rang loud and clear: Jeff Siegel [my business partner] and I looked like were nuts to be running our colt in the biggest handicap race of the year.
Jibes from the 'experts'
Jude was not the only scoffer to try to dampen my enthusiasm on the day. Plenty of others - guys I had worked with for up to 20 years - in their own way let it be known that we were about to be made fools of for a running a horse that did not belong on the most visible racing stage of the year.
Most of these so-called 'experts' not only were incredulous that we would take a horse with such modest form and run it in the storied Big Cap, but that we would get our partners to shell out $40,000 for the privilege.
I became very agitated because these guys treated me like I was getting my racing partners to pony up a lot of cash just so that our stable could gain visibility by having a runner in the big race. These detractors, with their jibes and digs, were questioning my integrity. I thought I deserved the benefit of the doubt. I was incensed that these wise guys had lumped me in with the majority of owners, guys who ran horses where they did not figure based on a vague hope for success instead of a conviction based on solid horsemanship and analysis of form.
I really should not have been surprised. Our own trainer, Julio Canani, was not bullish on running the colt in the race himself. On paper, Martial Law did not figure to win. Peruvian-born Canani was a man's man, a very proud horseman, and he did not want to be made to look stupid.
Jeff Siegel knew Julio better than I did, as the trainer spent a lot of time in the press box, where Siegel banged out selections for his syndicate of daily newspapers, whereas I had not been a habitue of the rooftop venue since quitting my job as a columnist for Daily Racing Form a decade earlier.
The cost of supplementing
Martial Law had not been made eligible for the Santa Anita Handicap by the time nominations had closed. The first deadline, which required a $500 fee, closed the previous August, when Clover had not yet bought the colt. December and January deadlines, with payments of $2,000 and $2,500, came before Martial Law had made his first start in America. So, if Clover Racing Stables wanted to run him in the Big Cap, the colt would have to be supplemented at a cost of $25,000, followed by an additional payment of $15,000 to get him past the entry box and into the starting gate.
A vote was taken of the 17 partners who owned Martial Law and a majority wanted to run him in the $1 million race.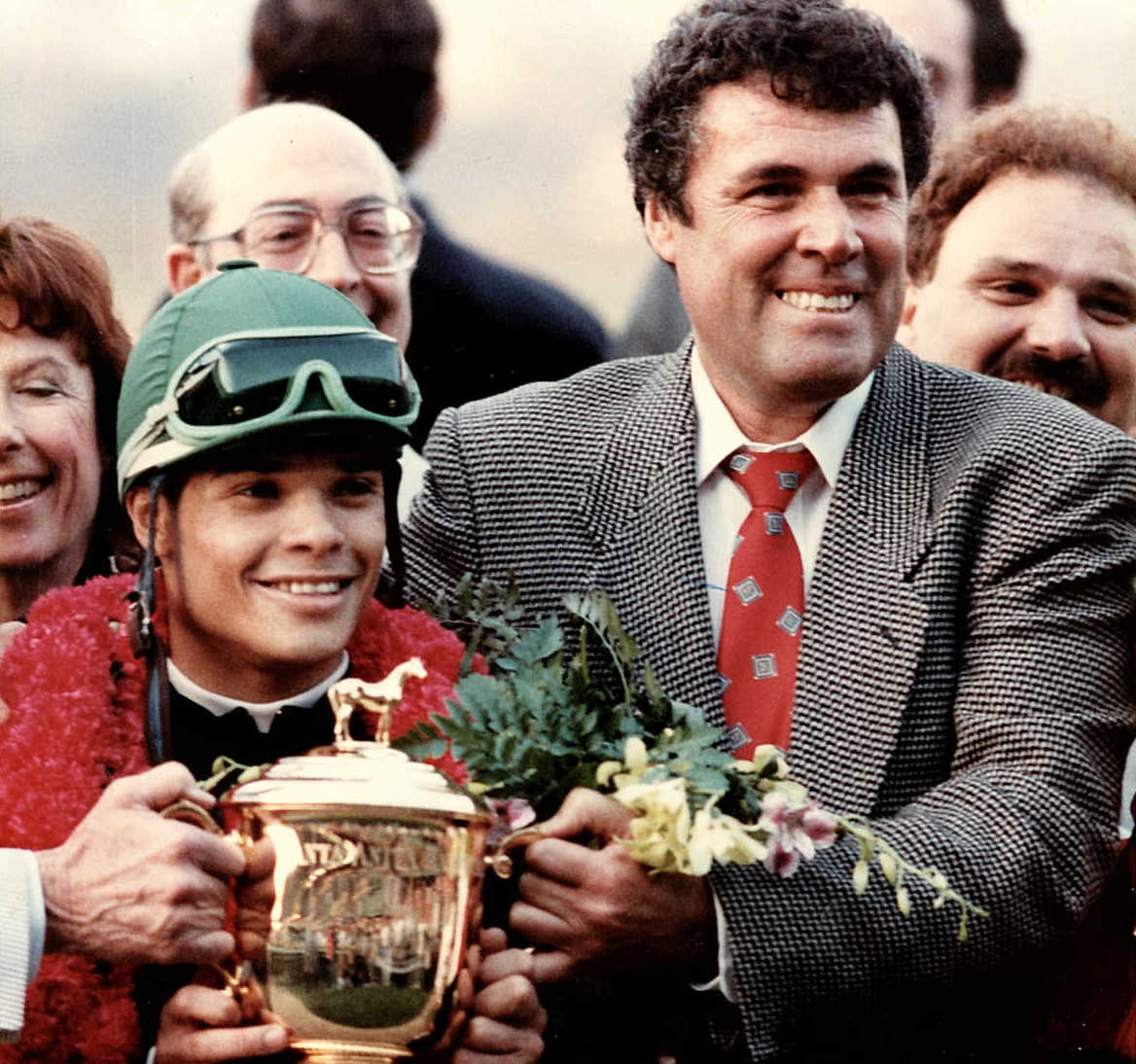 Jeff was charged with the task of getting Julio to commit to entering the colt in the race by calling the racing secretary before the 5 p.m. deadline on the Wednesday prior to the weekend race. Jeff didn't feel comfortable pushing Julio, and the trainer sensed it, so Jeff was unable to get a straight answer out of him.
Pressure mounted as the clock ticked closer to 5 p.m. Jeff had not called me back, so I phoned him in the press box ten minutes before the deadline. He told me that Julio would not give him a straight answer. I had him put Julio on the phone and said to the trainer point-blank, "Are we running or what?"
Canani said, "You wanna run?"
I said, "Yes, I want to run."
Canani replied, "Okay, then we run!"
Bottom line: Julio wanted to run, but he didn't want it to look like his idea. He wanted to be pushed. Jeff couldn't push, so I did.
Born in the USA
Like many trainers, Julio wanted to run if it looked like some dumb owner forced him to, so, if the horse laid an egg on Saturday, his image would be spared. But, if the horse won, then of course it had really been Julio's idea all along. Trainers have a lot in common with tightrope walkers, but their rope is only six inches off the ground and there is foam-rubber padding beneath.
So the die was cast: $40,000 would be sent to race a horse that, five months earlier, had been bought at public auction in England for only $20,000 more than the fees were to make him eligible for the Big Cap. Clover Racing Stable had paid somewhat more than $60,000 in December for Martial Law and had syndicated him for $100,000.
Martial Law was bred in 1985 [by Darley Stud], a bit off the beaten track in Pennsylvania, because his dam, Sateen, had previously been booked to The Minstrel, who stood just across the state line at Windfields Farm in neighboring Maryland. For several years in that era, especially when The Minstrel's sire, Northern Dancer, stood at Windfields, many of the mares bred to that breed-shaping sire were housed in rural Pennsylvania at Marshall Jenny's Derry Meeting Farm.
Martial Law was sent, along with the rest of Sheikh Mohammed's young stock, to race in England. In ten starts - four as a 2-year-old and six as a 3-year-old - the homebred colt raced with a small trainer named J.W. Watts in the north of England, winning once at two and twice at three.
Minor turf successes in the UK
Racing in modest company at decidedly lower-end Redcar racecourse, Martial Law had managed to win his latest start, in which the gross purse was about $8,000. The colt eked out a win going seven-eighths of a mile, but when racing between six and eight furlongs in England, the colt had no style or trip.
Martial Law probably never should have been sent abroad because he was not bred for the turf. True, his sire, Mr Leader, was a wizard on the green stuff, winning the Stars and Stripes Handicap in a course-record time of 1:47 ⅖ for a mile and an eighth at Arlington Park in Chicago. But, as a sire of grass runners, Mr Leader was virtually useless.
I knew the family of Martial Law well, as in the early 1970s, while taking about a nine-month hiatus from writing and editing The Thoroughbred of California, I worked in the bloodstock office of Rollin W. Baugh in Newport Beach, California. Rollin bought and managed Martial Law's second dam, a Claiborne cast-off named Satin.
Satin was brilliantly fast but had a screw loose and was basically a run-off. Trainer Gene Cleveland was able to coax several wins out of Satin, who went to the breeding shed a winner of ten races from 32 outings, even though a stakes victory had eluded her. She had superb credentials to become a useful broodmare as she had an abundance of raw speed and a mouthwatering pedigree.
Banking on that dirt pedigree
Tracing back to the foundation matron Coliseum, Satin was produced by Lea Moon, who foaled five stakes winners, while the next dam, Coliseum's daughter Lea Lark, produced four stakes winners, among them the 2-year-old champion filly Leallah.
Most of the production by the sire and from the family came on North American dirt tracks, which is why Jeff and I decided to take a chance on importing Martial Law, hoping that the horse would take to the dirt in California.
From the day Martial Law first set foot on the Santa Anita tack, it became obvious to Julio Canani that he had a gifted runner on his hands. Without exception, each of the 4-year-old's workouts leading up to his California debut was an eye-opener.
Canani brought the colt over on January 28, 1989, for his first start in a six-furlong sprint. The trainer told jockey Martin Pedroza to let Martial Law settle and make a late run. Neither the trainer nor the owners expected to win a sprint on dirt first time out with the colt.
Taking hold late in the stretch, Martial Law finished, full of run, to wind up fourth of eight, beaten just under six lengths.
Furious stretch kick
Martial Law was not overlooked in his second start, when he stretched out around two turns in an allowance race on a muddy track. Bettors made the colt the favorite because he had finished like a blur in his local debut and he owned a pedigree made to order for a muddy trip. In a dazzling performance in a field of nine, Martial Law finished with such a furious stretch kick that Santa Anita's race caller said, "And Martial Law looks like he just jumped in at the eighth pole." He won by six lengths that afternoon.
The Big Cap was 23 days away. In the days immediately following the allowance victory, neither Jeff, nor Julio, nor I had thought about or talked about the Santa Anita Handicap. When the horse began to train even better after the race than before, and as the field for the $1 million race did not appear to be coming up strong, our chats began to gravitate towards considering a run in the big race.
The one thing that has always bound Jeff and me together is that we are both very optimistic when it comes to buying horses and racing them. When we feel confident about a horse, we never let so-called 'conventional wisdom' stand in the way of a good idea. We both felt positive that running Martial Law in the Santa Anita Handicap was a good idea.
We did worry about what professionals and prospective clients would think of us for running a huge longshot in the biggest handicap of the season. We decided that, if we got weighted low enough, we would encourage our trainer and partners to go for the jackpot.
Big Cap mania
As is my bent, I lobbied the racing officials who had influence to give us the lowest possible weight. I use scholarship and logic to make my point and, when the weights came out, we were assigned 113 pounds, about 4 or 5 pounds more than we deserved. Instead of handicapping the horse, the racing panel handicapped us, figuring that, if we were game enough to put up $40,000 to run, then we must know something they did not.
When one grows up in Southern California and is a racing fan, there is no other race on the calendar that carries the tradition, gets the media coverage or has the buzz that the Santa Anita Handicap has.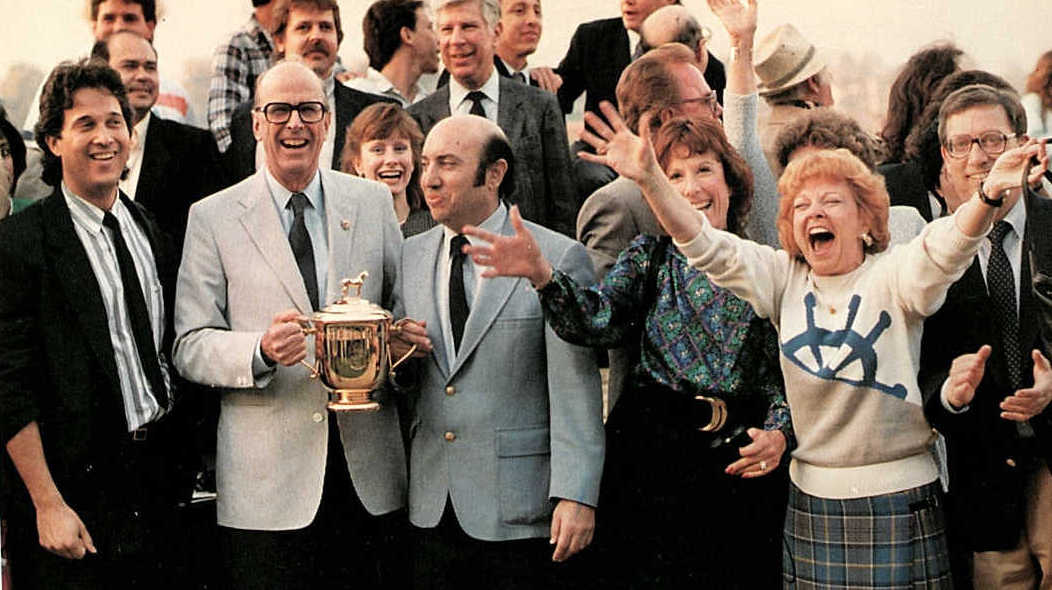 I was completely engulfed in Big Cap mania by the time the race was run. I was, to put it mildly, a complete nervous wreck. The pressure - of being responsible for the dreams of 17 partners, encouraging the partners to put up $40,000 for a chance to realise their ambitions, and having to endure one skeptic's jab after another for running a horse where it did not belong - had all gotten to me. I had never experienced this type of stress before.
Some of the pressure was taken off our shoulders when, earlier on that glorious Sunday afternoon, our Clover runner Galba - the longest shot on the board, with a return of $63 on a $2 bet - scored an improbable upset when he won the $100,000 New Orleans Handicap at Fair Grounds for trainer Neil Drysdale.
The race
When the starting gates opened to the roar of the 58,240 in attendance at Santa Anita on March 5, 1989, for the Santa Anita Handicap, Martial Law was sent away at odds of more than 50-1 in a field of 11 older horses.
Martin Pedroza rode the horse. A 'speed rider' known for getting horses away from the gate fast, he was at that time a marginal rider in the colony at the major tracks, doing his best work on the five-eighths track at the local LA County Fair meet at Pomona, where he was the daring and bold king of the bullring. Jeff and I both made a point of letting both Martin and Julio know that the likeable young man had to be patient going a mile and a quarter against top competition. Pedroza had been instrumental in urging us to supplement the colt to the Big Cap. He had an amazing amount of confidence in the colt because of his spectacular morning workouts at Santa Anita.
To put the performance into better perspective, one only has to reflect on the final clocking of the mile-and-a-quarter race. His time of 1:58.80 had been bettered in the previous 54 races only once: in 1979 by Affirmed, the last horse to win the Triple Crown. Martial Law's clocking was not beaten again for a quarter of a century, when Game On Dude ran faster [when winning his third Big Cap] in 2014.
A fiasco to finish
Martial Law ran only once after his Big Cap win. The colt was sent to contest the $400,000 Oaklawn Park Handicap 41 days after his Santa Anita race. The entire affair was a fiasco. Our trainer was more interested in continuing to hone his skills as a romantic Latin lover than seeing to the comfort and well-being of his horse. In the race itself, poor Martin Pedroza was a target of the local riders, who forced him to race very wide throughout. Every time he tried to make a move, another rider thwarted him.
Martial Law finished sixth of eight, beaten a little more than five lengths at odds of slightly less than 3-1. He emerged a few days later with a bowed tendon and was retired to stud.
He was a flop at stud, which was not surprising given that his own sire, Mr Leader, never sired a son that carried on his bloodline, and he was a light-bodied, feminine type of colt who was narrow through the chest and lacked oomph.
He was a shooting star - here today, gone tomorrow. How good was he? I don't know, but the evidence suggests that, if he had started out in America and been trained to run on dirt, he might have been one of the all-time greats. He showed as much talent in the Big Cap and in his spectacular workouts as any horse we've ever owned.
*Derby Innovator: The Making of Animal Kingdom was published by Xlibris and is available at Amazon and other book sellers.