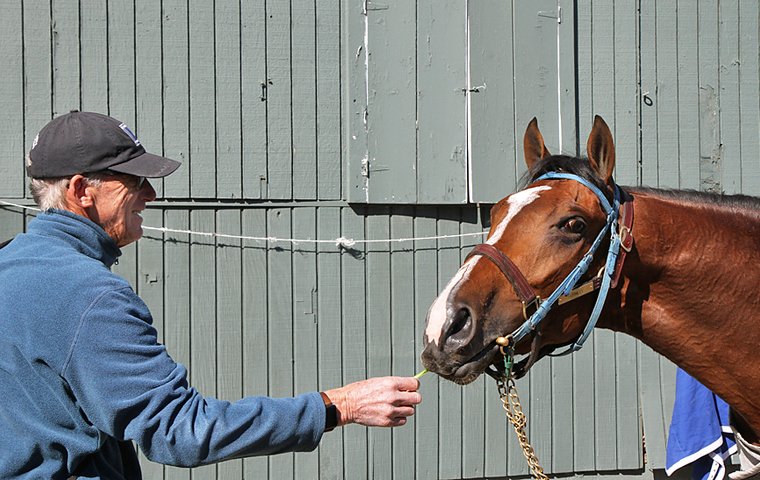 On a typical morning at Santa Anita, trainer John Shirreffs peers through binoculars and tries to keep his eyes on both of his Kentucky Derby contenders at once. Oftentimes, one is on the main track and the other on the training track, each readying for another prep as they continue their quest towards the most famous race in the United States.

And, while Shirreffs has won the roses before – Giacomo stunned the race at 50-1 odds in 2005 – he has never brought along two colts with such talent in the same season.
The affable but elusive Shirreffs has been training horses since 1978, with a slew of brilliant performers carrying his banner. G1 winners Bertrando, Manistique, Life Is Sweet, Tiago, and the nearly undefeated Hall of Famer Zenyatta were all campaigned by Shirreffs, who has a reputation for patience and a knack for coaxing troubled equine athletes.
Giacomo, Tiago, and Zenyatta all wore the popular teal and pink colors of music tycoon Jerry Moss and his wife Ann, who happen to own both this year's hopefuls, Gormley and Royal Mo. Shirreffs is especially pleased with the development, saying, "Mr. Moss has been a very special owner to me. He's my patron; I always love to do well for him."
Their common ownership and march down the Triple Crown trail are where the two horses' similarities end, however.
One of the special ones
Physically, Royal Mo is the more imposing of the two, while Gormley is solid but muscular. "Royal Mo is very tall, close to 17 hands," Shirreffs said. "He has a nice long body, good shoulder, and a beautiful hind end. He's well balanced for a big horse, and is very impressive. Gormley is equally impressive, but is around average height at 16 hands. He's more compact and carries more muscle over his shoulders."
Both horses hail from the breaking program at the Kevin and J.B. McKathan's McKathan Brothers Training Center in Citra, Florida.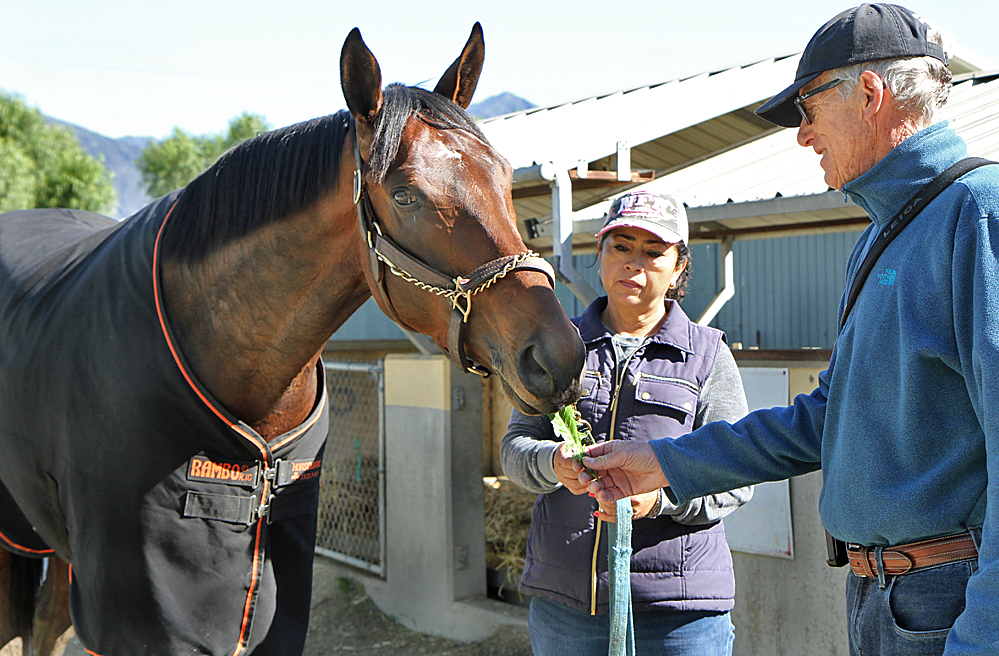 Royal Mo drew their rave reviews from the beginning. "They were always really high on Royal Mo," Shirreffs said. "They thought he was one of the special ones on the farm."
Then just before both horses departed for California, Gormley began to sharpen. "He was slower coming around, but a month before he left they began talking about how nice he was, too," Shirreffs recalled. "So both horses came in off the farm with a lot of high marks."
The trainer also praised the farm for excellent work in conditioning the young horses. "They do a really great job down there. They have enough horses where they can analyze the talent and give you an idea where the horse fits in. They're very good at updating how the horses are doing and sending progress reports. When they came in to the barn, they were both really good and we were able to go right on with both of them."
Breeders' Cup disappointment
Gormley, a son of Malibu Moon and the stakes winning Bernstein mare Race To Urga, broke his maiden in his September debut, winning a 6 ½ furlong maiden special weight event by 4 ¼ lengths despite 6-1 odds. Although jockey Victor Espinoza did show Gormley the whip late, the majority of the impressive stretch run was under a hand ride, immediately showcasing the colt's talent.
Just one start later, Gormley took down the $300,000 G1 FrontRunner Stakes, rolling home three lengths in front of fellow G1 winner Klimt and the multiple graded stakes placed Straight Fire. For someone notoriously good with older runners, Shirreffs suddenly had an unbeaten 2-year-old on his hands, heading for the $2 million Sentient Jet Breeders' Cup Juvenile (G1).
In the Juvenile, Gormley broke slowly and was forced wide, eventually running a disappointing seventh. He came right back to win his sophomore debut in the G3 Sham Stakes after a lengthy stretch duel with the highly regarded American Anthem. That effort placed him right back towards the top of many Derby watch lists. To date, Gormley has three wins in four starts and earnings of $296,000.
See James Willoughby's assessment of that Sham run here in his Road to the Kentucky Derby series.
Although he started first, Royal Mo came along more slowly. He finished second in consecutive starts in August and November, then broke his maiden by 1 ¼ lengths at Del Mar. The son of Uncle Mo, out of the Saint Ballado mare Royal Irish Lass, handily routed a field of overmatched rivals in the G3 Robert B. Lewis Stakes in February, making his record two wins and two seconds in four starts for earnings of $144,200. (See Willoughby's assessment here.)
Royal Mo's second dam is millionaire and multiple graded stakes winner Irish Linnet.
Shirreffs had a big decision to make: which runner would stay home for the March 11 G2 San Felipe Stakes at Santa Anita and which would ship to Oaklawn Park for the G2 Rebel Stakes on March 18.
Shirreffs waited until Saturday to decide, while mentioning some of the factors that go into the choice. "All the normal things are considered, such as how the horse is doing, how they are mentally, and how the races might play out. You consider the timing of the races, and how they might ship." He ultimately decided to keep Gormley home and send Royal Mo to Oaklawn.
Nice change
Competition isn't something that Shirreffs factors in, although with the likes of Mastery and Iliad pointing to the San Felipe, some consider that the tougher race.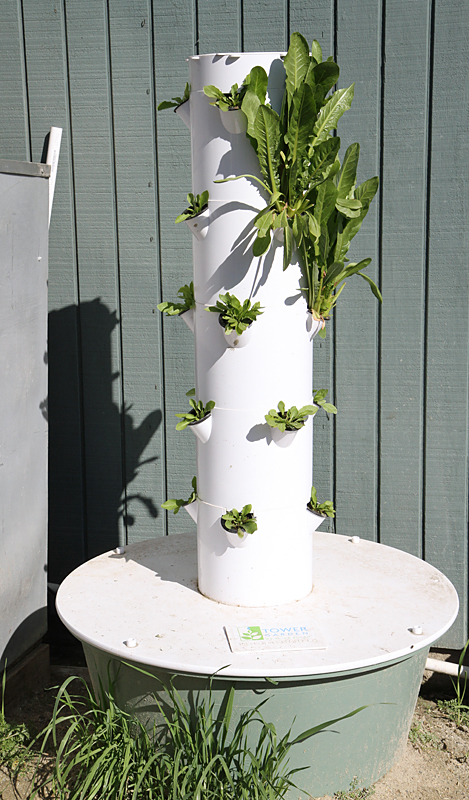 "I just know from past experience that you can't really worry about the competition," the trainer said. "It's especially true when you are running in the Kentucky Derby. Leading up to the Derby, Giacomo didn't win any of his preps. It's competition that gets the horse better."
For now, Shirreffs is content to watch the horses train, and to spoil them afterwards.
"I send them to the training track after their workouts because it's more relaxed," he explained. "There's not as many horses working out there, and they know the difference. If they go to the training track, chances are they aren't going to breeze. It's a nice change for them."
Back at the barn, Shirreffs is growing dandelion leaves with a Tower Garden located just outside his shedrow. The versatile tower can grow numerous types of plants, but Shirreffs uses it to produce treats rich in vitamins and minerals for his horses. Both Royal Mo and Gormley get a snack after morning training, hand delivered by the watchful trainer himself.
After their treat, the two horses go back to cooling out and Shirreffs turns his full attention to the head carriage of an older maiden that he is teaching to relax.
Having two legitimate Derby contenders has not changed Shirreffs; if anything, Royal Mo and Gormley are simply a product of his unconventional but measured methods.