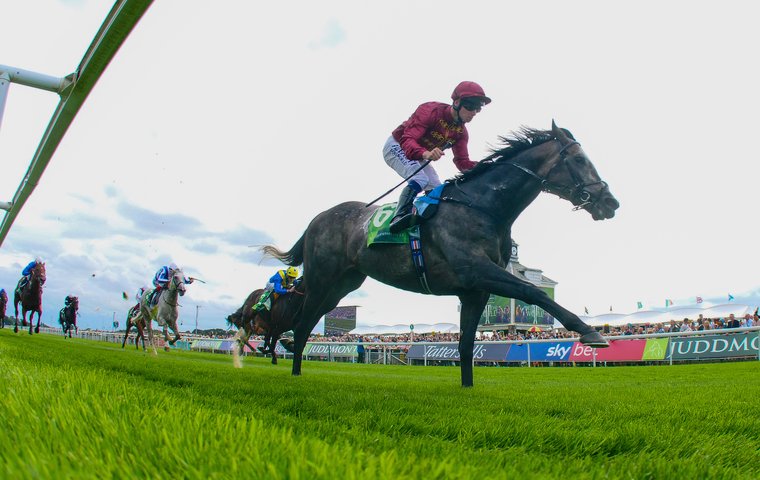 Another barnstormingly successful Keeneland September Sale came to an end on Sunday with gross receipts of $377,130,400 - the fourth highest in the sale's history, according to Keeneland.com. Just about everybody went away happy, of course, yet, just below the surface, it provides us with a stark lesson on some of the buying preferences of many leading players in the bloodstock world.

In this excellent article on this site yesterday, Charles Hayward wrote of the case of the U.S. turf stallion Kitten's Joy. Now Kitten's Joy is not just any old U.S.-based turf stallion - he is the best there is, by some margin. Indeed his record over the past two seasons or so, this one in particular, puts him up with the best turf sires in the world anywhere - challenging the likes of Dubawi, Galileo and Deep Impact.
In the current TRC Global Rankings, Ken Ramsey's stallion is world #8, second only to the late Scat Daddy among U.S.-based sires.
Hayward sympathised with Ramsey's frustration at the lack of support for his horse - at the 2017 Keeneland September Sale, his yearlings returned an average sale price of $114,464 against a $100,000 stud fee.
Hayward said, "... there are many theories and bloodstock advisors on stallion matings and another group of bloodstock advisors on yearling purchases. How come they consistently overlooked Kitten's Joy? They clearly weren't paying enough attention to the TRC standings."
You would probably expect that, after a superb 2018, in which he has been responsible for mega-earner Hawkbill, Woodbine Mile hero Oscar Performance and Europe's best middle-distance 3-year-old, and a contender to be crowned best horse in the world, in Roaring Lion, Kitten's Joy would have fared a little better at Keeneland September this time.
Well, guess what, he didn't. His 45 yearlings sold fetched an average of $107, 489 - around $3,000 less than 2017.
In the table below of leading sires by average sale price for yearlings sold at Keeneland September 2018, Kitten's Joy, the world's eighth best stallion on performances in Graded and Group races over the last three years, is 34th. Every stallion above him by average price, is below him on results on the racetrack, apart from eight who are not in the rankings at all, mostly because they haven't had any runners yet (those are the ones shaded in grey in the table).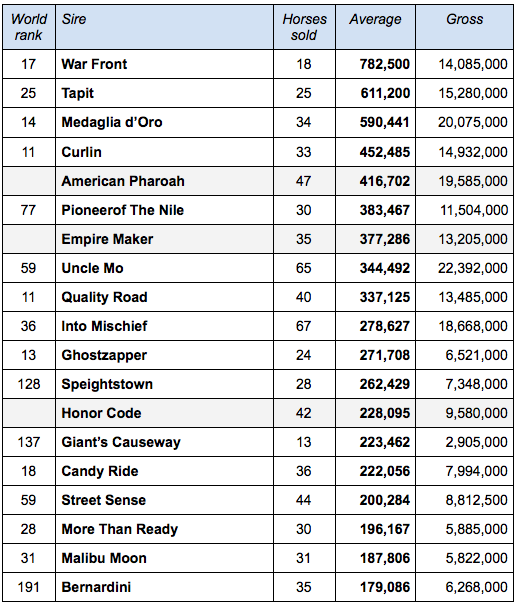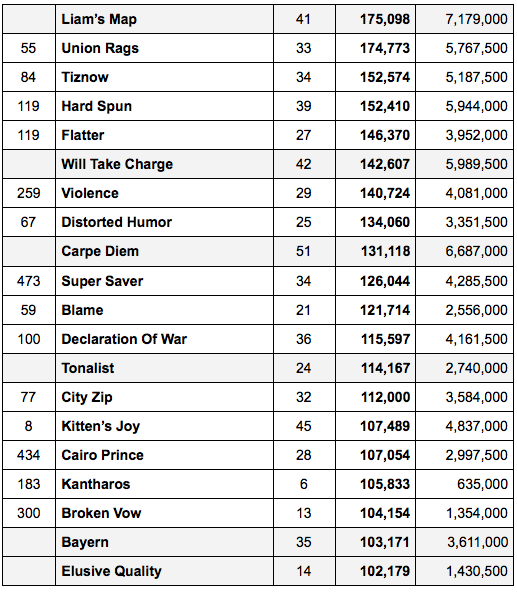 Of course, for most American buyers, dirt racing is king at Keeneland, and Kitten's Joy, a turf stallion, is unlikely to produce a Kentucky Derby winner. But Keeneland is an international sale. Many of its biggest buyers are non-Americans looking for turf runners.
To repeat Charles Hayward's question, "How come they consistently overlooked Kitten's Joy?"
There are numerous pointers to sensible buying strategies to be unearthed on investigating the TRC Global Rankings, of course. The offspring of several sires are still fetching huge sums, for instance, even though those sires have clearly not been quite up to the mark for some time now. Just check out the world ranks in the table above.
You will notice that, conversely, some stallions whose runners have been performing with great credit are surprisingly low in the table. Quality Road, Ghostzapper, Candy Ride, More Than Ready and Malibu Moon are obvious examples. Presumably this is largely down to fashion.
Even below the reaches of this table (which includes only stallions whose yearlings averaged $100,000 or more) there are other surprises. There must surely be good reasons why Lookin At Lucky, currently the 23rd-ranked sire in the world, achieved an average of only $59,344 for 16 yearlings sold.
Lookin At Lucky, incidentally, is ranked two places higher than Tapit, based on the level of performance of his runners, yet Tapit averaged $611,200 for 25 yearlings sold. So you could buy ten Lookin At Luckys for the price of a single Tapit.
Then there's English Channel, who is joint #59. He averaged just $28,326 for 19 yearlings sold. Among those tied with English Channel at 59 are Blame, whose 21 yearlings averaged $121,714, and none other than Uncle Mo, who was top of the whole list on gross, with a total of more than £22 million, yielding an average of $344,492 for 65 yearlings sold. So you could buy 12 English Channels for the price of one Uncle Mo.
It's a curious business, that's for sure.