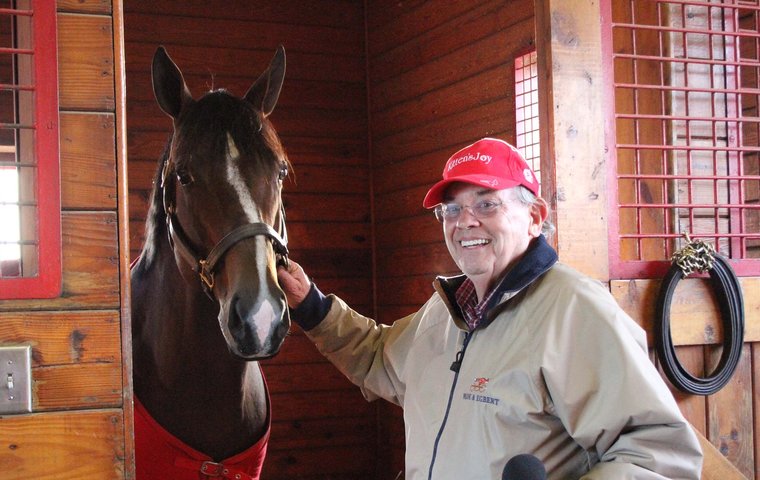 Here at Thoroughbred Racing Commentary, we are about to celebrate the second anniversary of the launch of our TRC Global Rankings. For the uninitiated, this is a comprehensive system producing a weekly set of standings for each of four categories - jockeys, trainers, owners and sires - based on results of Graded and Group races in all major racing countries around the world over a rolling three-year period.

They are unlike any other rankings in Thoroughbred racing (not that there are any equivalent worldwide standings in the case of jockeys, trainers and owners) in that they are based on performance rather than on prize money, number of wins or any other metric. And, significantly, they are designed to be predictive, often flagging up a performer on the rise well before anyone else has realised.
Those of you who have been taking notice of the movements in the TRC Global Rankings over the past 12 months, for instance, will have spotted some time ago the burgeoning advance of Godolphin trainer Charlie Appleby, who is now ranked second in the world, alongside Bob Baffert, and is closing impressively on long-time #1 Aidan O'Brien. The rankings also identified UK-based Irishman Oisin Murphy, now up to #11, as a world-class jockey well before that fact started to dawn on the industry at large.
Another classic example is Ken Ramsey's stallion Kitten's Joy. It has taken the world a long time to cotton on to what followers of the TRC Global Sires' Rankings have known for quite a while. Kitten's Joy is one of the finest stallions in the world.
I read with great interest a fascinating article by Nancy Sexton in her Racing Post column, Bloodstock Week, on September 20, in which she cited that Ramsey, in the fall of 2017, was increasingly frustrated with the lack of respect commercial breeders were showing for Kitten's Joy. He said he was contemplating moving the stallion to Europe.
It is easy to understand his frustration. At the Keeneland September Sale of 2017, Kitten's Joy yearlings returned an average sale price of $114,464 against a $100,000 stud fee.
However, John Sikura, of Hill 'n' Dale, had a plan. According to Sexton's article, Sikura bought a 50 percent interest in the stallion that fall, moved him to the Hill 'n' Dale farm in Kentucky, and reduced the stud fee to $60,000. That resulted in a full book of mares for 2018.
And this was only the beginning. Through last weekend, Kitten's Joy's offspring had accumulated $15 million in purse earnings in 2018, according to The Blood-Horse, making him the highest-earning U.S.-based sire and the third highest non-Japanese stallion in the world (behind Dubawi and Fastnet Rock). He is ahead even of Galileo.
In the current TRC standings, Kitten's Joy is the #8 stallion in the world, with only the late Scat Daddy (#3) ahead of him among U.S. sires.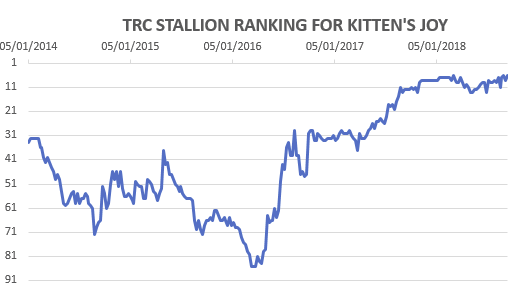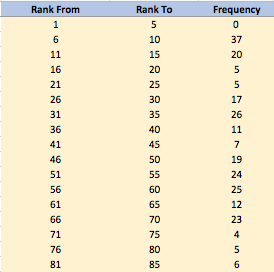 As you can see from the chart above, he has been a world top 60 stallion for most of the last four years. And his ranking has been climbing remorselessly for two and a half years. In March 2016, he was as low as #85, but by September 2017 - the time of Ramsey's lament - he had risen to become the world's 12th-ranked stallion. The table on the right shows how many weeks (Frequency) he has spent in the various ranking ranges - for instance, he has been ranked between 6 and 10 on 37 different weeks.
In 2018, there have been many brilliant performances by Kitten's Joy's offspring. Two recent winners include the John Gosden-trained Roaring Lion, the best 3-year-old in Europe and recent winner of the G1 Juddmonte International and the G1 Irish Champion Stakes, and Oscar Performance, trained by Brian Lynch and recent winner of the G1 Woodbine Mile.
Kitten's Joy offspring with two or more Group/Graded wins since 2011
Scat Daddy was a versatile stallion with Group/Graded stakes winners in the Northern and Southern Hemispheres. He was the sire, of course, of this year's Triple Crown winner, Justify. The joint third-ranked U.S. stallions are current #11s Quality Road and Curlin, who was moved to Hill 'n' Dale in September 2015, when Sikura bought a 20 percent interest in him. Keep in mind that Kitten's Joy is a 17-year-old who had been producing consistent stakes winners for a number of years and there is strong evidence that Kitten's Joy is a G1 sire of sires.
The reason that I found Nancy Sexton's article regarding Ken Ramsey's frustration with his breeding experience so interesting is that there are many theories and bloodstock advisors on stallion matings and another group of bloodstock advisors on yearling purchases. How come they consistently overlooked Kitten's Joy? They clearly weren't paying enough attention to the TRC standings.
Kitten's Joy's performance as a stallion has consistently been undervalued by the current market indicators for the majority of his stallion career.
Annual breakdown of Kitten's Joy's Group/Graded wins since 2011
World's top sires by G1 wins since 2011
It is our firm belief that the performance data generated for the TRC Global Rankings has business applications across all four performance categories: Sires, Owners, Trainers and Jockeys. Despite the growth of the international scope of Thoroughbred racing, before the TRC rankings were introduced, this was the one major sport that did not have any world rankings in these categories based on specific performances.
TRC Global Rankings use Racing Post Ratings (RPR) data to provide accurate interpretation and analysis of the performances of jockeys, owners, trainers and sires in about 1,450 Graded and Group races around the world every year.
An individual's position in the rankings depends entirely on how well their respective representatives have been running. RPRs for each race are used to help calculate the merit of every performance of every runner in each of the races. TRC Global Rankings are different and more powerful than those of other sports because they are designed to be predictive. Like other ranking systems, such as those for tennis and golf, they are an objective, critical assessment of past results intended to reflect the current relative performance of the racing participants.
However, and more importantly, TRC Global Rankings are equally forward looking and use machine-learning techniques to understand what is important in projecting a competitor's future success. This last point is the most crucial to appreciate: TRC Global Rankings continually test their own ability to predict the next set of Group and Graded race results and attempt to minimize the number of so-called ranking violations taking place in the future.
In sum, TRC Global Rankings are not some abstract exercise in playing with numbers. They are focused on a single, simple objective: to find the optimal arrangement of competitors in each category, so that when two ranked individuals meet in competition, we think that we know who is more likely to win.
The primary goal of Thoroughbred Racing Commentary when it was launched was to provide insightful journalism and analytical content for the rapidly growing interest in international Thoroughbred racing and breeding. We believe that the TRC Global Rankings are a major contribution to the broader understanding of international racing.
They were the brainchild of Paul Roberts, of Turnberry Consulting, who did the early conceptual development and planning of this ambitious project. The mathematics and the algorithm that drives the rankings each week are the work of racing technical analyst James Willoughby.
If you have any desire to learn the many applications that may serve your interests or business in Thoroughbred racing, I strongly recommend you read How the TRC Rankings work, which is written by Willoughby. The TRC Global Rankings have serious application for anyone working in training, owning, breeding, syndicate management, racing media, race-office management and handicapping.
The TRC rankings content can be linked to directly from the home page of our website or clicked on right here. We are always interested in any questions, suggestions or content regarding any aspects of the rankings.