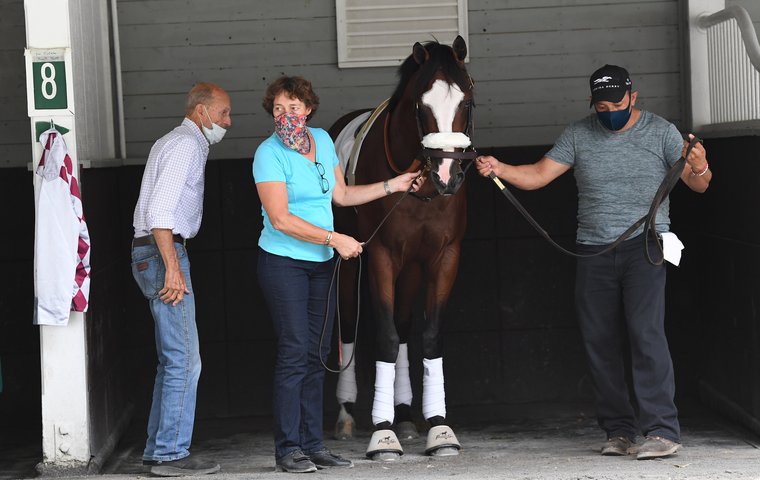 It's expected now - the horse is one of the hottest favorites for the Kentucky Derby there's ever been - but victory on Saturday for Tiz The Law would be an astonishing achievement for 82-year-old Barclay Tagg.

Amazingly, the New York-bred colt, who is already world #4 in the TRC Global Horse Rankings after G1 wins in the Champagne Stakes, the Florida Derby, the Belmont Stakes and the Travers, would be a second Derby winner for a trainer who has spent most of his career under the radar and out of the limelight.
You might have been forgiven for thinking the 2003 Kentucky Derby victory of Funny Cide (like Tiz The Law a NY-bred owned by Sackatoga Stables) would have been highlight enough, that Tagg would have been content to drift into retirement after such an accomplishment. Not a bit of it. He and his partner and assistant trainer, Robin Smullen, just kept on going, and now, no less than 17 years later, they may be on the verge of an even greater highlight as the colt attempts to move closer to possible Triple Crown glory.
Yet Tagg's career may have gone in an entirely different direction if it hadn't been for his curiosity as a 12-year-old, and later for the help of a friendly Irishman, as he told Patrick Lawrence Gilligan.
I've heard of late starters, but quite frankly I think Barclay Tagg is being ridiculous. He waited until he was 60 to meet his now partner, Robin Smullen. He was 65 before he decided he'd run one in the Kentucky Derby, and then he won it. And now, at 82, an age when your greatest ambition should probably be just to try to stay awake in your armchair long enough to watch the big race on TV, this man is going to hop in his car, drive the 12 hours from Saratoga to Louisville to saddle his horse, and he is going to try to win another Kentucky Derby nearly 20 years after his last one.
It's a far cry from the day it all started.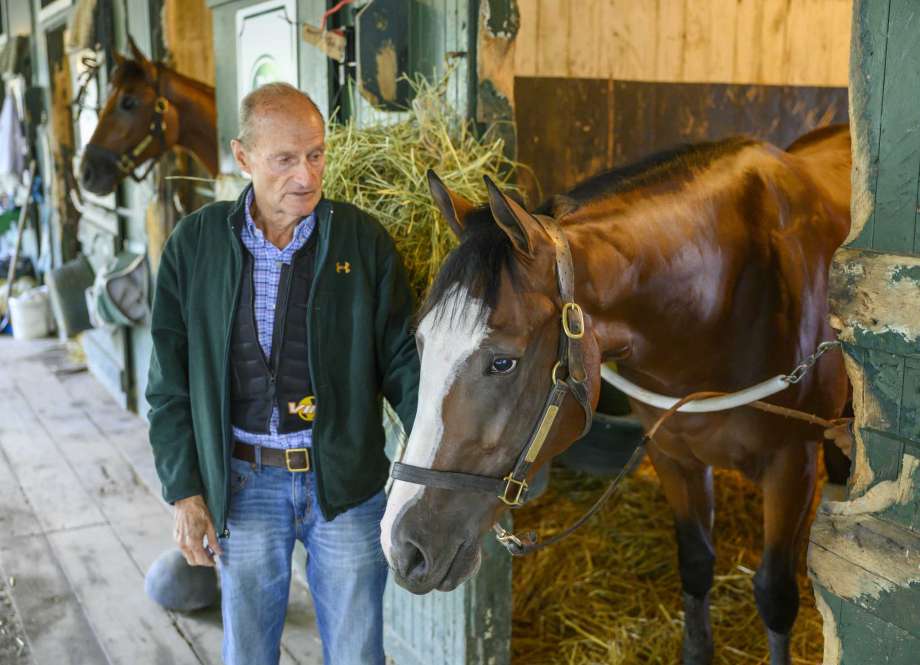 "I don't know how old I was - about 12, I suppose," he says. "We had stopped overnight in Saratoga to visit family on our way up for a vacation in Canada, like we did in the old days. I haven't taken much time off since! I was just walking around the town that evening and came across the Thoroughbred sale that was on, so I went in and saw everything that was going on, and I thought it was all fascinating."
After he returned home, young Tagg wanted to take pony-riding lessons, so he went to the local riding school with $10. That bought him three lessons. The proprietor told him to come along after school and help out and he would get all the riding he wanted.
"I ended up showing horses for some people, and then I went to college. By the time I got out of college (in 1961, with a degree in animal husbandry) I had a wife and a baby, so I got a job on a farm with a house."
Within a few years, though, he was learning to gallop Thoroughbreds. He learned well enough to end up becoming a professional steeplechase rider, at an age when a lot of steeplechase riders are deciding to hang up their boots. He had his share of winners but, by 1971, Tagg had decided he wanted to train horses.
"I was working for an Irishman, Charlie Kelly. He was just a great guy. I was breaking some yearlings for him. He got stuck with a horse - the owner didn't pay his bills - so he said to me to take it down to Maryland and see if we can win some money with it. So I did, and I got lucky. I didn't have a clue what I was doing."
Tagg did win money with it, and then Charlie Kelly found Tagg an owner who sent him two horses. One was an unraced 5-year-old. He won eight times with it, and Barclay Tagg had embarked on a 50-year career as a racehorse trainer. "If it hadn't been for Charlie, I don't know what would have happened, how I would have got started with no money or horses," he says.
He ticked along training three or four for well over a decade.By the mid-80s, though, business had picked up. The number of horses in his charge grew considerably - to nearly 100 at one point - and he won a lot of races.
----------------------------
Click here to see which one race Sackatoga Stable's Jack Knowlton would pick to watch live if he could travel back in time
----------------------------
Then in 1996, at the age of nearly 60, he met Robin Smullen, a horsewoman. She showed ponies as a girl, galloped Thoroughbreds as a teenager and trained racehorses as an adult. They teamed up, in life and on the track.
And then, just a few years later, along came Funny Cide. "Now he was a difficult horse, very difficult to ride," said Smullen. I asked if she galloped him. "Every day," she says. "He just wanted to try and go as fast as he could."
They won the Kentucky Derby with that horse, and the Preakness and the Jockey Club Gold Cup. What was then the trainer's best horse had came along at the age of 65. "It was something else," says Smullen.
For the best part of 20 years, the horseman and the horsewoman carried on training horses, training winners. They found some more good ones - Confrontation, Realm, Showing Up - and then, in 2018, Barclay Tagg was back at that Thoroughbred sale room in Saratoga, Robin beside him, and this time the hammer dropped in his direction for a $110,000 Constitution colt.
And he had another Derby horse.
I ask Smullen what the young Tiz The Law was like when he first trained. Some Constitutions aren't easy, talent and temperament quite often go hand in hand, and he had those hints of white around his eyes. Was he easy? "He is until he isn't," she says, laughing.
"The exercise riders were having trouble with him, so I got on him, and one day he reared up vertical three times, so high, in the shedrow. Now I can sit rearers, but I thought, 'holy crap, I don't know if I can stay on him.' After that, we kept him locked up. Juan [Barajas Saldana, stable foreman] leads him to the track and back, and Barclay ponies him and I ride him in his gallops and Heather [Smullen, her niece] breezes him."
Tagg says, "The first time I ponied him, he reared at me and hit me in the jaw with his knee. I thought he was going to take my head off. I couldn't eat for three days."
I suggest perhaps the horse has made amends for his early hooligan-like behavior. "He sure has," he says with a chuckle.
"We have a wonderful guy taking care of him, Juan Barajas Saldana, my foreman for over 20 years. He took him over, goes everywhere with him. So, between Robin, Heather and Juan, we have it pretty good. We keep a pretty tight hand on him."
Tiz The Law has a near-perfect race record, six wins from seven starts, the Champagne Stakes, the Holy Bull, the Florida Derby, the Belmont Stakes and most recently the Travers (see video above). He is a worthy favorite for the Kentucky Derby the day after another race to savor in the Kentucky Oaks, in which another hot favorite, Gamine, goes head to head with the impressive Swiss Skydiver.
It's an undercard and a main event even Don King would be proud to pull off. They could be two races to shake off this year's seeming never-ending hangover. Let's hope so.
I think Barclay Tagg was lucky to meet Robin Smullen, and I think Tiz The Law was lucky to meet both of them.
It is likely that, in lesser hands, neither Funny Cide nor Tiz The Law would have had such outstanding race records. All those years, hands-on with horses, working it all out together. They say stayers win the race of life. I hope that is true.
I hope Tiz The Law stays healthy and lines up on the first Saturday in September. The date may be different but the contest is the same.
I shall cheer for Swiss Skydiver and Peter Callahan in the Kentucky Oaks, and I shall cheer for Tiz The Law in the Derby. I shall be cheering for Barclay, Robin, Heather and Juan. I think, though, my mind may be dwelling on a small boy, who long, long, ago stumbled upon a Thoroughbred auction at Saratoga one evening and the course of his life was changed forever.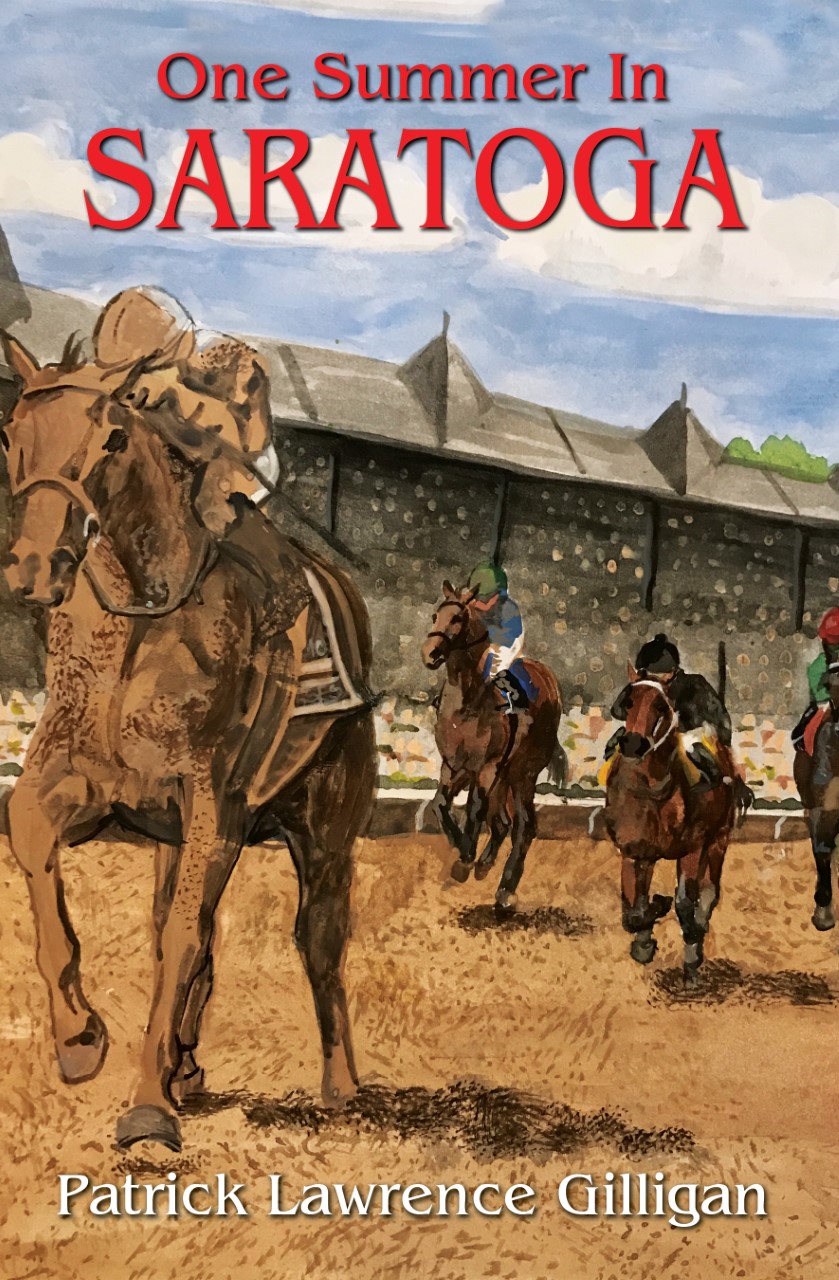 Patrick Lawrence Gilligan is author of
Around Kentucky With the Bug!
His next book, One Summer in Saratoga,
is due to be published this fall.