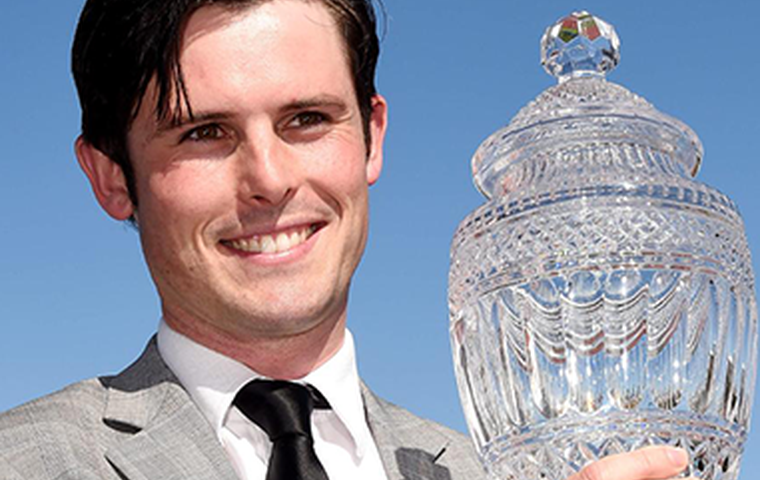 James Willoughby picks out the jockey, trainer, owner and sire who made the biggest impact on the TRC Global Rankings in the week that ended on Sunday.

TRC JOCKEY OF THE WEEK
There were riding doubles for Irad Ortiz Jr (+3pts, stays #14) in the U.S. and Damian Lane (+2pts, #25 from #28) in Australia, but neither man would begrudge a special 'comeback rider of the week' nod going to BLAKE SHINN (+2pts, #40 from #45). We wrote about Shinn's injury here and he capped a return to action when winning the G2 Expressway Stakes at Rosehill on Alizee.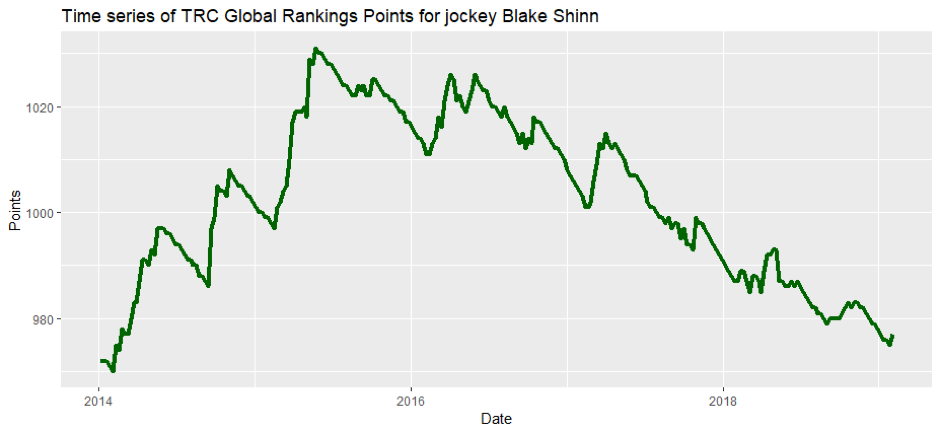 As the time series of his TRC Global Rankings points shows, Shinn has work to do. But, he certainly hasn't lost the support of some of Australia's most powerful connections – Alizee is trained by TRC Trainer of the Week James Cummings. The high watermark of the green line came in the rankings of May 24, 2015, when we rated Shinn #8 in the world.
In the bottom right of the graph, the upturn caused by this week's winner can be seen: the green shoots of a revival that would be testimony to Shinn's resilience.
TRC OWNER OF THE WEEK
Given that the most powerful entities in the Owner category have a numerical advantage in terms of runners, we try to give this award to lesser concerns when a case can be made. There is no denying yet another title to Sheikh Mohammed's GODOLPHIN operation this week, however, after a triple strike in Australia: the G2 Expressway and G3 Widden at Rosehill, plus the G3 Manfred at Caulfield.
Because Godolphin's reach is pan-global and these were relatively minor wins, the TRC algorithm does not change its view, and Godolphin stays on 1072pts. The following graph shows the historical distribution of the ranking points of the two racing superpowers is markedly different.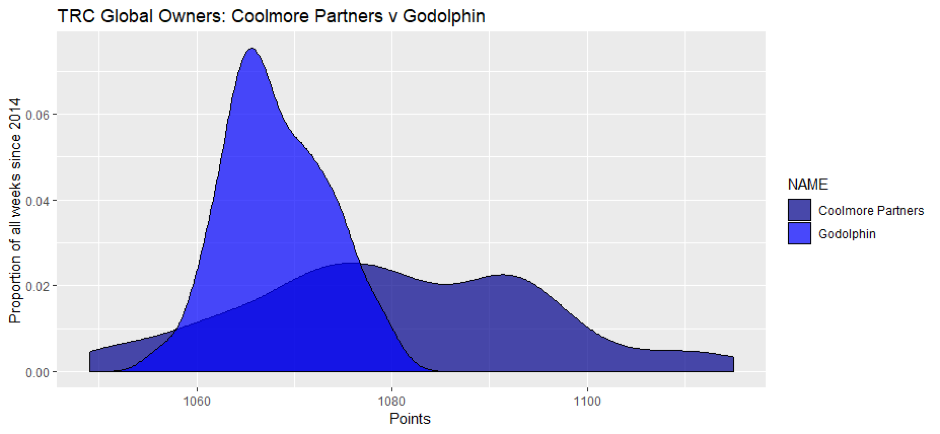 Coolmore Partners – the current world #1 shown in darker blue – have a distribution that is bimodal (two peaks, over 1075pts and 1093ps) and much wider than Godolphin's which has most of its mass between 1062pts and 1078ts. This week, Godolphin – which last ranked #1 in the week of June 12, 2016 – has closed the gap to just 7pts (1079pts to 1072pts).
You estimate from the graph that Godolphin is in the 75th percentile of its performance distribution, whereas Coolmore is exactly at the median of its.
TRC TRAINER OF THE WEEK
The man we picked out as the fastest-rising trainer in the world in 2016 has not let us down. JAMES CUMMINGS (+5pts, #14 from #15) clearly learned a thing or two from his legendary grandfather, Bart, and is now a huge asset to Godolphin in Australia. He had the same three winners as his employer: the G2 Expressway and G3 Widden at Rosehill, plus the G3 Manfred at Caulfield.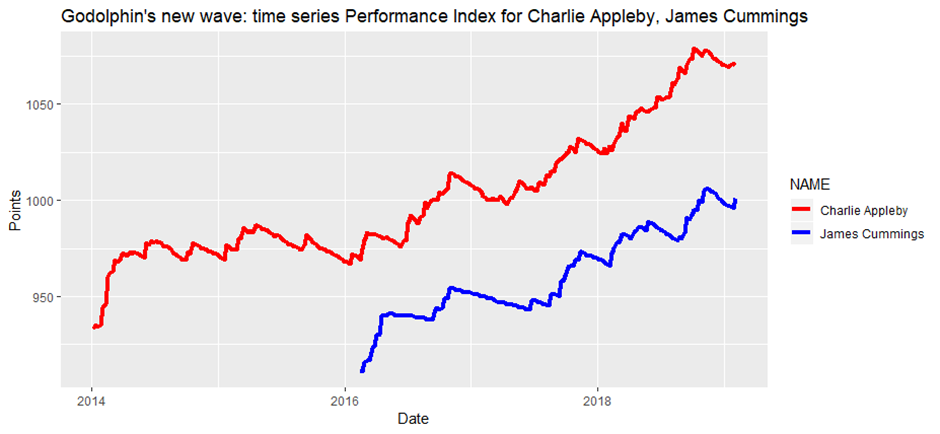 With Charlie Appleby having achieved the same thing for Godolphin in Europe, Sheikh Mohammed's operation is well stocked for dynamic trainers in both hemispheres. The gradient of ascent of the two is in virtual lockstep.
TRC SIRE OF THE WEEK
They ran the G2 Gauteng Guineas for both sexes at Turffontein Standside, South Africa, last weekend. The colts winner, National Park, resulted in Yvette Bremner (+10pts, #219 from #417) earning the biggest points upgrade this week, while the fillies' heroine, Nafaayes, was one of two winners that earned EXCEED AND EXCEL (+5ps, #33 from #39) the award as TRC Global Sire of the Week.
The 19-year-old son of Danehill is one of the true all-rounders among global sires. In our soon-to-be-released rankings of results exclusive to the world's two most important racing surfaces, Exceed And Excel ranks #43 in Turf races and #15 on the Dirt.
In the last three years, the progeny of Exceed And Excel has a triple-slash line of 4-11-19 from 383 runs on grass (9% strike rate) with a 0-2-6 array from 27 runners on dirt (30%). So, he's been much more prolific on turf – not surprising given that he was Australia's champion sprinter and stands in Ireland.
TRC Global Rankings combine efficiency and volume in making the best predictions of current potency among stallions in Group and Graded races; here, Exceed And Excel's averages on dirt are so much better than his grass numbers, and the number of dirt races available to his progeny much less common, that he ranks much higher with us as a dirt stallion.
That we have Exceed And Excel ranked higher on dirt is down to his exploits in Dubai. Horses like Heavy Metal, Morawij and Secret Ambition have shown that his runners are highly effective on an artificial surface. Incidentally, in the last 20 years of racing on a synthetic surface in Britain at all class levels, only Cape Cross, Invincible Spirit and Pivotal have sired more winners. The best ranks achieved by those stallions with us, based on Group-race results around the world on all surfaces, are #30, #5 and #24 respectively. While Exceed And Excel himself reached #6 in the early weeks of 2014. It all stacks up.
The table shows all stallions who have made the TRC top ten since our rankings began in 2014. Their highest ranking is shown, together with most recent date on which it was achieved.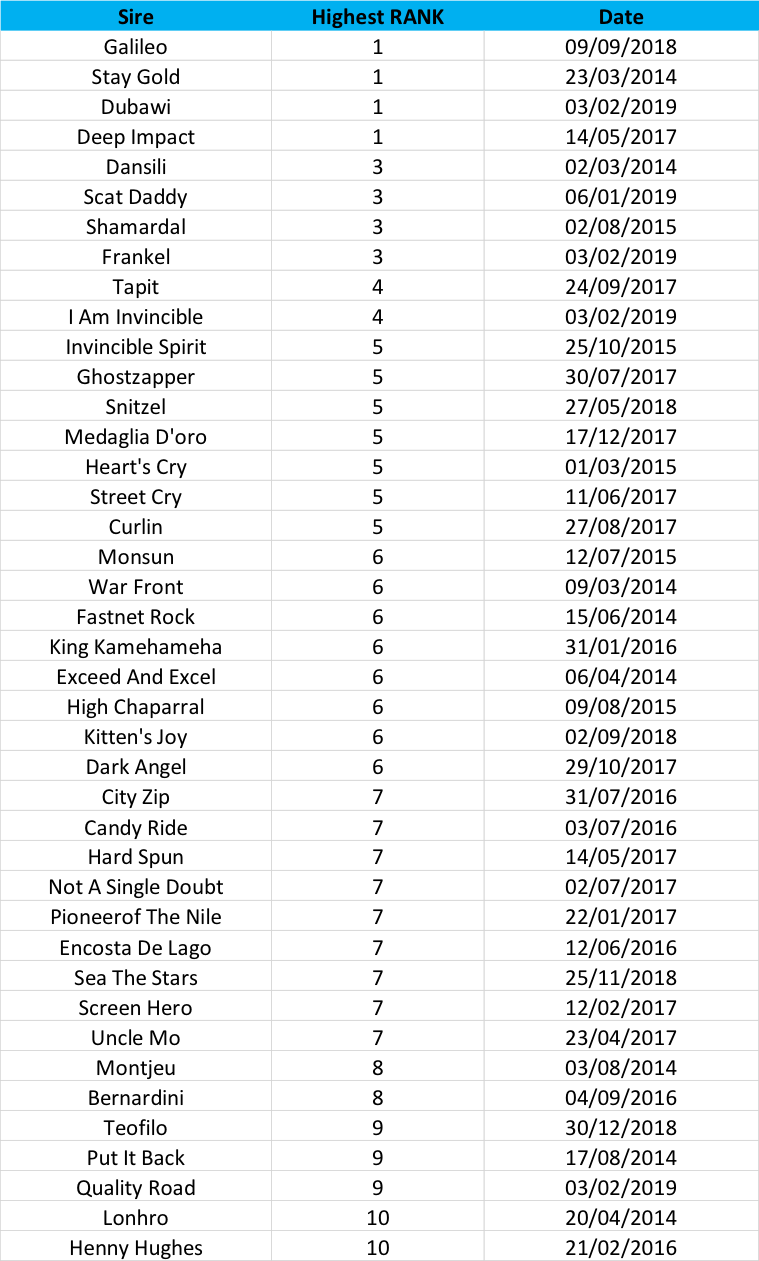 Full sire standings here
Click here for a list of all last week's biggest TRC Global Rankings points gainers.
Click here for a list of all the week's Group and Graded winners