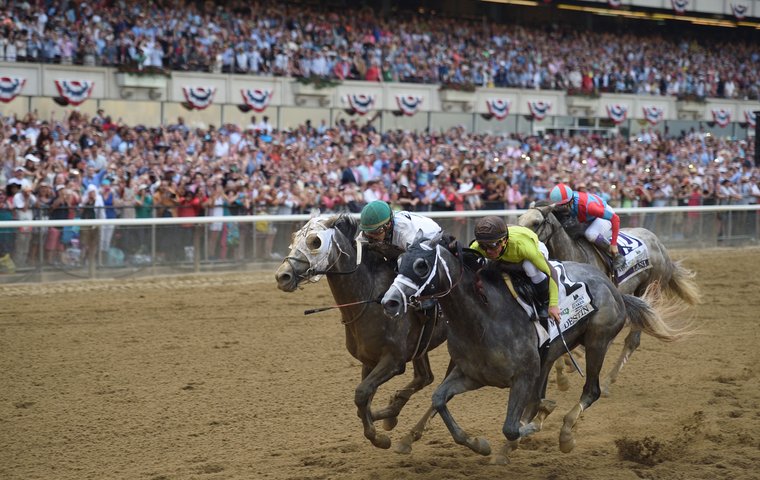 After New York City weather forecasters predicted in assured tones on Friday that rain would pour down prior to the 148th running of the Belmont Stakes, the skies above Belmont Park finally opened at about 7 p.m. on Saturday evening.

Whether it arrived about 20 minutes late for Exaggerator is a debatable point, but there was no doubt the storm pelted the track after the outlook in the 3-year-old division had been muddied.

The $1.5 million Belmont figured to serve as the vehicle that motored Exaggerator past his absent rival, Kentucky Derby winner Nyquist, and into the top spot among this year's crop of Triple Crown runners. After all, the Preakness winner was a solid 7-5 favorite over 12 rivals in the final jewel of the Triple Crown, and fatigue was waved off since his connections have continually marveled over the way the son of Curlin can rebound after tough efforts.
From all indications in the days before the race, the Belmont Stakes seemed destined to be the grand moment when Exaggerator finally could thump his chest like King Kong.
Yet that notion turned as soggy as the heads of anyone outside in the rain storm when the mile-and-a-half classic produced two startling results.
Exaggerator's utterly puzzling no-show
At the finish, it was WinStar Farm and celebrity chef Bobby Flay's Creator prevailing in the final bob over the Todd Pletcher-trained Destin as a 16-1 shot dramatically edged an 8-1 shot by a nose and the five-week Triple Crown trail resulted in the confusion of three separate winners for the first time since 2013.
"It's the best feeling right now," said winning trainer Steve Asmussen, who gave Creator five weeks rest after a troubled 13th place finish in the Kentucky Derby. "I think today was perfect for us by inches."
Yet an even bigger surprise involved the scene of Exaggerator staggering home a soundly beaten 11th in the field of 13, some 14 lengths away from the dramatic slugfest at the finish line.
For a horse coming off a 3½-length win in the Preakness, with a second in the Kentucky Derby and a 6 ¼-length romp in the Santa Anita Derby prior to that, it was an utterly puzzling no-show when the spotlight finally belonged to him and him alone.
Were the fast track conditions to blame?
"I nursed him to the quarter pole and set him down, put him down for a mad drive and said, 'Show me your stuff', and there was nothing there," said jockey Kent Desormeaux, who rode less than a week removed from his return after an eight-day stay in a Utah alcohol rehabilitation center following his Preakness triumph.
"By the time we got to the eighth pole, he was stepping on his tongue and I said that's enough. I'm not going to be fifth, I'm not going to be seventh. Let's get him home. You can blame a million things after that effort but I just know going in he couldn't have been a happier horse."
The blame, in at least some minds, naturally figures to involve the fast track conditions. Exaggerator's Preakness and Santa Anita Derby wins came on sloppy racetracks, and in four wet-track efforts in his 11-race career he owns three wins and a second.
Searching for an answer as to what went wrong, Kent's older brother, trainer Keith Desormeaux, admitted the tardy arrival of Mother Nature at Beautiful Belmont Park might have played some role in the outcome. Yet, as much as Exaggerator relishes slop, was a wet surface all he needed to ride a shuttle from 11th to the winner's circle? As competitive as Exaggerator was in his last 10 starts on wet and dry tracks – finishing no worse than fourth in any of them – there's no avoiding the stark reality that his lack of an earnest effort Saturday was a shocking first for him.
Interesting summer campaign ahead
"The Triple Crown might have caught up to him," the 49-year-old trainer said. "We will have to see. When he pulled up, he didn't look winded. I don't know. We'll have to figure it out. Maybe he was just struggling with the surface. A horse will come back less tired when they are struggling with the surface and won't give their all. Maybe it's as simple as that.
"I was hoping to dispel the sloppy track thing, but that has to come into play as well. I think it's mostly Belmont is a deep, sandy surface and he might have had a little trouble with it."
Meanwhile, as night fell on Belmont Park, the dawn of an interesting summer campaign is at hand with new players elbowing their way into the scene for face time in the upcoming Grade 1 summer classics.
Creator now has G1 wins in the Belmont Stakes and the Arkansas Derby sandwiched around his Kentucky Derby fiasco.
Ridden for the first time by rising 23-year-old star Irad Ortiz Jr., the stretch-running son of Tapit closed from 11th after the opening quarter-mile to take the Belmont in 2:28.51 for the 12 furlongs, and he may not be suited for a 9-furlong speed battle in the $1 million Haskell (July 31 at Monmouth Park). Yet he surely seems to have enough stamina to make his presence felt in a demanding mile-and-a-quarter test such as Saratoga's $1.25 million Travers (Aug. 27).
Win 'validated Creator's whole career'
"I thought today the focus was for him to be on this stage to prove how good he was. With him doing that, we'll definitely observe how much it took out of him and what's best for him for the second half of the year," said Asmussen, who will now enter racing's Hall of Fame this summer with three Triple Crown wins to his credit (his other two being the Preaknesses of Curlin in 2007 and Rachel Alexandra in 2009).
For WinStar CEO Elliott Walden and farm owner Kenny Troutt, the slim margin of victory helped to erase the sting of a loss by a head suffered by their pace-setting Commissioner in the 2014 Belmont, and it gave them the satisfaction of knowing the potential they saw in Creator's charge from 12th to first in the Arkansas Derby was not a mirage.
"Today just validated his whole career up to this point. If he didn't win today. You'd think, well, maybe the Arkansas Derby was just a fluke," said Walden, trainer of the last horse to win the Belmont by a nose, Victory Gallop, who thwarted Kent Desormeaux's Triple Crown bid on Real Quiet in 1998. "He's going to be a horse that's going to be a lot of fun."
The Belmont was a great disappointment to the Destin camp, whose horse pressed the pace before surging to a clear, 1½-length lead in mid-stretch, staying in front until the last, desperate jump.
"He ran a great race," Pletcher said about his Tampa Bay Derby winner owned by the Twin Creeks Racing Stables of Steve Davison, who, in yet another example of a small world, also owned a share of Commissioner, and Randy Gullatt. "Tough beat."
The role of Gettysburg
One made no doubt tougher by one of the numerous stories-within-the-story on Saturday.
In the Arkansas Derby, WinStar entered two horses, Creator and Gettysburg, who was then trained by Pletcher. Gettysburg set the pace in the mile and an eighth G1 stakes at Oaklawn Park, and led at the eighth pole until Creator and three other horses flew by him.
Heading into the Belmont, there was a distinct lack of runners, which did not paint an optimistic picture for a stone-cold closer such as Creator. Suddenly Gettysburg came into play as a rabbit – except for the fact that Pletcher also trained Belmont starters Destin and Stradivari for different owners and they would have thrived with a slow pace.
So Walden "loaned" Asmussen Gettysburg for the Belmont and WinStar's speedy 55-1 shot did his job. He carved out honest fractions of 48.48 and 1:13.28 for six furlongs while leading by about a length over Destin, a pace that might have come back to haunt the determined son of Giant's Causeway in the final yards.
"My hat's off to Todd," Walden said about the seven-time Eclipse Award winner, who ironically enough saddled Commissioner for that heartbreaking Belmont loss. "Todd's won a lot of big races for us. I spoke to Todd about this about a week ago. I felt the right thing to do was to realign the camps because Todd had the second and third choice in the race, and I just felt like it would be easier on him to answer to his other owners, it would be easier on us if we realign the camp for this race.
Pursuit of the ultimate prize
"I assured him that he would get Gettysburg back after the race, and he likes Gettysburg an awful lot. Gettysburg ran pretty credible (finishing eighth).
"Todd was great to work with. Steve and Todd both have a lot of horses, and sometimes they have to run separate entries in the race for different owners, and that's hard. But I've always had a feeling if you do what's right for the horse, you'll do what's right for the owner.
"It was right for Creator. I did worry about how Todd would receive it. Todd received it with the class that he has. He understood."
And so as a tired Gettysburg heads back to the Pletcher barn, the Triple Crown class of 2016 will go on a brief hiatus after a year in which hopes of back-to-back Triple Crown sweeps were washed away in the slop at Pimlico.
They'll be back in about a month to continue their pursuit of the ultimate prize that awaits one of them. The Eclipse Award for the champion 3-year-old male is still very much up for grabs and what happens – or doesn't happen – in races such as the Haskell and the Travers will play a key role in the process.
So Nyquist's still leading the way
The nearly perfect 8-for-9 Nyquist, who is back jogging in California after a high white blood cell count after the Preakness knocked him out of consideration for the Belmont, has to rate as the leader in that chase. Yet multiple graded stakes winners Gun Runner and Mohaymen, who darted from the Triple Crown trail after finishing third and fourth, respectively, in the Kentucky Derby, will be back.
Aside from Creator and Destin, the Belmont also boosted the credentials of Japan's whacky Lani, who was third Saturday, and Peter Pan runner-up Governor Malibu, who was making a promising move in mid-stretch when he was forced to check inside of the tiring Gettysburg and had to settle for fourth.
And then, of course, there's Exaggerator. His ability to bounce back from strenuous races will be surely put to the test in the coming weeks when he'll try to regroup from Saturday's dud of a performance.
Put them all together, and while none might have the charisma of American Pharoah, they proved to a paid crowd of 60,114 on Saturday afternoon that at the very least they can put on an entertaining show – provided meteorologists stay out of the way.
More acclaim for Ehalt's work
Bob Ehalt, who won the David F. Woods Memorial Award for excellence in journalism for his report on American Pharoah's 2015 Preakness victory, has just been nominated for the Stan Bergstein Writing Award for this TRC article about a new hand-held equine heart monitor.
The award, which will be presented this fall for a fifth time, has a winning prize of $25,000 from Team Valor and its CEO, Barry Irwin.