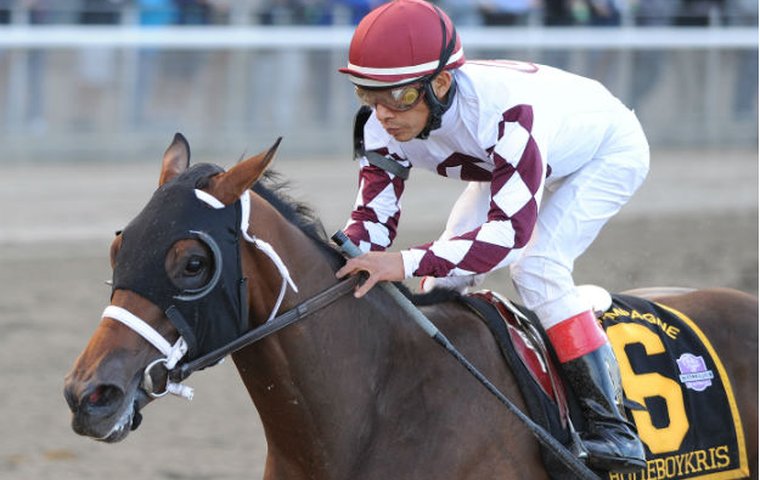 The profoundly diverse emotions contained in triumph and tragedy were put on full display at Pimlico Race Course during its marathon Preakness program.
There was the drama and electricity of the second jewel in the Triple Crown as a record crowd of 135,256 watched Exaggerator hand Kentucky Derby winner Nyquist his first loss and abruptly end all thoughts of consecutive Triple Crown sweeps.
Yet, earlier in the day, a grim shadow was cast over the event by the horrific deaths of two horses – the first on the Preakness card since 2007.
In the fourth race, Pramedya, a 4-year-old filly owned by Lael Stables, suffered a fractured leg and was euthanized on the racetrack, resurrecting painful memories from the 2006 Preakness, when Lael's Kentucky Derby winner Barbaro sustained a severe leg injury that led to his death eight months later.
Earlier in the day death struck in a far different manner.
The case of Homeboykris
While simply walking back to the barn area after winning the first race of the day, Homeboykris collapsed and died on the racetrack.
Dr. David G. Zipf, the chief veterinarian for the Maryland Racing Commission, said the 9-year-old gelding died due to heart failure. It was the 63rd start in the career of a horse who had won the G1 Champagne Stakes in 2009.
Zipf called Homeboykris' death "shocking" and said the gelding was only the second horse to suffer a fatal heart attack from the roughly 5,000 starters at Pimlico and Laurel in 2016.
Yet for Dr. Scott E. Palmer, even two remains too many.
Palmer, the New York State Equine Medical Director, is leading a New York State Commission pilot program to expand the use of mobile hand-held, smartphone-compatible equine heart monitors that could potentially detect cardiovascular abnormalities in horses such as Homeboykris and save their lives.
Technological advances
"What happened to Homeboykris would seem to be the exact scenario we are looking to prevent," Dr. Palmer said. "This program is a challenge, but there can be a great benefit to it."
Palmer had hoped to canvas the stable area at Belmont Park during the track's spring/summer meet, offering horsemen an opportunity to have a free electrocardiogram (ECG) administered to their equine athletes so that data can be compiled and studied. But he says in all likelihood the test program will not begin in earnest until the Saratoga meet.
"We haven't been making a lot of headway lately," Dr. Palmer said. "We're still trying to hire more technicians to collect the data and administer the tests but my backup plan is that I'll do it myself at Saratoga this summer. It will be done at no cost to the horsemen or NYRA [New York Racing Association]."
Dr. Palmer says equine heart attacks play a small role in the number of racetrack fatalities. He estimates that about four percent of the 102 deaths at New York tracks in 2015 were caused by a cardiovascular incident. That amounts to about four deaths a year. Yet, given the technological advances that have simplified the process, he believes horsemen and veterinarians should make use of them to better safeguard the health of their equine runners.
Obligation to minimize fatalities
The device snaps onto a smartphone much like a protective shell. Leads attached to it are placed on the horse to generate an ECG reading in about a minute. The unit works with a free application that allows Dr. Palmer and other leading equine medical experts to assemble a database that can help in determining the prevalence of heart arrhythmia and electrical disturbances among NYRA horses and how to treat it.
"In New York, we take very seriously our obligation to minimize fatalities on the racetrack as much as possible," Dr. Palmer said. "A heart attack is a terribly upsetting and traumatic episode and is something that is a great concern to the New York State Gaming Commission.
"Even though heart attacks represent a small percentage of our fatalities in New York, which is at an all-time low, it's something we can't treat after it happens. So let's see what we can do to identify conditions that could predispose a horse to cardiac distress in order to prevent it from happening."
As dire as a heart ailment might sound, Dr. Palmer says that, in many cases, horses can be treated and resume their racing careers. While saving lives is the primary focus, the ECGs can also reveal why a horse has been racing poorly and help to restore it to full health.
Treatable condition
"Some horses can be treated very easily and we can get that horse back in training. If it's a serious problem, we can take them out of training and perhaps avoid a fatality. It's a win-win. There are no negatives that I can see," said Dr. Palmer, who had heart screenings added to the New York State Gaming Commission's security protocol for horses in G1 stakes with a purse of $1 million or more – races such as the Belmont Stakes on June 11.
"The common cardiac arrhythmia in a horse is atrial fibrillation. It's a treatable condition, but it can also be deadly. It's case specific. I don't think this will be common in a lot of horses, but if it's your horse, if he's one of the four percent, it's very, very important."
The icing on the cake in Dr. Palmer's eyes is the surprisingly low cost of the equipment. AliveCor's Veterinary iPhone and Heart Monitor sells for about $300, according to a sales representative for Woodley Veterinary Diagnostics, a distributor of the product.
"Cost is not the issue here, it's the application of the data and the standards applied to it, but I applaud Dr. Palmer for looking for solutions and I encourage what he's doing," said NYRA Safety Steward Hugh Gallagher. "When we go to work every day, if we can save one horse from pain, suffering or a fatality, then it's well worth what we're doing.
Little warning
"Dr. Palmer is looking out for the best interest of every horse and the connections behind them. This is not an easy part of the game, and there's no opportunity for intervention once it happens, so it's important that he's looking for a way to help a horse who may be trying to send a signal to us that's there's something wrong."
Unfortunately, as illustrated in the death of Homeboykris, there's usually little warning of an impending heart attack with a horse. As Dr. Zipf relates, there was no sign that anything was amiss with the gelding until he collapsed.
"When the horse came back to the winner's circle, he was not wobbly at all," Dr. Zipf said. "He was completely normal. He was not breathing heavily. That's why it was so shocking. He started walking back to the barn and only went about a 16th of a mile before he fell and died."
Dr. Palmer said it's not unusual for a horse to suffer cardiac arrest after – as opposed to during – peak exertion. He explained that a heart's inability to return from 200 beats a minute at maximum exertion to its base rate of 40 beats per minute while at rest can produce fatalities.
"Horses who have heart attacks have an abnormal slowing process," Dr. Palmer said. "They reach 220 or 200 beats and stay there."
Violette's concerns
On hearing of Dr. Palmer's pilot program, Dr. Zipf said he intends to find out more about it.
"At the cost, it seems worthwhile," said Dr. Zipf, who celebrated his 50th anniversary as a MRC veterinarian in 2015. "It's something I'd like to look into. The more we can learn, the better. I've got to get in touch with Dr. Palmer. He's doing the right thing."
Gallagher agrees that there's no reason why the initiative should not be embraced.
"The industry will understand and watch what he's doing," Gallagher said. "There won't be resistance to it. What's the downside?"
Of course, in a sport with as many moving parts as horse racing, finding 100 percent agreement can be a crusade worthy of Don Quixote.
Rick Violette, the President of the New York Thoroughbred Horsemen's Association, says he's concerned that data gleaned at such an early stage in the process could be misconstrued and that horses could be needlessly sidelined.
Serious learning curve
"The devil's in the details," Violette said. "We're a long way from getting this to where we would be satisfied, not that we shouldn't be working to make racing as safe as possible. On first blush, it sounds like something that can be a no-brainer, but I think there needs to be more backup and more science behind it because reading these things is not black and white. There are a lot of different interpretations. I'm not sure if you're supposed to scratch 100 or 200 horses for an abnormality that isn't life-threatening."
Violette explained what he views as a potential problem in the study by recalling when veterinarians began using flexible scopes on horses.
"When they first came out with the flexible scopes, veterinarians were horrified," Violette said. "Half the horses they looked at, they said they couldn't breathe and had physical problems. There was a serious learning curve to realize the perfect anatomy wasn't there most of the time and there were a lot of deviations from what was assumed to be the norm."
Violette said he would prefer to see more emphasis on medical issues that are more commonly associated with equine fatalities.
Hoping to make a difference
"It's easy to sound callous on this, but I can guarantee you there are horses out there with abnormal heart rates that will live to a ripe old age," Violette said. "Can we do more to help the other 96 percent of fatalities? That's where our attention should be and where we should be spending our energies, and I wouldn't want this to be a distraction to that.
"That's my pushback. I'm not sure if it's a big effort for unrequited gains."
In the meantime, Dr. Palmer will press on, hoping to make a difference that's larger rather than smaller through the creation of a valuable database and by convincing more veterinarians and horsemen to embrace the new technology and make use of the mobile devices on their own.
"Even if it's not a common problem, the dividend is that it can get people thinking more about checking their horse's hearts. If you don't check these things, you'll never find a problem and never treat it," Dr. Palmer said.
"It makes you think, why didn't we do it before? Well, before this it was difficult. Now practising vets can do it easily. Some vets are doing it, but it's not the norm and I'd like to see wider use of it. For a horse it could be a life-saving measure, and that's a terrific thing."
After the tragic events at the Preakness, there's surely no arguing with that.