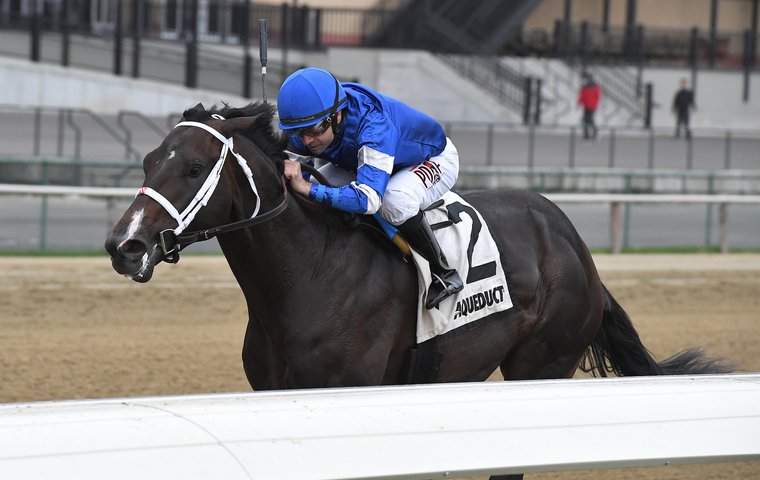 Godolphin's dramatic impact on horse racing can be felt in at least four continents and 14 countries around the globe. The world-famous racing and breeding operation of Sheikh Mohammed bin Rashid Al Maktoum have enjoyed overflowing success at the highest levels of the sport.

Godolphin's royal blue colors have been sported in the winner's circle on eight occasions after the Dubai World Cup, the $10 million race he created in his homeland, in a Breeders' Cup race seven times and the Prix de l'Arc de Triomphe three times.
Sheikh Mohammed's stable is the all-time leader in Breeders' Cup earnings with $15,061,735 and won a mind-boggling 650 races in 2015. Godolphin have also been the leading owner at the Dubai World Cup Carnival the last ten years and Britain's champion owner 12 times. They currently stand second in the world owners' rankings.
Yet even an operation as prosperous as Godolphin has an Achilles heel, which can be found each spring in the United States. For all Godolphin's fame and success, their experiences in the American Triple Crown have been filled, for the most part, with frustration.
Their lone victory in either the Kentucky Derby, Preakness or Belmont Stakes came in 2006, when Bernardini captured the Preakness under the banner of Darley Stud, Sheikh Mohammed's breeding operation.
Drama at the start
In particular, America's most prized jewel, the Kentucky Derby, has haunted Godolphin with nothing but disappointment. Ten Godolphin runners have started in the America's most famous and cherished race since 1999 and, in the course of 18 years, not one has finished better than fourth. Even worse, only one of the ten was better than sixth and that horse, multiple G1 winner Frosted, had the misfortune of being part of the same 2015 crop of 3-year-olds as Triple Crown champion American Pharoah.
The futility sunk into exasperation when Godolphin's most recent Derby entrant, UAE Derby winner Thunder Snow, was eliminated at the start of last year's race when he bolted and left the racetrack.
"The Kentucky Derby is such an elusive trophy to capture and I think the more challenging, the more elusive it is, the more enjoyable it is for Sheikh Mohammed," said Jimmy Bell, President of Godolphin USA. "He loves nothing more than a challenge, which explains why he loves everything about the Kentucky Derby and, at the right time, the right horse will come around for him."
With the Derby two months away and counting, perhaps 2018 will be that right time.
As Bell puts it, "hope springs eternal" and, after last year's fiasco, Godolphin are targeting the Kentucky Derby with horses who have the potential to give a man who is the Vice President and Prime Minister of the United Arab Emirates and ruler of Dubai his most powerful hand in the mile-and-a-quarter opening leg of the Triple Crown.
In the trio of the U.S.-based Avery Island and Enticed, who are trained by Kiaran McLaughlin, and Gold Town, who is training in Dubai for Charlie Appleby, Godolphin has three Graded or Group winners that are on the right path to Churchill Downs on the first Saturday in May.
"You have to be in it to win it and we're very fortunate to have a few horses to talk about at this time," Bell said.
Each of the three has their own strengths and flaws and will prep in different parts of the world.
The right mix
Avery Island, who has won three of five starts, has impressed his connections with his development and the promising first step forward he has taken from two to three.
"Avery Island continues to make the kind of progression you want to see. He's a very big colt to begin with, but when you follow his progress and see it continue into his 3-year-old season, it gives you reason to hope," Bell said.
Equally important, Avery Island, a homebred son of 2007 Kentucky Derby winner Street Sense, is acting like a regally bred colt who has the right mix of speed, stamina and pedigree to thrive as the distances get longer and the races grow in importance.
"He definitely wants the mile-and-a-quarter," McLaughlin said.
Conversely, Avery Island wanted no part of a sprint, explaining a disappointing seventh-place finish as the 3/1 favorite in his career debut, an Aug. 19 six-furlong maiden at Saratoga.
"He's a picturesque animal. He's beautiful. The first time I saw him at Saratoga all I could think is that he wants more distance. It's good to know a horse's weaknesses, and he's not a sprinter. He doesn't have the turn of foot for it," said jockey Joe Bravo, the 3-year-old colt's regular rider. "His legs were going all over the place. He was a big baby trying to pull himself together."
'Such a beautiful stride'
Avery Island's second start came in a mile-and-a-sixteenth maiden at Belmont Park, and he relished the added distance, winning by 5¼ lengths.
After that, McLaughlin wasted no time in testing Avery Island against stakes competition, and the handsome bay colt responded with a 4¾-length triumph in the G2 Nashua at Aqueduct on Nov. 5.
The following month, Avery Island finished second to Catholic Boy as the 2/1 favorite in the G2 Remsen at Aqueduct to close out his 2-year-old campaign.
After a two-month break, Avery Island returned in February and took a graceful first stride at three as he won the mile-and-an-eighth Withers Stakes at Aqueduct by two lengths over G1 winner Firenze Fire.
"The Remsen helped him win the Withers because it taught him to sit off horses and get into his own stride. That's what he wants. He wants to be able to stretch out. He has such a beautiful stride," 46-year-old Bravo said.
Since that Feb. 3 race, McLaughlin has been nothing but impressed with the way Avery Island has continued to train and develop.
"Avery Island is improving all the time in the morning and his races. Joe Bravo rides him well and he's a push-button type who can go, then stop and go again. So hopefully that continues to be to our benefit as the races get longer and more important," McLaughlin said.
Avery Island, who has only 14 points in the Road to the Kentucky Derby series that helps to determine the 20 starters in the Run for Roses, is scheduled to put in his final prep in the Louisiana Derby on March 24 at Fair Grounds, where he'll need a top-three finish to pick up enough points to stay in contention for a berth in the classic.
Under that scenario, Avery Island would head to the Derby off six weeks of rest and two preps.
"It was a tough decision to make," McLaughlin said. "We thought two races might not be enough because he's a big horse learning the game. Then we looked at the way he's advanced and it seems right. The points could be an issue but, if he doesn't finish 1-2-3 in his next race, he probably doesn't belong in the Derby unless he gets a bad trip. The distance is right for him, but we won't force the issue. It's a long year with a lot of big races in it."
Vote of confidence
Bravo, who has spent part of the winter riding at Fair Grounds, believes the New Orleans racetrack should suit Avery Island's talents.
"He'll love the long stretch there," Bravo said. "There's plenty of time for him to get into that good stride of his. It's a good place to get experience for the Kentucky Derby. He should fine."
To date, the Louisiana Derby has produced just three Kentucky Derby winners, and only two since Black Gold in 1924 have exited the race. The G2 race's most recent Kentucky Derby winners are Funny Cide in 2004 and Grindstone in 1996, and both of them ran in another race before heading to Churchill Downs.
In this instance, Bravo is firmly convinced that Avery Island is on the right road to Kentucky.
"He's trained by Kiaran McLaughlin. I will never second-guess that man. Whatever he wants to do, he has my vote of confidence," Bravo said. "His record speaks for itself. He does such a great job."
'He has to step up his game'
Enticed owns a Graded win at Churchill Downs, but, of the three Godolphin prospects, has the largest cloud of doubt surrounding him.
After finishing third as a 2-year-old in the G1 Champagne Stakes and winning the G2 Kentucky Jockey Club Stakes at the Louisville track with the famed Twin Spires, Enticed finished off the board for the first time in four career starts when he checked in a sub-par fourth as the 9/5 favorite in the G2 Holy Bull at Gulfstream Park on Feb. 3.
"His last race wasn't a good indicator of his abilities. We'll draw a line through the last one because he was in tight on the inside the whole way, taking dirt, maybe for the first time like that. It was not a smooth, clean trip and we're going to hope he can rebound from it," McLaughlin said.
"In my history, the horse has to take us to the Derby. We're not forcing the issue here. If they are not good enough or doing well enough, we can go another route. He likes Churchill Downs and has won there, which is a plus, but he has to step up his game in the next race."
That next race is slated to come Saturday in the $300,000 Gotham, a one-turn mile G3 at Aqueduct, which McLaughlin chose over the G2 Tampa Bay Derby at a mile and a sixteenth on the same day.
"With Enticed, we decided on the Gotham over the Tampa Bay Derby for a few minor things. We think he'll prefer the cooler weather at Aqueduct, and there will be less trouble at a straight mile. He also ran well before at that distance in the Champagne.
"We'll also get [jockey Junior] Alvarado [who was on Enticed in his first three races] to ride him again," said the 57-year-old McLaughlin, who added that, if all goes well in the Gotham, the G2 Wood Memorial at Aqueduct on April 7 would be a "good possibility" for Enticed.
The Gotham is a 50-20-10-5 point race for the first four finishers, and with 13 points at the moment, Enticed might need a top-two finish to secure enough points and convince his connections that he belongs in the field of 20 for the Run for the Roses.
"While Avery Island has showed the proper progression, we need to see something better out of Enticed in his next start," Bell said about the homebred son of Medaglia D'Oro out of the G1-winning mare It's Tricky. "If we can see what we saw at two, it would liven things up for him."
The wild card
Gold Town is the wild card from overseas. A homebred gelding by Sheikh Mohammed's 2002 Dubai World Cup winner Street Cry, Gold Town was a lopsided, 10½-length winner of the G3 UAE 2000 Guineas, and is targeting the UAE Derby – a 100-40-20-10 point Derby prep - on March 31 at Meydan as his ticket to Louisville.
A year ago, Thunder Snow won both the 2000 Guineas and UAE Derby before shipping to the United States for a trip around Churchill Downs along the lines of Gilligan's Island. Since then, he has won a G1 in France last year and a G2 at Meydan in February.
"Gold Town won the Guineas in Dubai in very, very impressive fashion. He drew off and won in a very good time, so much so that Sheikh Mohammed was impressed enough to supplement him to the Triple Crown. With another effort like the Guineas, they would be encouraged and look at running in the Derby," Bell said.
As much as Godolphin's horses have struggled in the past while attempting to transition from Dubai in the winter to Kentucky in the spring, Bell believes Gold Town is a strong candidate to break that mold.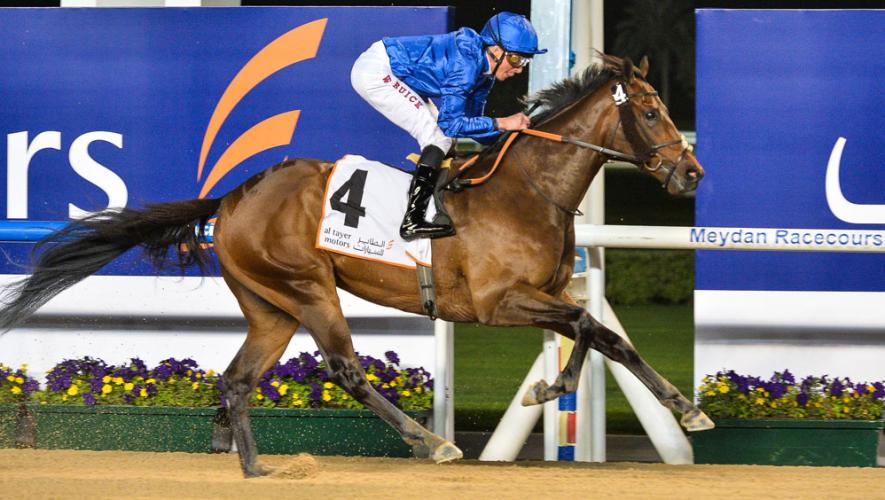 "If the right horse comes along, Sheikh Mohammed is very keen and eager to have a runner from Dubai in the Kentucky Derby," Bell said. "The distance should not be problem for Gold Town. He seems to have that extra gear. It's exciting to have something here in America looking like they might make it to the Derby and a contender overseas in Gold Town could make it very interesting.
"I'd like to see Gold Town continue to progress. He's from Street Cry's last crop and Street Cry was a very special horse to Sheikh Mohammed both on the racetrack and as a sire. His impact has been phenomenal and that adds to making this special."
Special would be just one of the many words that would describe the emotions of Sheikh Mohammed and his team if 2018 proves to be the year that Godolphin finally get to add the Kentucky Derby to their lengthy list of achievements. If it isn't, Bell says not a bit of Sheikh Mohammed's faith in his highly successful program will be shaken.
Inspired by the grand stage
"I don't think Sheikh Mohammed ever gets frustrated," Bell said. "He, like everyone else, understands how truly difficult it is to win the Kentucky Derby and what the odds are. He's a very philosophical man and has a great outlook. He's very patient and always puts the horse first, yet he loves a challenge, and when an opportunity like what happened with Gold Town presents itself, he wants to take advantage of it and show his sportsmanship.
"I believe nothing would please him more than to have a horse from the UAE Derby and Guineas showcased at the Derby.
"From observing him in the past, he really loved coming over and enjoyed the enormity of the Kentucky Derby Day at Churchill Downs. He appreciated its impact and the response from the fans, how many people are there and the environment. He's created something similar with his World Cup Night. He loves the grand stage where the best come to compete. I think it's inspiring to him."
It may be an inspiring chase for the famous and powerful ruler who is synonymous with Godolphin, but it's also one with great meaning to the people working for him.
Rare bliss
McLaughlin, who is 18th all-time in North America with earnings of $110,451,967 (through March 1), is winless in both the Derby and Preakness.
For Bravo, who is one of the highest-ranked over-45-year-olds in the world jockeys' standings, an opportunity to ride a horse such as Avery Island for such a revered stable is a rare bit of bliss for the veteran rider. A perennial New Jersey riding champ with more than 20 riding titles in the Garden State to his credit, Bravo has only ridden in the Derby three times in a 30-year career and hopes this year proves to be magical for him as well as a long list of people involved with Godolphin.
"Every year you get excited about running in the Derby. The springtime is all about shuffling around and trying to find the right horse, and you can't pick a better team to be a part of than Sheikh Mohammed and Godolphin," said Bravo who was third in the 2014 Kentucky Derby with Danza.
"He could spend millions to buy a Derby contender a week before the race, but we all know he prefers to do it the right way by turning out amazingly bred horses and trying to get lucky. It would really be a feather in anyone's cap to be a part of a Derby win for him."
A feather? Given the magnitude of the achievement for such a famed stable, it will probably be a jewel.