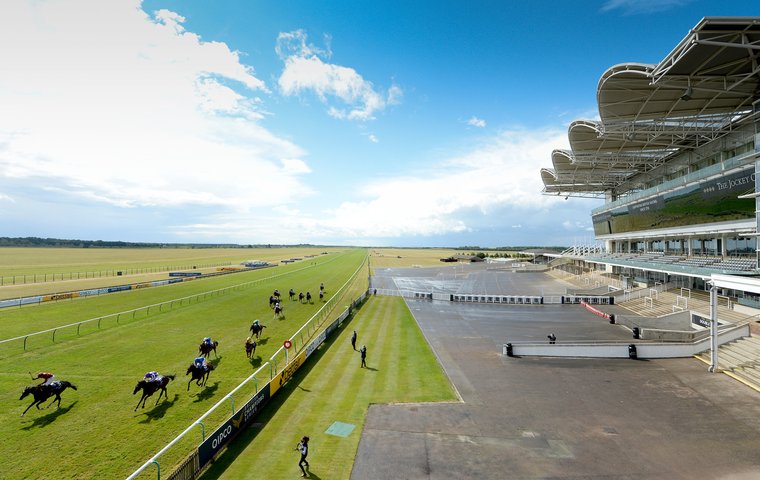 While the Covid-19 pandemic has had disastrous economic and human impacts, this article will address some key issues that every industry participant faces and how some jurisdictions will be affected from an economic perspective.

Here is a brief summary of what's ahead:
Each country's racetracks have different economic models and will be impacted by the loss of revenue from admissions, hospitality and wagering activity. Even within individual countries, tracks have varying degrees of contributions from casinos, and all tracks that lose higher-margin on-track wagering that is replaced by simulcast and advanced deposit wagering (ADW) will have revenue declines even if they can somehow maintain their total wagering activity.

Economic indicators for May could offer some ranges of potential future profits or losses.

An effort to build on racing's near-term advantage in harvesting sports bettors from other sports.
A review of one of the early important UK G1s using our exclusive TRC Global Rankings will provide potential insight and information for owners, breeders and wagering customers.
After two-to-three months with most racetracks closed due to the pandemic, the last 30 days have seen a large percentage of the major tracks open or reopen for racing. However, currently every Thoroughbred racetrack is racing behind closed doors. Three major jurisdictions - Australia, Japan and Hong Kong - continued their regular spring schedules, but these tracks had moved to no live spectators by the end of the first quarter of 2020.
Here is a list of dates in 2020 when significant racing countries have opened or plan to open:
Germany - May 7
France - May 11
UK - June 1
South Africa - June 1
Canada - June 6
Ireland - June 8
Singapore - June 30
New Zealand - July 3
Here is a list of opening dates for the larger U.S. tracks:
Santa Anita - May 15
Golden Gate - May 15
Churchill Downs - May 16
Lone Star Park - May 22
Laurel Park - May 30
Belmont Park - June 3
Canterbury Park - June 10
Indiana Grand - June 15
Emerald Downs - June 22
Ellis Park - June 28
Monmouth Park - July 3
Certainly, all these tracks are or will be pleased to be running live races. However, operating a racetrack with no admissions or hospitality revenues will have significant negative financial impact, especially if no spectators are allowed all through 2020.
Royal Ascot taking a hit
For example, the financial model for racing in the UK provides one of the lowest financial contributions from wagering activity to track-operating expenses and for the purse account. Royal Ascot is a perfect example of the serious impact no admissions and hospitality can have on purses. Ascot is projecting a 55 percent reduction in prize money for next week's Royal meeting - from an original £8,095,000 to £3,680,000.
The eight G1s will each have a total purse of £250,000, whereas the original forecast called for the first two £1 million purses in the history of Royal Ascot, with two other purses increased to £600,000 and £750,000.
U.S. tracks are generally much less reliant on hospitality and admissions revenue and depend more on wagering revenues and contributions from casinos in their operating region. Belmont has announced a reduction of average daily purses at the current 25-day meeting from $750,000 in 2019 to $646,000 in 2020, or 13.9 percent. That presumably does not include the postponement of two $1 million-plus races that have been taken off of the 2020 Spring/Summer schedule.
NYRA, since the opening of the casino at Aqueduct in October 2011, receives approximately 35 percent of its total purse money from the VLT (video lottery terminal) machines at Aqueduct. In addition, NYRA receives a similar amount in total from the VLTs for operating expenses and capital improvements.
Revenues lost forever
The Aqueduct casino has been closed since mid-March and no reopening has been announced. Those revenues are lost forever.
In addition to the NYRA losses from the closed Aqueduct casino, the New York Thoroughbred Breeding and Development Fund has announced a 44 percent loss in revenue for 2020 due to lost casino revenues. The fund has recently announced a total $500,000 reduction in purses at NYRA and Finger Lakes. In addition, the fund board will almost certainly have to reduce NY breeder awards, and that amount is being studied currently by the fund board.
Another example of lost revenue that many tracks have endured is the experience of Keeneland in April, when it cancelled its three-week spring meet. Keeneland recently announced it had received permission to run an additional five-day summer meet in mid-July, but it will not be able to capture a significant portion of the lost revenue.
Financial potential
There has been some positive news on the financial front in U.S. racing recently. On June 4, Kentucky Governor Andy Beshear announced that four Kentucky Historical Horse Racing gaming facilities - Derby City Gaming, Ellis Park, Kentucky Downs and the Red Mile - will be allowed to reopen on June 8. These gaming facilities have provided well over $100 million in total to Kentucky purses and Kentucky Breeders' awards since inception.
Another unexpected announcement was made in late May by Texas Governor Greg Abbott. He issued a revised order that "pro sports fans" will be allowed to attend outdoor events in most Texas counties, starting in early June. The order does not apply to college or high-school athletics and does not stipulate what sports are eligible. Presumably Lone Star Park in Dallas would have to petition to be included as a professional sport.
This would also seem to indicate that any state governor would possibly have the latitude to allow racing to apply this type of ruling to a state's Thoroughbred racetracks. Presumably the rate of decline of Covid-19 hospital admissions would need to be continuing to allow live customers in the seats.
Below is an analysis of key indicators for Thoroughbred racing for May. At first blush, the numbers appear to be very discouraging. However, some of the numbers indicate that there could be some encouraging financial potential as more tracks come back with their live racing programs.
The U.S. had basically five tracks running in April. Two of those, Fonner Park and Will Rogers Downs, are two of the smallest tracks in the country, and they ran well into May. However, Oaklawn Park stopped racing on May 2 and three new tracks did not come on board until mid-May.
So let's look at the numbers. Four important racing metrics - purses, racedays, races and starts - all had substantial declines of between 65 and 73 percent. With those very poor financial indicators, it was remarkable that total wagering for the month was only down 30 percent. That was purely a function of the average amount of wagering per race day, which increased by a remarkable 155.5 percent. Also, the average wagering increase was not driven by increased purses or better-quality horses as average purses per race remained flat year over year.
Economic indicators for May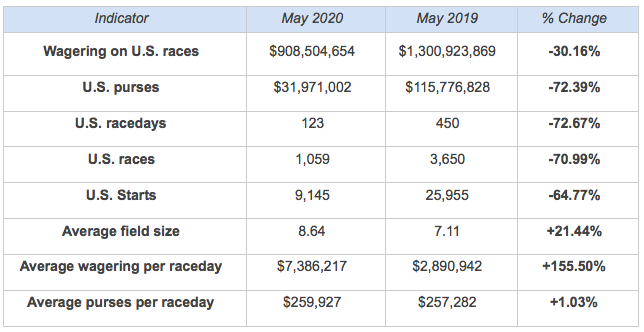 Six weeks ago, I wrote this article, in which I called for some industry plan of action to take advantage of the lack of any live sports competition and the significant television coverage of live racing that was in place with Fox Sports, NBC Sports and to a lesser degree, TVG.
At that time, the Breeders' Cup and the Jockey Club, supported by the NTRA, the racetracks, TVG, TOBA and the KTA, were already planning a national ad campaign with commercials that would run on non-racing programs on NBC Sports, Fox, the Golf Channel and other sports and news programming. The goal was to market and appeal to sports enthusiasts and sports bettors who had not been horseplayers but who could be attracted to live racing programming.
Here are two of the first commercials, which launched on May 28. I think they present the sport in a positive and interesting light.
The ads launched on May 28 and are planned to run through the end of June.
Golf is the first major sport that came back on television - on June 11 - and golf does not have a substantial sports betting presence.
Congratulations to the industry participants for this collaboration and especially Jim Gagliano, President and COO of the Jockey Club, and Drew Fleming, President and CEO of the Breeders' Cup, for the initiative and leadership, and putting the financial package together.
Valuable insight
Finally, one of the most anticipated G1s of the 2020 season was the 2000 Guineas, run over a fast Newmarket surface last Saturday. The class of the race was the Godolphin homebred son of Shamardal Pinatubo, who was six-for-six as a 2-year-old and won those races by a combined 24 lengths. He also was the highest-rated European juvenile over the last 25 years.
It was not meant to be. Pinatubo went off at 5/6, but Kameko, a $90,000 Keeneland yearling son of Kitten's Joy, won at 10/1 after a powerful mid-race move.
For the back story, read this brilliant article by James Willoughby on Kitten's Joy, which TRC published last Friday, the day before the race. Willoughby makes a strong case as to why Kitten's Joy should be considered for the title of world's most underestimated sire.
In that article is where we meet Kameko. Willoughby wrote: "Saturday's Qipco 2000 Guineas at Newmarket could provide another great advert for his potency when Kameko lines up in picture-perfect circumstances and with more than a puncher's chance to turn over last year's brilliant juvenile Pinatubo and the rest …. Either way, the point is that the factors that suited Roaring Lion there very much apply to Kameko here. The ground is going to be fast on the Rowley Mile and the way the undulating track is shaped always seems to get bigger fields racing hard by halfway. We already know that the same circumstances suit this very talented young horse and he must surely be poised going well at the two pole."
Willoughby explains why Kameko may win, how he may win and, without saying, why it makes the case for Kitten's Joy to be regarded as the most underestimated sire. If this leaves you wanting more Willoughby (and it should), click here for his most recent rankings articles.
I invite you to go to the TRC Global Sire rankings, where you will see that Kitten's Joy is currently tied with three other stallions as the 30th most effective sire in the world.
The other three are Tapit (U.S.), Nathaniel (Great Britain) and Road To Rock (Hong Kong). Later this week, check back to see if Kitten's Joy has climbed up the standings.
It has been a challenging 2020 for the world at large, and Thoroughbred racing has more than its share of challenges. However, there are a number of important initiatives taking place around the world, and I encourage you to keep abreast of these potentially positive developments.