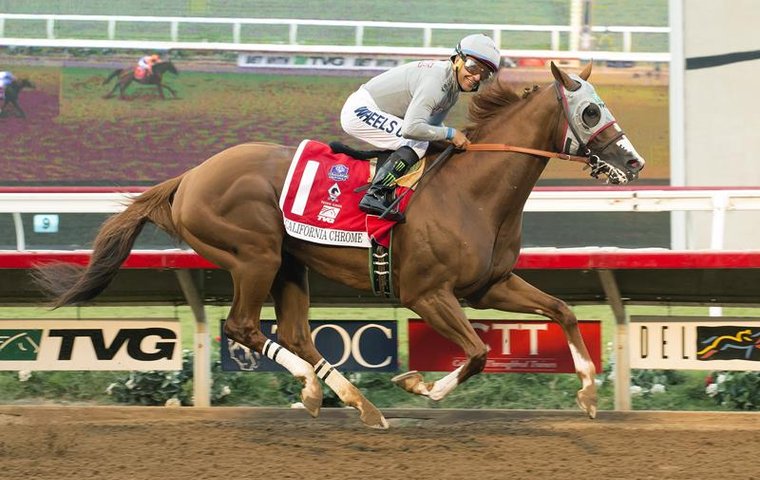 Seven horses have joined the exclusive £5 million club since we last published a list of the world's leading money-earning horses back in March 2015, taking the number to have reached that landmark to 38.

The new list is here, and it is sure to receive a shake-up in the next few weeks with the inaugural running of the Pegasus World Cup at Gulfstream Park in Florida on January 28. That boasts a world record first prize of $7 million, which equates to over £5 million at the official British Horseracing Authority (BHA) 2017 exchange rate, so the winner will become a 39th member of the club provided he or she is not already a quintuple millionaire.
California Chrome is the only probable Pegasus runner already in the list. Currently the sixth leading money-winner in the history of the sport – over £3 million clear of Cigar as the winningest American horse of all time – victory at Gulfstream would catapult the unfashionably bred son of Lucky Pulpit well clear at the top of the global standings.
The Pegasus will be the 2014 Kentucky Derby hero's final start before retirement.
Two more who could go higher in 2017
Another recent recruit to the stallion ranks is the Japanese star, Maurice, whose farewell victory in last month's Hong Kong Cup took his earnings just past the £6 million mark, still less than two thirds of Chrome's but comfortably enough for a position in the all-time top 20.
The only other Japanese new entry to a list that is dominated by horses from The Land Of The Rising Sun is the recent Japan Cup winner (and Arima Kinen runner-up on Sunday) Kitasan Black. And he remains in training, with both the Dubai Sheema Classic and Prix de l'Arc de Triomphe as potential 2017 targets so has the power to add to his already bulging coffers.
Highland Reel will also still be in action in the coming season, unlike his Aidan O'Brien-trained stablemate, Found, who became the first Irish horse to pass the £5 million mark with her third place in the Breeders' Cup Turf on November 5.
That was her final outing before becoming a broodmare and was the only occasion in four meetings that she was defeated by Highland Reel, much thanks to a masterful front-running ride by Seamie Heffernan aboard her rival.
Britain not represented - yet
Five weeks on and Highland Reel's runner-up finish in the Hong Kong Vase saw him overhaul Found to become Ireland's leading earner – a title previously held by a third O'Brien charge, St Nicholas Abbey, who was forced into premature retirement in mid-2013 by what sadly turned out to be a fatal injury when less than £50,000 shy of £5 million.
There is yet to be a British member of the £5 million club. In similarly tragic circumstances to St Nicholas Abbey, Red Cadeaux got to within a mere £1,600 before he paid the ultimate price following a fracture sustained in the 2015 Melbourne Cup.
The most plausible pretender to the title of Britain's richest Thoroughbred is Postponed, on target to defend his Dubai Sheema Classic crown in March 2017 and currently the winner of £4.47 million.
Designs On Rome is one horse who has managed to sneak past £5 million. After spending his 2-year-old season in Ireland, the son of Holy Roman Emperor has been based in Hong Kong for the rest of a career that is still active but is on the wane at present – the 2014 Hong Kong Derby scorer has finished in the first three in just three of his last dozen starts.
The final new inductee to this 'Earnings Hall Of Fame' is, of course, the mighty American Pharoah. The first Triple Crown winner for 37 years, he notched up his £5,531,104 in just 11 career starts, and who is to say how much he might have earned if he had been allowed to race on for a third season – or if the Pegasus World Cup had been instigated a year earlier?
Watch out for Winx
The most obvious candidate to break the £5 million barrier in the next few months is the Aussie wondermare Winx. Her current bankroll is £4,719,725 so she hasn't got far to go and should cross the threshold some time before she lines up for her main 2017 aim – her bid to join Kingston Town as a three-time Cox Plate winner, at Moonee Valley in October. Hopefully, before then she will be allowed to race outside her native Australia for the first time.
Finally, when analysing any list of global leading money-earners it must be remembered that much depends on what currency is used. The list is compiled by the International Racing Bureau, which is a British company, hence the use of sterling and the official overseas currency exchange rates issued by the BHA in the first week of every January.
If, for instance, US dollars are used, according to Equibase, Cigar's career total of $9,999,815 left him over half a million short of Curlin's $10,501,800. But, since Cigar raced at a time when one dollar would have got you about 67 pence, whereas Curlin's era was when a dollar was the equivalent of only around 50 pence, Cigar is almost £1 million clear of his fellow countryman when sterling is used.
Click here to see the list we published in March 2015.
James Crispe is associate director of editorial at the International Racing Bureau