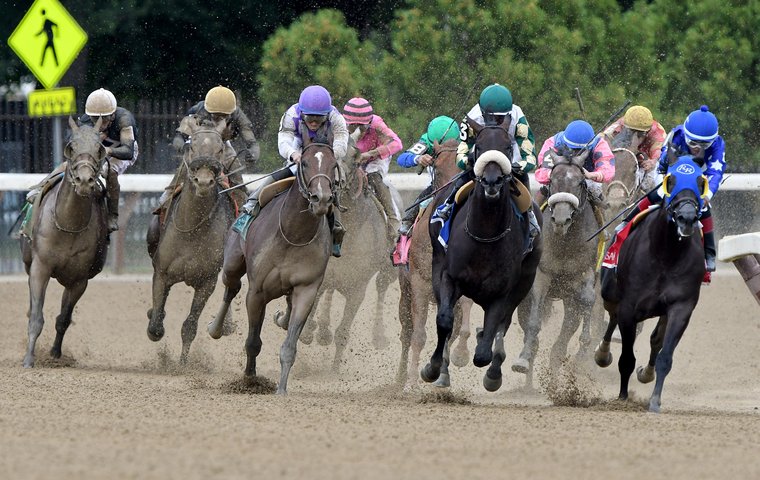 On June 25, I wrote an article, The challenges - and opportunities - facing Saratoga this summer. As the meet finished on Monday (September 2) let's take a look back at some of the issues raised in that piece.

The biggest change for 2019 was the racing schedule. For the first time, NYRA conducted the same 40-day schedule but raced five days a week instead of six, which had been the practice in recent decades. This meant there were two 'dark days' each week and the schedule stretched out for eight-plus weeks instead of the traditional six-plus. The result in racing days was this:

Clearly, with everything else being equal, this potentially should increase business at the track because the Friday-through-Sunday additional days replaced week days with lower wagering handle and attendance. However, a potential business increase was not the reason for the decision.
First, it is important to understand that Saratoga had been the only Thoroughbred race course in the U.S. that had run six days a week for the last few decades. The change was necessary and inevitable. Trainers have increased the time between races more and more and that, coupled with a decline in the foal crop of 30 percent over the last decade, has made it difficult to maintain field size, which is the most important component of total wagering revenue.
In addition, NYRA and the State of New York have struck a deal with the New York Islanders hockey team to build a new hockey arena on the grounds of Belmont Park. Construction that was due to start in July will commence this fall, which dictated a change to the racing schedule as well. More on that later.
There has been much speculation regarding the impact of the schedule changes on total wagering activity and also the economic impact on Saratoga Springs, the city and the surrounding Saratoga County.
NYRA had to cancel racing on Saturday, July 20, due to excessive heat - the heat index was 110-plus, which made it impossible to run horses safely. Then, five days later, a series of severe thunderstorms resulted in cancellation of racing after only four contests. The stewards appropriately deemed that it was unsafe for the horses and jockeys in the conditions.
Turning to the Saratoga results, despite the adverse weather and subsequent cancellations, all-sources handle was a new record at $705,343,949, which was 3.76 percent higher than the previous record, set in 2017. It was also an increase of seven percent over the 2018 figure of 659,083,459.
On-track handle was down 1.5 percent from last year's numbers, which can be directly attributable to the extreme heat and rain during the early weeks.
Part of the all-source handle increase is the result of the 2019 average field size, which was 7.9 horses per race as against 7.75 in 2018.
Given the loss of a Saturday and half the card on a subsequent Thursday, these increases are an excellent performance, especially when compared to Del Mar, which runs roughly that same schedule - its 2019 numbers are down on 2018 by 10.9 percent.
Reducing the days from six to five has provided some relief at the entry box, but field size is still an issue for the entire industry. As Martin Panza, NYRA's Senior VP of Racing Operations, stated in a recent New York Times article, "It is a simple numbers game. You either have the horses or you don't. The bigger the field size, the more money is bet. Six-horse fields are great for horsemen, but the public doesn't want to play a small field with a 2/5 favorite."
A few dominant trainers
While these handle numbers for 2019 were strong, there is an important issue that NYRA and other tracks need to be concerned about - the consolidation of the best horses among a small group of trainers. The 2019 Saratoga meet is an excellent example of this.
Chad Brown once again was leading trainer and had more than twice as many wins as second-placed Todd Pletcher. This is truly a great accomplishment by Chad Brown. However, it does come with a price for the rest of the racing community. Here is a summary of the top ten 2019 Saratoga meet trainers (by earnings):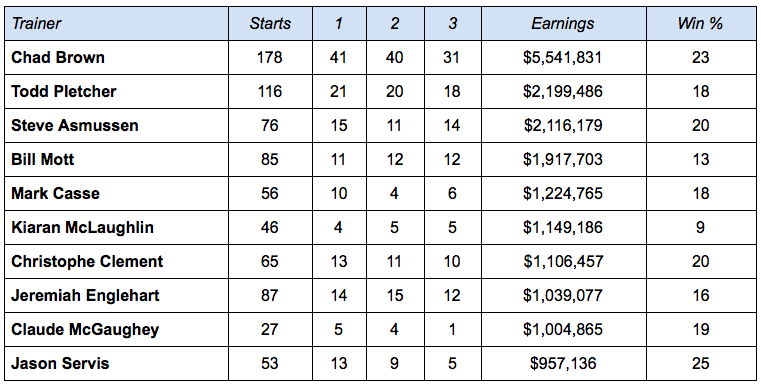 Source: Equibase.com
If you drop down the list to the 22nd position, the number of starts averages less than 30 per trainer and the number of wins for those trainers averages four. Another ten positions lower, the number of wins is three and the total purse-winning average under $300,000.
To me, this does not indicate a robust and healthy industry in New York. Keep in mind that, aside from the five days of racing at Kentucky Downs, Saratoga has the highest level of purses per raceday in the country at over $1 million. While NYRA does not publish stall allotments, I did hear numerous reports of empty stalls at Saratoga this summer, which would have been unheard of a few years ago.
It is incumbent on racing's leaders in New York to ensure that a broad base of trainers and owners can continue to participate in the New York Thoroughbred racing and breeding industry.
Impact on the local economy
Let's turn now to what impact the NYRA racing schedule had on the economic activity in Saratoga Springs and Saratoga County.
As noted above, Saratoga has had six days of racing for decades. This means that many people were inclined to stay in Saratoga Springs or nearby towns and would spend their 'dark day' on the golf course, at the lake or shopping. However, today with hotels in the area averaging $400 and more per night, many people were checking out Sunday evening and moving on.
In a recent Times Union article, Nancy Bambara, VP and COO of DZ Restaurants, which owns three dining spots - Boca Bistro, Chianti and Forno Bistro, all in downtown Saratoga Springs - stated, "It's felt like people are coming in on Wednesday and leaving Sunday night." Many Saratoga business people that I spoke to agree.
Immediately at the end of the Saratoga meet, NYRA executives historically have met restaurant owners, hotels, retailers and members of the Chamber of Commerce and Downtown Business Association to discuss all aspects of the business performance in the Saratoga Springs community as it relates to the 40-day race meet. Judging from the many Saratoga Springs business owners/operators I have spoken with, they will be first looking at the possibility of returning to one dark day, or as an alternative to move the dark day from Monday/Tuesday to Tuesday/Wednesday.
While I have no influence on the decision, I think it would be impossible to go back to a six-day meet. However, regarding the timing of the dark days, there is a strong belief among a number of Saratoga merchants that more people will be inclined to stay for a long weekend through Monday than coming back to Saratoga Springs on a Wednesday.
One NYRA-related issue that could possibly help draw people back mid-week is to move some of the Graded stakes that are currently almost all on weekends back to headline a race card on a Wednesday or Thursday. This year and last, there were 18 days when the highest quality race was a $100,000 overnight stake. Most of those fall on a Wednesday or Thursday, when the races such as the $100,000 1⅝-mile John's Call topped the bill but were not bringing anyone to the track.
Why not consider running all six of the 2-year-old Graded stakes individually on the same weekday throughout the meet. That would highlight the juvenile races that Saratoga is known for and attract people to look for a future national star.
Let's turn to the other North-east/Mid-Atlantic tracks that I mentioned in the earlier article.
Monmouth Park
Monmouth announced a substantial purse increase to $500,000 earlier this year, which raised some concerns that select New York trainers would move a string of horses that would impact the NYRA entry box. Fortunately that has not happened.
Two major players from New York have a string of horses at Monmouth - Chad Brown and Todd Pletcher. Brown has had 46 starters with 11 wins and Pletcher has had 44 starters with ten wins. They stand ninth and tenth respectively in the Monmouth trainer rankings.
However, this is not hurting the Saratoga entry box as Brown and Pletcher are the #1 and #2 trainers there - both in starts and wins, as well as prize money.
There is a handful of other trainers that ship in from New York to run at Monmouth, including Tom Albertrani, Christophe Clement, Jeremiah Englehart, Michelle Nevin, Carlos Martin and a few others. With one exception, all of them have shipped in less than ten horses to Monmouth for the entire meet. NYRA gets many more Monmouth-based horses coming the other way to run at Saratoga and Belmont.
Colonial Downs
The track re-opened on August 8 for Thoroughbred and steeplechase racing three days a week through September 7, with purses averaging $500,000 per day. The cards have been strongly supported by horsemen from Virginia, Maryland, Delaware, Pennsylvania and Kentucky.
Here are the top five leading trainers through August 31:

One major New York trainer had success in the early days at Colonial - Shug McCaughey, who shipped in eight starters with two wins.
Congratulations to John Marshall, Colonial Downs Executive Vice President, Jill Byrne, VP of Racing Operations, and their entire Colonial team for the work they have done to prepare the racetrack and all operations for this spectacular re-opening of Colonial Downs, which has one of the best turf surfaces in the country.
What becomes immediately apparent when you look at the past performances of all of the horses racing at Colonial Downs is that cooperation on dates and stakes races will be essential among the regional tracks. Below is a list of the regional tracks in the area and their current 2019 race dates. It is essential that these tracks make a concerted effort to present the sport in a collaborative manner to work for the benefit of the group.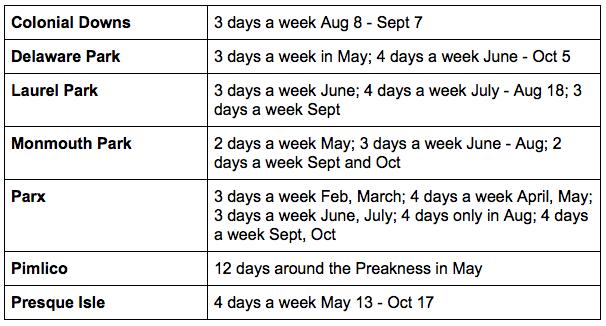 Cooperating on dates and stakes races means exactly that. It will be essential that both racetrack management (including simulcast and racing office execs) and horsemen's associations from all these tracks participate fully. Working together on both the live and simulcast markets will yield the best outcome.
Also, I would engage both NYRA and Churchill Downs to get space from their schedules to accommodate the major stakes at each of the regional tracks to help them attract large and competitive fields.
Kentucky Downs
Kentucky Downs opened its five-day season on August 31 with purses for the entire turf ten-race card totaling $2.742 million. The remaining four cards will be run on September 5, 7, 8 and 12 with purses totaling $11.532 million, or an average purse total per day of $2.3 million.
The purses are generated by the Historical Horse Racing machines that operate year round at Kentucky Downs for the benefit of the five-day meet.
The three co-features of Saturday's card were the Tourist Mile, with a $750,000 purse, won by Snapper Sinclair, trained by Steve Asmussen, the Exacta Systems Juvenile at one mile, with a $500,000 purse, won by Jezebel's Kitten, trained by Brad Cox, and the Gainesway Farm Juvenile, with a $500,000 purse, won by Peace Achieved and trained by Mark Casse.
All three trainers were active at the current Saratoga meet and they all finished in the top 17 in purses won. Each of these three stakes races included two horses whose previous races were at Saratoga. If the Kentucky Downs purses and racing program continue to grow, NYRA will have to recognize this in constructing the turf stakes program for Saratoga.
The Belmont redevelopment
In my earlier article on June 25, I closed with a paragraph titled The mysterious Belmont redevelopment. Well, there is not much new to report as construction on the new New York Islander Ice Arena, originally scheduled to start in May has not begun.
However, there is some news. On August 14, Jim Baumbach of Newsday reported the following: "Next, the developer New York Arena Partners must sign a lease with ESD [Empire State Development Corp] and receive all the necessary work permits from the state before officially beginning construction on the site. An ESD spokesperson said last week that the developers already have received the necessary approval to begin work at Belmont … an official groundbreaking ceremony at Belmont is expected to take place."
NYRA has announced that the Belmont Park fall meet has been shortened to one month from September 6 to October 6, when racing will move to Aqueduct. While racing at Belmont, the post time for the first race on weekdays has been moved back to 3pm to allow construction work to continue before racing begins each day. Saturday and Sunday post time will remain at 1pm.
The entire NYRA racing community is looking forward to seeing final plans for the ice hockey arena and the adjacent hotel, as well as the plans for modifications to the racing grandstand and clubhouse and any new configurations of the racing surfaces.
This major construction project at Belmont Park will be a critical aspect of re-energizing the important sport of Thoroughbred racing in New York and throughout the country. Collaboration and communication with all the Thoroughbred racing and breeding stakeholders by NYRA management and Board of Directors will be essential for this project to succeed.