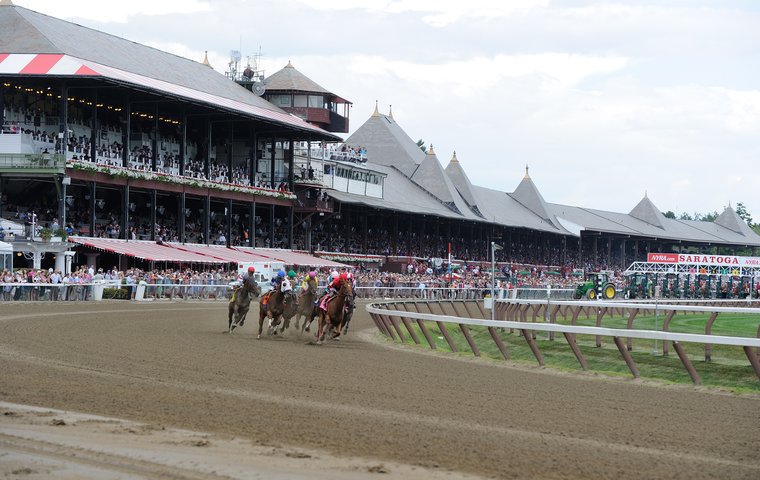 It is always an exciting time for the New York Racing Association (NYRA) to move its racing program from beautiful Belmont Park 200 miles north to Saratoga Race Course. This new Saratoga racing season brings a number of new challenges that NYRA will be facing on a number of fronts.

First, when the course opens its gates on Thursday, July 11, it will be the earliest opening day for the meet in modern history.
It will still be the same 40 days of competition as last year, but racing will be conducted five days a week instead of six as before. The action will be Wednesday-Sunday each week, with dark days on Mondays and Tuesdays, except the last Monday, which is Labor Day and the traditional closing day for the meet.
Saratoga was the last track in the U.S. to run six days a week. NYRA has stated that the five-day weeks will possibly take some pressure off of the horse population and perhaps increase field size over the course of the eight-week meet.
Tragedy of the Santa Anita breakdowns
The major challenge that the industry as a whole faces at the moment concerns the number of breakdowns during the recently concluded Santa Anita winter/spring meeting. Despite serious efforts by track owners the Stronach Group to implement a broad range of initiatives, many problems have continued, and the last two weeks of the meet did not go well.
As I noted, in this earlier article, when I was running NYRA during the winter of 2012, we experienced a similar rash of breakdowns, and a New York Task Force on Racehorse Health and Safety was convened. Five months later, the task force produced a detailed report that recommended a broad range of important new procedures and policies, which were adopted and implemented over the course of the next six months.
The results suggest that improved security and medical practices can reduce these tragic breakdowns. The current national average for breakdowns as recorded by the Jockey Club Equine Injury Database for 2018 is 1.68 breakdowns per 1,000 starters. Here are the results from 2018 for the three NYRA tracks:
Aqueduct - 1.57 breakdowns per 1,000 starts
Belmont - 0.98
Saratoga - 0.97
Below are some other major tracks' 2018 breakdown history. It should be noted that a number of tracks, including the Churchill Downs, submit their data but they do not allow the Jockey Club to publish it. If the industry is serious about improving the breakdown rates (and we must be) all tracks have to be completely transparent and committed to improving their rates.
Del Mar - 0.78 breakdowns per 1,000 starts
Gulfstream - 1.41
Keeneland - 1.77
Santa Anita - 2.04
Woodbine - 1.06
I strongly recommended that every racing jurisdiction studies the NYRA Task Force report, which has produced impressive results. Nothing is more important right now for the industry than equine safety.
The struggle over field sizes
Moving on to competitive and horse population issues in the North Eastern section of the U.S., all the summer tracks have started their season, which has put some stress on the availability of horses to fill their cards. Delaware Park was the first regional track to feel the pinch at the entry box, and the situation was exacerbated by the horsemen insisting on opening a month earlier this year - in early May as opposed to the normal start during the first week of June.
The result was that Delaware had to cancel three of the first 13 scheduled cards due to lack of entries. The average field size for the races run was less than seven.
Part of the problem has been successful recent business developments at other regional tracks. Despite Saratoga's average daily purse for the meet being in excess of $1 million, including stakes, as you will see below, NYRA undoubtedly has some race-days when filling the entry box will be a challenge.
Seizing an opportunity: Monmouth Park
One of the tracks that has made its own recent success is Monmouth Park, which sits geographically between Saratoga and Delaware.
In 2012, Dennis Drazin, chairman and CEO of Darby Development, the current operators of Monmouth Park, and the New Jersey Thoroughbred Horsemen undertook a legal battle to overturn a federal law prohibiting individual states from controlling sports betting in their state. The result of that battle was that the Supreme Court overturned the federal law in May 2018, thus allowing individual states to establish their own sports betting businesses. Because Drazin et al had been working with the New Jersey state legislature and a statewide referendum had already been held, with a positive outcome, the race tracks and sports books at Atlantic City had land-based and internet sports betting up and running in a matter of months after the ruling.
Monmouth Park executed a sports betting arrangement with William Hill and the Meadowlands did a deal with FanDuel. Within the first year, New Jersey became a formidable force in sports betting.
The resulting revenue from sports betting has been phenomenal - and racing has been one of the beneficiaries. This year Monmouth Park will conduct a 61-day race meet with an average daily purse of $500,000 - in 2018 Monmouth ran a 52 day meet with an average daily purse of $325,000. Including stakes races, Monmouth Park will pay about $30 million in 2019 purses as compared to $17 million in 2018.
By contrast, the New York legislature failed to set up a statewide sports betting operation there.
On a related matter, one of the largest expenses that a New York trainer has is his Workers' Compensation insurance, which averages 20 percent-plus of the labor cost. By comparison, Monmouth continues to pay Workers' Compensation for all trainers stabled at that track.
Considering the workers' comp and the enhanced purses, it should be no surprise that leading New York trainer Chad Brown applied for 65 stalls at Monmouth Park this year.
Clearly, the result has been an upgrade and increase in both the number and quality of horses running at Monmouth. There is no question that, in prior years, a number of trainers from Monmouth would ship their horses to Saratoga for the quality of racing and the purses. This year, a number of those potential runners will be staying on the grounds at Monmouth. This could have a direct affect on Saratoga entries and field sizes.
Seizing an opportunity: Colonial Downs
One of the most interesting developments in Thoroughbred racing this year has been the sale of Colonial Downs to Revolutionary Racing and its partner, Peninsula Pacific, to form the Colonial Downs Group.
Colonial Downs is one of the newer Thoroughbred tracks in the U.S. and opened for racing on September 1, 1997. It has one of the best turf courses in the country but had a small network of OTBs (Off-Track Betting locations), a limited on-track market due to its location and a small simulcast following. The track closed for live Thoroughbred racing in 2013, when the owner, Jeffrey Jacobs, and the Virginia Horsemen's Association could not agree on a purse arrangement.
The new owners were successful in getting approval from the Virginia state government with the support of all aspects of the Thoroughbred racing industry in Virginia for 3,000 historical horse racing machines to be installed in Colonial Downs and as many as ten OTBs.
Colonial Downs will run a 15-day meeting from August 8 through September 7. Racing will be conducted on Thursdays, Fridays and Saturdays, as well as on Labor Day, Monday, September 2. Colonial will offer a minimum of $500,000 in daily purses, which will result in around $7.5 million being paid for the 2019 meet.
The Colonial Downs group has worked collaboratively with all parts of the industry and has reached a long-term purse agreement with the Virginia Thoroughbred Horsemen's Benevolent and Protective Association.
John Marshall, Executive Vice President of Operations of Colonial Downs, explains, "I think that it is fair to say that ownership has been very bullish about this project of revitalizing horseracing in Virginia."
The state of Virginia has a strong history in Thoroughbred racing and breeding, and the re-opening of Colonial Downs by an ambitious and enthusiastic ownership group has been embraced by the racing community.
In addition, Colonial Downs has reached an agreement to run steeplechases during the inaugural meet. "The National Steeplechase Association board of directors and I are delighted to be part of the inaugural meet of the new Colonial Downs," said NSA President Guy J Torsilieri. "We have a very large constituency in Virginia, and there's great enthusiasm in the jump racing community for returning to a tremendous facility."
Once again, Saratoga Race Course has been a popular venue for dirt, turf and steeplechase horses from Maryland/Virginia, and the attractive purse levels and stakes program at Colonial will certainly be attractive to horsemen from this region.
Seizing an opportunity: the Kentucky tracks
Turning to Kentucky, Churchill Downs continues to develop as a home base for East Coast horsemen through its strong growth in purses.
In 2018, average daily purses at Churchill Downs were approximately $935,000, which places it in the top three tracks of average daily purse distributions in the U.S. In addition, in September 2018, Churchill Downs opened its new historical horse racing wagering facility in Louisville, and that operation contributed around $8 million in additional purses to the Churchill Downs spring 2019 purses.
Across the state of Kentucky, in Henderson, Ellis Park will offer the highest purses in the track's 97-year history at its 2019 summer meet, including a record nine stakes that could be worth at least $100,000 each. Purse money and supplements for Kentucky-bred horses are projected to average $330,000 a day at the 29-date meet, which runs June 30 through Labor Day.
One of the major stakes days of the Ellis Park meet will be the second annual Kentucky Downs Preview Day, which will feature five turf stakes. In a remarkable collaborative relationship, during the 2019 Ellis Park meeting, more than $5 million will be transferred to Ellis Park's purse account from Kentucky Downs, including $2,264 million in earned contributions by Kentucky Downs from the Kentucky Thoroughbred Development Fund.
Mark Casse's change of tack
To demonstrate how powerful this collaborative relationship can be, we just need to listen to a recent announcement made by one of the most successful and respected trainers in North America.
We are all aware of Mark Casse's most recent victories in the Preakness Stakes with War Of Will and the Belmont Stakes with Sir Winston. Casse has won Graded stakes in every major racing jurisdiction in the U.S. and no trainer has won more races and purses at Woodbine over the last decade than Casse - it's not even close.
Here is a public statement that Mark Casse released a couple of weeks ago:
"We're going to concentrate more on Kentucky," said Casse, who resumed a racing division in the commonwealth a dozen years ago after spending 15 years racing predominantly at Woodbine. "We're excited to see the bigger purses at Ellis because for us Kentucky is home. We're going to have our smallest contingent at Saratoga that we've had. We're just going to focus more on Kentucky. With the September meet now at Churchill Downs and Kentucky Downs, we don't have to go anywhere … I'm happy and glad to see everyone working together. There's no reason Kentucky can't have the best racing in North America."
This is truly a remarkable thing that Ellis Park, Churchill Downs and Kentucky Downs have accomplished, and we can only think that these relationships are going to continue to grow for the benefit of all.
Personally, for many years I have always thought that NYRA working along with Finger Lakes to develop a proper turf course would develop a business that would benefit all participants of the New York racing and breeding industry. Other than the astute New York breeders, my interest and enthusiasm fell on deaf ears.
The powerhouse that is Kentucky Downs
Well, it is also anti-climatic to mention what a powerhouse Kentucky Downs has become. Yes, it only stages five days of racing at its fall meeting. However, for its limited race meeting in 2018, it had a daily purse average of $2.051 million, which was slightly more than double Saratoga's daily purse average of $1,025 million.
This year, Kentucky Downs opens on Saturday, August 31, the last weekend of the Saratoga meet. It will card four stakes with purses totaling $2 million. The condition book for all the stakes races this fall meet is available on the Kentucky Downs website.
Looking at the last ten days of the 2019 Saratoga stakes schedule, I would suggest that the following turf stakes might be vulnerable: G1 Sword Dancer, G2 Woodford Reserve Ballston Spa, G3 With Anticipation, G2 Glens Falls, G3 Saranac, G2 Bernard Baruch Handicap.
Race scheduling imbalance
I have been a critic of stacking so many Graded races on big days. This year, on Travers day (August 24), there are six G1s scheduled and one G2. Over the course of the 40-day meet, Saratoga now has two dark days each week and the current stakes schedule calls for 18 - yes 18 days out of 40 - when the highest purse race is a $100,000 overnight stake.
When NYRA runs Maiden Special Weight races at a purse of $90,000, a $100,000 overnight stake does not appear to me to be a significant race. Sadly, I am old enough to remember when Saratoga was a 24-race day meeting with at least one stakes a day.
To sum up, I think that the earlier start to the meet could prove to be disappointing from an attendance perspective as well as for both the on- and off-track wagering activity. Regarding the five-day weeks, I think that this is a positive move. However, with the two-day break, I do not think that hotel guests will pay the Saratoga hotel daily bill for two dark days, and they may not rush back on Wednesdays.
The mysterious Belmont redevelopment
Finally, the biggest unknown is not what happens in Saratoga but rather what is or is not happening at Belmont Park.
The original plan called for construction work to be started on the arena and the hotel by May in the hope that much of the intense early work could be accomplished while most of New York horses were in Saratoga. However, from what I can see, no serious work has been undertaken.
The main reason for the delays would appear that the citizens for the towns of Floral Park, Elmont and others have raised serious questions about traffic flow into the communities when the only main highway, the Cross Island Parkway, is jammed in both directions.
There are also some significant issues about the current ability of the Long Island railroad to handle train traffic east and west from Belmont Park. It does appear to me that the state agency, the Empire State Development Corporation, still has a lot of work to address all the constituents that have a formal or informal role in communicating their concerns. I have found no recent information that precisely states when construction would start.
I have been looking for some formal plans on the placement of the hockey arena and the hotel on the Belmont backyard property. There seems to be very little information available. Below are the best renderings I could find - four drawings (from here) of the arena, the hotel, the placement of properties on the land and the retail stores across Hempstead turnpike.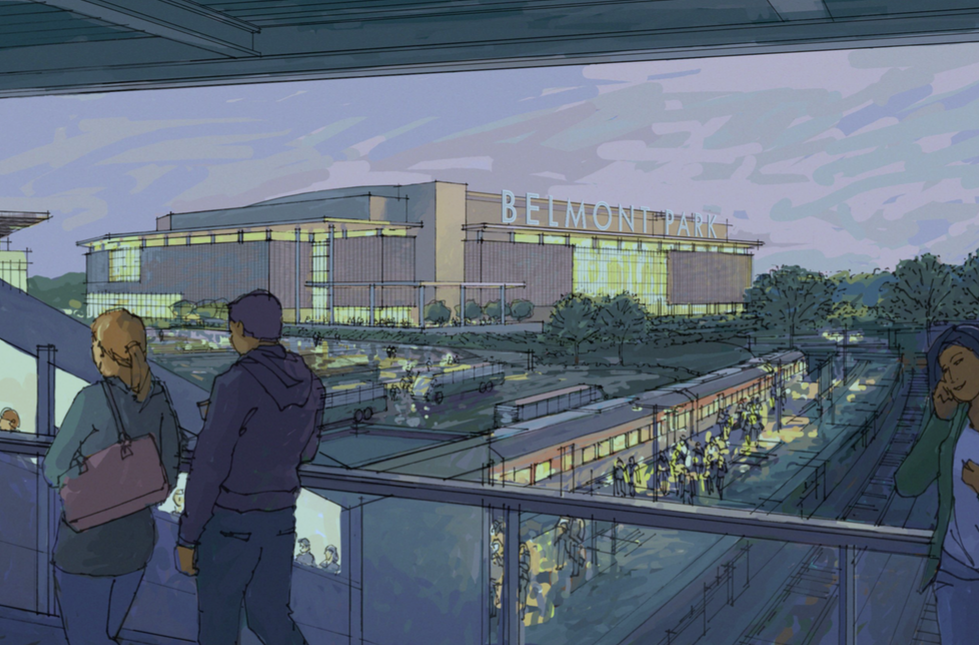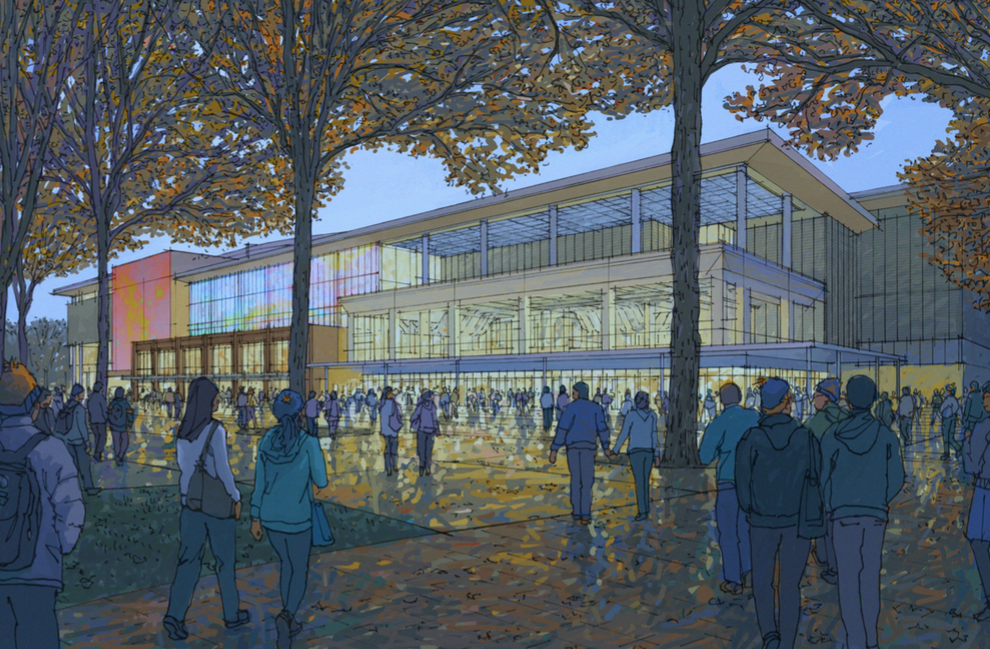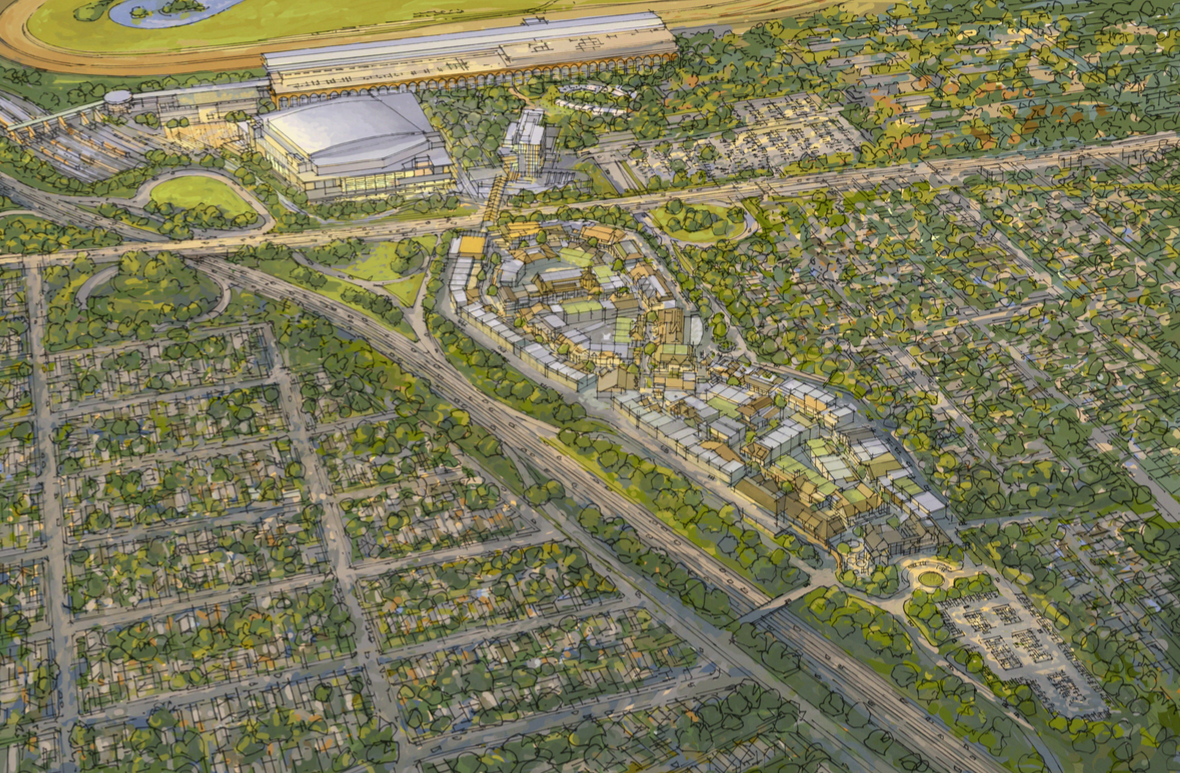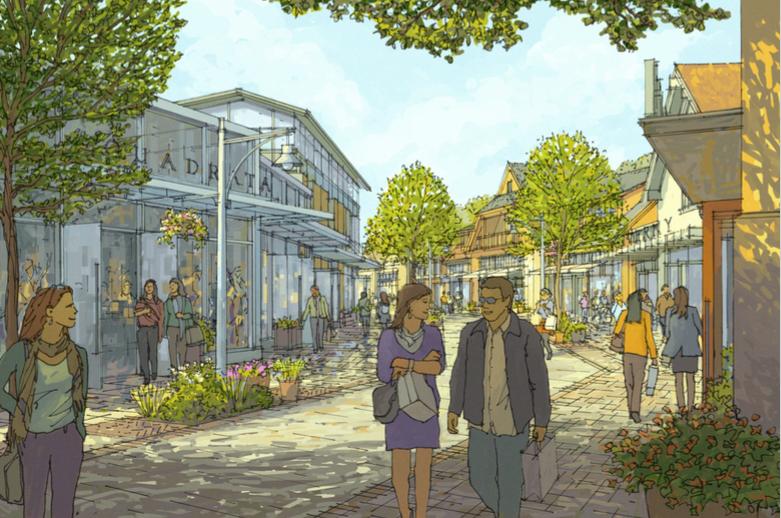 The drawings are publicly available - from the website of Empire State Development Corporation, which is the New York State Development Corporation. They are dated December 6, 2018.
NYRA President David O'Rourke did an interview with Bill Finley in the TDN recently. He said they have a good communication with the project managers but it does not appear that NYRA has any decision-making authority on this construction project.
At the very least, it appears to me that NYRA needs to make some kind of presentation to all racing parties that will be materially affected by this project as soon as that information is available.
The Saratoga meet is clearly important to NYRA from a quality of racing and revenue perspective. I believe O'Rourke and his executive team fully appreciate the importance of communication with the owners, trainers, jockeys, betting customers, NYRA employee population and the communities in which NYRA's racetracks operate. With the challenges that the racing industry and NYRA currently faces, I believe it is essential that the lines of communication are strong across the industry and that people should work collaboratively to solve the difficult and complicated issues that the industry is facing.