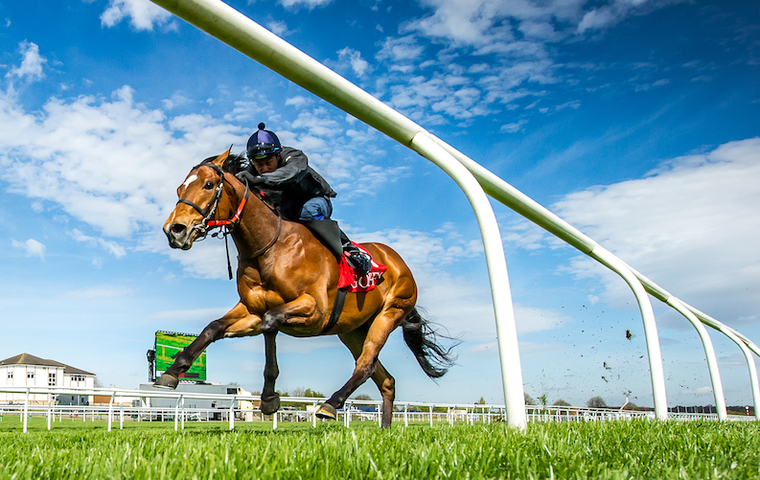 The Goffs UK Breeze-Up Sale (this year being held April 9-10) has long attracted a shrewd bench of buyers looking for a quick return on investment with a 2-year-old that can jump straight into the game and be on the track within weeks.

It has been only in the last few years, however, that Europe's original breeze-up sale has earned the reputation for being a genuine source of Royal Ascot winners, with the 2016 edition particularly strong.
As explored by James Willoughby in his 2016 TRC article The BIG advantage you get when buying at a breeze-up sale, there is significant value to be found at breeze-up sales in Britain and Ireland; the average price of graduates is consistently lower than at the leading yearling sales and buyers incur fewer costs before a horse reaches the track, yet statistics show that the ratings of breeze-up graduates compare favourably to those sold as yearlings.
Ahead of the 2018 Goffs UK Breeze-Up Sale at Doncaster, and in anticipation of another jump northwards in terms of the quality of Thoroughbred on offer there, here we take a look at the stars to come out of recent years and the overall statistics of the sale. In particular, we pay attention to the increasing success of the sale's 2-year-old graduates, which will be of interest to potential international buyers looking to acquire a juvenile to aim at Royal Ascot and then take overseas.
The 2016 sale saw two colts share the top-lot spot at £170,000. Both went on to win a 2-year-old stakes at Royal Ascot a few weeks later, and both have since joined the stallion ranks in Britain and Ireland.
ARDAD
(Kodiac - Good Clodora)
Ardad, who was aimed at the sale from a young age by Tally Ho Stud's Roger O'Callaghan, kicked off his 2-year-old campaign with a debut victory at Great Yarmouth six weeks after going through the ring. A mere six days later, he was lining up in the five-furlong listed Windsor Castle Stakes at the Royal meeting.
Sent off an unexposed 20/1 shot, Ardad readily showcased the precocity and maturity of a breeze-up graduate to put 3¼ lengths between him and the rest of the 21 contenders at the line. The time was quicker than that clocked by the 4-year-old G1 King's Stand Stakes winner, Profitable, on the same day.
A win in the five-furlong G2 Flying Childers Stakes at Doncaster and an appearance in the G1 Prix de l'Abbaye – he was the only juvenile to line up in that – concluded Ardad's debut season, at the end of which he was awarded an official rating of 108.
He is currently in his first covering season at Overbury Stud in Gloucestershire, where his profile as "a real Royal Ascot 2-year-old" (according to John Gosden) and his fee of £6,500 will doubtless tempt breeders looking to produce a similarly speedy and precocious juvenile for the biggest stage of all.
PRINCE OF LIR
(Kodiac - Esuvia)
Ardad's fellow 2016 sale-topper proved a similarly savvy purchase for a partnership looking for a quick return on its investment and a trip to the Royal Ascot winner's enclosure.
Having beaten subsequent G1 winner The Last Lion on debut in late May, Prince Of Lir went on to land the G2 Norfolk Stakes, giving the Goffs UK Breeze-Up a juvenile stakes double at the Royal meeting.
Both these cases will doubtless be cited by breeze-up sceptics as examples of graduates exhausting their potential too early on in their careers, supposedly as a result of having had their capabilities tested too early in preparation for the April sale.
The aforementioned research undertaken by James Willoughby offered conclusive proof, however, that breeze-up graduates are no less durable than their yearling sale counterparts, and that a deduction to the contrary is entirely unfounded and a result of confirmation bias.
QUIET REFLECTION
(Showcasing - My Delirium)
Quiet Reflection is a case in point. Purchased on behalf of a syndicate for a mere £44,000 at the 2015 renewal of the Breeze-Up sale, the filly began her career with three wins from four runs at juvenile, including a G3 and a listed race.
At three, more was asked of her, and she duly landed a pair of G1s, including the Commonwealth Cup at Royal Ascot. A comeback run on ground that did not suit and an interrupted summer meant for a slower start to her career as a 4-year-old, but she returned on her preferred underfoot conditions towards the end of 2017 to take a G3 comfortably. Shortly afterwards, her syndicate owners made the decision to sell her at Tattersalls' December Sale, where she made 2.1 million guineas as a broodmare prospect.
MORE STAR GRADUATES
The success for Goffs UK Breeze-Up Sale graduates at Royal Ascot 2016 did not stop there. On the contrary, perhaps the biggest win of the week in terms of prestige and race value was landed by another durable graduate in My Dream Boat (Lord Shanakill - Betty Burke), winner of the G1 Prince Of Wales's Stakes. This £40,000 purchase from the 2014 renewal of the sale peaked as a 4-year-old, achieving a rating of 122 after his Royal Ascot win.
Graduates of the 2017 sale, meanwhile, were knocking on the door last year, with Roussel going down by just a neck in the Windsor Castle and Out Of The Flames finishing third in the G2 Queen Mary Stakes over five furlongs.
For a sale that has offered in the region of just 145 horses at each of its past four renewals, it is indisputable that the Goffs UK Breeze-Up Sale has punched well above its weight at Royal Ascot in recent years; this is a sale to be taken very seriously by those seeking a winner at arguably the world's most prestigious racing festival.
The stats
And there are plenty of statistics to back this up still further.
Thorough research was undertaken into all graduates of the past four renewals and their resulting careers on the track, with particular attention paid to the success of the sale's 2-year-old graduates.
While the stories of Ardad and Prince Of Lir might lead us to assume the 2016 sale was the strongest in terms of 2-year-old success, the stats revealed that the 2017 renewal offered a higher-quality juvenile across the board than ever, with the average peak 2-year-old official rating improving to 74 from 72 in 2016, 71 in 2015 and 67 in 2014.
Those who fear that breeze-up horses burn out too soon will be reassured by the average end-of-juvenile-season rating, as well as the average career-best rating, which both show a similar improvement year-on-year. If trainers have pursued a more aggressive early summer campaign – via Royal Ascot in cases – with their 2-year-old Goffs UK Breeze-Up graduates, there have been no ill effects on their subsequent performances collectively.
Furthermore, the conclusions we can draw from looking at the number of 2-year-old runners, winners and wins also paint a positive picture.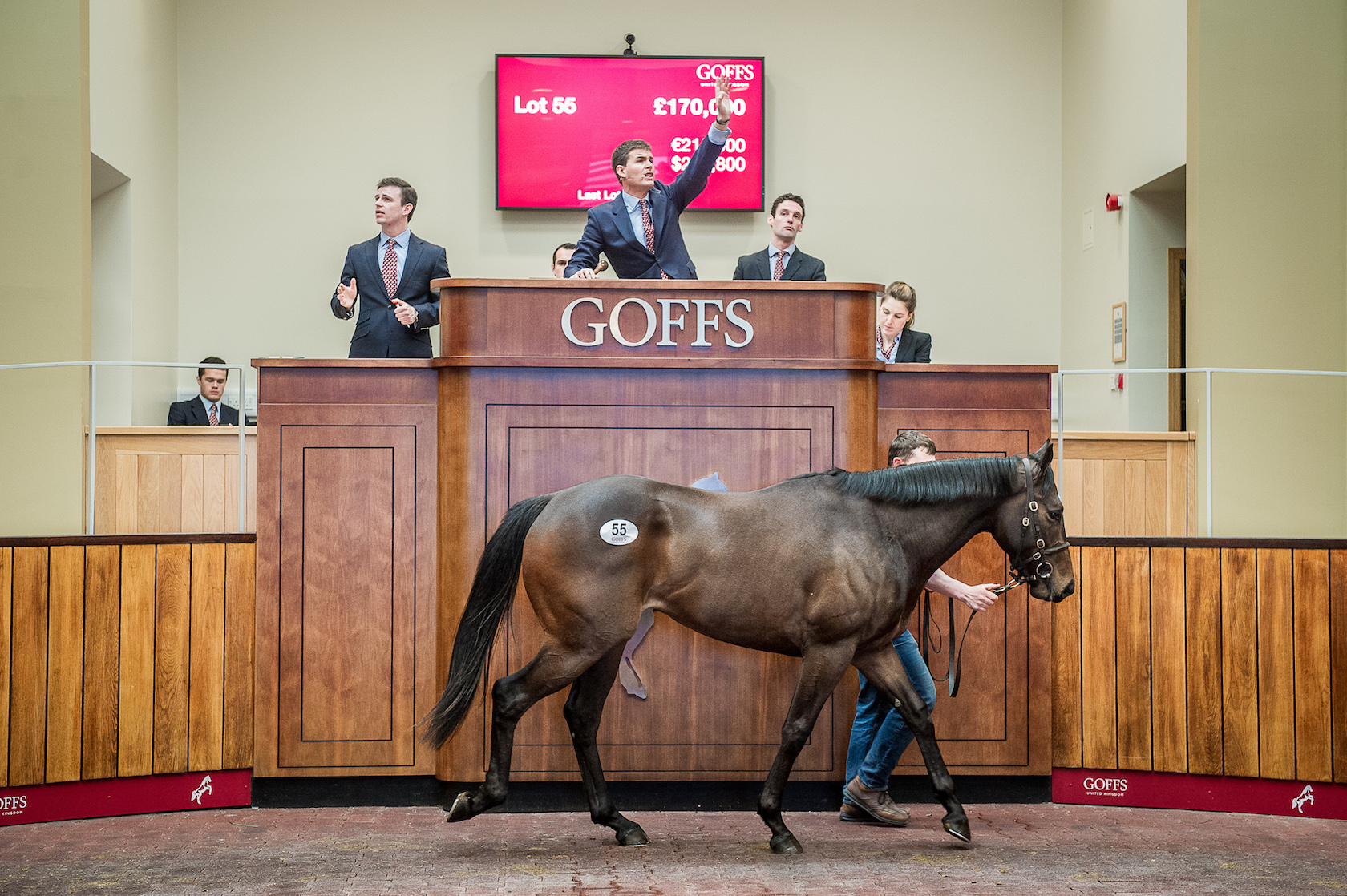 More graduates are making it to the track at two than just four years ago – 82.1 percent in 2017 compared with 76.5 percent in 2014 – while the percentage of those who have been successful at two has increased from 30.7 percent in 2014 to exactly 40 percent in 2017. What's more, there has been an impressive 35.6 percent uplift in the number of 2-year-old wins in 2017 compared to 2014.
All this indicates that not only are an increasing number of Goffs UK Breeze-Up graduates reaching the track and shaping up into winners within weeks or months of being sold, but between them the 2-year-old graduates are winning more regularly than we'd expect even allowing for the increased number of races.
A compelling case
For any international buyer wishing to buy a horse for a 2-year-old campaign in Britain and a genuine shot at Royal Ascot, the Goffs UK Breeze-Up Sale puts forward a very compelling case. The quick turnaround time in getting a breeze-up purchase on to one of the nation's historic racecourses poses minimal financial burden, while the improving success rate of the sale's 2-year-old graduates in particular speaks for itself.
It won't be a surprise if come June we are flicking back through a Goffs UK Breeze-Up Sale catalogue to find the page of the latest star to set alight the hallowed Ascot turf.
The Goffs UK Breeze-Up Sale 2018 catalogue is now available to view here. For any assistance in booking a trip to Britain to visit the bloodstock sales or racing fixtures, contact Amanda Bossom of Great British Racing International on abossom@greatbritishracing.com