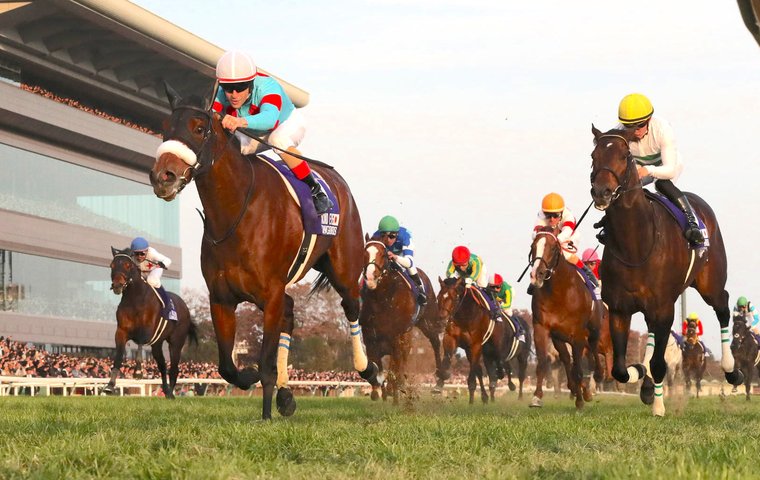 There's no doubt that Almond Eye reigns as the the Queen of Japanese Racing. Any critics were definitely silenced with a victory for the ages in the $5.8 million Japan Cup at Tokyo Racecourse earlier today. How soon the rest of the world will see this superb filly is the burning question that promises to enliven international racing next year.

Maybe she will turn up in Dubai, just like Gentildonna, the 3-year-old Filly Triple Crown champion who captured the 2012 and 2013 Japan Cup. Yet the race that trainer Sakae Kunieda mentioned most promisingly involves the possibility of a trip in the fall to France for the Prix de l'Arc de Triomphe and perhaps a meeting with another fabulous female, two-time Arc winner Enable.
"Absolutely, she could win there," Kunieda said about Almond Eye's chances of becoming the first Japanese horse to win the Arc. "We'd like to face Enable."
The Arc is among the world of possibilities for Almond Eye away from Japan, and would serve as a highly fitting showcase for a 3-year-old filly who proved in the Japan Cup that she has no equal on turf in Japan.
The G1 classic was the latest and grandest stage for Almond Eye as she handled older males with aplomb in posting a ¾-length victory over Kiseki in the mind-boggling, track-record time of 2:20.6 for 2,400 meters in the 38th edition of the nation's premier race (see video above).
That time shattered the stakes record of 2:22.1 set by Alkaased in 2005 - he was the last foreign horse to win the Japan Cup - and it also marked an amazing change in running style for the Japanese-bred daughter of Lord Kanaloa. In her previous start, the Shuka Sho, the Silk Racing Co. superstar completed her sweep of the 3-year-old Filly Triple Crown with an incredible stretch run. In the Japan Cup, the script was flipped as she broke from the rail and tracked in second until the final furlong, when jockey Christophe Lemaire tipped her out and she surged past the front-running Kiseki.
What kind of horse can do that?
"A monster or a machine" Lemaire answered. "It's very unusual to get such a strong animal. As I used to say to the Japanese press, she's nearly perfect. She can run in any position. She has a tremendous turn of foot. She has stamina. She has all of the abilities you can dream of. She has strengths that others cannot have. She's really, really special."
Her victory at 2/5 favorite was the sixth triumph in seven career starts for Almond Eye and came on the heels of her becoming Japan's fifth 3-year-old Filly Triple Crown winner and the first since Gentildonna.
The loud, appreciative cheers from a crowd of 98,988 both as she crossed the line and that greeted her when she returned for the winner's celebration said all that needs to be said about Japanese fans' love for just the second filly talented enough to sweep the Triple Crown and capture the Japan Cup in the same year.
The time and manner of victory spoke to her quality.
"I was relieved she performed as expected," Kunieda said, "but I was not surprised."
What the Japan Cup lacked in drama, it made up for in brilliance.
For most of the race, it was Kiseki leading and Almond Eye chasing, but as the field of 14 raced down the backstretch, the confidence in both Kunieda and Lemaire began to bubble over.
"When the (1,000-meter) call came up in 59.9 seconds, I thought if that was the time on a course that quick, that we'd be able to make it," Kunieda said.
Lemaire was blunter.
"On the backstretch, I knew the race was over," said the Japan Racing Association's leading rider and current world #5 in the TRC Global Rankings. "I knew her potential from that position. It was like a dream."
As Almond Eye surged past 8/1 fourth-choice Kiseki and added to her growing legacy, no one was mounting a threat behind them.
On a day when 20,475,491,300 yen (over $180 million) were wagered, second choice Suave Richard wound up third, 3½ lengths behind Kiseki, and 2017 Japan Cup winner Cheval Grand was another neck back in fourth.
"I was anxious before the race," Lemaire said, "but I was relieved afterwards because everyone saw the real Almond Eye and she put on a show."
The results were disappointing for the two foreigners in the race, Thundering Blue and Capri, who had no impact on the outcome.
England's G2 winner Thundering Blue was last for much of the trip and gained some ground late to finish tenth, more than 11 lengths behind Almond Eye.
Capri, who was fifth behind Enable in last month's Arc, was never better than 11th and only beat three horses to the wire.
If their lack of success against Almond Eye is any indication of what's to come in some major races around the globe next year, then 2019 just might be a hallmark year for Japanese racing.
"The Japan Cup is an international race so Almond Eye proved herself against that type of competition," Kunieda said. "Naturally, we will talk to the owners about future plans, but if there's a chance to race overseas, it would be great for her."
And great as well for the fans outside Japan who will get their chance to a filly who seems destined to become a star on more than one continent.