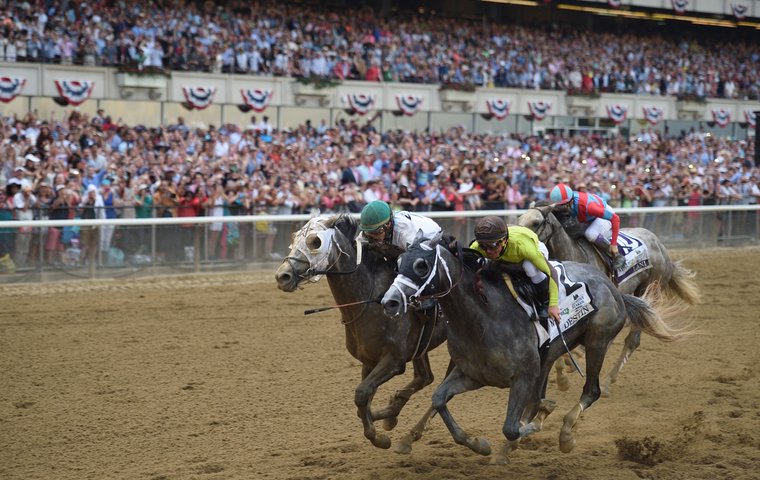 Years from now 2016 might be remembered as a seminal year in the burgeoning relationship between American and Japanese racing. Some might attribute it to Lani, the rowdy Japanese colt who made a name for himself in last year's Triple Crown.

High-strung enough that he seemed more akin to Godzilla than a son of the American sire Tapit, Lani won the UAE Derby to earn a spot in the Kentucky Derby. Just the second Japanese runner to compete in the Run for the Roses and the first in 21 years, Lani finished a respectable ninth in America's most famous horse race.
Afterwards, he moved on to Pimlico and finished an improved fifth in the Preakness as an increasing number of American fans began to warm to him and embraced the visitor from a distant shore. Then, after flourishing while working out at spacious Belmont Park, a folk hero was born.
In becoming the first Japanese horse to compete in all three legs of the Triple Crown, he turned in his best performance of the bunch. He finished third in the Belmont Stakes, matching Sunday Break, who was third in the 2002 Belmont, for the best finish by a Japanese horse in a Triple Crown race.
Lani's impact
"When Lani ran in the Triple Crown, American fans got to know about Japanese racehorses and Japanese fans got to know American races," said Ryota Sensui, Senior Manager of the United States office of the Japan Racing Association, which operates horse racing in the Asian country.
"I think Lani had a bigger impact in America than any other Japanese horse. Japanese racing fans know how difficult it is to get a good result in a United States race, so for Lani to finish third in the Belmont Stakes, it was better than anyone expected."
As much as Lani (who runs in the Dubai World Cup on Saturday) opened eyes and illustrated how competitive Japanese horses can be in American races – even on dirt, which takes a back seat to grass racing in Japan – something else happened in 2016 that has sparked unprecedented interest among Americans in Japanese racing and its fans.
Last year also marked the first time fans in Japan were allowed to participate in simulcast wagering on major international races, opening the doors to a country and its fans that bet staggering amounts of money on horse racing.
Unparalleled interest
In 2016, wagering at JRA tracks, OTBs and ADWs was 2,670,880,261,600 yen, which equates to roughly $24 billion in American dollars. In addition, roughly $4 billion was bet at Japan's lower-level National Association of Racing tracks from April 2015 to March 2016. In comparison, a dramatically smaller $10.7 billion was wagered on horse racing in the United States despite a vastly higher number of tracks and race dates.
Even at the top of the scale, the Kentucky Derby falls well below Japan's major races in terms of wagering. While Churchill Downs handled $124.7 million on last year's Derby, the equivalent of about $200 million was wagered on the 2016 Japan Cup, won by Kitasan Black (see YouTube video below).
"Their interest in racing in Japan is unparalleled anywhere in the world," said Kentucky Derby-winning trainer Graham Motion, who saddled Better Talk Now in the 2005 Japan Cup at Tokyo Racecourse. "They have a following for it like America has for football. There were people sleeping outside the racecourse for days in advance of the Japan Cup to make sure they could get a good seat."
As much as horse racing has roots in Japan that date back to the eighth century, it wasn't until last year that the rest of the world received a flavorful taste of the country's love for the sport.
Under a law passed in 2015, the JRA gained permission to conduct simulcast wagering on up to 24 foreign races - provided a Japanese horse competes in the race - and it didn't take long for Japan to create a shock wave with its dramatic impact on pari-mutuel handles.
When tens of millions of dollars can suddenly be pumped into betting pools, it should come as no surprise to hear that Americans are furiously scrambling to build business relationships with the JRA.
'Investing' - rather than gambling
"The more we create international races and get international betting, the better our industry will do. The international arena is our biggest opportunity to grow," said Tim Ritvo, President of Gulfstream Park and Chief Operating Officer of the Stronach Group. "Getting some of those horses over here to compete and vice versa is going to open up those markets. We're interested in Japan, Hong Kong, Asia, that whole market, because they love pari-mutuel wagering. They actually call it investing rather than gambling. Just to say we're good doesn't do it. We have to grow."
The first example of the power of the Japanese simulcast market came in no less a setting than the 2016 Prix de l'Arc de Triomphe, when Japanese fans pumped an astonishing Y4,185,995,100 yen (or roughly $40 million in American dollars) into the betting pools on a race that was contested at about 11:05 p.m. in Tokyo. The JRA announced the money it handled on the race was 2.3 times the amount wagered through France's Pari Mutuel Urbain (PMU).
The Breeders' Cup joined in a month later when the Japanese-bred Nuovo Record finished 11th in the Breeders' Cup Filly and Mare Turf and the JRA handled about $7 million on the race. As low as that figure might seem in comparison to the Arc, there was an extenuating circumstance. The BC Filly and Mare Turf had a post time of 4:45 a.m. in Japan, when most people were enjoying a good night's sleep.
"The impressive part of what the Japanese fans wagered was that the Filly and Mare Turf was run so early in the morning over there. To get $7 million shows their passion for racing and how they enjoy wagering. It makes them a great partner for the Breeders' Cup," said Drew Fleming, Senior Vice President of Breeders' Cup Limited.
Breeders' Cup places
"We believe the Breeders' Cup races are the world championships of racing, so the more foreign participation we have, the better. And, if a boost in our handle comes along with that, that's great. At the end of the day it was a great result for everyone and Breeders' Cup would love to do it again."
Though last year's event at Santa Anita Park marked the first time Japanese fans wagered on one of its races, the Breeders' Cup has an established history with horses bred and raced in Japan. Nuovo Record was the ninth Japanese representative to run in the Breeders' Cup, an association that began with Taiki Blizzard in the 1996 Breeders' Cup Classic.
The best finishes from that group were fourth-place finishes by Trailblazer in the 2012 BC Turf and Red Desire in the 2010 Filly and Mare Turf.
To help bolster Japanese participation in this year's Breeders' Cup at Del Mar, four stakes in Japan are included in the Breeders' Cup Challenge, a series that awards the winners of those races a guaranteed spot in the world championships.
The first of them, the February Stakes on Feb. 19 at Tokyo was won by Gold Dream, who secured a spot in the Breeders' Cup Classic (and runs in the Dubai World Cup on Saturday). The other three are the Yasuda Kinen (at one mile on turf) on June 4, the Takarazuka Kinen (1 3/8 miles turf) on June 25 and the Sprinters Stakes (six furlongs on turf) on Oct. 1.
Jammed racetracks
"Everyone was pleased with the result from last year, so we hope there will be multiple races and horses from Japan this year," Fleming said. "The JRA was easy to deal with and they were very professional."
Japanese fans also bet about $6 million on the Melbourne Cup, further illustrating why the Breeders' Cup, Kentucky Derby, Belmont Stakes, Pegasus World Cup and any racetrack eager to boost its finances are courting the JRA in order to have a Japanese presence in their races.
"We are looking to develop international events and trying to get more foreign horses to race in New York," said Martin Panza, the Senior Vice President of Racing for the New York Racing Association. "It adds quality to your product and adds some flavor to what you're trying to do. Besides being in the gambling business, we're in the entertainment business, and if you are fortunate enough to bring in some Japanese runners you would like to open up that simulcast market. You go to Japan and the racetracks are jammed and the wagering is astronomical."
Churchill Downs increased its chances of attracting a Japanese starter in this year's opening leg of the Triple Crown by introducing the Japan Road to the Kentucky Derby, a series of two stakes in Japan with points attached to them that will earn the best finisher a spot in the field on the first Saturday in May.
"It was good news for us when one spot was given to a Japanese horse in the Kentucky Derby. Before we had to get points to get into the Derby and that was difficult for a Japanese horse. We had to win the UAE Derby to qualify," Sensui said. "Our horsemen didn't know American races before but now, with the two point races, it changes trainers' attitudes about trying to run in the Kentucky Derby."
The undefeated Epicharis, a grandson of the American champion Sunday Silence, won the Hyacinth at Tokyo Racecourse on Feb. 19 (see YouTube video above) to secure 50 points and a ticket to Louisville in the spring. If the connections of Epicharis decide to skip the Derby, Mount Saint Legame would be next in line for the spot in the Run for the Roses. Epicharis runs in the UAE Derby (a Kentucky Derby qualifier) in Dubai on Saturday.
"We're trying to create a nice system that allows the best horses to get to the Derby, and Epicharis is an exciting Kentucky Derby prospect," said Churchill Downs President Kevin Flanery. "We know the interest among Japanese horsemen is real. We had nine Triple Crown nominees from Japan and six of them ran in the Hyacinth."
While there is no guarantee that the JRA will seek simulcasting wagering on the Derby, or any other American race, the Run for the Roses would seem to have the high-profile status it covets for its fans.
To understand the importance of the Japanese market on the Derby, while the JRA conducts its own pools on foreign races, the host track receives a portion of that handle, which is believed to be about 3 percent. Off $40 million in wagering, that could amount to $1.2 million for Churchill Downs.
A big help in that regard is that post time for the Derby would be at 7:50 a.m. in Tokyo, a highly reasonable time for a country that starts some of its racing programs at 10 a.m.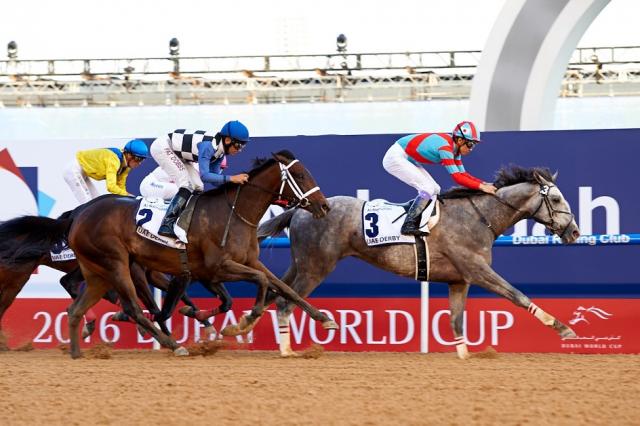 That possible revenue stream, of course, hinges on someone following in Lani's hoofprints.
"Lani created some energy at the track. He created a buzz on the backside and that's a good thing. With so many people talking about the storyline, that creates interest in people watching the race here and in Japan.
"We thought, if we want to grow the Derby nationally and internationally, how can we create scenarios in which people are paying attention to it not just on Derby Day but year-round?" Flanery said. "It seemed like a natural thing to work with the JRA and the great folks over there to do something new and interesting like the Japan Road to the Derby.
"We've also had people from Japan asking about running horses in the Kentucky Oaks and maybe some of the stakes on Derby weekend, so the focus is there. Part of our reasoning in doing this involves the handle and that's good for everyone. I think it's a win-win-win-win situation."
NYRA has also opened its arms to the Far East, initiating a bonus of $1 million to the connections of a Japanese horse for winning the Belmont Stakes. That monetary prize will be awarded in addition to the $800,000 winner's share of the purse.
"Since I got here [in 2013], working with the JRA has been on our minds, but in the last year or so it's been more prevalent," Panza said. "Our June and July Grade 1 races like the Belmont Stakes, Belmont Oaks, Belmont Derby, Metropolitan Handicap and Just A Game make sense because their racing slows down at the end of June."
To get that point across, Panza was to make a February trip to Japan to meet officials and horsemen in that country.
"We'll make an effort to attract them," Panza said. "Nothing ventured, nothing gained."
Strong programs
To help make Belmont Park a viable destination for Japanese runners, NYRA has improved its quarantine facilities at both Belmont and Saratoga.
"We've spent six figures in the last two or three years to renovate barn five at Belmont to make it our quarantine barn. It has three quadrants and we only use that barn for quarantine and isolation. When you come in, it's a gorgeous barn and we can handle three separate shipment of horses," Panza said.
"At Saratoga, there's only one quadrant, but we've made a concerted effort. We want to play this game internationally and want to bring international horses in, and, with the money they wager, that makes Japan very attractive. That said, there's a limited time they will ship because they have very strong programs in Japan."
Panza's hope that Japanese horsemen put major Belmont Park stakes on their radar has a solid basis thanks to Lani. The way he thrived at Belmont Park while preparing for the most grueling of the Triple Crown races can surely serve as an example to others about the benefits of shipping to the United States.
Pegasus hope
"I know his connections felt Lani really blossomed at Belmont and he appreciated the sandy track and the big turns. It made a big difference when he got to Belmont," Panza said. "We're fortunate that Belmont is a big track with two turf courses and it relates to what they have in Japan. So in that regard we can do right by the horse here in New York."
Pegasus World Cup officials and stakeholders were hopeful of landing a Japanese starter for the inaugural edition of the $12 million race, but they came up empty. The good news for them is that, with more time to plan a route to the race, there's a much better chance that a horse might venture over from Japan for next year's event.
"I believe some Japanese owners will be interested in the Pegasus next year," Sensui said. "The timing worked against us this year."
Against the backdrop of Americans scrambling to accommodate shippers, Sensui said the JRA is equally interested in having U.S. starters in its premier international races, the $5.6 million Japan Cup and $1.8 million Champions Cup.
While graded races such as the Arima Kinen in late December, which is revered in Japan along the same line as the Kentucky Derby in the U.S., the Japan Cup and Champions Cup are open to foreign shippers, in recent years it has been a struggle to get Americans interested in them.
A matter of timing
When the Japan Cup was launched in 1981, the first two winners were American horses, Mairzy Doates, a mare, and Half Iced. Neither of them were G1 winners in the United States.
But the advent of the Breeders' Cup and a dramatic improvement in the quality of racing in Japan has kept U.S. horsemen home when those races are run in late November (Japan Cup) and early December (Champions Cup).
"The level of competition in Japan is so strong that you can't go over there with a second-tier horse and expect to be competitive," Motion said. "That makes people a little gun shy. Also, we have some astonishing purses here, such as $4 million in the Breeders' Cup Turf, and that, with the timing of the Breeders' Cup, which comes a month before the Japan Cup, it's hard to run a horse in the Breeders' Cup and then two weeks later put him on a plane and send him to Japan. That's a very tall order for anyone.
"I thought about running Main Sequence [the 2014 Breeders' Cup Turf winner] in the Japan Cup, but he ran a huge race in the Breeders' Cup and I couldn't imagine him running that type of race a month later after all the traveling involved. It's a matter of timing, competition and money working against it."
Japan's bonus offers
In its early years, fields for the G1 Japan Cup included U.S. stars such as the famed two-time Horse of the Year John Henry, The Very One, Erins Isle, Majesty's Prince and Win. Americans won four of the initial 11 renewals, but the last time an American horse emerged victorious was 1991, when Golden Pheasant triumphed.
Convincing American horseman to travel to Japan has turned into a struggle. Even with a purse of more than $5 million, the mile-and-a-half turf stakes has featured only four American starters since 2008, the last being Mission Approved, who was 14th in 2011, and only four starters have journeyed from America since 2008.
Aside from travel subsidies, the JRA also offers a bonus to the winners of selected American stakes. This year, the winners of the Arlington Million, Sword Dancer, Joe Hirsch Turf Classic, Breeders' Cup Turf and Breeders' Cup Classic will receive an extra $1 million for winning the Japan Cup. A runner-up finish will be worth $400,000, with $250,000 for third and $100,000 for winding up fourth and below.
"The first ten years of the Japan Cup compared with the last ten years shows how good their racing has become. That doesn't mean a Lady Eli or a Tepin couldn't go over there and compete, but on a day-to-day basis racing in Japan has gotten very strong," Panza said. "To their credit they have really upgraded their racing in the last 20 or 30 years and the Yoshida family are a huge part in that. When you look at the quality of the bloodstock they have brought in and their breeding programs, my hat is off to them."
Dirt opportunities
If there's a catalyst that could make Americans more interested in trying their luck in the lucrative Japanese stakes, Panza says it would be increased opportunities for dirt horses.
"If they build up their dirt program, they might see more Americans going over there to take a shot. The timing has to be correct and I'm not sure of what that might be," Panza said. "But it would have to be dirt, maybe in mid-December."
Japan has one major international dirt race in the Champions Cup, which was previously contested as the Japan Cup Dirt. Like the Japan Cup, there was considerable interest in the race when it debuted, with 12 U.S. starters from 2000 to 2005. But since 2010, only two Americans (Pants On Fire, 16th in 2013, and Imperative, 15th in 2014) have journeyed to the Orient for the race, which will be held on Dec. 3 at Chukyo Racecourse.
Run in a left-handed manner, like American races, the Champions Cup (see YouTube video above of the 2015 race, won by Sambista) will be contested at a mile and an eighth.
Similar to the Japan Cup, it offers a bonus to the winners of a long list of American stakes: the Santa Anita Handicap, Kentucky Derby, Preakness, Metropolitan Handicap, Belmont Stakes, Stephen Foster, the Gold Cup at Santa Anita, Whitney Stakes, Travers Stakes, Pacific Classic, Woodward Stakes, Jockey Club Gold Cup and Breeders' Cup Classic. The winner of those races will pocket an extra $700,000, while a runner-up finish will be worth $280,000 and a third nets $175,000.
"It's a matter of awareness. Lani running in the Derby opened everyone's eyes to the possibilities and perhaps it can also open the eyes of U.S. horsemen to racing in Japan," Flanery said. "Horsemen are always looking for a spot where their horses can compete and they can cash in and this should help that conversation. People here will be seeing JRA officials at major races and talking with them and that benefits everyone.
"Look at Dubai. People are picking their spots and racing there. It's all about the timing and the purse money. The best want to run against the best. Traveling can be difficult but, if you do it and you're successful, it proves something great about a horse. Hopefully this is the start of a relationship that will help horse racing not just here in the United States but everywhere."
And why should the U.S. racing industry embrace that hope? Let's just say there are 24 billion reasons.