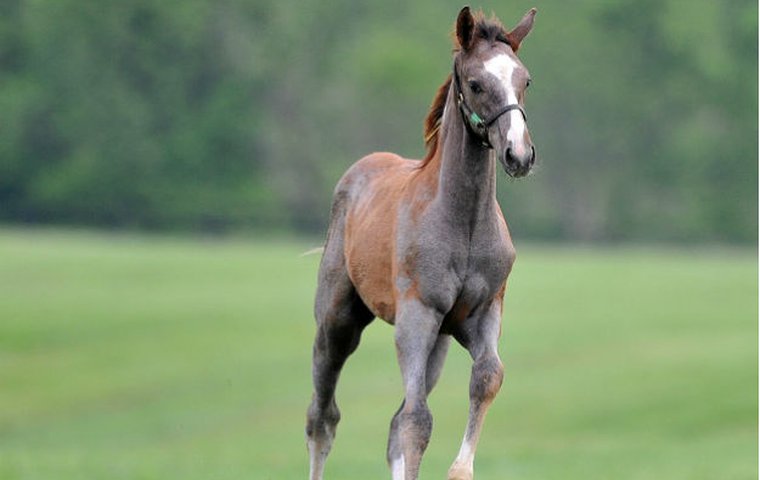 One of the quickest ways to be a much-talked-about Triple Crown contender is to be different. Lani, who comes into the Kentucky Derby off a victory in the G2 UAE Derby and is based in Japan, certainly is that.

Should everything go according to plan, Lani will become only the second Japan-based horse to compete in the Kentucky Derby Presented by Yum! Brands, and just the ninth starter who raced exclusively outside North America prior to the Run for the Roses.
The best finish among the group was the Godolphin colt China Visit, who was sixth in 2000. Lani's fellow Japan-based runner was Ski Captain, who finished 14th in 1995. Ski Captain was piloted by famed Japanese jockey Yutaka Take, who also has the mount on Lani.
----------
Take a peek into the life of 'the incredible Tapit'
----------
Overall, the statistics for horses who raced both outside North America and in the Kentucky Derby in the past five decades are not the best — since 1967, they have a record of 43-2-1-0. Venezuela's Canonero II was victorious in 1971 and Puerto Rico's Bold Forbes won 1976, while England's Bold Arrangement finished second to Ferdinand in 1986.
That said, Lani was born and raised only about 80 miles from Churchill Downs and his pedigree is heavily American. He is by Tapit, who was the leading sire in America in both 2014 and 2015, and Lani will not be Tapit's only representative in America's most famous race.
Lani was bred by Koji Maeda's North Hills and runs in the name of Yoko Maeda. Although he began his career in Japan, he grew up at the Oak Tree division of Lane's End Farm in Kentucky before being sent overseas as a yearling.
----------
Bob Ehalt: is Nyquist a gift from Santa Claus?
----------
"His people are delightful to keep horses for, and they've kept typically four or five mares with us," said Callan Strouss, the Oak Tree division manager. "They come and look at their horses a lot. As a matter a fact, the whole group, including the trainer, came out here to look at all their horses the other week."
Lani is trained by Mikio Matsunaga, who was a jockey before switching professions. One of the horses he rode was none other than Lani's dam, Heavenly Romance. During her time on the track, the daughter of Sunday Silence won multiple group races, including the G1 Tenno Sho Autumn against males, and earned more than $3.5 million.
Heavenly Romance, also a North Hills homebred, was sent to Kentucky while carrying a colt by Jungle Pocket. Named Awardee, the 6-year-old is still racing in Japan and most recently won the G3 Antares Stakes on April 16. Awardee began his career on turf but was switched to dirt last September and has won all four of his starts since. In addition to the Antares, he also took the G3 Sirius Stakes.
Tough and playful
Heavenly Romance's first American-sired foal, Amour Briller, is by Smart Strike, and she too is a stakes winner on dirt. In her last start, she won the Empress Hai, a local Japan Group 2, this March.
Lani's broodmare sire, Sunday Silence, won the Kentucky Derby and Preakness in 1989 before losing the Belmont to arch rival Easy Goer. Although he also won the Breeders' Cup Classic, interest in Sunday Silence as a stallion was notoriously low in the United States. He stood his entire stallion career in Japan and became a legendary sire there.
As for Lani, he had a fairly regular upbringing while at Oak Tree.
"Heavenly Romance is a good mother," said Curt Ramsey, Oak Tree's assistant manager. "She can be a little sour to people sometimes, and she kind of sticks to herself. Lani was a typical Tapit colt in that he could be a little tough and very playful. He was always feeling good. Even at one month of age he was very mouthy. We used to call him Jaws. At first it took us by surprise, but then after a while you'd just laugh at him because it wasn't out of meanness."
Lani was never under consideration to be sold, and so, was never put through any sales preparation. That meant his time as a yearling was largely filled with grazing and playing with his friends.
"Knowing that they keep their yearlings, he went out with a small group of colts that were keepers and probably spent 90% of their time outside," said Strouss. "He was a very good-looking colt. There were no major stories about him, but he was a high energy colt, always. You could tell he had a lot steam in him."
Half-sister with a big future
Dave Denton, the yearling manager at Oak Tree, echoed those sentiments.
"Lani was most certainly an alpha dog," he explained. "He was raised with six or seven other colts that were not intended for sale, and they were fed in the barn in the mornings and outside in the afternoons. He made it very competitive for his pasture mates to eat, and tried to take at least one bite from every feed tub. He was almost always successful."
Heavenly Romance delivered a colt by Awesome Again earlier this spring and is booked back to Tapit. Her Distorted Humor yearling filly is still currently in the United States but will likely be sent to Japan later this year.
"The mare typically throws a big, leggy type of horse," said Strouss. "The Awesome Again is typical to the mare. He looks pretty much like a Heavenly Romance. The yearling is really an exceptionally nice filly. With the way she looks, we have high hopes for her. Heavenly Romance has been a real successful mare for them."
Denton also thinks big things could be in the filly's future.
"She has a lovely disposition, yet still seems to have the same competitive juices as her big brother," he said. "We hope she gets to show that on Saturday afternoons."
Should Lani rewrite the record books and end up wearing roses on the First Saturday in May, he will simultaneously be a local and international hero.
"It is always a thrill to see horses we raised at Oak Tree represent our clients at racing's highest levels," said Denton. "We have a very international client base, and it's always a thrill to see one of the horses we raised running in a European classic or a Breeders' Cup race. However, I'm a Kentucky-bred, and if we are lucky enough to have a graduate make it to the First Saturday in May, that's extra special to me."