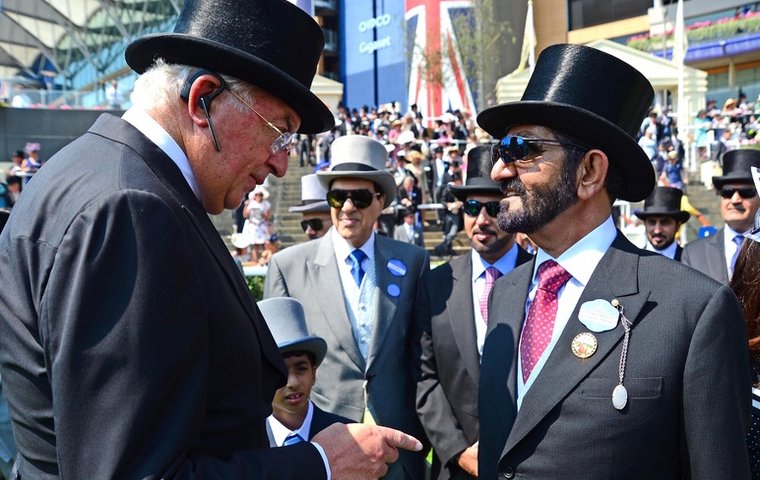 In racing, as in life generally, we have a common tendency to overreact. One good result and everybody had better watch out. One bad one and this could be the beginning of the end. There was certainly plenty of overreaction going on at the end of day one at Royal Ascot last Tuesday.

"Things aren't going so well for Coolmore now" was one comment. "It looks like Godolphin are back" and "it's great that the battle of the superpowers has resumed" were others.
It didn't pan out like that, of course. Halfway through Wednesday, the Irish team were back in control. Godolphin had a fabulous start to the meeting - Group 1 victories for Ribchester in the Queen Anne and Barney Roy in the St James's Palace, with Coolmore's flag bearer Churchill disappointing in fourth - but they were largely overshadowed on days two, three, four and five.
The turning point was Highland Reel's incredible refusal to yield in Royal Ascot's richest race, the G1 Prince of Wales's Stakes (see YouTube video below). Just when it looked as though he could be swamped, he dug in and pulled away. Goldophin's Jack Hobbs, who started favourite, finished last.
In the top 20s in the TRC Global Rankings, Aidan O'Brien was the biggest points gainer in the trainers' category anywhere in the world all week (at +8); Ryan Moore (+5) the joint biggest gainer in the jockeys' section; Coolmore (+5) the second biggest gainer among the owners - behind Stonestreet Stables (+7), who are listed for Lady Aurelia, and Galileo (+5) the biggest in the sires' section.
And they were all world number ones in their respective categories already.
But what of Godolphin? The momentum of Tuesday (wins in the two Group 1s as well as one listed race) may not have been sustained, but they still ended the week with six winners, six seconds and six thirds and were only just touched off in the race to win Royal Ascot's first-ever leading owner award (by Coolmore, of course, whose 6-7-4 tally got there by virtue of the extra runner-up).
So is that enough evidence to believe Godolphin may indeed 'be back'?
Certainly that end-of-meet final owners' table would seem to signal that the 'battle of the superpowers' has indeed been re-joined. Qatar Racing came third, and their figures were 1-1-2!
Of the 30 races at the meeting, 12 were won by either Coolmore or Godolphin; of the eight Group 1s, five were won by one or the other (Highland Reel, Caravaggio and Winter for Coolmore, Ribchester and Barney Roy for Godolphin); of the 19 Group races altogether, they took eight between them.
But let's delve a little deeper. Success in the TRC Global Rankings depends on how well your horses are running. Performances are assessed by Racing Post Ratings, so what sort of marks were achieved by Coolmore and Godolphin at Royal Ascot?
They had similar sized squads (Coolmore 27 runners, Godolphin 26).
Coolmore had 18 horses achieve a rating of 100 or better. The numbers look like this:
125-123-121-119-119-119-118-115-114-113-112-112-111-111-110-108-107-105
Godolphin had 16 runners run to 100 or better. Like this:
125-122-122-120-118-118-116-115-115-111-111-109-109-104-102-100
The Irish figures are stronger, but not by so much. These are good numbers from both sides.
Godolphin had a fine week in the rankings too (+1) and remain a strong second in the owners' table (although much of their success comes from their Australian operation rather than the European one). If they maintain their current momentum despite the disadvantages inherent in having their horses spread among different trainers, there is every reason to suppose they can become even more competitive with the remarkable Aidan O'Brien stable.
The 'battle of the superpowers' may indeed be back on.
Scat Daddy on the rise
Biggest week-on-week climber across the TRC Global Rankings was Scat Daddy, who climbs 22 places in the sires' standings to joint #23. His superb body of work at Royal Ascot, led by G1 winners Lady Aurelia and Caravaggio and G2 scorer Sioux Nation, was among the main talking points of the meeting.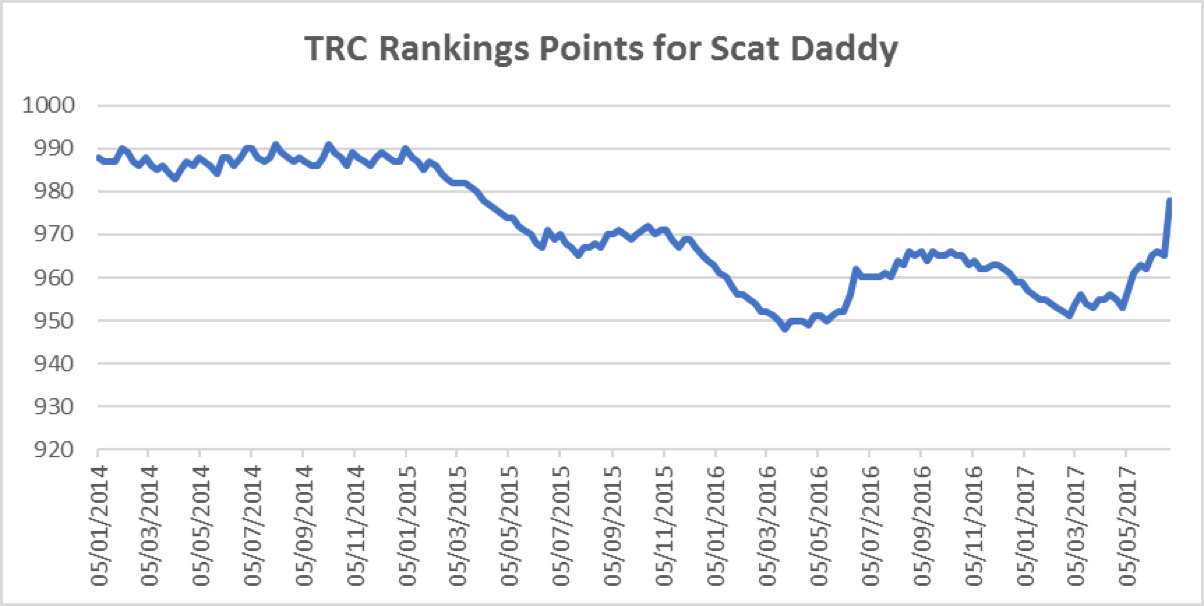 This is by no means the late Ashford Stud stallion's highest showing, however, as the graph of his points totals since the start of 2014 shows. Largely because of his prodigious success in South America, he had previously reached as high as #12, most recently in February 2015.
Coolmore have high hopes that the stunningly fast Caravaggio will more than fill his father's shoes when he takes up stud duties. The colt is already being eyed as a potential suitor for many of Coolmore's choicest Galileo mares, and John Magnier has talked about shuttling him to Australia. It's a fair bet that Caravaggio won't be going anywhere near a racetrack in 2018.
Click here for a list of the week's biggest points gainers.
Click here for a list of the week's Group and Graded winners.