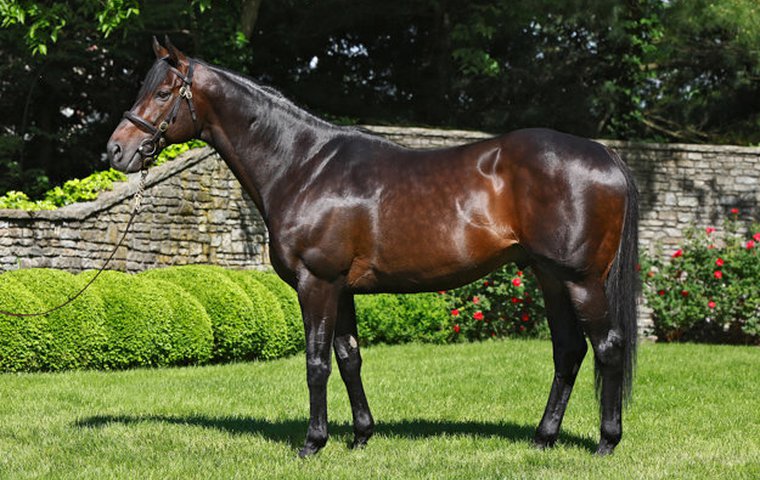 Not even the most optimistic of observers could have predicted the level of influence Scat Daddy would exert on the Chilean racing industry when he shuttled for the first time to Haras Paso Nevado in 2009.

Winner of the Champagne Stakes and Florida Derby for trainer Todd Pletcher, Scat Daddy is a well respected stallion at Ashford Stud in his native U.S., noted as capable of producing precocious stock as well as runners that are effective on different surfaces. His first crop contained graded stakes winners on turf, dirt, and all-weather, while out of his second came No Nay Never, who propelled his sire to prominence in Europe through victories in the G2 Norfolk Stakes at Royal Ascot and the G1 Prix Morny at Deauville. To date, Scat Daddy is the sire of 17 stakes winners in the Northern Hemisphere from four crops of racing age.
However, the son of Johannesburg has been an absolute revelation in Chile.
Scat Daddy shuttled for three seasons from 2009 to 2011 to Haras Paso Nevado in Chile. Although his first Chilean crop are 4-year-olds, he is already responsible for eight G1 winners and 12 G1 performers. He has provided the first three home in a G1 on three occasions and the first two home in another four G1 races. If that wasn't enough, progeny of Scat Daddy also swept the top four spots in the G1 Clásico Alberto Vial Infante at Club Hípico de Santiago in June.
His first Chilean stakes winner arrived in March 2013, when subsequent champion Solaria took the Listed Premio Carlos Cousino Goyenechea at Club Hípico. She went on to bag a pair of G3 races before striking in the G1 Premio Arturo Lyon Peña, when she led home a Scat Daddy one-two-three over Dalala and Lemon Pretty.
At 3, Solaria captured the G1 Premio Polla de Potrancas and Clásico El Derby (Chilean Derby) at Valpraíso, in which she smashed the track record and beat colts. She has since been sold to Japanese interests for breeding.
Other first-crop stand outs include the 2013 G1 Clasico Alberto Vial Infante winner El Bromista and 2013 G1 Premio Nacional Ricardo Lyon winner Knockout.
His second crop are arguably even more dominant. On June 20, Fantasmagorico, Il Campione, El Manu, and Katmai filled the top four spots in the G1 Clasico Alberto Vial Infante. Just seven days later, daughters Dacita and Mi Coqueta ran one-two in the G1 Premio Arturo Lyon Pena, and on June 28, Southern Cat won the G1 Clasico Tanteo de Potrillos.
Il Campione has since become a dual G1 winner, while Dacita went on to take the G1 Premio Polla de Potrancas and emulate the double achieved in 2013 by Solaria. Another daughter, Gratinada, won the G1 Premio Mil Guineas in late August.
With three crops of racing age running for him in Chile, Scat Daddy's statistics currently read 83 percent winners to foals of racing age and 20 percent stakes winners to foals of racing age. He is responsible for 13 graded stakes winners and two champions - Solaria and El Bromista. Each of his G1 winners were bred by Haras Paso Nevado, while Dacita, El Bromista, Solaria, and Southern Cat are out of mares by the Gone West stallion Seeker's Reward.
"He has been incredibly successful," said bloodstock agent German Fischer. "He produces very good two-year-olds, but they also stay well, so he dominates the two-year-old season as well as the big classics on the turf. They win on dirt as well, but in that respect, he is not so dominant."
His emergence as the Galileo of Chile, however, is not all good news for his South American supporters since Scat Daddy has been grounded at his Northern Hemisphere base of Ashford Stud in Kentucky after failing to reach his Argentinean shuttle destination in 2013. Then a 9-year-old, Scat Daddy suffered a severe bout of dehydration during the first leg of his journey to Haras la Quebrada in Buenos Aires, which resulted in an aborted trip. He did not shuttle this year.
As a result, Scat Daddy is one of the busiest stallions in Kentucky today during the Southern Hemisphere season. For instance, he was scheduled to cover 30 mares belonging to Chilean breeder Felipe Sullivan during the 2014 Southern Hemisphere season. Many of the mares were sourced specifically for the job - a good number descend from Gone West, a sire line that has worked particularly well with Scat Daddy in Chile.
In response to the growing demand for Scat Daddy in South America, Coolmore catalogued 18 mares bred to the horse to Southern Hemisphere time to the recent Keeneland November Sale. Following five withdrawals, nine of 13 mares offered sold for an average of $87,778. They included Pokolbin Girl, a Lookin At Lucky half-sister to Smarty Jones who sold for $260,000 to Calumet Farm. Sullivan also added to his reserves by paying a total of $90,000 for two mares.
Meanwhile, Chilean breeders have access to another emerging son of Johannesburg in Diamond Tycoon. In a manner reminiscent of his relative Pulpit, Johannesburg has developed into a particularly good sire of sires - in addition to Scat Daddy, other sons include Sageburg and Teuflesberg, both G1 sires out of limited early crops.
Now Diamond Tycoon, a G3 winner who stands at Haras Villa Rosa in Chile, is maintaining the trend. He was represented by juvenile G1 winner Nepomuceno out of a small first crop in 2013, which has earned him greater support. It will be fascinating to see how he fares down the line.