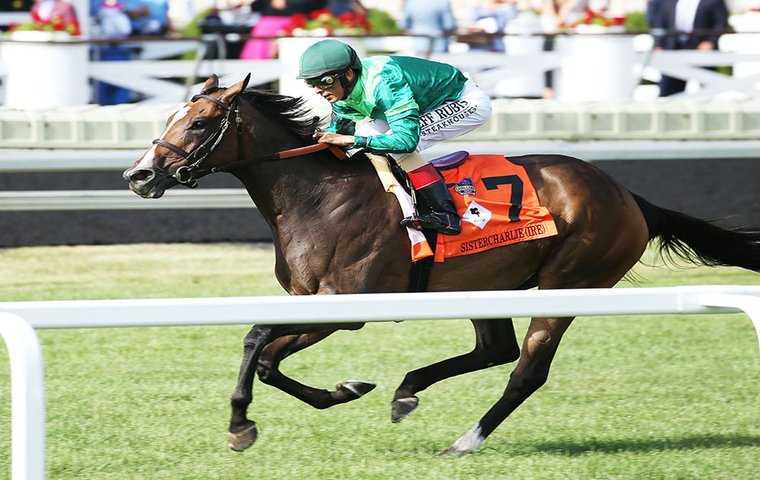 It was in this slot just seven days ago that we were hailing John Gosden's achievement in becoming the world's top-ranked trainer. 'Racing's Odd Couple' are on top of the world at last' our headline read, in reference to the sometimes playful double act of Gosden and Frankie Dettori, who assumed the number-one berth in the TRC jockeys' standings at exactly the same time.

Well Dettori remains top of the pile for a second week, doubling his hard-won lead over former #1 Ryan Moore to two points, but for Gosden (-1pt, down one place to #2) it was a very short reign.
Mind you, with the ferocious firepower in U.S. conditioner Chad Brown's armoury, that was hardly surprising, particularly on a weekend like the one just gone.
In America, remember, Saturday was Arlington Million day in Chicago, featuring three richly endowed G1s on the surface that has become almost the 40-year-old supertrainer's personal fiefdom.
Brown (+4pts, up two places to #1) pillaged the lot, and stuffed a G3, also on turf, into his knapsack for good measure. Bricks And Mortar took the Million itself, with stablemate Robert Bruce grabbing fourth-place money, Sistercharlie was too good in the Beverly D (with Brown also saddling the third and fifth), and Valid Point was an impressive winner of the Secretariat, with favored stablemate Fog Of War a disappointing sixth.
Over at Saratoga, he came away empty handed, in that none of his three won the G1 Fourstardave, but they did finish second, third and fifth, which kinda underlines his dominance.
Now Brown has proved time and again that he's just as capable at training dirt runners, but he's absolutely got this turf game down to a tee Stateside, and very few potential rivals seem able to challenge him effectively. Brown gets the right horses, many of them from Europe, trains them the right way, then lets them loose on the rich pickings to be had in what is a fast-growing sector in American racing.
With many more valuable turf prizes to come in North America over the next couple of months, don't think for a second that Brown will be easy to reel in at the head of the TRC Global Rankings. Indeed, the odds are that he could extend his advantage (currently just one point) while his main rivals for the top spot, Gosden and another recent incumbent, Charlie Appleby (-1pt, down one place to #3), have to battle each other and the momentarily tame former undisputed world #1 Aidan O'Brien (-2pts, stays #5) for the more competitive big prizes up for grabs on the other side of the Atlantic.
As is his custom, O'Brien fired five shots at the Arlington G1s, and while the team didn't exactly miss all targets (they had two seconds and a fourth) they were unable to penetrate the Chad Brown defensive shield. These U.S. G1s may be softer targets than the ones at York, say, for next week's Welcome to Yorkshire Ebor Festival, but Brown particularly has made sure they're not quite so soft these days, and O'Brien can't expect to plunder them anymore with runners from his second- or third-team squads.
If he wants to win a few, he needs to send his best horses.
In the meantime, the Irishman is now well off the pace at the top of the rankings. He is no less than 22 points behind Brown, who is just one point clear of Gosden and two ahead of Appleby. Fourth-placed Bob Baffert (-1pt, stays #4), another former #1, is 17 points behind Appleby.
Next week could be good for Gosden, who runs the mighty Enable in the Yorkshire Oaks on Thursday and also sends out the exciting Kingman colt King Of Comedy for one of Europe's races of the year, the Juddmonte International, the day before. Against that, Brown is sure to be well armed for Travers Day at Saratoga a week on Saturday, which features a spectacular card of six G1s and a prestigious G2.