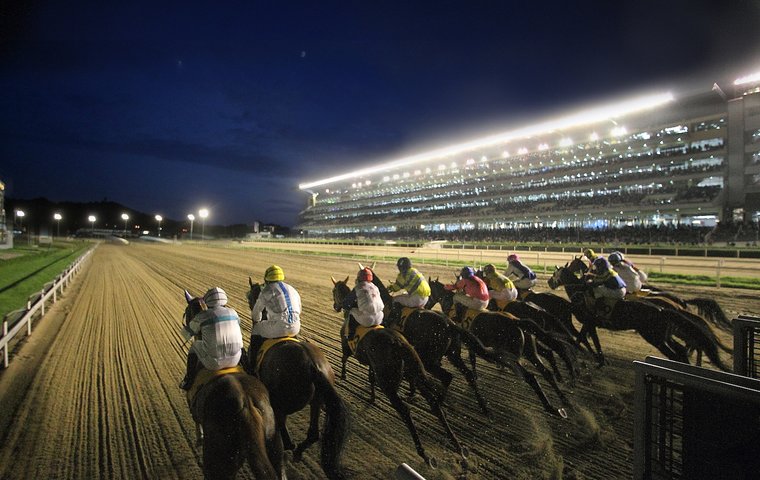 U.S. racing fans could enjoy South Korean racing for the first time last Saturday, when races from the LetsRun Park Busan–Gyeongnam track premiered in North America.

Even better for domestic fans, all races were won by Thoroughbreds sired by American stallions. In total, there were 11 races broadcast live into North America from the racecourse in Busan, South Korea's second city, by Sky Racing World – and all the winners had a US connection.
The first winner of the night was Yeonghui Sidae, a 2-year old filly sired by the 2011 Breeders' Cup Juvenile and 2011 Kentucky Cup Juvenile winner Hansen. Two winners later in the night, 3-year-old mare Bijangui Mugi and 3-year-old colt Chodong Sky, are by the Kentucky-bred Ecton Park, winner of the 1999 G1 Super Derby at Louisiana Downs and the G2 Jim Dandy at Saratoga the same year.
All the winners at Busan last Saturday had an American sire, while almost all also had a dam from the USA. The full winners' list with their pedigree is below:
Race 1 - YEONGHUI SIDAE - Hansen (sire; USA) - Pebble In The Sand (dam; USA)

Race 2 - RUNNING GIRL - Mambo Train (sire; USA) - Morning Java (dam; USA)

Race 3 – GYEONGYEONHANJILJU - Sharp Humor (USA) - Lovely Woman (AUS)

Race 4 - K O BARAM - One Cool Cat (USA) - Sky Center (USA)

Race 5 - MAKING SEUNGNI - English Channel (USA) - Makin Heat (USA)

Race 6 - BIJANGUI MUGI - Ecton Park (USA) - Singapore Dream (USA)

Race 7 - FIRST KING - Cowboy Cal (USA) - Tensas Palmyra (USA)

Race 8 - CHODONG SKY - Ecton Park (USA) - Naughty Bridget (USA)

Race 9 - YUSEONG VICTORY - Sharp Humor (USA) - Earth To Nina (USA)

Race 10 - LUCKY NOVA - Vicar (USA) - Jeongtongseong (KOR)

Race 11 - UJU STAR - Officer (USA) - Cat Lea (USA)

It is not surprising to see such a large representation of U.S.-sired horses in the winner's circle, as the top ten leading sires by prize money for South Korea in 2016 were all American bred. For the fifth year running, Menifee, who placed in the 1999 Kentucky Derby and Preakness Stakes before being shipped to South Korea in 2006, claimed the 'Leading General Sire in Korea' title.
The next best sires, all from the U.S, were the Kentucky-bred Forest Camp, the aforementioned Ecton Park, the now-deceased Vicar, and 2004 New Orleans Handicap winner Peace Rules. Colors Flying, Officer, Didyme, Sharp Humor, and Exploit also made the list last year.
David Haslett, President and CEO of Sky Racing World, said: "U.S. breeders understand the size and potential of the Korean horse-racing industry. Now that wagering is available in the States, it won't be long before smart handicappers in North America get involved too. The quality of horse is obviously there, the fields are big and they race on sand surfaces similar to the North American dirt."
On Thursday and Saturday nights EDT/PDT, races are simulcast from the Korean Racing Association's Busan track, and from the capital's LetsRun Park Seoul track on Friday and Saturday nights EDT/PDT. The Korean races are simulcast from about 9:45 p.m. EDT until 3:30 a.m. EDT (6:45 p.m. PDT to 12:30 a.m. PDT).
The South Korean racing schedule will continue weekly through August before reaching its summer climax on Saturday, Sept. 9, with the second annual G1 Keeneland Korea Cup. This 3-year-olds-and-up race with a purse of 1 billion KRW ($877,000) runs over 1⅛ miles at LetsRun Park Seoul. The day also features the G1 Keeneland Sprint, a 700 million KRW ($614,000) race for 3-year-olds and up over 6f.
American racing fans can visit Sky Racing World for live streaming, past performances and race info for all South Korean cards this Thursday, Friday and Saturday night. All races are also available for wagering and live-streaming via TVG, TwinSpires, Xpressbet, BetAmerica, WatchandWager, NYRA Bets, AmWager, and HPIBet.