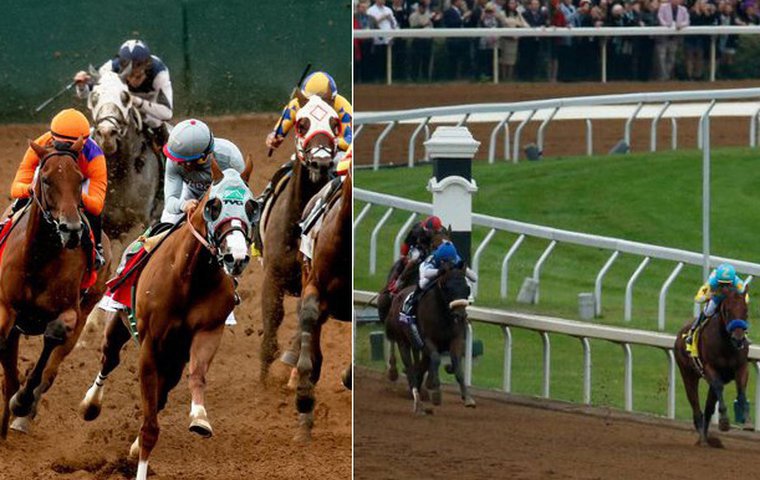 California Chrome versus American Pharoah: which really is the best? It's idle speculation, of course, but something jockey Victor Espinoza said after Chrome's awesome performance in the Pacific Classic on August 20 meant we had to ask TRC readers the question.

Espinoza is in a pretty good place to make a judgement, having ridden American Pharoah in 10 of his 11 races and Chrome in his last 17, so you had to take notice when he announced after the race at Del Mar: "He's just an amazing horse. He won so easy today. I'm going to say this now - this is the best horse I've ever ridden."
Asked directly whether he thought California Chrome was now the superior horse, the rider said: "Yes. The way he's running now, yes."
Of course comparing last year's Triple Crown and Breeders' Cup Classic hero, who retired at the end of his fabulous 3-year-old career, with the now fully mature 5-year-old, who has won more prize money than any other Thoroughbred in American history, is a thankless task. But we asked readers to do it anyway.
'California Chrome v American Pharoah: who is the greatest?' was the question in our poll - and the votes came pouring in.
The result wasn't even close.
American Pharoah, now on duty at Coolmore's Ashford Stud in Kentucky, received 89 percent of the vote.
Clearly - and understandably - winning a Triple Crown is a hard act to top.
But ultimately it's impossible to know who really was the best, and does it matter anyway? As one TRC reader put it: "AP may have won the Triple Crown and the Breeders' Cup, [setting] his own path. California Chrome has also set his own by being the richest [U.S.] racehorse to date. They both are awesome horses."