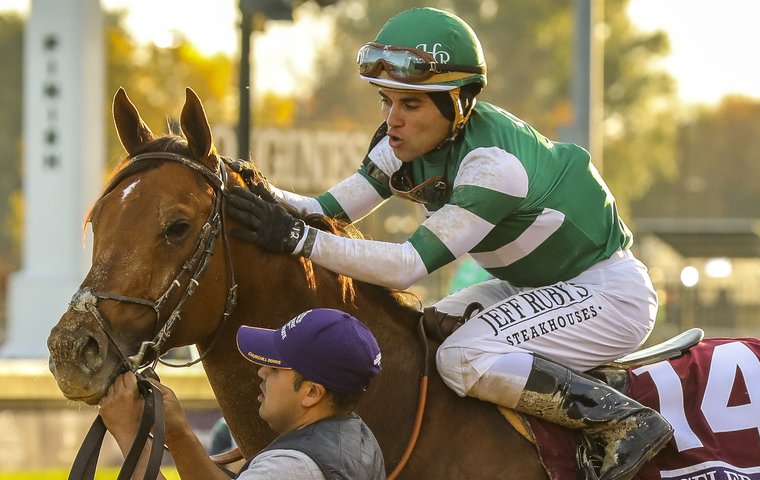 Senior TRC writer Bob Ehalt explains who he voted for and why in each of the 16 main divisions for the 2017 U.S. Eclipse Awards, which will be presented at Gulfstream Park, Miami, on Thursday.

My Eclipse Award ballot was officially submitted at 12:21 a.m. on Jan. 2. Yet my vote for Horse of the Year was sealed on June 6, 2015.
If you are an equine history buff, then you might recall that was the day American Pharoah triumphed in the Belmont Stakes and became the 12th Triple Crown champion. That alone should tell you which way I voted, but allow me to explain why I opted for Justify as Horse of the Year despite some very valid reasons for looking elsewhere for a worthy choice.
Without question, Accelerate would have been an outstanding honoree – in most years. Yet much like Exceller, who won six Grade 1s four decades ago in 1978 yet did not receive an Eclipse Award, Accelerate enjoyed his greatest success in the wrong year.
Who do YOU think should be Horse of the Year: take part in our reader poll. Click here
Having been an avid racing fan since 1971, I lived through the almost unfathomable 37-year drought from 1978-2015 without a Triple Crown winner and it taught me how it takes a rare talent to sweep the Kentucky Derby, Preakness and Belmont Stakes.
The quality of the horses Justify joined in becoming a Triple Crown winner speaks for itself. Yet just a small notch below them are the all-time greats who were not up to the task of winning those three classics during a small window of time that now stands at five weeks - the amount of time that has become a more typical amount of rest between two starts for Grade 1 horses.
Given how the immense popularity of the Triple Crown awakens mainstream sports fans to the existence of horse racing for a few weeks, the impact of sweeping the three races extends far beyond the racetrack and regional bias and fits the criteria for Horse of the Year like a glove.
With Justify's year and career ending with an undefeated record for trainer Bob Baffert, it only strengthens the case supporting him.
If Triple Crown sweeps become as commonplace as favorites winning the Kentucky Derby, then it will be a different story. But, for now, the Triple Crown remains racing's greatest accomplishment and a horse who can win all three legs is deserving of the sport's most coveted prize.
For younger and newer fans who have experienced a pair of Triple Crown sweeps in three years, it is understandable if they gravitate toward Accelerate, who had five Grade 1 wins, as their Horse of the Year.
I felt the same way in 1979.
Why all the fuss?
My introduction to the sport came amid a crowd of 82,694 at the 1971 Belmont Stakes when Canonero II failed in his bid to become the first Triple Crown winner in 23 years. At the time, the Triple Crown seemed a very special feat.
But, in the course of the next eight years, I saw three Triple Crown sweeps and four years in which a horse won two legs of the series.
By the time the 1979 Belmont Stakes rolled around, and Spectacular Bid seemed a mortal lock to make it three Triple Crown winners in as many years, it was natural to wonder why there was such a fuss about winning those three races.
Little did I know, that after sitting in the grandstand at Belmont Park as a 21-year-old college graduate and watching Affirmed beat Alydar to secure the Triple Crown in the 1978 Belmont Stakes, I would not see another Triple Crown winner until my three sons were college grads.
That's why I voted for Justify, even though he did not race after June 9. As much as the framework for an Eclipse Award runs from January to December, in less than four months, he earned a permanent and prominent spot in racing history and stamped himself as the brightest star of 2018.
And that's why I'll keep voting for Triple Crown winners as Horse of the Year – until it's 1979 all over again.
As for the rest of my ballot:
2-YEAR-OLD MALE
Finalists: Game Winner, Improbable, Knicks Go
One of the easiest choices on the ballot, Game Winner should be a unanimous winner. Undefeated in four starts for Baffert, he posted three Grade 1 wins, capped by a triumph in the Breeders' Cup Juvenile, which made it game, set and match at the voting booth.
2-YEAR-OLD FEMALE
Finalists: Bellafina, Jaywalk, Newspaperofrecord
A year ago, my vote went to Rushing Fall, the undefeated grass star. This year, there's an even brighter turf ace in Newspaperofrecord, but I sided with Jaywalk. Why? In 2017, the eventual champion, Caledonia Road, recorded her lone Grade 1 win in the Breeders' Cup Juvenile Fillies, and seemed only marginally better than the year's other top dirt runners.
That led me to the undefeated Rushing Fall, who defeated international competition in the Breeders' Cup Juvenile Fillies Turf. But here, Jaywalk had two Grade 1 wins by a combined margin of more than 11 lengths and a faster time in her BC Juvenile Fillies victory than Game Winner in the BC Juvenile. As exceptional as Newspaperofrecord may turn out be at three and four, Jaywalk had the better year at two and should get the Eclipse Award.
3-YEAR-OLD MALE
Finalists: Catholic Boy, Justify, McKinzie
Yes, I checked the box for Justify. Next!
3-YEAR-OLD FEMALE
Finalists: Midnight Bisou, Monomoy Girl, Rushing Fall
Another no-brainer. Aside from dominating her division with six wins in seven starts – and the lone loss coming via disqualification in the Cotillion – Monomoy Girl bested older horses in her Breeders' Cup Distaff victory and was a very deserving finalist in the Horse of the Year race.
OLDER DIRT MALE
Finalists: Accelerate, City of Light, Gun Runner
It says a lot about the division when Gun Runner runs once in 2018, winning the Pegasus World Cup on Jan. 27, and finishes among the top three. Nevertheless, there was nothing flimsy about Accelerate's year with the five Grade 1 wins, including a decisive win in the Breeders' Cup Classic and victories in the Awesome Again, Pacific Classic, Gold Cup at Santa Anita and Santa Anita Handicap. He may not have been Horse of the Year, but Accelerate was truly a champion in 2018.
OLDER DIRT FEMALE
Finalists: Abel Tasman, Marley's Freedom, Unique Bella
Unique Bella became an afterthought in the Eclipse Award race after her career ended following a win in the Clement L. Hirsch on July 29. Yet, as Abel Tasman soured in her final two starts of the year and a 3-year-old captured the Breeders' Cup Distaff, it re-introduced Unique Bella to voters. She only raced four times, but had Grade 1 wins in the Hirsch and Beholder Mile and might have finished with three if not for bobbling at the start of the Grade 1 Apple Blossom, when she settled for second. When all was said and done, it was Unique Bella who had the best year.
MALE SPRINTER
Finalists: Imperial Hint, Roy H, Stormy Liberal
While Imperial Hint was the division leader for much of the year and an 8/5 favorite in the Breeders' Cup Sprint, when Roy H beat Imperial Hint by five lengths in the division's most important race, it gave him back-to-back BC Sprint wins and a second straight year as an Eclipse Award winner.
FEMALE SPRNTER
Finalists: Finley'sluckycharm, Marley's Freedom, Shamrock Rose
This might be the sport's least glamorous division and was one of the toughest choices on the ballot. There are only a handful of Grade 1 stakes, increasing the importance of the Breeders' Cup Filly & Mare Sprint and turning it into the division's biggest measuring stick. A year ago, Bar Of Gold won the BC Filly & Mare Sprint, but she was a 66/1 longshot and the crown went to Unique Bella, who was a disappointing seventh in that race as a 6/5 favorite. Shamrock Rose was victorious in the 2018 BC Filly & Mare Sprint at 25/1, but, in her case, she won the Grade 2 Raven's Run in her previous start and those two victories earned her a narrow edge over Marley's Freedom, a Grade 1 winner who lost by a half-length at the Breeders' Cup.
MALE TURF HORSE
Finalists: Expert Eye, Glorious Empire, Stormy Liberal
This was another close race, with a pair of Breeders' Cup winners in Expert Eye (Mile) and Stormy Liberal (Turf Sprint), but my vote went to Glorious Empire. It wasn't the best of years for male distance turf runners, but Glorious Empire did just enough to edge out rivals who were far more successful than him on Breeders' Cup Day.
In Expert Eye's case, he had a single race in the U.S. and that's not enough for an Eclipse Award, even in a year like this one. As for Stormy Liberal, he looked great at the Breeders' Cup, but the turf sprint division lacks an abundance of robust stakes. Glorious Empire flopped on a boggy track in the Breeders' Cup Turf and finished last, but with a victory in the Grade 1 Sword Dancer, a dead-heat win in the Grade 2 Bowling Green and a December victory over a quality field in the Grade 2 Fort Lauderdale, he ran in the best races and had the best body of work.
FEMALE TURF HORSE
Finalists: A Raving Beauty, Enable, Sistercharlie
Speaking of the Breeders' Cup Turf, the European super filly Enable posted a historic victory in that mile-and-a-half test by becoming the first horse to win both Prix de l'Arc de Triomphe and BC Turf in the same year. A victory that monumental goes a long way toward winning an Eclipse Award, but, again, it was her lone start in America and there was another highly worthy candidate who spent the entire year dominating the division here in the U.S. of A.
Sistercharlie won four of her five 2018 starts, registering all those wins in Grade 1 stakes: the Breeders' Cup Filly & Mare Turf, Beverly D., Diana and Jenny Wiley. As much as Enable was the best turf female to race in the U.S. in 2018, it was Sistercharlie who had the kind of year for trainer Chad Brown that goes hand in hand with an Eclipse Award.
STEEPLECHASER
Finalists: Jury Duty, Optimus Prime, Zanjabeel
My vote went to Zanjabeel, who closed the year with a pair of Grade 1 wins and was second in his other two 2018 starts.
OWNER
Finalists: Peter Brant, Hronis Racing,Team Justify
Voting for the Team Justify partnership of WinStar Farm, China Horse Club, Starlight Racing and Head of Plains Partners had a dual purpose. It honored the owners of a Triple Crown winner and also gave a piece of an Eclipse Award to Sol Kumin, of Head of Plains Partners.
Kumin had the best year of anyone in the sport as he raced under the banner of four partnerships – Head of Plains, Madaket, Monomoy and Sheep Pond – and owned a share of Justify, Monomoy Girl, Travers winner Catholic Boy and Florida Derby winner Audible, to name a few, with a variety of other ownership groups. Over the course of 2018, he owned a part of 39 horses who combined to win 24 Grade 1s and at least 54 Graded stakes, which is problematic for the sport's statistical services, but is nevertheless an amazing achievement.
In a sense, considering how Kumin's business model is built on partnerships, it's fitting that he shares as the prize as the year's outstanding owner.
TRAINER
Steve Asmussen, Bob Baffert, Chad Brown
Have to say, this was the most difficult category to pick a winner. For the last month, I flip-flopped on a daily basis between Baffert and Brown. Had I voted on Jan. 3, I might have sided with Baffert, but on Jan. 2 my vote went to Chad Brown. Baffert had an amazing year, highlighted by his work with Justify. He became just the second trainer with two Triple Crown winner and also ended the 136-year-old Curse of Apollo by winning the Kentucky Derby with a horse who did not race at two and campaigned the undefeated 2-year-old champion male. If he wins the Eclipse Award, there will be no argument from me.
Baffert also ended the year taking by displacing Aidan O'Brien as world #1 in the TRC Global Rankings (Brown is close behind in third).
What put me in Brown's corner was his 20 Grade 1 wins, an incredible achievement, especially when you consider that he has a bevy of turf stars and rain disrupted East Coast grass racing in the late summer and fall. He was also a runway winner of the Saratoga training title and, with 224 wins, a winning percentage of 27 for the year and earnings of $27,546,057 that led all trainers, he had the best year by the narrowest of margins.
JOCKEY
Finalists: Irad Ortiz Jr, Jose Ortiz, Mike Smith
When you consider that Mike Smith had only 246 mounts and still found time to win the Triple Crown with Justify and notch 13 Grade 1 wins with earnings of $11.8 million, it's astonishing. Yet, given all of the inherent risks in race-riding, it doesn't seem right to honor someone who rides about one-seventh of the mounts as the other leading candidates. Irad Ortiz didn't win as many Grade 1s as Smith or his brother, Jose Ortiz, but, with a North America-leading 346 wins, including 52 when he won the riding title at Saratoga, and earnings of $27.7 million, it's clear he was the year's best rider on a day-in, day-out basis.
APPRENTICE JOCKEY
Finalists: Reylu Gutierrez, Weston Hamilton, Edgar Morales
Without the benefit of seeing all of the top contenders on a regular basis, Weston Hamilton had the most wins (120) and wound up with my vote.
BREEDER
Mike Abraham, John D. Gunther, WinStar Farm
The numbers favored WinStar with roughly 185 victories from approximately 1,125 starters, but it was John D. Gunther who bred a Triple Crown champion and it this case it was quality in the form of Justify winning out over quantity.