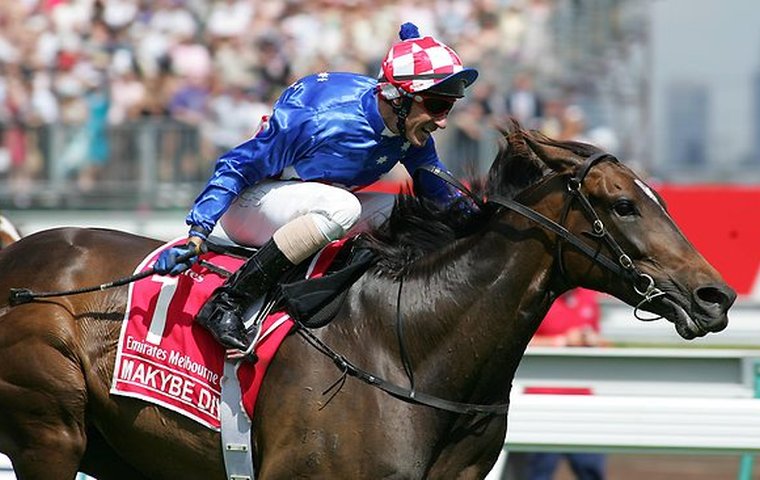 The story of Briseis, the first female winner of the Melbourne Cup, is a remarkable one. Not only did she win the demanding two-miler at the tender age of three, she won it during a stellar week that saw her race on four days of the 1876 Melbourne Cup Carnival.

Thrashing the males and smashing the track record in the VRC Derby on the Saturday, she won the Cup on the Tuesday and the VRC Oaks on the Thursday before finishing second in the now defunct Mares Produce Stakes two days later.
And all that was on the back of a just as remarkable 2-year-old campaign that saw Briseis defeat the older horses in the Doncaster Handicap and the All-Aged Stakes.
Peter St Albans, originally Briseis' strapper, became her regular rider. Born Peter Bowden, he took the name of the stables he worked for (the famous St Albans at Geelong - where Phar Lap was famously hidden prior to his 1930 Melbourne Cup victory) - and goes down in history as the youngest jockey to win the big race.
Officially 13 at the time, St Albans was more likely just 11!
Sadly the first female Melbourne Cup winner was unable to make an impact at stud, Briseis rearing as she was being prepared to be served by King Of The Ring, flipping backwards and dying instantly.
Filly who impressed Mark Twain
It would not be till 1895 that racegoers would cheer on another female Melbourne Cup winner, and it was again an exceptionally tough filly - Auraria.
She too raced four times during the one week, finishing third in the VRC Derby and two days after her Melbourne Cup victory claiming the VRC Oaks. Another two days on she dead-headed the Fisher Plate (now the Queen's Cup) with her VRC Derby conqueror Wallace
En route Auraria had won the South Australian Derby, now run in May but back then a couple of months before the Melbourne Cup.
At stud Auraria - whose Cup win had stirred the imagination of a visiting Mark Twain - was disappointing, but she produced four daughters who went on to make their mark.
Visiting the Melbourne Cup winner Carbine's son Pistol, Auraria produced Little Joan, dam of the South Australian Derby winning stallion King Of Mirth (by the 1910 Melbourne Cup winner Comedy King) who fared well at stud, with the best of his progeny being the VRC Oaks heroine Alinura.
Other big-race-winning descendants of Auraria include Primavera (VRC Oaks), Lady Aura (Stradbroke Handicap), Galway Pipe (Goodwood Handicap) and the wonderful mare Dual Choice - winner of eight races now classified as Group 1s.
The third female - and the first mare - to win the Melbourne Cup was Acrasia in 1904. Fourth in the same race two years previously, she was also runner-up in the Caulfield Cup, and she is one of only two 7-year-old mares to win ... Makybe Diva is the other. Sadly she had had no impact at stud.
Sister Olive's legacy
The same could not be said of 1921 winner Sister Olive, another 3-year-old who was able to outstay her older rivals. She produced two highly quality stakes winners, the C.F Orr Stakes and Perth Cup winner Manolive and the South Australian Derby winner Mount Of Olives ... in turn dam of stakes winner Ronolive, who was also a good broodmare, producing the VRC Oaks winner Amarco.
And she in turn was the dam of the champion Tobin Bronze, winner of a whole host of big races, including a Cox Plate, a VRC Derby, a Mackinnon Stakes, a Doncaster Handicap and a Caulfield Cup.
Other Group 1 gallopers to descend from Sister Olive include Cromwell (Newmarket Handicap, Oakleigh Plate), Persian Bronze (South Australian Oaks), Flying Luskin (Wellington Cup), The Delegator (South African Guineas), Umrum (two Toorak Handicaps), Galena Boy (VRC Derby) and Kenwood Melody (Caulfield Guineas).
In 1939 Rivette created history as the first mare to win the Caulfield Cup-Melbourne Cup double. The non-stud book mare did not do a great deal at stud and has few descendants, though Dame Largo - nine times placed from 27 starts - has desperately been trying to break her maiden in Victoria in recent times.
Notable influence
More influential at stud has been the 1945 Melbourne Cup winner Rainbird, who has appeared in the pedigree of a recent Group 1 winner, this year's BTC Cup winner Malaguerra (who also, aptly, won on Melbourne Cup Day last year) having her as his seventh dam.
The dam of South Australian Oaks winner Raindear, Rainbird is also ancestor of the Group 2 winner Tennessee Jack, who ran sixth in Vintage Crop's Melbourne Cup, and the successful stallion Centaine.
Defeating grand galloper Redcraze in the 1956 Melbourne Cup, Evening Peal - also winner of the VRC and Queensland Oaks - did not enjoy much success at stud, the stakes-placed Even Song her best.
Surprise 50-1 Melbourne Cup winner Hi Jinx (1960) was represented by four winners but none of particular note. Group 3 winner Robyn's Affair was a descendant but this is a family that seems to have died out.
A few disappointments
The first of the legendary Bart Cummings' 12 Melbourne Cup winners - and one of his favourites - bonny mare Light Fingers (1965) produced the Group 3 winner Nimble Touch but had only three daughters at stud. Unfortunately none of the trio had any lasting influence.
The big chestnut Empire Rose was the next mare to win the Melbourne Cup (1988), her enormous frame almost hiding runner-up Natski! While she was disappointing at stud, her daughter Rosie's Star produced the Queensland Derby winner Empires Choice, a stallion prospect who sadly died from injuries sustained in a race fall.
Also grandam of the Macau stakes winner Sunshine Kingdom, Rosie's Star is one of only two fillies produced by Empire Rose, the other, Ripplin' Rosie, being dam of the listed winner Southern Sav.
Let's Elope's 100 percent record
Passing away recently at the grand old age of 29, Let's Elope is one of the classiest of all Melbourne Cup winners, having also won a Caulfield Cup, a Mackinnon Stakes, an Australian Cup, a Turnbull Stakes and a C.F Orr Stakes.
All six of Let's Elope's progeny to race were winners, including the Adelaide Cup winner Outback Joe and fellow Group 2 winner Ustinov, sire of five stakes winners including the Group 1 galloper Vonusti.
Also dam of the stakes-placed Caught Courting, Let's Elope is grandam of the Group 3 mare Let's Make Adeal and the promising mare Yulong Baby, who earned black type with a listed placing in Adelaide just a few weeks ago.
And the best may still be to come for this family - stay tuned!
Part of a female quinella for champion stallion Zabeel (Champagne was second), Jezabeel was a particuarly tough Melbourne Cup winner, fighting back after being headed close to home.
Jezabeel, who died in 2015, was represented by three winners and is the grandam of Macau star Wonder Mossman and the stakes-placed gallopers Faustus, Marmalady and Lucky Edie. And she has four daughters at stud in Australia, visiting such stallions as Dalakhani, Pierro, Deep Field, More Than Ready and Shooting To win.
Quiet achiever
Ethereal's successes in 2001 put her trainer Sheila Laxon in the limelight as the first official trainer of a Melbourne Cup winner. Also winner of the Caulfield Cup, the daughter of Mr Prospector's Breeders' Cup Juvenile winner Rhythm and the Hong Kong International Cup winner Romanee Conti has been a quiet achiever at stud.
While none of her progeny are stakes winners, five are winners, including the New Zealand Derby-placed Uberalles and the Group 3-placed Duquesa.
Ethereal is also grandam of the promising 3-year-old Eleonora, who aptly won the G3 Ethereal Stakes at Caulfield on Saturday.
Anxious fans
Which brings us to the most recent and perhaps the most famous of all Melbourne Cup winning mares.
The marvellous Makybe Diva accomplished what no horse has done before (or is likely to do so again) - winning three consecutive Melbourne Cups (2003-2005).
Never has the spotlight been more on a Melbourne Cup-winning mare at stud, and fans are anxiously awaiting for Makybe Diva to produce something with some of her ability.
No such luck as yet but it's still early days for Makybe Diva, with her 2-year-old All Too Hard filly (recently christened Divanation) in work with Tony McEvoy. Due in mid-October to Brazen Beau, she also has a yearling by globe-trotting sprinter Starspangledbanner.