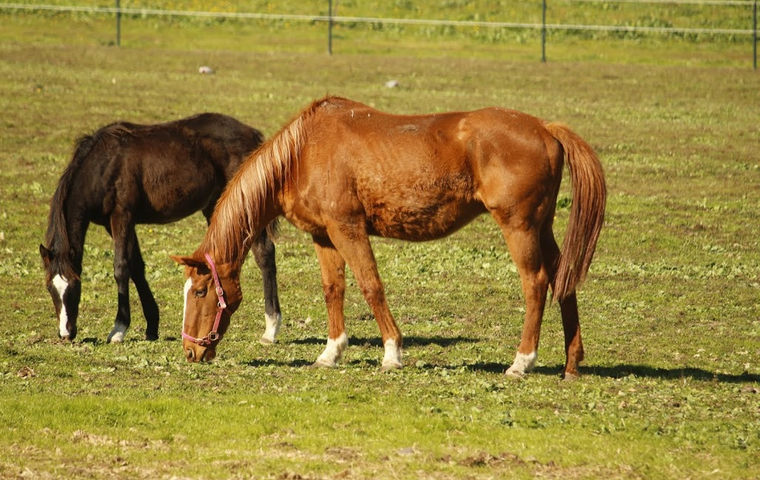 She had the ideal life. A lovely upbringing in idyllic surroundings followed by a highly successful career which earned her widespread admiration and respect. She was granted the best of everything; quality housing and feed, international travel.

From New Zealand to Australia to Japan and the United States. She saw plenty, experienced much.
"A big family with her sons, daughters and grandchildren excelling. And then a peaceful retirement, enjoying plenty of love and attention.
That's a lot to fit into a lifetime. A human lifetime, let alone an equine one.
This is the 29-year story of the mighty mare Let's Elope.
One of the best mares ever to race in Australia, the golden chestnut died peacefully under her favourite oak tree in her favourite paddock at Lauriston Park at Creighton's Creek in north eastern Victoria.
It was Monday, September 12, just two days after the 23rd running of the race named in her honour - the G2 Let's Elope Stakes contested over 1,400 metres at Flemington.
Scene of her greatest triumph, the 1991 Melbourne Cup.
Robust yearling
But let's start at the beginning. Highview Stud in Waikato, prime New Zealand breeding country. Let's Elope was foaled there on November 20, 1987.
At that time, tax incentives were in place to encourage breeding partnerships, and the stakes-winning Battle-Waggon mare Sharon Jane was purchased by the stud's Brent Gillovic.
Not that she had been an intended purchase, Gillovic originally heading to the property of the late Phil Bayley to look at another mare. But there was something about Sharon Jane that grabbed his attention.
"I preferred the look of her, so we bought her and sent her to Nassipour as we had purchased a share in him."
Gillovic remembers the resultant filly pleasing the eye from early on. "As a yearling she was quite a robust type, and a great walker."
The same year, Highview bred another talented Nassipour, the gelding Grooming, who would win six races - including the 1992 G1 Brisbane Cup - for winemaker Wolf Blass.
A year later, they also bred Richfield Lady, who was purchased in a package with Let's Elope for her Australian owners. Sadly she died young in her first year at stud, having won eight races, including the 1991 G1 1,000 Guineas and VRC Oaks.
"Breeders are naturally very passionate about the horses they breed and it was just an unbelievable ride through that 1991-92 season," Brent said.
Another Cummings one-two
On the strength of the major victories recorded by Let's Elope, Richfield Lady and Grooming, Highview won the accolade of NZ Breeder Of The Year. "I am not sure what was in our grass that year," Gillovic joked.
"Breeding Let's Elope is certainly the highlight of our breeding history here at Highview, an absolute thrill. I am pretty much resigned to the fact that we will never breed another one like her - she was a great mare, surely a legend of the Australian turf."
"It is sad to see her go, but 29 is a very decent old age and she has been very well looked after," he said, adding that Highview is home to another grand retiree, the multiple stakes winning 27-year-old Dopff.
Part of legendary trainer Bart Cumming's fifth quinella in the Melbourne Cup, Let's Elope was 3-1 favourite in the world famous handicap even though at the time nominations were taken for the race a few months previously she was almost unheard of.
Even by Bart Cummings!
Previously trained in New Zealand, Let's Elope had won her maiden on debut, quickly showing glimpses of future greatness by finishing third at G1 level at just her fourth start.
And, on her fifth start, she was a G3 winner, claiming the Centaine Stakes at Manawatu in March 1991.
The difference blinkers made
Six months later, she debuted for the Cummings stable. There was no fanfare - she was 50-1 in a 1,200m handicap at Caulfield.
But, after an eye-catching fourth, she was closer up in the market - though still at double odds - in the listed Milady Stakes at Flemington on her next outing. She improved, third this time, beaten by two fast and classy mares, Shavano Miss and Reno Belle.
Both runs were on rain-affected tracks, and as time went on it became apparent that it was not the favoured going for Let's Elope. She was an unplaced favourite on a slow track in listed company on her third Australian outing, but on Saturday October 5 she struck, for the first time - on a fast track.
And a change of gear was employed. Blinkers were added.
It is astounding what difference that one piece of equipment can make. For Let's Elope, it saw the transition from promising horse to superstar.
The 1991 Turnbull Stakes - then run at G2 level (upgraded to elite status in 2006) - attracted a stellar field of spring carnival hopefuls. On paper it looked an even, competitive field.
But in the end one horse stood above all.
Caulfield Cup victory
What a turn of foot Let's Elope displayed that day at Flemington! Jockey Steven King only had to ask once for an effort and away she went, quickly putting 2 1/2 lengths on her well credentialled rivals.
It was a run so full of merit that Let's Elope was elevated in Caulfield Cup markets, and her win in that 2,400m G1 handicap was explosive.
There was not a great deal of pace on, horses were pulling and reefing. Let's Elope was back in the field but, from before the turn, she started to reel them in. Hooking wide into the straight, she let go with her trademark finish. It was her first G1 victory, and a sixth Caulfield Cup for Bart Cummings.
Back to the 2,000m of the weight-for-age G1 Mackinnon Stakes at Flemington on Derby Day, Let's Elope had a bit against her. And it was another great field - the likes of Super Impose, Prince Salieri and Surfers Paradise looking to provide formidable opposition.
But at the 150m mark, she had them. Even the great Super Impose - who ended his career the winner of eight G1s and over $5.6 million in stakes - could not match her finishing dash.
A class above in the Melbourne Cup
And that is how Let's Elope came to be favourite in the 1991 Melbourne Cup. From a tricky gate, she settled back. At times, her task looked a tough one. But Steven King, who on the day was celebrating his 22nd birthday, was always happy. He knew what he had underneath him. And, when he hooked her out into the clear, Let's Elope found those extra gears instantly.
She was wayward in the run home, ducking in and out. It was not pretty, but it didn't matter. Let's Elope was a class above. She won the Melbourne Cup by three lengths from stablemate Shiva's Revenge, surviving a protest. It was a great moment not only for the mare and her connections but also her sire, the Canadian International winner Nassipour ... a Cup quinella for him too.
Back in the summer of 1992, Let's Elope achieved what only the great Cup winners do: a first-up weight-for-age victory over a sprinting trip - the 1,400m of the C.F Orr Stakes. History records that as a G2 victory, but she helped elevate the status of that race, which has been a G1 ever since.
Another G2 success in the St George Stakes at Caulfield followed and then Let's Elope was back at Flemington for the Melbourne autumn carnival's weight-for-age feature, the G1 Australian Cup. It is a race that will forever remain in the memory of Leon Corstens, at the time the Cummings stable's Melbourne foreman. He recalls Let's Elope, as was her want, drifting back through the field.
'Always a professional'
He remembers her hitting a damp patch near Chicquita Lodge (the Tony Lopes stables at the back of the course - stables that featured in many a Flemington race call) and losing ground. "I thought the race was over for her," he said.
But Let's Elope was having none of that. Again she rounded up her rivals, again she quickly put paid to them. Her winning margin was five lengths. A very soft five lengths.
"It was one of the best performances I have ever seen," Corstens said. "It was an exhilarating win." And Corstens has seen a lot of good horses, a lot of great races.
"Let's Elope was a champion," he continued. "She had amazing acceleration and it was a pleasure to have her in the stables. She was always a professional and she was a lady. She did not have a mean bone in her body."
It meant a great deal to Corstens to win, with Commanding Jewel, two editions of the Let's Elope Stakes in 2013 and 2014.
Great hopes were held for Let's Elope in the spring of 1992 but things just didn't go right. She won a match race (well more a spectacle than a race) with the champion Better Loosen Up at Caulfield but got into all sorts of trouble in the most memorable of all runnings of the G1 W.S Cox Plate.
On to America …
Three horses, including the strongly fancied Naturalism, fell or were brought down. In the straight there was crowding, Let's Elope shifting ground. Previous Cox Plate winner Better Loosen Up was behind her with nowhere to go.
And then Super Impose swamped them all. Let's Elope, off a less than ideal preparation, was a gallant second, only to be relegated to fifth on protest.
From there she travelled, along with Naturalism, to Tokyo for the Japan Cup, but it was not to be Australia's day. Naturalism, despite an injury to his hoof was second, while Let's Elope suffered an attack of bleeding, finishing down the track.
It was decided by her owners that Let's Elope should then campaign in the United States. First across the line in the G1 Beverley D Stakes at Arlington, she again missed out in a protest hearing, relegated to third.
Injured soon afterwards, Let's Elope was retired to stud with the breed-shaping stallion Danzig selected as her first mate. Yes I Will, stakes-placed in France and a winner in Victoria, was the result.
Lightly raced (though she did fit in a fifth in the race named after her dam), Yes I Will has produced four winners and has daughters at stud.
Excellent broodmare record
Over The Moon by Storm Cat was Let's Elope's second foal. He was no star but it is no mean feat to have won races at Geelong (provincial Victoria) and Longchamp!
Claiborne Farm's Seeking The Gold served Let's Elope to southern hemisphere time in 1997, the classy Ustinov the result. A three times G1-placed G2 winner, he is still, at 18, going strong at Moorookyle Park, Smeaton, in Victoria, having sired five stakes winners, including the G1 sprinter Vonusti.
Also the dam of the four times stakes-placed dual city winner Caught Courting (by Danehill), Let's Elope saved one of her best for late in her breeding career, at 20 producing the G2 Adelaide Cup winner Outback Joe.
Six foals to race, all winners including four black-type performers - an excellent record for any broodmare. And Let's Elope has several descendants performing well, her granddaughter Let's Make Adeal a G3 winner, while Yulong Baby shows plenty of promise.
Inducted into the Australian Racing Hall Of Fame in 2012, Let's Elope by that time had been well and truly retired, her final foal Karata arriving in 2008. She lived out her days happily as a nanny to weanlings - some of those being her descendants - at Lauriston Park.
For around a decade she lived with cancer, a growth on her neck unsightly but not as dangerous to her as the operation to remove it would have been.
Subject of a medical paper
A few years earlier, that she fought another disease, one never conclusively diagnosed but one that saw her literally brought to her knees. "She couldn't take a stride without shaking and dropping to the ground," Lauriston Park's Chris Bakker recalled.
"It was some sort of rare neurological condition where there was a lack of communication between the nerve endings and the muscles."
A paper on her condition was published internationally, although she was not at the time named. She was being given every chance to recover, plenty of TLC and attention bestowed upon her and fortunately within a few weeks she was back to her old self.
"She was not entitled to live through that," Bakker said, "and it is remarkable that she kept going for so long afterwards."
"She led an amazing life," he continued, "and she relished her job as a nanny. She was so kind and gentle with the young ones, she never kicked or bit."
Calm in a crisis
Bakker recalls many a night checking on weanlings during storms but he never had to worry - the babies would crowd around an always calm Let's Elope and be soothed by her.
Same went when bushfires ravished the property in December 2014. It was a rush to herd all the horses into a couple of paddocks serviced by large dams but Let's Elope remained her ever-composed self.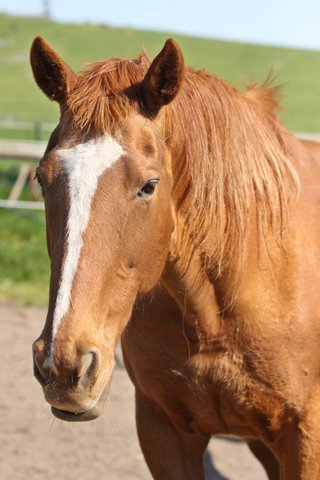 Let's Elope had been with the Bakker family - Chris and his wife Kathie and their daughters Maddie and Jess - ever since her return from America. She was a constant in their lives and they could not be more grateful.
"It has been a privilege to have such a wonderful horse be part of our lives for such a long time," Bakker said.
Always keeping a close eye on Let's Elope, who, since Kingston Rule's death in late 2011, had been the oldest living winner of the Melbourne Cup, Bakker always hoped that her passing would be a smooth one.
And thankfully it was.
"We are happy that she went on her own terms," Bakker said. "There was no suffering and she had reached a fantastic age."
Bakker, of course, has many fond memories of Let's Elope, including watching encounters between her and visitors. "I have worked with many great horses but none have had the impact on people that she had."
The author of this article can attest to that, having always been in awe of Let's Elope on visiting her at Lauriston ... there was just something about this beautiful mare, a star quality, a presence.
She dispelled the myth that high-class mares have to have a mean streak. She made fools of those who said the best race mares disappoint at stud. She did everything well, as Chris Bakker said: "Whatever was asked of her, she excelled at."
HOOFNOTE: as is tradition for great horses, Let's Elope was buried standing up facing the morning sun.