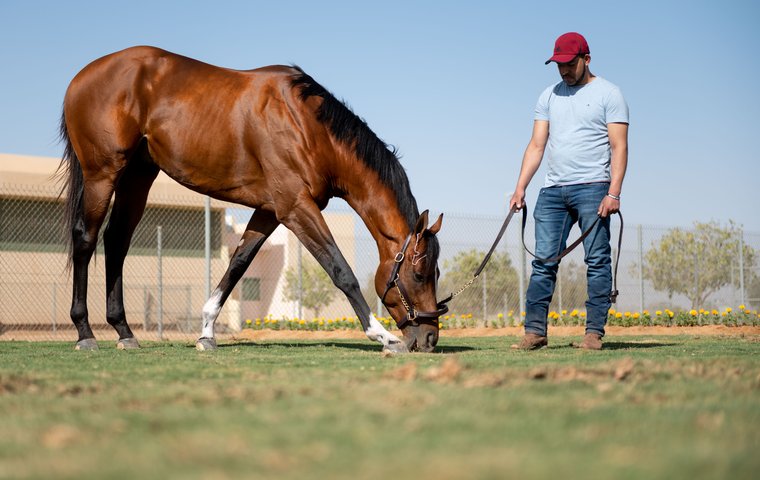 From the standpoint of TRC Global Rankings, the inaugural Saudi Cup – worth the equivalent of US$10m (£7.75m) to the winner – is as richly endowed with global superstars as its purse.

The 14 runners for this nine-furlong test on dirt are accompanied by jockeys including the current #1, #2, #3 in the world, and seven of the top ten in total. While trainers represented number the #4, #5 and #11 among them. Naturally, the world's top two sires by our numbers, Dubawi and Galileo, are responsible for at least one runner each too.
More importantly, some of the world's best horses have shown up too. We are shortly to release a classification of horse rankings to go alongside those for humans and sires. Here we would rank Maximum Security, Midnight Bisou and McKinzie as our 1-2-3. All feature in the top 17 horses on the planet currently.
According to the TRC Global Ranking algorithm, this race is the launchpad for MAXIMUM SECURITY's global superstardom.
The American-trained 4-year-old has run in five Graded stakes, winning four and passing the post first in the G1 Kentucky Derby, after which he was demoted for causing interference. He has four Racing Post Ratings (RPR) of 121, which isn't quite as good as some in the field, but the point is he has had lesser opportunity than they. This is a colt who is surely capable of bigger figures still. Here is his chance.
The 5-year-old mare Midnight Bisou gets a five-pound weight allowance, which means the array of her best RPRs are 125-125-124. This is most impressive – better than Maximum Security – but she has had 17 tries in Graded stakes, winning 12 including five G1s. Her figures have been gained against her own sex, however, and we have seen one or two distaffers fail to reproduce lofty RPRs against males. Surely, she has to be thereabouts though.
McKinzie boasts a line of 123-123-122-122 to his name. He has taken 13 Graded tries over multiple seasons to achieve this, however, and it is most unlikely he can deliver a bigger figure. It's beyond the scope of our computation, of course, but he does carry his head a little proudly under pressure these days and could be a better place than win prospect.
Benbatl and Capezzano come in hot from big wins at the Dubai Carnival at Meydan. Benbatl – one of two by #1 Dubawi in this (we also rank the sire as high as #9 in the dirt-only category) - is the more established at the top level and has shown his form across the world. He rates 124-124-124 on the RPR scale after 19 tries. He has won nine of those, including three of G1 status, which is a superb CV. Only recently switched to dirt, he isn't so battle-tested as some in the white-hot cauldron of top-class dirt fractions, but our policy is always to tread carefully when taking on anything by Dubawi.
For his part, Capezzano is a big mover of late into the global top 100. He is as lightly raced as Maximum Security in the best races, winning one G1 and one G3 from six tries. In his time, he has paired up RPRs of 122, plus a 118, with one of his two best numbers achieved last up.
When you look at Mucho Gusto's line of ratings – 121-117-114 – against the top ones here, it doesn't square up. But we have him in the top 60 of our soon-to-be-published horse rankings because he has had only ten tries and won five of them. There is no doubt the needle is pointing up and we will see if he can run with these as well as we expect.
The remainder include some very fine horses, like Magic Wand, but we would have to oppose her, as most would, as a daughter of Galileo on dirt. She is tough and consistent and we would never put anything beyond former long-time world #1 trainer Aidan O'Brien.
It is necessary to be cautious with Japanese runners Gold Dream and Chrysoberyl given their country's fine record on foreign soil of late. The reality is that the former has only 115-115-115 to his name, while the latter beat the former only narrowly in the G1 Champions Cup (the former Japan Cup Dirt) back home in December and has precious little experience of what will hit him here.
An intriguing longshot for the places is Tacitus, who is just outside the world's top 100 with us after two G2 wins from seven tries. He is a big 4-year-old with tons of scope. It's likely he will get behind in the backwash here, and the track may not suit him, but he is the type to make late gains in garbage time – at the very least. This is a colt to keep on the right side.
Finally, it behoves us to mention Gronkowski, who would seem a massive longshot on recent running but does have a narrow Dubai World Cup-second (in 2019, to Thunder Snow) on his resume, and he was also second in the Belmont Stakes (to Justify). We have seen enough of trainer Salem Bin Ghadayer's work to never be surprised by anything his horses can accomplish. This week, he moved up to #88 for his work with Capezzano.