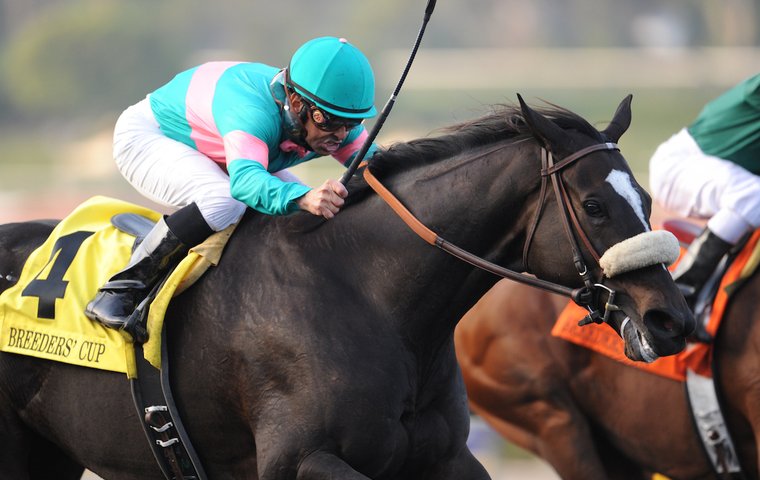 If there's a writer alive more travelled in the name of horse racing than Nicholas Godfrey, it's being kept very, very quiet.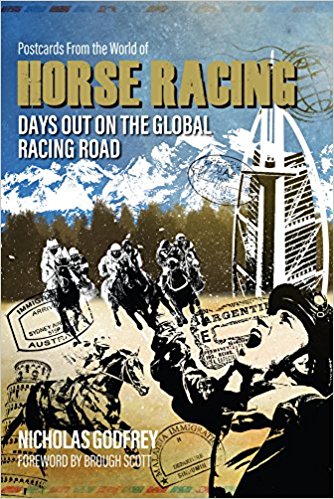 Let's go through the countries he writes about in his latest book (he went racing in all of them): Argentina, Australia, Belgium, France, Germany, Italy, Japan, Malaysia, Mauritius, Morocco, Poland, Qatar, South Africa, Spain, Sweden, Switzerland, Turkey, UAE, Uruguay, USA.
Now it's certainly not beyond the bounds of possibility that one or two others may be able to compete with that, some of them perhaps even journalists and authors, some of them maybe even fairly balanced human beings.
But let's throw in this lot: Thailand, Vietnam, Japan (again), South Korea, China, Mexico, USA (again), Puerto Rico, Trinidad, Peru, Venezuela, Brazil, Uruguay, Argentina (again), New Zealand, Australia (again), India, Canada, Dominican Republic, Singapore and the Philippines.
Godfrey, the Racing Post's international editor, has been racing in all those places too - you can read about them in his previous book.
Insight and anecdotes
That's 37 countries to date - 39 if you count Britain and Ireland, which don't make the cut because London-based Godfrey and has been racing all over both countries more times than you can count.
Reckon you know someone who can match that? I don't believe you.
For the record, in his new book - Postcards from the World of Horse Racing - there are sections on visits to 38 different racecourses in 20 countries, including 13 in the U.S. And in the previous volume - 2007's acclaimed On the Racing Road - he writes about trips to 32 tracks, including eight in America (admittedly that includes two separate visits to Belmont Park - Godfrey loves going racing all over the world, but he loves going racing in the United States especially).
Of course none of this would be worth mentioning whatsoever but for one simple fact - Nicholas Godfrey is a fabulous writer (he is a past winner of the Joe Hirsch Award for Outstanding Writing at the Breeders' Cup). Postcards from the World of Horse Racing is at the same time a slick, polished, meticulously researched racefan's travel guide and a deliciously entertaining journey of appreciation and discovery.
The book is crammed with information and chat, insight and anecdotes. Like this from a section on the tubular-shaped, ultra-tight track at San Sebastian in Spain:
According to long-time regular Nick Higgins, the track's international agent, even the greatest have been caught out by San Sebastian's turns in the past - including none other than Lester Piggott. "Lester's my all-time hero and, when he was here in 1992, they had me in to do the translating for him at a stewards' inquiry," he says. "As he finished fifth, I thought 'what do they want Lester for?' But watching the video I saw that, at the turn, he'd done this … (mimes a jockey pulling back hard on the reins to stop a horse bolting) … so they called him in to explain that. I don't think they really needed to - the real reason was the stewards just wanted to be able to say they'd had a chat with Lester! But even he was shocked by the turns."
Toe-curling moment
Then there's this from Godfrey's trip to Maronas in Uruguay:
One truly toe-curling moment occurs at the stud. "Now then, you're the expert, what do you make of the stallion Real Quiet?" asks one malevolent soul. The answer is not a lot, as I know precisely nothing about the former Kentucky Derby winner's stud career. Not a great idea when it transpires he is the first North American stallion to shuttle to Uruguay, brought down amid great fanfare by the very same stud at which I am joyously tucking into as much beef as any sane person could reasonably be expected to eat.
"I don't profess to be an expert of North American bloodlines," comes the stammered reply. My interrogator's thoughts are written across his face. They say, 'if you're not an expert, then why are we spending thousands of pesos flying you over here.'
Postcards from the World of Horse Racing features many fascinating visits to destinations of relatively low profile, but Godfrey is also a lover of the big occasion. Like the time he was at Moonee Valley on a Cox Plate day with a difference:
"Despite carrying greater prize money than any race in Europe except the Prix de l'Arc de Triomphe, the WS Cox Plate (to employ its full title) has often been ignored on an international stage. But things are even worse this year as the poor old Plate is diminished to the extent that it is not even the focal point of its own card." (You'll have to read the book to find out about that, but suffice it to say it has rather a lot to do with a certain Black Caviar.)
Godfrey is in Tokyo for a Japan Cup, in Cape Town for a J&B Met, at Meydan for a Dubai World Cup, in Chicago on Arlington Million day, and at Monmouth Park to see Rachel Alexandra win the Haskell and in New Orleans to see her eclipsed at Fair Grounds the following year. He is also at Keeneland for American Pharoah's Breeders' Cup Classic and at Gulfstream for Arrogate's victory in the inaugural Pegasus World Cup.
Dubious inside information
My favourite chapter, though, is the one on his visit to Canterbury Park in Minnesota, where he decides to enter a $2,000-a-head handicapping tournament where he will be pitting his (virtually non-existent) knowledge of the local racing against that of 46 seasoned regulars over eight races at the track that day.
Godfrey is in typically self-effacing form: "Surely only a pillock could fly halfway around the world to take part in a competition in which he has no earthly chance before making the cornerstone of his strategy a stolen piece of dubious inside information."
Again, you'll have to read the book to find out what the information was, and how successful it proved, but that will be no hardship at all. This book is a delight, the sort of easy reading you can dip into for a few pages when you have a spare ten or 15 minutes. Be warned, though: you may end up forgetting yourself and reading on, the ten minutes becoming 20, 30 or more.
So why did we decide to use a photograph of Zenyatta at the top of this article?
This extract from the book should explain that:
Every racing fan has their own list of personal favourites. Mine is long and ever-growing: Mill Reef, Dancing Brave, Deep Impact, Rachel Alexandra, Tepin, Tingle Creek, Monksfield, Remittance Man, See More Business, Kauto Star. My 21st birthday cake was fashioned in the likeness of Indian Skimmer; when Master Oats won the Cheltenham Gold Cup, I was an inch away from having the horse tattooed on my backside.
But there is only one number one, and you've met her already in the main pages of this book: the sweet-natured she-hulk Zenyatta, the most dramatically breathtaking racehorse I've ever been privileged to witness in the flesh.
Needless to say, there's plenty about Zenyatta in Postcards from the World of Horse Racing.
The book is published by Pitch Publishing.