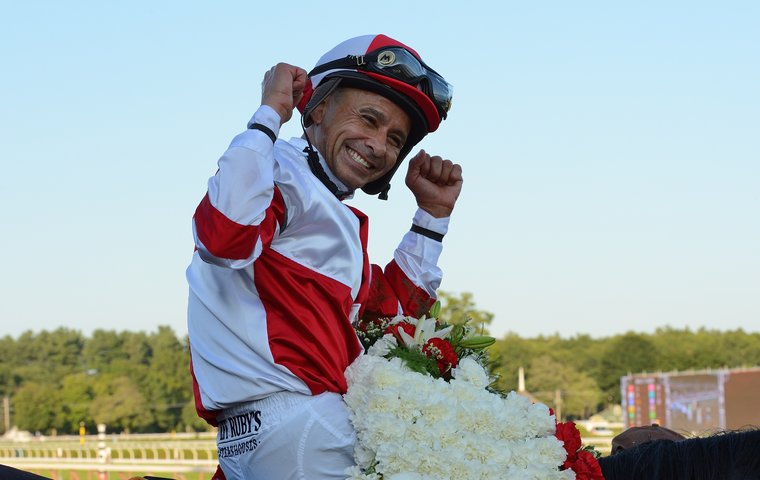 Jockey Mike Smith has been so successful for such a long time that he was inducted into the Hall of Fame a year before the horse he is arguably most associated with was even born. That horse, Zenyatta, became a phenomenon, and, on her retirement, it was hard to imagine Smith could ever be paired with another quite like her. Then, five years later, along came Songbird.

In truth, Zenyatta and Songbird are very different creatures, and Smith — who has never liked to compare the champions he has been partnered with — will be the first to tell you that he's simply been blessed to be associated with both of them. While they are both bay in color, female in gender, and turned winning into a specialty, how they went about becoming champions is a tale of two unique horses.
Different styles, same results
Leaving aside the obvious fact Zenyatta is now a broodmare and Songbird is gearing up for her biggest test to date in the Longines Breeders' Cup Distaff, the biggest difference between the two comes down to their running styles.
Owned by Jerry and Ann Moss and trained by John Shirreffs, Zenyatta was a confirmed closer, while Songbird, who races for Rick Porter's Fox Hill Farms and is trained by Jerry Hollendorfer, thrives on being in front. However, Smith - currently fourth highest U.S.-based rider in the new TRC Global Rankings and holder of one of the highest points totals since the rankings period began - notes that the normal rules never quite applied to either of them.
"Both of their running styles present their own sets of problems, but their talent overcomes the normal rules," said Smith. "You see those athletes in every sport. They are just well above average and do things you shake your head at. You are never going to truly figure it out, it's just who they are."
Songbird, who has had Smith in the irons for every race, is 11-for-11 heading into her second appearance at the Breeders' Cup World Championships. She won the Breeders' Cup Juvenile Fillies last year by 5 ¾ lengths and was named America's champion 2-year-old filly. This year, she will be looking to add the Distaff to her list of accomplishments when she faces her elders for the first time. No one in her own crop has been able to truly test her, and her smallest margin of victory has been 3 ¾ lengths.
"She overcomes going a little quick early on because she's just so talented," said Smith. "Her mechanics are so good that there's no wasted action, and she can carry that speed for quite a while. A lot of times when you are on the lead, you want to be able to get away with something and do the first quarter in :24 or so, but she's not looking for any favors from anybody.
"If you want to be in front of her, that's fine. I don't have a problem with that. But you are going to have to run to do it and sacrifice yourself. If her competition had that kind of cruising speed, they probably would have already done it a few times. Carina Mia tried to get in front of her, and of course with her being as talented as she is, she hung on for second, which is really good, but a lot of lesser fillies would have caved."
That Breeders' Cup defeat
Meanwhile, Zenyatta was always slow to get going but fast to finish.
David Flores rode her in her first three races, while Smith rode her in her final 17. Zenyatta won her first 19 races, including the 2008 Breeders' Cup Distaff and 2009 Breeders' Cup Classic, and remains the only filly or mare to ever win the Classic.
She only tasted defeat in her final start, the 2010 Classic, when she finished second by a head to Blame.
"Normally when you come from way back like that, the pace means a lot and you want a hot pace early so they come back to you, but it didn't mean much to Zenyatta," said Smith. "The reason being was her size, her stride, and her turn of foot. If you went slow, you actually hurt yourself because you let me get four, five, six, seven lengths closer than I probably should have been, and shame on you. You had just given me seven lengths I didn't have to make up because she was always going to attack you. I don't care how fast you were going to finish, she would be on you, and then, zoom, gone.
"With Zenyatta, you were actually better off seeing if you could open up on us and if we could catch you. If you waited for me, you weren't going to out-finish us. She was too big. Her stride was too big, and she was way too athletic. She could turn the afterburners on so quick, so easy.
"The only time she really encountered traffic was the last time she ran, which was very unfortunate. In that Breeders' Cup, the first group was so far out in front of her. By the time she even saw that first group, she got through the second group and was like, 'Oh crap, there's another group.' That's what got her that day."
Back to the beginning
Of course the very fact Songbird was a juvenile champion is a clear indicator that she and Zenyatta were never going to be truly comparable. She began racing in July of her 2-year-old year, while Zenyatta did not run until November of her 3-year-old season and went on to be named a champion at ages 4, 5, and 6.
"With juveniles, you try not to leave any room for error because they are pretty green," said Smith. "As she's gotten older, Songbird has really learned how to run. She has also gotten used to the crowds. Early on, her first three or four races, she was a little hot and she would get a little worked up, but now, it's not a problem.
"The smart ones, they figure it all out, and are like, 'Hey, you want to take a picture? Sure.' They start hamming it up, and they start liking it. We all like a little attention."
Although Smith was not on board for Zenyatta's first few starts, he had a long time to get acquainted with the big mare before she ever ran.
"I was getting on her on all time," said Smith. "I just didn't ride her in her first races because I was riding out of town. She got smarter as well, but, in saying that, she was more seasoned going into her first time running because she had been training for much longer. A 2-year-old has only been in training for just a short time, whereas if you are almost four when you start racing, you've been training a whole lot longer."
Of course, Zenyatta, who was the 2010 Horse of the Year and inducted into the Hall of Fame in her first year of eligibility, also learned to play to the crowds and became known for her dance-like movements before she ran.
Although both Zenyatta and Songbird started their careers on the west coast, because Zenyatta rarely left California and ran at the same time as 2009 Horse of the Year Rachel Alexandra, there was an east coast/west coast rivalry surrounding her career that Songbird has not faced.
"As far as Songbird goes, I think her traveling back east certainly broadened her fan base a whole lot," Smith said. "I think the east coast kind of feels like she is theirs as well since she was there for the Coaching Club American Oaks, Alabama, and Cotillion. It has given both coasts a good look at her. Regardless of if you are from the east coast or the west coast, you can't help but admire talent."
Que sera, sera
In the end, Smith chalks the popularity of both Zenyatta and Songbird up to the most basic fact: people like winners.
"Winning streaks will certainly get people on your bandwagon pretty fast, regardless of it is a horse, a football team, or whatever it maybe," he said. "I don't watch much golf, but when Tiger Woods was on a roll, I couldn't help but turn it on when he was playing. When Usain Bolt is running, I find a way to get in front of that TV. Horses like Zenyatta and Songbird bring so much to the sport. They bring notoriety, they bring new fans, and people want to watch them."
Facing males is always a big milestone for American fillies and mares, and Zenyatta garnered the most respect for her Classic efforts, even the one that didn't go according to script. Porter has long said that Songbird will first take on her female elders before tackling open company as a 4-year-old.
"There's always pressure, but it's the kind of pressure I look forward to," said Smith. "Songbird is going to run fast in the Distaff, and we will just have to see if the older mares can run her down or keep up with her. Hopefully they can't. We just have to keep doing our job, and if it is meant to be, it will be. She is probably going to have to run harder than she's ever run before, but I think Jerry has her ready for it.
"I have been on horses when they tried so hard and it didn't work out, and they will hang their head. So far she has never had anything to hang her head about, and, speaking kind of like a parent, I hope she never has to. If she can handle the older mares the way she's been doing the 3-year-olds, you have to really start thinking, 'Wow, how good is she?' So much of her story is still to be told, and I am certainly excited about it."