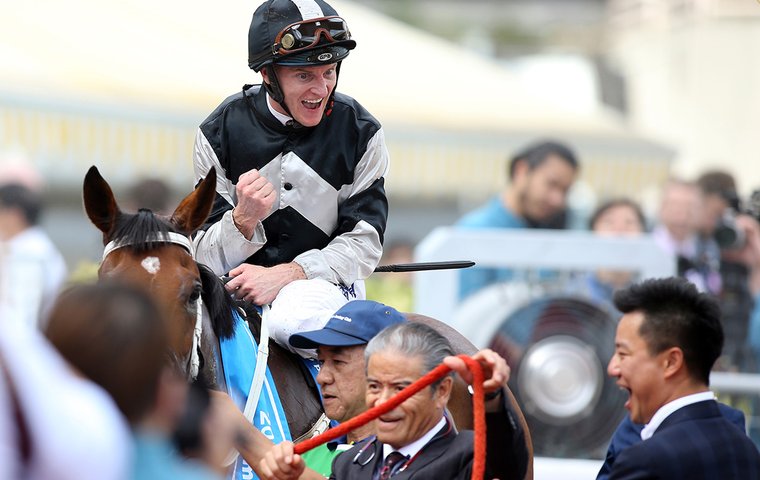 As the racing season in Hong Kong winds down, it is undoubtably one that jockey Zac Purton will look back on with fondness. He is the regular rider of one of the highest-rated horses in the world in Beauty Generation, he is leading the 2019 Longines World's Best Jockey competition, and he has broken the record for prize money in a season in Hong Kong.

"It certainly has been a season I will always remember," Purton said. "It's a shame it has to come to an end soon. The whole Beauty Generation season has been a real highlight — from breaking the track record to destroying the opposition in the [G1] Longines Hong Kong Mile in December to remaining unbeaten through his eight-start campaign, which set a new record for most wins in a single season by any horse here in Hong Kong."
Beauty Generation is currently the co-highest rated horse in the Longines World's Best Racehorse Rankings. Although the gelding can be feisty in the barn, he and Purton have made an excellent team.
Beauty Generation has not tasted defeat since April 2018, and his victories this calendar year include the G1 FWD Champions Mile,
G1 Queen's Silver Jubilee Cup, G1 Stewards' Cup, and G2 Chairman's Trophy.
"He's an amazing horse and a dream to ride really," Purton said. "Although he can be aggressive in the stable — and you need to keep your wits about you when riding him in the morning as he can whip around quite quickly — he's actually quite the opposite on race day.
"He does get led to the gates to make sure we get there safely, but once those gates open, he's a dream ride. I just let him use his speed, get him in a rhythm. The key is to keep the pace rolling, since he's better off a fast or genuine speed, and then allow him to bully the race."
Although Beauty Generation is his star mount, Purton is also the regular rider of the highly regarded Exultant, who won the G1 Longines Hong Kong Vase in December and this year has taken the G1 Standard Chartered Champions & Chater Cup, G1 Citi Hong Kong Gold Cup, and G3 Centenary Vase.
"He's a tricky horse to ride, as so many things need to go right for him to be competitive," Purton said. "Getting him to jump on terms is always a battle, and as he's generally a back marker without a turn of foot, he's more a grinder. We always need a tempo to suit and the opportunity to make our run earlier than what I normally would. He has got a great set of lungs, though, and enjoys sustaining a long run."
An Australian, 36-year-old Purton made his way to Hong Kong during the 2007-08 season. During 2013-14, he became the first Australian jockey since Noel Barker in 1991 to win the Hong Kong jockey championship title while also ending a 13-year run by South African Douglas Whyte.
Then in December 2017, Purton became just the third jockey to have won all four of the Longines Hong Kong International Races.
"It was a great feeling of satisfaction," Purton said. "It's hard enough to win one but to have all four is special. Hopefully I can win all four in one day. Hong Kong is a place that always amazed me. From as far back as I can remember I had an interest in the racing here. To watch the list of the best jockeys from around the world battle it out every meeting was something special.
"Everyone that was riding here or had ridden here had always commented about how competitive it was and how much they improved as a rider once leaving. I knew it was a place that I wanted to test myself in one day."
Like many in his profession, Purton was always athletically inclined as a child and had an affection for horses. As a teenager, it was a natural decision for him to turn his eye towards a career as a jockey.
"I was always a sporty kid growing up," Purton said. "Whenever we would visit friends that had horses, I would be straight out there wanting to jump on board. By the time I was 14, everyone else shot up, and I wasn't growing. I kept getting injured playing the sports I was, and then an opportunity popped up to join a jockeys' seminar, which I did.
"From there I decided that's what I wanted to do, so they placed me with Trevor Hardy in Coffs Harbour and things went from there. As I was only 27kg at the time, it took a few years of trying to build my strength up and also learning how to ride properly before I started riding in races, which wasn't until I was 17."
Now, Purton is a man who is at the top of his game (he is currently world-ranked 4 in the TRC Global Jockeys' Rankings). Because of the way the racing calendar falls in Hong Kong, he is also being pragmatic but hopeful about the fact that he is currently leading the Longines World's Best Jockey competition, which is based upon the 100 top-rated G1 races in the world.
"It's always nice to be recognized, but unfortunately I've run out of races here in Hong Kong to pick up any more points," Purton said. "Our off-season is upon us. The chances of hanging on are extremely slim, although I do have a small window of opportunity with some of the races in Australia. Hopefully I get some decent offers to be able to make the trip and add more points."